Penn State vs. Michigan: Friday, October 24th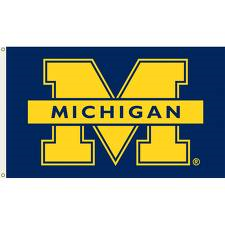 UNIVERSITY PARK, Pa. – A freshman duo featuring Ali Frantti and Haleigh Washington powered No. 7 Penn State women's volleyball team (19-, 7-2) to a straight set (25-18, 25-16, 25-16) victory against Michigan (10-9, 5-4) Friday night at Rec Hall in front of a season-high home crowd (4,622).

Frantti and Washington fueled the offense with double-digit kills. Frantti tallied 15 kills on .429 hitting, adding two digs and one block. Washington followed close behind with 10 kills on .421 hitting, while also tying for first on the team with four blocks.  Including the freshman pair, Hancock paced four Nittany Lion attackers to .421 or better hitting, while also hitting .800 herself with four kills on five errorless swings. Hancock dished out 34 assists to go along with two aces, seven digs and three blocks.  Junior Megan Courtney tallied seven kills, while also leading the defensive effort with nine digs. Senior Dominique Gonzalez finished tied for second on the squad with seven digs.

For the complete release from GoPSUsports.com, Click Here.
STATE COLLEGE, Pa. — The University of Michigan volleyball team had its four-match winning streak snapped as No. 7 Penn State hit .443 on its way to a straight-set win over the Maize and Blue Friday night (Oct. 24) inside Rec Hall. Set scores were 25-18, 25-16 and 25-16.

Freshmen Caroline Knop and Adeja Lambert had seven kills apiece to lead Michigan, while junior Tiffany Morales had a team-high nine digs. Senior Lexi Dannemiller tallied 28 assists, and Lambert joined sophomore Abby Cole and freshman Claire Kieffer-Wright with two blocks apiece.

The Maize and Blue hit .160 for the match and had four blocks on the night. Penn State had a 36-30 dig advantage and five service aces.

For the complete release from MGOBlue.com, Click Here.
Match Stats (Courtesy GoPSUsports.com)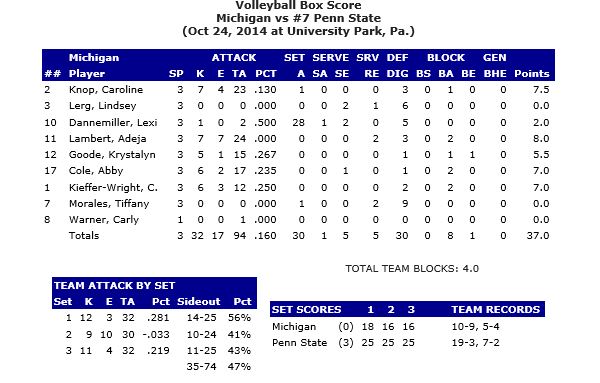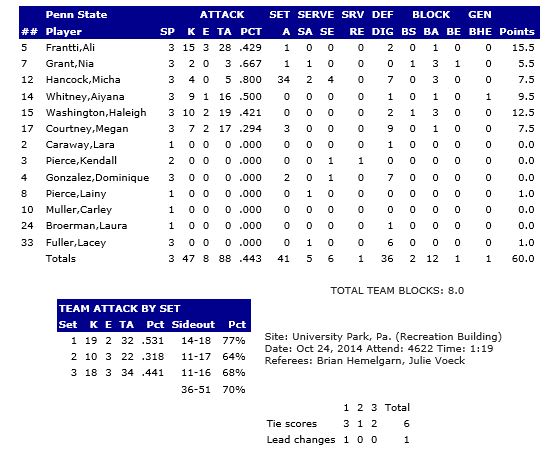 Penn State vs. Michigan State: Saturday, October 25th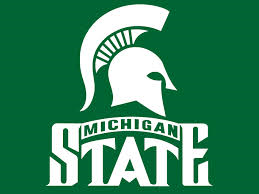 UNIVERSITY PARK, Pa. – No. 7 Penn State women's volleyball (20-13, 8-2) recorded its 17th straight set victory of the season with a 3-0 win (26-24, 25-17, 25-21) against Michigan State (12-9, 5-5) Saturday evening at Rec Hall. The win against the Spartans marks the 38th year that the Nittany Lions have earned at least 20 wins in a season.

Redshirt junior Aiyana Whitney and freshman Ali Frantti led the offense with a pair of double-digit kill performances. Whitney tallied a team-high 12 kills while Frantti followed close behind with 11 on a squad-best .409 hitting percentage.  Senior Micha Hancock led the team from the endline with a match-high four aces, while also dishing out 33 assists to go along with five digs and four kills.

Senior Dominique Gonzalez reached double-digit digs with a match-high 14 digs. Freshman Haleigh Washington rounded out the defensive effort with a team-high three blocks.

For the complete release from GoPSUsports.com, Click Here.
State College, Pennsylvania – Michigan State fought hard and played tight with host No. 7 Penn State, but came up short in falling to the Nittany Lions 3-0 (24-26, 17-25, 21-25). MSU concludes the first half of Big Ten play with a 5-5 Big Ten mark and is 12-9 overall on the season. Penn State is 20-3, 7-3 in Conference games.

MSU had a fairly balanced attack and hit .247 on the night, but was cursed by 13 service errors, the same number of miscues it had on 93 attacks in the match. Three players finished with seven kills – Chloe Reinig, Allyssah Fitterer, and Jazmine White; White led the team with six blocks, while Fitterer had three and Reinig four. Senior Kori Moster had 11 digs, and surpassed the 2,000-dig mark; only seven other players in Big Ten history have accomplished the feat. She now has 2,008 career digs.

Moster's 2,000th kill came in the first set, an impressive play on the left sideline that led to MSU's 17th point, a kill by Taylor Galloway. Her 11th of the night, moving her into seventh place all-time in the Big Ten annals, came in the third set as the Spartans looked to climb back from a two-point defecit, on a Fitterer kill. She moves ahead of Bethany Yeager of Iowa, who had 2,007 in her four-year career which concluded in 2013.

Aiyana Whitney (12 kills) and Ali Frantti (11) led the offensive attack for PSU, which out-hit MSU by a slim margin (.258 to .247). Micha Hancock had 33 assists and four of PSU's seven service aces.

For the complete release from MSUspartans.com, Click Here.
Match Stats (Courtesy, GoPSUsports.com)