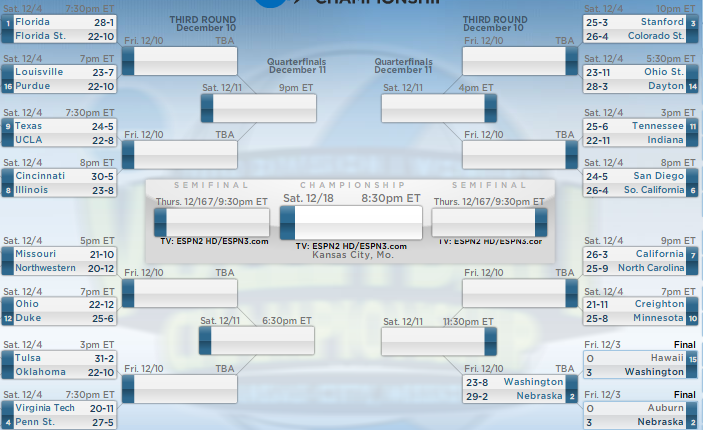 Penn State Downs Niagara
The Penn State Nittany Lions (27-5) took care of business in workmanlike fashion, downing the Niagara Purple Eagles (25-9)  in straight sets (25-12, 25-19, 25-15) to advance to Round 2 of the NCAA Women's Volleyball Tournament.  You can catch a replay of the match today on the Big Ten Network at 4:30 p.m.
The Nittany Lions were led by  6-3 Sr. MH Arielle Wilson (.643 attack %) and Big Ten Player of the Year Blair Brown (each with 9 kills in the match), and 6-1 Fr. OH Deja McClendon (6 kills, .500 attack %).  6-6 Fr. MH Katie Slay played a solid match, with 6 total blocks and 3 kills (.500 attack %).  So. S Kristin Carpenter helped the team to an overall .370 attack % for the match, totaling 33 assists and 8 digs. 
Oh, and Penn State extended its home-match winning streatk to 91 consecutive matchs — a new NCAA record.  The Nittany Lions face off tonight at 7:30 p.m. against Virginia Tech , which downed Delaware, 3-0 in the 1st Round, in its first-ever NCAA Tournament match.
Here are the statistics from the Niagara-Penn State match, courtesy of GoPSUSports.com: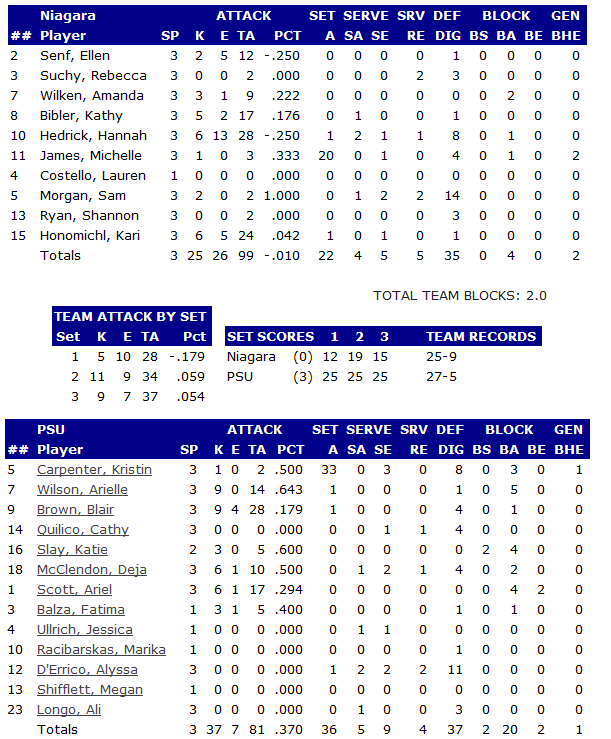 Upset by the Brackets?  2009 Bracket Upsets Revisted
Although before last night, no seeded team had ever lost in the 1st Round of the NCAA Women's Volleyball Tournament (or so we're told; we confess, we didn't check), last night, two seeded teams, and one unseeded but highly-ranked team, fell to unseeded opponents in the 1st Round: unseeded Missouri (20-10) won a 3-2 squeaker over #5-seed UNI (30-2) (in Cedar Falls!), unseeded Tulsa (30-2) swept #13-seed LSU (25-4) in Norman, OK, and unseeded Creighton (20-11) defeated unseeded (but #16 in the most recent AVCA Poll)  Iowa State (20-8), 3-2 in Minneapolis. 
Of the three upsets, it was Missouri's win over UNI that had the volleyball world (or at least the internet portion of it) buzzing.  Even before the upset, many observors had argued that the #5-seed for UNI was way too high.  Many were particularly upset because they believed #5-seed UNI was not a worthy opponent for Penn State, and that the seedings (and Bracket placements) virtually ensured a smooth path for Penn State to the Final Four. 
With UNI and LSU out of the picture, that narrative is virtually certain to continue and grow even louder. 
We're not here to defend the seedings or to criticize them.  Plenty of others are doing that, armed with a boatload of statistics and passions to match. 
We do note that, easy path or not, to win the NCAA Championship, a team must win all its matches in the Tournament.   And lots of factors go into whether that happens — the match-ups a team faces, whether they play at home or on the road, injuries, luck (good and bad). 
And we also know that the fact a highly-seeded team plays an unseeded (or lower-seeded) team has never guaranteed victory for the highly-seeded team after the 1st Round (and starting this year, not even then).  Want proof that the mice do roar from time-to-time?  Take a look at the graphic below showing the results from last year's 2nd and 3rd Rounds: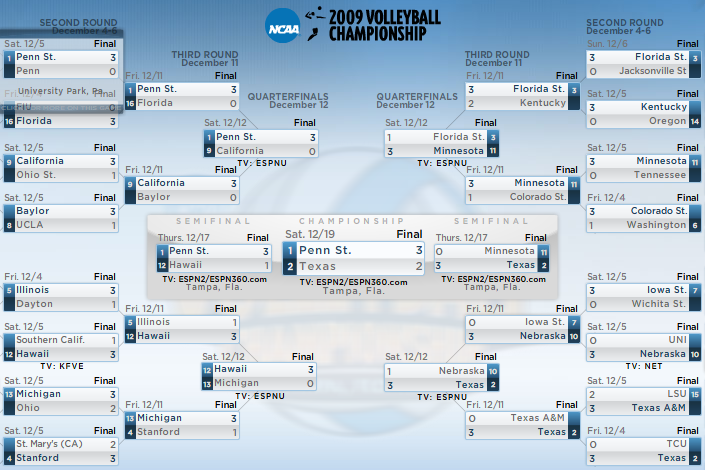 As the graphic shows, in Round 2 of the 2009 Tournament, unseeded Baylor (23-9) knocked off #8-seed UCLA (24-8) 3-1 (in Pauley Pavilion!), unseeded Kentucky(28-4) swept #14-seed Oregon (25-20, 25-22, 25-17) in Lexington, KY, unseeded Colorado State (24-5) stunned #6-seed Washington (24-5) , 3-1 in Fort Collins, CO., and unseeded Texas A&M surprised #15-seed LSU, 3-2 (in Baton Rouge!). 
Round 3 featured two more upsets, as #13-seed Michigan (27-9) trounced  #4-seed Stanford (23-7), 3-1 (25-18, 23-25, 25-22, 25-11, in Palo Alto!), and #12-seed Hawai'i (29-2) defeated #5-seed Illinois (26-5), 3-1 in Palo Alto (for any Wahine fans reading this post, count me among those who thought Hawai'i had been dramatically under-seeded, and consequently didn't view this as a real upset).
We're not arguing that the upsets in last year's Tournament somehow justify poor seeding decisions for this year's Tournament (if in fact, that's what happened this year). 
Maybe the only point it illustrates is that you really shouldn't take any team for granted in the Tournament.  Even in Round 1, and certainly in Round 2.  Bring your "B" game when the other team brings its "A" game, and you very well could find yourself standing on the sideline as that underdog, which was an irritant to be swatted aside on your march to glory, celebrates wildly following its upset victory.