Every season brings new challenges for a coaching staff, but with eight newcomers on a 17-person squad (four transfers and four true freshmen) when preseason practice starts on Tuesday, August 9th, Penn State Women's Volleyball Head Coach Katie Schumacher-Cawley may be facing more than most.
No doubt there is a lot of work to be done, but as one observer told us, Katie Schumacher-Cawley is Chicago tough. She never backs down from a challenge. Having seen her play both volleyball and basketball at Penn State, we agree.
With that in mind, here are some of the key questions she'll be looking to answer throughout preseason practice.
1. Who will be the starting setter?
Penn State has no returning players with collegiate experience at setter.  Zero.  So it will be up to two newcomers to fill that void.
Of the two, transfer Seleisa Elisaia may have the edge heading into practice over freshman Katie Hurta, but even though it's tough for a true freshman to break in as a starting setter in the B1G, don't count Hurta out just yet.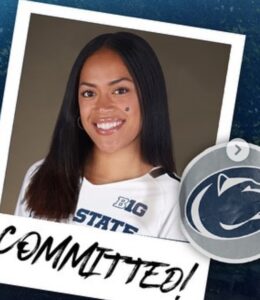 Elisaia has considerable starting experience garnered during four seasons at  Cal State Bakersfield (some of which was in a 6-2 system), where she won 1st Team All Big West last season.  In 2021, she led Cal State Bakersfield to an 18-11 record and a 4th place finish in the Big West (Hawaii took the league's regular season title, with an 18-2 conference record.)
In addition to the successful season for her team, Elisaia's 2021 statistics were impressive.  She averaged 9.23 assists/set (5th in the Big West), 0.93 blocks/set (9th in the Big West), 0.27 aces/set (9th in the Big West), and 5th on her team with 2.12 points/set.  The blocking statistic jumps off the page: a setter ranking 9th in a 12-team league in blocking?  She must have out-blocked alot of middle blockers and pin hitters to rank that high.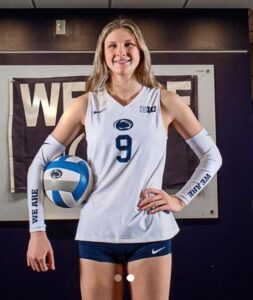 Even though Elisaia is more experienced, Katie Hurta definitely is no slouch.  For starters, she was the 2021-2022 Illinois Gatorade Player of the Year.  As a senior, playing both setter and right-side hitter, she led her high school — Nazareth Academy — to a 30-7 record and the IHSA Class 3A state championship.
And Hurta racked up some sparkling statistics of her own: 415 kills, a .531 kill percentage, a .450 hitting percentage, 360 assists, 198 digs, 30 blocks and 22 service aces.  For her high school career, Hurta totaled  1,011 kills, 578 assists and 527 digs.
(Here's a link to the interview by Ethan Kasales with Katie Hurta after she committed: Katie Hurta Talks Penn State Volleyball Commitment – DigNittanyVolleyball.com)
(Quinn Menger may be in the mix for a backup role at setter, but she is listed in the section below on liberos and DSs because we think that is where she is more likely to see playing time.)
2. Can the newcomers help fill the gaps on Penn State's front row?
Penn State lost three key pin hitters (Erika Pritchard, Adanna Rollins, and Jonni Parker) and All-American middle blocker Kaitlyn Hord from last season's squad.  Those were big losses.
On the plus side, Allie Holland returns from a stellar 2021 season to fill one middle blocker spot.  Another plus is that versatile pin hitter Nasta Kudryashova, a player with experience at both OH and RS/Opp who missed significant playing time last year, should be available for the entire season.  Finally, Anjelina Starck, who has shown great promise as a 6-rotation player, is returning for her sophmore season.  Both Kudryashova and Starck are likely to be major contributors in 2022.
However, the other returning front row players — MB/RS Katie Clark, MB/RS Erika Williams, and RS Macy Van Den Elzen — have played sparingly.  While they may have breakout seasons in 2022, that's not a foregone conclusion.
So, a big question for Coach Katie is whether the four front row newcomers can help the returning players fill those holes in the starting lineup.
We think they can (though, spoiler alert, we are inveterate optimists).  Here are brief rundowns on the four new front row players.
Kash Williams, 6-0 OH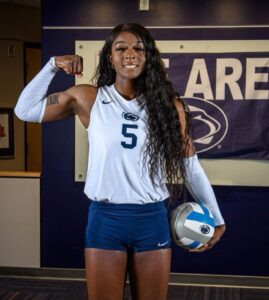 Coach Katie has described Kash Williams as "a tremendous athlete who is extremely motivated to be great.  She is extremely hardworking and a very nice person. I'm thrilled that she decided to join our Penn State family."
A quick look at Williams' record shows she has lived up to that high praise.  She is a two-time 1st Team All Big West, with 1,181 career kills, despite not playing a 2020 season because the Big West canceled fall sports that year due to COVID-19.
Williams had more than 440 kills each of her last two seasons and has 12 matches with 20-plus kills so far. She also has an impressive top-spin serve.
We think Kash Williams will be able to build on her past success and be a force for the Nittany Lions in 2022.
Here's a video of some of her highlight plays:
ᴋᴀꜱʜᴀᴜɴᴀ ᴡɪʟʟɪᴀᴍꜱ 💪#WeAre pic.twitter.com/JIAs8EpR06

— Penn State Women's Volleyball (@PennStateVBALL) February 3, 2022
Taylor Trammell, 6-2 MB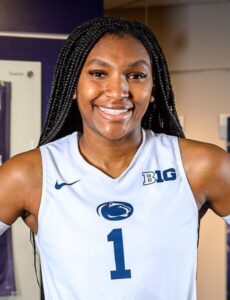 In her two seasons at Purdue (during which she made 41 starts, despite having missed parts of last season due to injury), 6-2 Taylor Trammell showed she belonged among the top middle blockers in the Big Ten.
As a true freshman in the Spring 2021 season, Trammell (who touches 10'6″) hit .365 (ranking 9th in the B1G), and her 137 total blocks led the B1G and ranked 2nd in the nation.  In the 2021 season, Trammell ranked 4th in the B1G with 1.33 blocks/set.
Taylor Trammell is poised to play a big role for Penn State in 2022.
In fact, The Big Ten Network's Emily Ehman has her ranked as the #18 player in the country:
"Penn State needs that leader in the middle blocker position – and Taylor Trammell is just that."

The @PennStateVBALL transfer comes in at No. 18 on @emilyehman's 𝗘𝗘𝟮𝟬. 💥 pic.twitter.com/01zj8dgaSU

— Big Ten Network (@BigTenNetwork) August 8, 2022
Here's a link to the interview by Ethan Kasales with Taylor after she committed: Taylor Trammell Talks Penn State Volleyball Commitment – DigNittanyVolleyball.com
And here's a video of some of her highlights at Purdue:
TAYLOR TRAMMELL 💪#WeAre pic.twitter.com/Ut9VAAt6d7

— Penn State Women's Volleyball (@PennStateVBALL) February 14, 2022
Zoe Weatherington, 6-2 RS/OH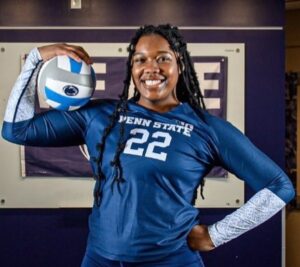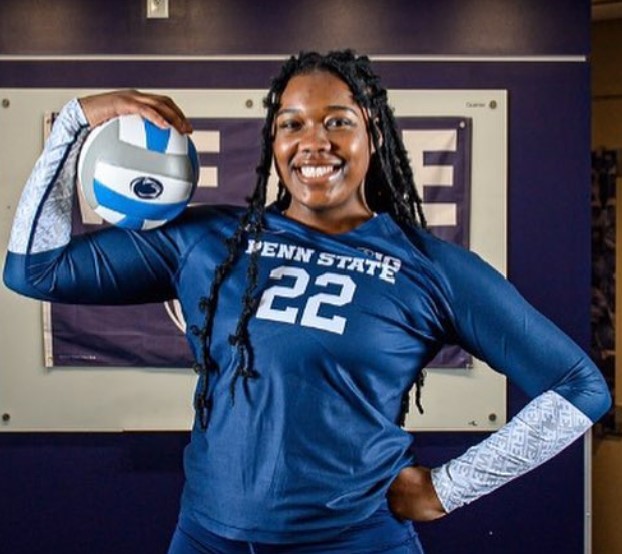 Coach Katie is probably looking at Zoe Weatherington, a 6-foot-2 transfer from Utah, to play rightside for the Nittany Lions, though she showed versatility during her time with the Utes.  It looks like she'll be competing with Nasta Kudryashova, Katie Clark, Macy Van Den Elzen, Erika Williams and Alexa Markley for the starting spot.  We may have missed someone, but that's who's listed at RS on the 2022 Penn State Roster.
For the 2021 season, Zoe was named All-Pac-12 Honorable Mention, after finishing third on the team with 2.45 kills per set and 277 kills, totaling 82 blocks (2nd on the team) and averaging 0.73 blocks/set.
For her career, Zoe racked up 635 kills, 140 digs, 131 total blocks, and 39 starts in three seasons with the Utes.  Here's a video showing some of her highlights:
ᴢᴏᴇ ᴡᴇᴀᴛʜᴇʀɪɴɢᴛᴏɴ 💪#WeAre pic.twitter.com/mjFVTQJFmP

— Penn State Women's Volleyball (@PennStateVBALL) February 17, 2022
Alexa Markley, 6-2 OH/RS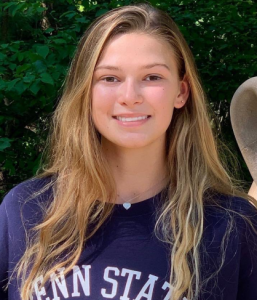 Freshman Alexa Markley will be competing for playing time at outside hitter and on the rightside.  Observers say she is a talented blocker, with good instincts and feel for the game.  We think she is more likely to see time at rightside, but that's not a "bet the company" prediction.
Alexa was a PrepVolleyball.com first-team All-American player in high school, and competed in the Under Armour All-America Volleyball Match in Orlando, Florida as a member of Team Icons.  In that match, Alexa finished with four kills on eight swings (.375) with four total blocks.
The 6-foot-2 Markley is from Peachtree City, Georgia, where she helped McIntosh High School win three state championships during her prep career. She took home Fayette County Player of the Year honors as a senior last fall after recording 519 kills, 296 digs, and 41 total blocks, per MaxPreps.
Here's a link to the interview by Ethan Kasales with Alexa Markley during her senior high school season: Alexa Markley Talks Busy Summer, Senior Season For McIntosh High School – DigNittanyVolleyball.com.
And here's a link to the interview by Ethan Kasales with Alexa following the Under Armour All-American Match: Alexa Markley Reflects On Under Armour All-American Experience – DigNittanyVolleyball.com.
3. Who's starting at libero and DS (and will the freshmen compete for the jobs?)
The questions about libero and DS are a bit different from the front row questions Coach Katie is facing.  Although the 2021 team's starting libero, Jenna Hampton, moved on to South Carolina to play her Covid season (a very significant loss, to be sure), Penn State is not without experienced back row players.  The questions are: who will start at libero and DS, and will either or both of the freshmen earn significant playing time in 2022?
We really have no idea about who will start at libero or DS, but we do think the freshmen have a chance to be in the mix for playing time.
Here's a look at the key players:
Maddy Bilinovic, 5-7 L/DS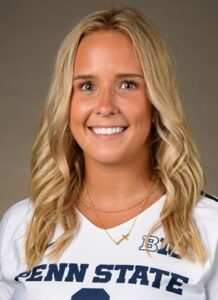 In 2021, Maddy Bilinovic  appeared in 27 matches, playing a total of 57 sets.  Her season totals were 36 digs and four assists.  As a freshman in the Covid-shortened 2020 season, Maddy played in all 16 matches, including two at libero, totaling 104 digs (1.82/set) and 11 aces.
Maddy was a highly decorated player in high school.  She was named the No. 77 ranked 2020 PrepVolleyball.com Senior Ace, was a one-time Ohio Division 3 Player of the Year, earned two All-Ohio selections, and captained her team as a senior.  She led Independence High School to two Ohio state runner-up finishes, a state semifinal appearance and a 95-15 record.
We think Maddy Bilinovic will be a leading contender for the starting libero position.  Even if she does not win that spot, we believe she will see considerable playing time at DS.
Cassie Kuerschen, 5-9 L/DS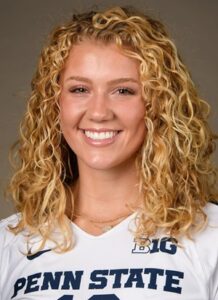 Cassie Kuerschen played in 29 matches (including 2 starts) during her freshman season in 2021.  She appeared in 75 sets, totaling 66 digs and 11 aces.  Her season-high for digs was 14 in a 3-2 win at Maryland (9/29).
Kuerschen was ranked as the No. 118 PrepVolleyball.com Senior Ace for 2021.  Among her many accolades was Tennessee State High School Heisman Volleyball Player of the Year.
Cassie started at libero all four years at Knoxville Catholic, during which time she set the school's  career record with 1,874 digs, totaled 187  career aces, and led Knoxville Catholic to four district titles, four regional titles, three state runner-up finishes in Tennessee, and a 100-40 team record.
We think Cassie Kuerschen is another leading contender for the starting libero position, who if she doesn't win the job, will see significant playing time at DS and as a serving specialist.
Quinn Menger, 5-9 DS/S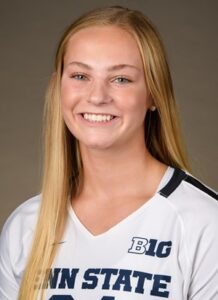 As a freshman in 2021, Quinn Menger appeared in 23 matches, playing in 60 sets.  She recorded nine aces and 10 digs, and had at least one ace in seven different matches.
She played five years at St. Catherine's School, including three as a team captain, helping her team finish top four in the state four times. Her individual accolades included three all-state honors (1st team in 2018 and 2019), two-time Metro Player of the Year, two-time LIS Player of the Year, and 2021 second-team Academic All-American.
During her career, Quinn totaled 1,851 assists, 637 digs, 553 kills, 199 aces and 148 blocks while leading St. Catherine's to a 99-24 record.
Quinn will compete both for time as a DS and as a serving specialist.
Gillian Grimes, 5-6 DS/L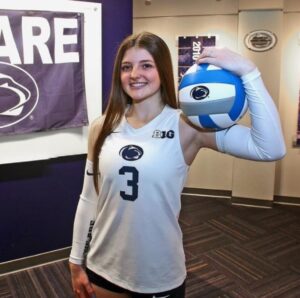 Gillian Grimes, a 5-foot-6 libero/defensive specialist from Westchester, Illinois, flipped her commitment from Michigan State to Penn State, after former Michigan State head coach Cathy George announced her retirement.
Grimes played her club volleyball for Adversity and helped Nazareth Academy win the 2021 IHSA 3A state championship as a senior last fall, starring alongside fellow incoming Penn State freshman Katie Hurta, who flipped her commitment from Indiana to the Nittany Lions on February 26. Grimes had a career-high 35 digs in the state title match, a 2-1 win (25-18, 20-25, 25-21) over Belvidere North.
Last November, prior to Grimes' decommitment, Cathy George said this about Grimes: "An extreme competitor at her core, Gillian's natural talent and leadership will be evident on the first day she is on campus."
We've heard nothing but great things about Gillian Grimes (looking at you, Cathy George, among others), and think she has a real shot at earning playing time in 2022 — possibly at libero, but more likely at DS.
Mandi Morioka, 5-6 DS/L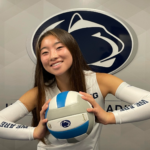 Mandi Morioka played her high school volleyball at South High School in Torrance, California and her club volleyball for Mizuno Long Beach (the same club as Penn State's Kash Williams).  She originally committed to Minnesota, but subsequently flipped her commitment to Penn State after her on-campus visit.
Like Quinn Menger, Morioka was a setter in high school, and like Menger, she has transitioned to the back row.  Mandi certainly will be in the mix for playing time, but where she is in that mix, we simply don't know.  We'll be eager to learn more!
Here's a link to the interview by Ethan Kasales with Mandi: Mandi Morioka Talks Penn State Commitment, California Volleyball Culture, More – DigNittanyVolleyball.com