Penn State women's volleyball has plenty of returning talent and arriving playmakers on defense heading into the 2020 season.
We recently broke down the Nittany Lions' bevy of offensive options. Now, it's time to take a closer look at how Russ Rose and the rest of Penn State's coaching staff has constructed this year's roster to hopefully limit their opponents' effectiveness in the Big Ten.
Penn State returns 73 percent of its blocks and 54 percent of its digs from the 2019 season despite a handful of significant graduations and a few outgoing transfers this offseason. The Nittany Lions lost Kendall White, Keeton Holcomb, Tori Gorrell, Emily Sciorra, and Kristin Krause to graduation, but added three transfers in Hannah Flowers (Memphis), Anastasiya Kudryashova (Rutgers), and Keatan Broughton (West Virginia).
Penn State will also welcome four incoming freshmen for the 2020 season in outside hitters Annie Cate Fitzpatrick and Macy Van Den Elzen, defensive specialist Maddy Bilinovic, and recent commitment Samantha McCool, who hails from Georgia and picked the Nittany Lions a few weeks ago in mid-April.
Penn State's 2020 team is anchored by four returning All-Americans — Kaitlyn Hord, Gabby Blossom, Jonni Parker, and Serena Gray — all of whom are rising juniors. Hord, a middle blocker from Lexington, Kentucky, was the lone Nittany Lion to earn AVCA first-team All-American recognition this past season after recording a team-high 149 total blocks. Hord had 129 blocks as a true freshman in 2018 on her way to All-American honorable mention.
Blossom and Parker are two of the more impressive all-around athletes on Penn State's roster considering their ability to impact the game in multiple ways.
Blossom has 12 career double-doubles after posting 11 as a sophomore in 2019 — the most of any Nittany Lion this past fall. Blossom's first season as Penn State's starting setter culminated in a second-team All-Big Ten selection and third-team All-American nod. She has 372 career digs midway through her Penn State career — the exact same output as classmate and likely libero Jenna Hampton. Blossom also has 40 blocks after dialing up 38 in 2019 despite standing only 5-foot-9, which is on the shorter side for a setter.
"Defense is definitely something where, when I got here, Coach Rose was like, 'You're small. You're not going to magically grow, so you're going to need to learn to play defense,'" Blossom said.
Parker, who can do a little bit of everything on the court, has eight career double-doubles, 398 digs, and 163 blocks following two excellent seasons for the Nittany Lions in which she was named an All-American twice (third team in 2018 and honorable mention in 2019). Outside of Blossom, Parker may be the most important player to Penn State's overall success in 2020. She will probably be asked to lead the team in kills for the third straight year if everything goes according to plan.
"Her responsibility and role is totally different than it was last year," Rose said of Parker last November. "She's had to carry a different load. She's had to do different things."
Serena Gray, a middle blocker from Temple City, California, has proven herself as one of the nation's best at the position alongside Hord. Not only does she provide an intimidating presence above the net as a hitter and blocker, Gray was one of Penn State's top servers last season. She has 211 blocks and 100 digs to date.
"Kaitlyn and Serena are just such great hitters and blockers that they're unable to be matched in any other conference, so that's really awesome," Gorrell said last season. "I love watching them."
The Nittany Lions boast an incredibly deep junior core that was once ranked as the nation's No. 1 recruiting class upon their arrival in 2018, according to PrepVolleyball.com. Another member of that class is outside hitter Allyson Cathey, who has made 22 starts over the past two seasons and could be a full-time starter in 2020 following the graduation of Gorrell — a front-row utility player.
Cathey has 80 career digs and 56 total blocks. The New Albany, Indiana, native played her final season of club volleyball with Hord for Lexington United in Kentucky before they arrived at Penn State.
"I think she's blocked really well on the right side," Rose said of Cathey. "She's actually a good blocker. She has a tendency to overshoot the block on the left side, but she's been blocking really well on the right side. She's a physical player. She's got long arms and she's strong in the air. It's actually one of her better skills, in my opinion."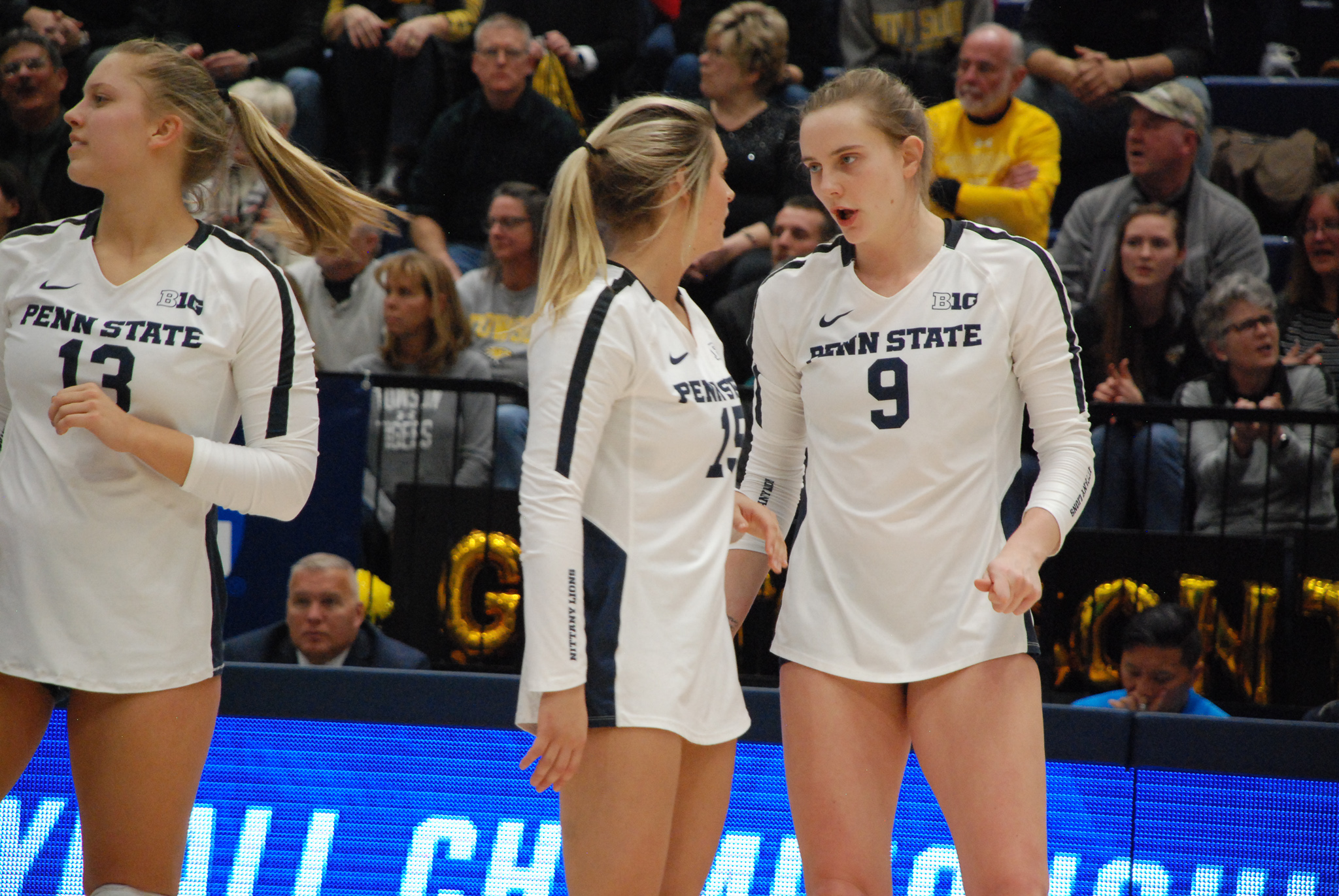 Gray pinpointed a few of her keys for being a successful blocker prior to Penn State's final home series of the regular season this past fall against Wisconsin and Minnesota, which the Nittany Lions split before advancing to the Elite Eight of the NCAA tournament and eventually losing to Stanford.
"You always have to make sure that you're square to the net, because if you're not square to the net and you open up, you allow for the other team to hit your hand and have the ball land on your side," Gray said. "But if you're square to the net and over, there's no possibility of the ball coming back on your side, so that's something you always have to pay attention to."
Hampton is the early favorite to succeed White at libero for the Nittany Lions, but nothing is guaranteed while playing for Rose, who has established a culture of relentless competition in practice. No one's spot in the rotation is ever secure, especially if they start taking plays off or not focusing on the minor details that matter to Rose. The fearless Hampton has built a reputation for flying into the stands to save a ball — much like White.
"I love scramble plays," Hampton said. "That's one of my favorite parts of the game is a crazy play where you have to go make a diving save like that, because it really gets the crowd going, gets your team going, and it's a really good energy booster. You've got to play hard."
Flowers, a graduate transfer from Wildwood, Missouri, with one year of eligibility remaining, has the most prolific defensive stats of any of Penn State's offseason arrivals with 281 digs and 195 blocks during her three seasons with the Memphis Tigers. She could be the starter at right-side hitter for the Nittany Lions this fall if Parker transitions to outside hitter.
Broughton, a rising junior defensive specialist from Charleston, West Virginia, racked up 250 digs during her time in Morgantown, including 156 as a sophomore in 2019. She could be a significant contributor for the Nittany Lions on defense and at the service line the next two seasons in University Park.
Kudryashova, a 6-foot-4 outside hitter from Novosibirsk, Russia, tallied 63 digs and 26 blocks during her first two seasons of collegiate volleyball with the Scarlet Knights in New Brunswick, New Jersey. It's unclear what kind of role she could have as a junior for the Nittany Lions in 2020, but the upside is certainly there for Rose, who has mentioned his affinity for Rutgers' stable of international players in the past.
Macall Peed and Lauren Clark were the two biggest contributors from Penn State's freshman class this past season and may see the floor more often this fall given the relative lack of proven depth at their respective positions of defensive specialist and outside hitter. Peed had 29 digs in 2019 and Clark recorded 16 digs and 14 blocks on the defensive side of things.
Rose highlighted his expectations for his defensive specialists during one of his weekly press conferences last September, saying it boils down to three main skills he evaluates when deciding who will substitute into the match on a given night.
"All of the back-row players have to be good at three things: They have to be able to serve, pass, and play defense," Rose said. "Whether it's the players who are playing or the people who are on the bench, all of them understand those are the specific skill sets that I'm looking for them to be able to do."