It's safe to say Penn State women's volleyball sophomore Jenna Hampton would be starting at libero for more than a few programs across the country right now.
Instead, the defensive specialist from Tampa, Florida, has had the opportunity to learn and compete alongside Kendall White — arguably the best libero to ever play the position for the Nittany Lions. Hampton is the overwhelming favorite to slip on the off-color jersey next season following White's graduation.
"She's someone who is definitely super inspiring, because her love for the game is just so strong," Hampton said. "It makes you want to play harder for her, too, because of how hard she goes for her teammates. I'm definitely going to miss her a lot. I've learned so much from her."
The 5-foot-7 Hampton played outside hitter for Berkeley Prep during a standout high school career, winning a state championship as a senior in 2017 alongside current Penn State teammate Amanda Phegley. Hampton played club for Orlando Tampa Volleyball Academy and was named the No. 31 PrepVolleyball.com Senior Ace of the 2018 recruiting class.
Hampton immediately validated those lofty expectations upon her enrollment at Penn State, carving out a significant role for herself off the bench as a freshman last season. She even dusted off her hitting skills for a kill on Bryanna Weiskircher's viral kick save against Ohio State, which earned the No. 9 spot on SportCenter's top 10 plays that night.
Hampton had 189 digs and was second on the team with 27 aces in her debut campaign, but hasn't factored into Penn State's service rotation this season. She's made her first 13 starts, though, and has proven herself as a reliable distributor with 56 career assists on top of her defensive prowess.
Hampton is currently fourth among all Nittany Lions this season with 176 digs heading into Friday's Sweet 16 showdown against Cincinnati at Maples Pavilion in Stanford, California, where she and the rest of Penn State's stellar backcourt will be tested by superstar Jordan Thompson.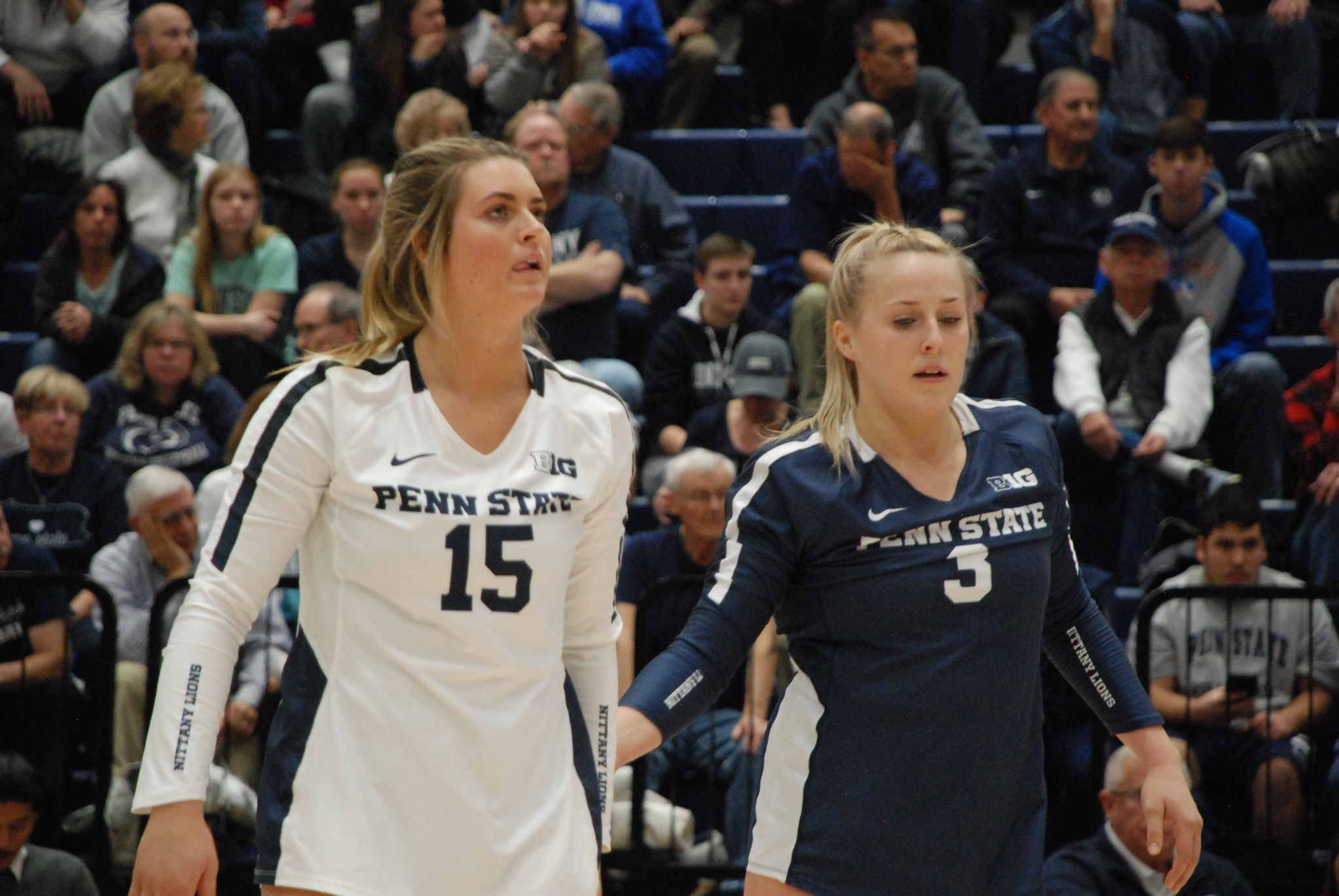 "I think Jenna plays really hard and that's what I saw when I recruited her," head coach Russ Rose said last season. "There are some certain things that she can pick up from Kendall, because Kendall plays really hard. Jenna's a no-nonsense player. She's not afraid to fly into the crowd to get a ball."
Hampton's habit of tracking down errant balls she has no business reaching or diving full-extension for a breathtaking save has become more frequent over the last two years, but that doesn't make it any less spectacular when the Rec Hall crowd roars to its feet in thunderous approval.
That was especially the case on the first point of the third set against Towson, when Hampton made a ridiculous dig to set the tone for the rest of the set and eventually a 3-1 win over the Tigers to advance to NCAA regionals. The team's resident daredevil also lauded Jonni Parker for her effort on a head-over-heels play involving the scorer's table earlier in the match.
"I love scramble plays," Hampton said. "That's one of my favorite parts of the game is a crazy play where you have to go make a diving save like that, because it really gets the crowd going, gets your team going, and it's a really good energy booster."
Hampton represented the Nittany Lions in Japan this past summer on the third Big Ten volleyball foreign tour, which made stops in Osaka, Kyoto, and Tokyo for some sightseeing and exhibition matches.
"It was really fun," Hampton said. "The game is a lot different there. It was cool to play with other girls from the different teams. It was weird how close we all were, too. We kind of just got together and clicked instantly."
Hampton is extremely close with classmate and starting setter Gabby Blossom, who may very well be Penn State's breakout player of the season. The two of them are practically inseparable off the court and spoke glowingly of each other when asked to describe their friendship.
"Gabby is definitely one of my best friends," Hampton said. "She's so genuine and she's a great teammate. She really cares about others and she's so aggressive. I think that's why coach really likes her and what I love about her. She goes hard. She makes plays that make you want to be better. She truly is just a great person on and off the court. I love that girl."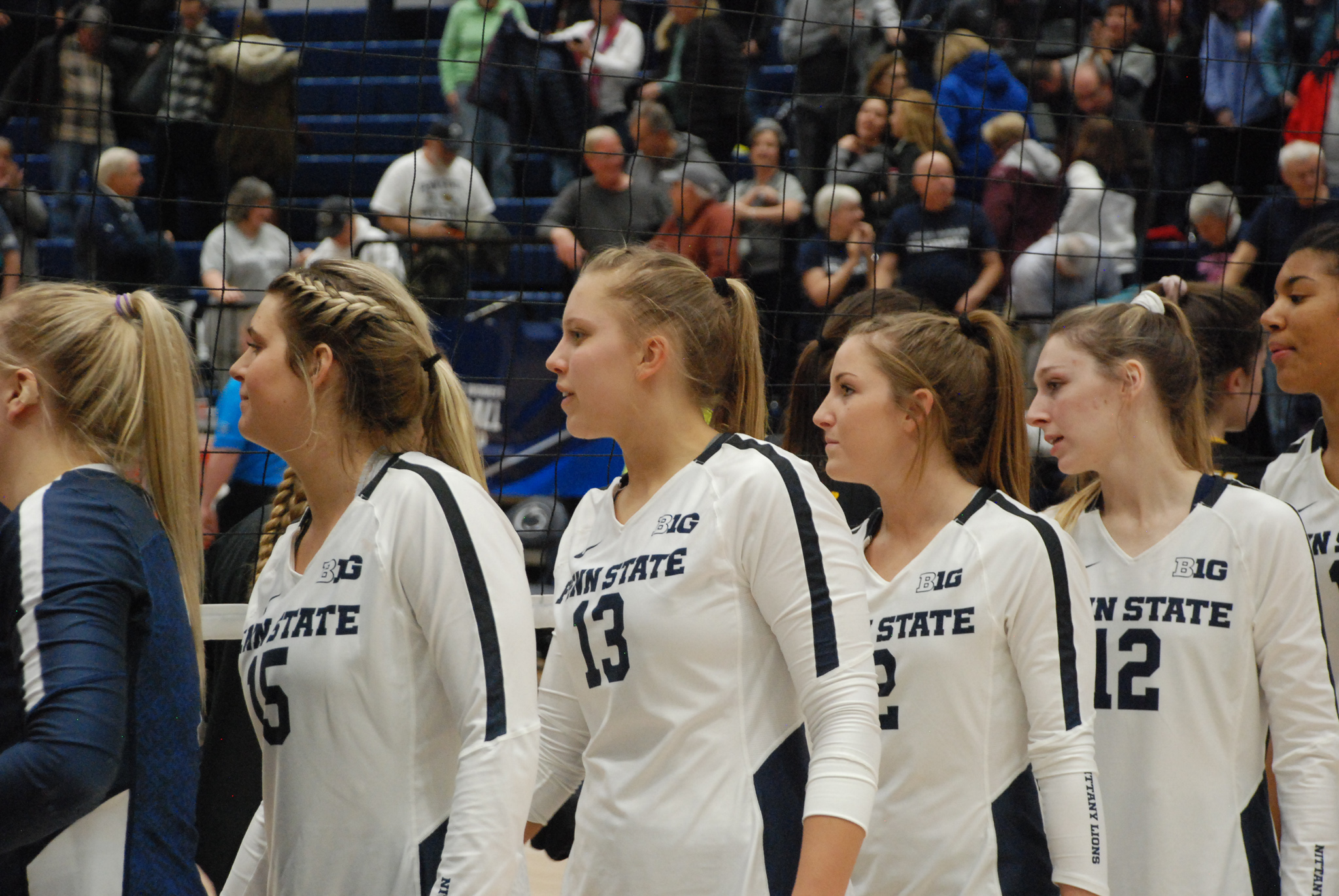 Blossom, who was selected to the All-Big Ten second team after finishing the regular season second in the conference in assists per set, returned the favor while discussing Hampton's best qualities as a player and a person earlier this season.
"Jenna is one of my best friends," Blossom said. "She's a great asset. She brings a great energy to the court when she's on it and at practice. She's everything you want in a back-row kid. Off the court, she's one of my best friends. We have a lot of fun together. People always say, 'If there's a Gabby, there's a Jenna' or vice versa. We're normally always together if you see us."
Like many of her teammates, Hampton has a few pregame superstitions she swears by. If you look closely, she always folds her left sock down ever so slightly. She also only eats the pineapple and grapes out of the fruit cups at the team training table.
Hampton said she's done a better job of taking care of her body in between matches as a sophomore and making use of the recovery resources available to the team. Foam rolling and resistance band work were two of the first things they did upon arrival at the hotel in Palo Alto Wednesday, according to their Instagram takeover of the NCAA Volleyball page.
"I never really stretched and drank a lot of water [in the past], and that's the most important thing," Hampton said. "We're really lucky to have such a good trainer and nutritionist who really emphasize the importance of drinking all the time. We have hydration tests. It really keeps our bodies going. We make sure to stretch after practice all the time, so I think that's really helped me."
Hampton knows full well what's at stake this weekend. After falling to eventual national champion Stanford in the Elite Eight last season, she and the rest of the Nittany Lions will no doubt have plenty of motivation against upset-minded Cincinnati and potentially the Cardinal.
"It's what you've trained for all year," Hampton said of the tournament. "It's super competitive. It's definitely exciting and something we've been looking forward to and training really hard for."