Penn State women's volleyball has one of the deepest and most talented junior classes of any team in the NCAA heading into the 2020 season.
Returning All-Americans Kaitlyn Hord, Gabby Blossom, Serena Gray, and Jonni Parker are the only Nittany Lions who started all 33 matches this past season, which culminated in a third straight trip to the Elite Eight before losing to Stanford.
Jenna Hampton and Allyson Cathey are early favorites to fill key roles this fall at libero and outside hitter after recording 372 digs and 292 kills, respectively, halfway through their Penn State careers.
Russ Rose also brought in Russian outside hitter Anastasiya Kudryashova this spring, who transferred to Penn State after spending the last two seasons at Rutgers. The 6-foot-4 junior has two years of eligibility remaining and now shares tallest player on the team honors with Hord.
It's unfortunate Kudryashova won't have the opportunity to go through a full spring practice schedule with her new teammates due to the ongoing coronavirus pandemic and subsequent campus closures across the country, but Rose recently mentioned in an update released by the program how he and his staff have been keeping in frequent contact with the team.
Rose said they all talk once a week on Zoom video chat and he calls four or five players a week to touch base and see how they're doing.
.@BTrippTweets checks in with Coach Rose to discuss how he's navigating these challenging times and the message he's sending to the team.

— Penn State Women's Volleyball (@PennStateVBALL) April 8, 2020
"Everybody knows somebody somewhere that has some challenges that are going on right now, so it's really critical that we let the players know that we want to help them in any way we possibly can, even if it's just listening and trying to give them some advice and guidance during tough times," Rose told Brian Tripp.
Rose's message to the team: "Just to be tough. Just to be resilient and to recognize that their value in society is far greater than wins and losses. They certainly have to learn how to navigate challenges."
Barring any last-minute shakeups, the Nittany Lions won't have a single senior this coming season. Eight juniors, five sophomores, and three freshmen are expected to fill out Rose's 2020 roster. Six of those juniors arrived at Penn State as members of the nation's No. 1 ranked 2018 recruiting class, according to PrepVolleyball.com.
After gaining extensive experience the last two seasons, they will step even further into the spotlight this fall as the torchbearers for this program.
"The players who are committed to being the best they can be are going to be committed whether they're in State College or whether they're at home," Rose said. "I think the players who want to make a difference and be the best are always going to find ways to do that.
"The players who were taking shortcuts were doing the same thing here as when they were at home. The problem is, if you have too many of those, that's what slows programs down from reaching for the stars."
Although workouts are optional while the team is scattered around the country in 11 different states, many players have been training in creative ways to keep their skills sharp for whenever competitive sports resume.
Cardio and body-weight exercises are always an option if they don't have access to a home gym. Pepper boards and ball-return nets have also been a favorite among volleyball players posting their home workout routines to social media like incoming freshman Annie Cate Fitzpatrick.
this will have to do for now pic.twitter.com/lznwiaDwXh

— ac fitzpatrick (@anniecatefitz) April 8, 2020
Kudryashova's taller frame will at the very least be beneficial during practice for the Nittany Lions, who lacked an abundance of size in the front row last season outside of Hord. Kudryashova will compete with Cathey and sophomores Lauren Clark and Gabi Bailey for playing time once the team and the rest of the student body is permitted back on campus.
The Nittany Lions also have a trio of true freshmen scheduled to arrive this summer, including outside hitters Annie Cate Fitzpatrick and Macy Van Den Elzen, both of whom were named Under Armour All-Americans and Gatorade State Players of the Year for Florida and Pennsylvania, respectively.
Independence, Ohio, native Maddy Bilinovic will provide some much-needed depth at defensive specialist following the graduations of program digs record holder Kendall White, Keeton Holcomb, Emily Sciorra, and Kristin Krause. Bilinovic and Fitzpatrick were recently named to the VolleyballMag.com Girls Fab 50 for the 2020 recruiting class.
Sophie Walls, a junior from The Woodlands, Texas, may also find her way into the rotation after transitioning to defensive specialist last season. Walls was a setter for the University of Miami in 2018 before transferring to University Park last spring. She recorded an ace on her very first serve in a Penn State uniform against Holy Cross last August.
Kaitlyn Hord is coming off consecutive All-American seasons and earned a coveted first-team nod this past fall after recording 310 kills and 149 blocks. She was the only Nittany Lion to nab a spot on the AVCA first team in 2019. Hord and Gray, who had 317 kills, 92 blocks, and 34 aces last season, are perhaps the most talented middle blocker duo in college volleyball right now.
After leading the team in kills for the second straight season, Jonni Parker needs only 236 more to become the 29th player in program history to join the 1,000 kills club. She had a career-high 413 in 2019 and added 195 digs, 73 blocks, and 42 aces, but somehow only earned All-American honorable mention after finding a spot on the third team as a freshman. Parker deserved better.
Before last year's NCAA tournament, Parker discussed the mentality it takes to play for a program like Penn State and how she was able to apply the lessons she learned during her first postseason as a freshman. Striving to make those around you better is a common theme among Rose's players like Parker and former All-American setter Micha Hancock, among others.
"Definitely knowing the expectations is helpful," Parker said. "Being a part of a program like this, you have to come in with that realization knowing what's expected of you. It's like coach says, 'Take it one day at a time.' You can't get too caught up in what's after that."
Parker has gained immense respect in the Big Ten for her hustle plays and overall talent. Despite being visibly under the weather against Illinois this past season at Rec Hall, Parker helped rally her team from a 2-0 deficit to win in five sets.
When the Nittany Lions pulled off a reverse sweep of Wisconsin a few weeks later, Parker's right hand was taped up quite a bit. She combined for 29 kills, 25 digs, eight blocks, and five aces in those two spirited matches, which tells you everything you need to know about Parker as a player.
"Being a leader I think, to me, is not only being able to take care of yourself, but more importantly, being able to help out your teammates and helping them succeed," Parker said. "I think it's really important if maybe I'm not so much having a good game, I can still help my teammates and make sure they're succeeding."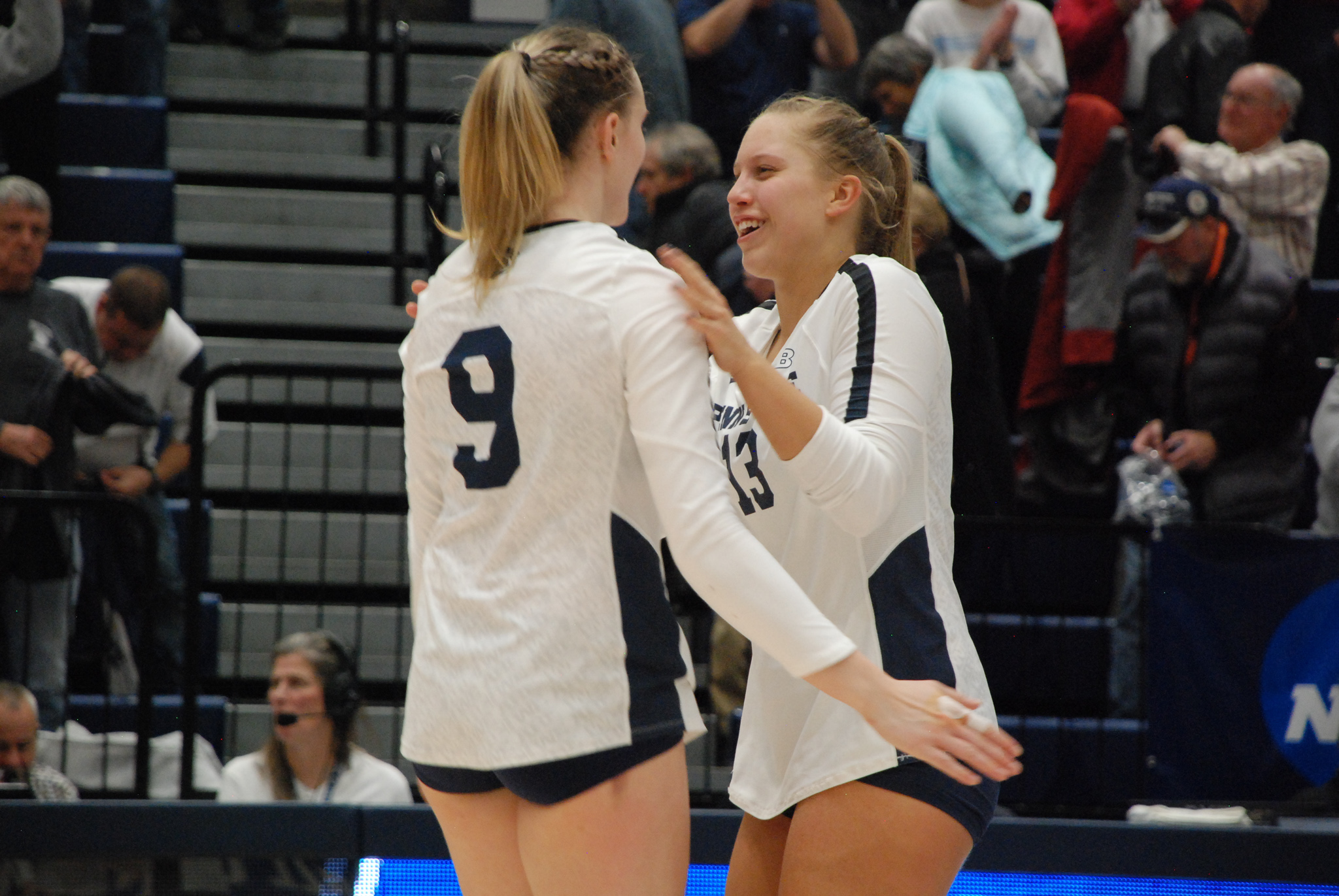 Gabby Blossom was named a third-team All-American following a sophomore season that saw the St. Louis, Missouri, native tally the most assists (1,332) of any Penn State setter since Hancock led the Nittany Lions to their seventh national championship in 2014.
Hancock took home Penn State's fourth AVCA National Player of the Year honors that season — following in the footsteps of Lauren Cacciamani (1999), Nicole Fawcett (2008), and Megan Hodge (2009).
Blossom's supreme talent in terms of tracking down errant passes and still distributing an effortlessly crisp set to Penn State's hitters was undeniable last season. Her energy is infectious on the court, so it's not a stretch to consider Blossom to be Kendall White's clear successor in the fiery competitor category.
"We have so many goals as a team," Blossom said last December. "Playing for this program, you grew up watching them win Big Ten championships and national championships. That's why me and I know all my teammates come here is for those moments.
"You know it's going to be hard at some points, but you have those dreams in the back of your mind and you have teammates who you want to push through for, because I know I have teammates who go hard every single day. If they're going hard for me, I want to go hard for them."
Serena Gray, who hails from Temple City, California, has provided some of the most insightful and hilarious interviews of anyone on the team the last two years.
You can tell she loves to keep her teammates smiling and entertained during warm-ups, but when it's time to compete, she always brings it. When asked last November how her Penn State experience so far compares to her expectations before college, Gray paused for a moment and answered authentically.
"It's a lot more real," she said. "It's not just volleyball, volleyball, volleyball. You're actually a full-time student. I wasn't expecting it to be as hard as it is, but I'm glad that it is, because it challenges me. It gets me to focus on more than one thing and have more than one priority than just volleyball, so that's definitely something I wasn't expecting."