Penn State women's volleyball has spent what is surely the strangest offseason in NCAA volleyball history acquiring talent via the transfer portal. The 2020 roster is loaded with returning All-Americans and exciting underclassmen.
Once on-campus activities are allowed to resume, which is currently up in the air due to the coronavirus pandemic, the Nittany Lions will get to work preparing for another season in the toughest conference in college volleyball.
After signing a four-year contract extension in February, head coach Russ Rose could reach his 1,300th win in the season opener. Stanford took a 9-7 lead over the Nittany Lions in terms of national championships after sweeping Wisconsin in Pittsburgh this past December.
Former Rutgers outside hitter Anastasiya Kudryashova, a 6-foot-4 rising junior, enrolled in classes at Penn State this spring. She briefly had a chance to show her new teammates what she can do in practice before students were told to stay home following spring break.
Kudryashova is from Novosibirsk, Russia, but is likely staying with one of her teammates in the United States given the uncertainty surrounding international travel right now.
Memphis graduate transfer Hannah Flowers, a 6-foot-2 right-side hitter, announced she will use her final season of collegiate eligibility at Penn State after recording 1,005 kills as a Tiger. Flowers led Memphis in kills each of the last three seasons and will provide another proven arm for junior setter Gabby Blossom, who competed against Flowers in high school in their native Missouri.
Former West Virginia defensive specialist Keatan Broughton is also joining the Nittany Lions after recording 250 digs the last two seasons in Morgantown. She has two years of eligibility remaining and will compete with Jenna Hampton, Macall Peed, Molly Russell, Sophie Walls, and incoming freshman Maddy Bilinovic for playing time.
The Nittany Lions will have no shortage of options on offense this fall, but it remains to be seen which underclassmen will step up. Volleyball fans around the country are already familiar with Jonni Parker, Serena Gray, Kaitlyn Hord, and Gabby Blossom. The 2020 season could see the introduction of several new faces to the spotlight.
Outside hitter Annie Cate Fitzpatrick established herself as one of the nation's best 2020 recruits and brings plenty of intrigue to the position right off the bat. She was named Florida's Gatorade State Player of the Year and competed in the Under Armour All-America Volleyball Match alongside fellow incoming freshman Macy Van Den Elzen, an outside hitter from Emmaus, Pennsylvania, who took home Gatorade State Player of the Year honors herself.
The Nittany Lions lost Tori Gorrell to graduation after she put together a career-high 278 kills as a senior in 2019. At the moment, Penn State's top tier of offensive weapons appears to be Parker, Hord, Gray, and Flowers. If the season started tomorrow, Blossom would likely target those four the most — knowing that they have the experience to handle that type of workload. They have 2,793 kills between them so far during their college careers.
Junior outside hitter Allyson Cathey started 18 of the 27 matches she played in last season, recording 186 kills in 93 sets of action. She has 22 career starts under her belt heading into her third season on campus, but has yet to become a dominant hitter who the Nittany Lions can rely on consistently. Cathey had two seniors ahead of her at outside hitter as a freshman and dealt with what appeared to be a knee issue during part of her sophomore season.
Cathey wore a black sleeve under her left knee pad toward the end of the season and didn't make her first appearance in last year's NCAA tournament until the Elite Eight loss against Stanford, where she had one kill on eight swings. The opportunity is there for Cathey to carve out a sizable role for herself this fall — perhaps as a full-time starter — if she can showcase the ability to produce on a nightly basis in the Big Ten.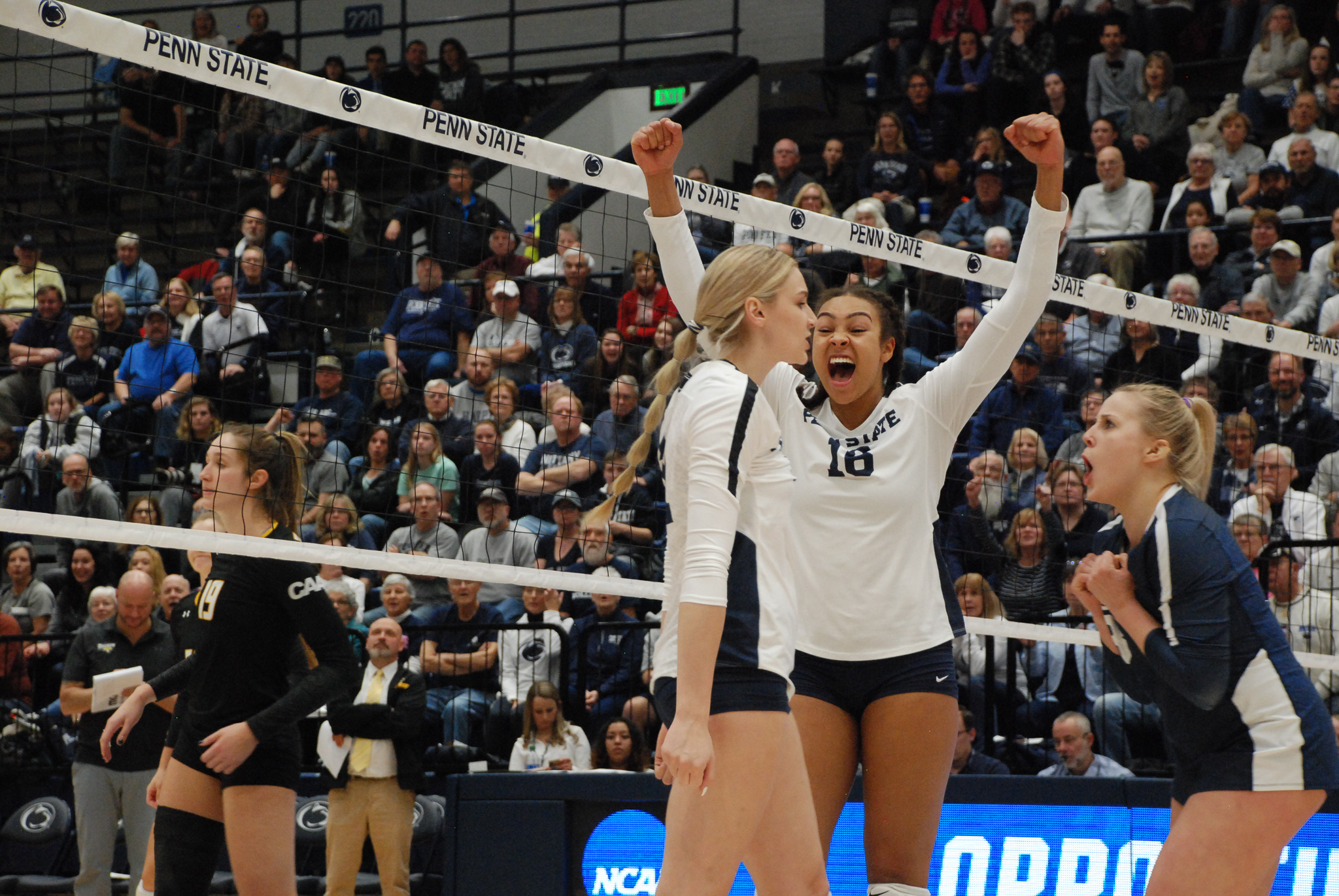 Lauren Clark visibly gained confidence throughout her freshman season in 2019 and was ready to make an impact in her first NCAA tournament. The outside hitter from Champlin, Minnesota, tallied 14 of her 44 kills in the postseason, where she played in every set for the Nittany Lions.
Clark and Peed played the most among Penn State's freshmen last season, but Gabi Bailey brings some intriguing tools to the outside hitter position and could see the floor more often as a sophomore if she adds more physicality to her game — something Rose mentioned at times last season.
Coming from a volleyball family like so many of Penn State's players, Bailey has a high IQ for the game thanks to her mother, Linda, who played at Pitt, and her sister, Brooke, who recently graduated from Clemson after playing for the Tigers.
Bailey finished her freshman season with four kills and one dig. Given Penn State's depth at outside hitter, Bailey can afford to take her time refining her skill set and getting stronger, but keep an eye on the Harvard, Massachusetts, native this season to see how she progresses.
Hord was the only Nittany Lion to be named a first-team All-American last season after recording 310 kills and a team-high 149 blocks. Her vertical leap is spectacular to behold, especially considering the amount of air time she gets when rising up for a Blossom set. Hord was invited to participate in her first U.S. women's national team training camp March 14-21 in Anaheim, California, but it was canceled due to the coronavirus.
Hord and Gray are arguably the best middle blocker duo in college volleyball heading into the 2020 season. They were each top five prospects in the 2018 recruiting class, according to PrepVolleyball.com.
Hord and Gray headlined the No. 1 class in the country that cycle, which also featured Parker, Blossom, Cathey, and Hampton. Another member of that heralded class, Amanda Phegley, announced her transfer to North Carolina this past December after spending two seasons in University Park.
Between Parker, Hord, Gray, Flowers, Cathey, Clark, Bailey, Kudryashova, Fitzpatrick, and Van Den Elzen, Blossom can distribute the ball to a wide variety of players if she so chooses this coming season.
As one of the Big Ten's best returning setters, it will be fascinating to watch what Blossom can do now that she has a full season of starting experience in her back pocket. Her ability to improvise and blend Penn State's intended system together at once is a major reason why she recorded 1,332 assists as a sophomore — the most of any Penn State setter since Micha Hancock in 2014.
As always, the Nittany Lions will be viewed among the top teams in the conference heading into the 2020 season, but they are especially equipped to make a run at their 18th Big Ten championship and potentially another national title given the firepower they boast on offense.