Penn State women's volleyball commit Isabella "Izzy" Starck was in attendance for the program's matches against Indiana and Michigan last weekend at Rec Hall.
Starck, a 2024 setter from Colorado Springs, Colorado, verbally committed to the Nittany Lions on June 21 — two days after heralded libero Ava Falduto became the first member of Penn State's 2024 recruiting class. Starck and Falduto are among the very best at their positions next cycle.
Starck helped the U.S. youth national team win gold at the 2022 NORCECA U19 Pan American Cup in Tulsa, Oklahoma, last July. The U.S. went 5-0 and didn't drop a set the entire tournament, sweeping Brazil in the finals. Starck was on the floor for match point and found Nebraska commit Harper Murray for the final kill.
Starck and fellow Penn State commit Jocelyn Nathan, a 2023 defensive specialist from Wilmington, Delaware, watched the Nittany Lions sweep Indiana Friday night before catching up with the coaching staff on the court afterward. They posed for photos with Katie Schumacher-Cawley and chatted with assistant coaches Dan Gwitt, Brian Toron, and director of operations Tina Readling.
Starck and Nathan attended Penn State football's 33-14 win over Central Michigan at Beaver Stadium Saturday afternoon, where they were among an announced crowd of 106,624, then headed back across campus to Rec Hall for the Nittany Lions' match against Michigan, a 3-0 loss to the Wolverines.
On top of the busy schedule for Izzy's recruiting visit, she and her parents were, obviously, also there to support her older sister, Anjelina, a sophomore outside hitter for the Nittany Lions who's started all 13 matches so far this season. Izzy tried on her future Penn State uniform alongside her sister Sunday while continuing her tour of campus and the facilities.
The Starck sisters helped Rampart High School win its first girls' volleyball Colorado 5A state championship in May 2021 when Izzy was a freshman and Anjelina was a senior. They will be teammates again, this time at Penn State, for the 2024 season. Both are products of the well-known Colorado Juniors on the club circuit.
Following Saturday's match against the Wolverines, Starck graciously took the time to answer some questions in an exclusive interview with DigNittanyVolleyball. Starck discussed a host of topics surrounding her commitment to Penn State, her relationship with Falduto, and how her parents, Errica and Doug, have positively influenced her volleyball career as former players themselves. The transcript of Starck's interview, lightly edited for clarity, can be found below.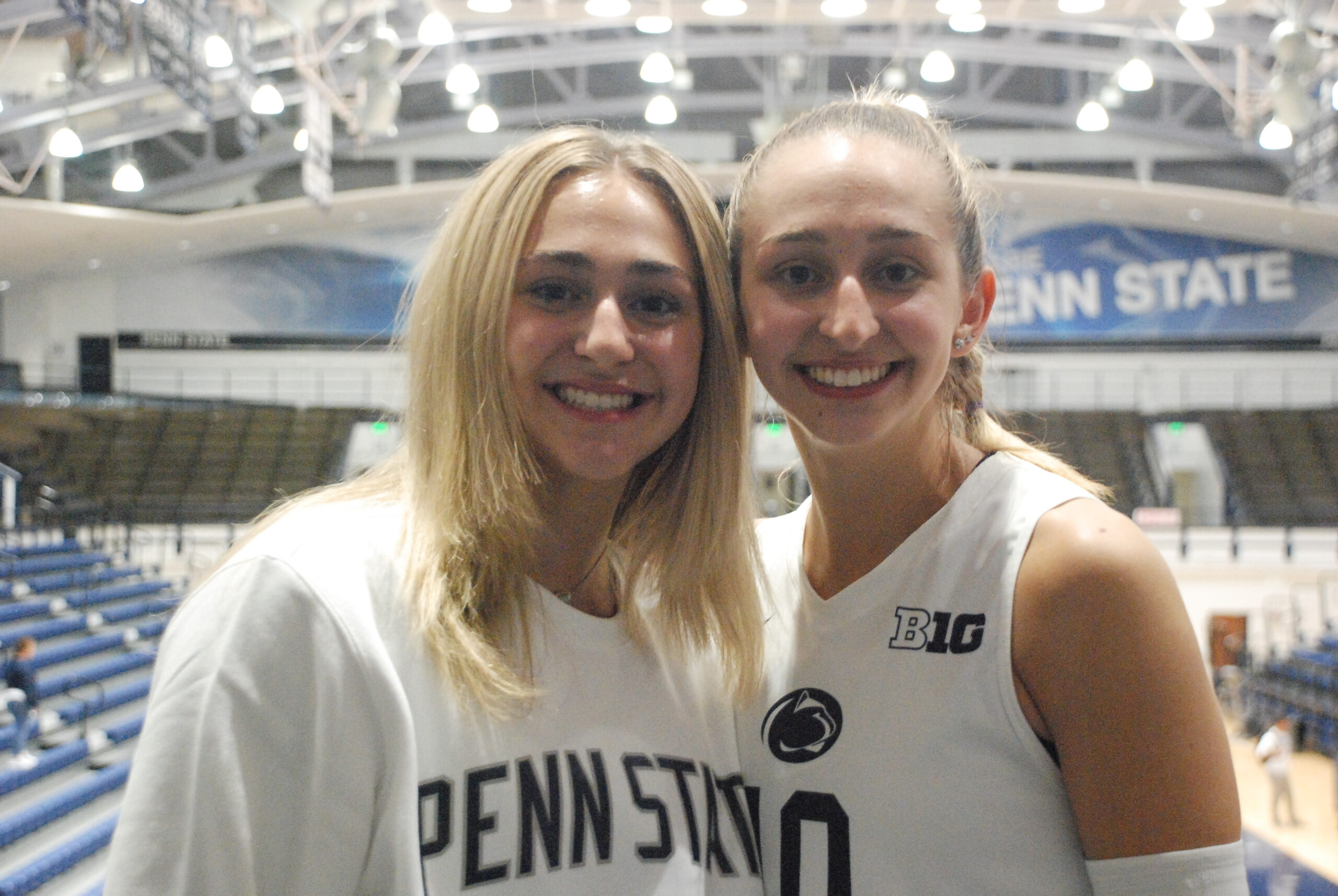 I saw you visited a lot of schools. What were the main factors that led to your decision to commit to Penn State?
"The main factors were the campus, the coaches, the culture, the relationship I have with the people here, and just the overall atmosphere. Between all the different schools, I talked to a lot of coaches on the phone. I could feel the relationship between myself and the coach. If it clicked right away, that's somewhere I want to be. If it didn't, I don't want to force it."
What was it like this weekend getting to meet Jocelyn Nathan and watch the two matches with her?
"It was really cool, because I'm going to be playing with her for three years. I got to meet someone new. She's really nice and everything. It's just really cool to think about."
What was it like attending the football game this afternoon?
"It was really fun. I think there were 106,000 people there. All these people come out to support this school. There's a big fanbase for Penn State. Just seeing all the other sports at the school having all these big fanbases, it's just really cool how much people support this school."
How influential have your parents been in your volleyball development?
"They got me started in volleyball. I played for their club they had, and then I moved to another one, but they've always coached me, always given me feedback, always are honest. I probably wouldn't be how good I am without their honest feedback, of course."
What's your relationship like with your sister and being able to practice with her?
"I tell her the truth and everything, and she's really there to support me. But it's a nice balance, because we're so different. We balance each other out so well. We know exactly what one another is thinking. It's just this really great chemistry being able to play together."
What are some of your goals for the rest of your junior season with Rampart High School and then your club season in the spring?
"I really want to win state. We have a really good chance this season with my high school team. We have really good players and really good team chemistry. It's just putting it all together through states. Also, club, just win nationals. We have a really good team, a really deep team. Just being able to play together and have that really good chemistry and pull through for nationals."
What's your relationship like with Penn State's coaching staff?
"It's really like family. I feel comfortable. I've known a lot of them for years. It's just a really comfortable relationship. I'm family with them. It feels like home. I always can go to them if I need to talk to them anytime, even though I'm not here yet."
What's your relationship like with Ava Falduto?
"When we met, we instantly connected. It's kind of like a sister bond between each other. We're really close already, and we're super excited to play with each other. Just being able to have that close bond already, even before we get to college, is just really cool."
What's your message to other top recruits about why they should come here and play with you guys?
"I think it's just culture over everything. Even if the program isn't having those good matches or bad matches, in college volleyball, there are wins and losses with all these different schools. If it clicks for you and you love a place, just go and just follow what you want to do."
What do you love most about playing volleyball?
"Probably just the competitive aspect. Every game is different. You're going to have your good games, you're going to have your bad games. You don't really know what's going to happen. It's just always fun to see what next thing is going to happen, and all the competitive, different things."
What are some of the strengths of your game? What would you like to work on before getting to Penn State?
"Probably some of my strengths are I can set the ball from anywhere on the court and just my volleyball IQ overall. I think just working on developing as a player, getting stronger, leveling up my IQ into college volleyball, especially with the Big Ten being a tough conference."
What's your impression of campus and the facilities here at Penn State?
"It's really nice. They have a lot of fan support. The campus is just really pretty with all the trees and everything. Just being able to be in a small college town."
What's it like living in Colorado Springs with the Olympic training center so close?
"It's nice, because when we have the [national team development program] training series, sometimes it does go out there. It's really nice how close it is to me."
What was your experience like with USA volleyball's NTDP and then taking home gold at the U19 Pan American Cup?
"It was really fun, because I got to play with all the best athletes in the country, and then play against the best athletes in the world. It was just really cool being able to develop with all these different girls."
Do you have any shout-outs you want to give for people who have been influential in your volleyball career so far?
"I think probably just my sister being able to always push me. She's the one who really introduced me to this program. I've just really found my home. I probably would have still gone here if she wasn't here, but she made this program just really comfortable and welcoming for me. I really appreciate that from her."
Who are some Penn State volleyball players or volleyball players in general you admired growing up?
"Alisha Glass. She's a setter and she has the same type of drive as I have right now. Being able to see where she went and her goals, it's like, 'Okay, if she can do it, then I can do it.' It really just makes me want to be better."
She spoke with you guys out in Tulsa. What was it like to meet her?
"It was really cool. I've met her once or twice before. She came out to a camp back in Colorado. It was just really cool meeting someone I look up to, seeing who I want to be like when I'm older, and just being able to talk to her, take advice from her, take in all the feedback from her. It's really cool."
What are your thoughts on Micha Hancock?
"I mean, she's just an incredible setter. She was at Penn State all four years and everything. Seeing someone develop from freshman year to senior year, and then go on to the Olympics, really shows that when I go here, I'm able to develop and be a better player, so I can eventually be in the Olympics some day."
How important is your versatility as a player, being able to hit as well?
"It's really helpful because, especially if the ball is tight, or if I pass the ball for some reason in the front row, I can always be an option, and we can always have three attackers. Especially when I'm front row, I can dump and go up and hit, so it's nice having that extra attacker always."