The Tale of the Tape
DigNittany: We're speaking today with Talking Head, who played D1 Volleyball and has coached the sport for many years.  We'll start by comparing some team and individual stats.  The first table is courtesy of DigNittanyVolleyball Forum poster Millenium.  The remaining tables are courtesy of VolleyTalk poster ilikecorn.  We'll rejoin our conversation with Talking Head at the end of the tables.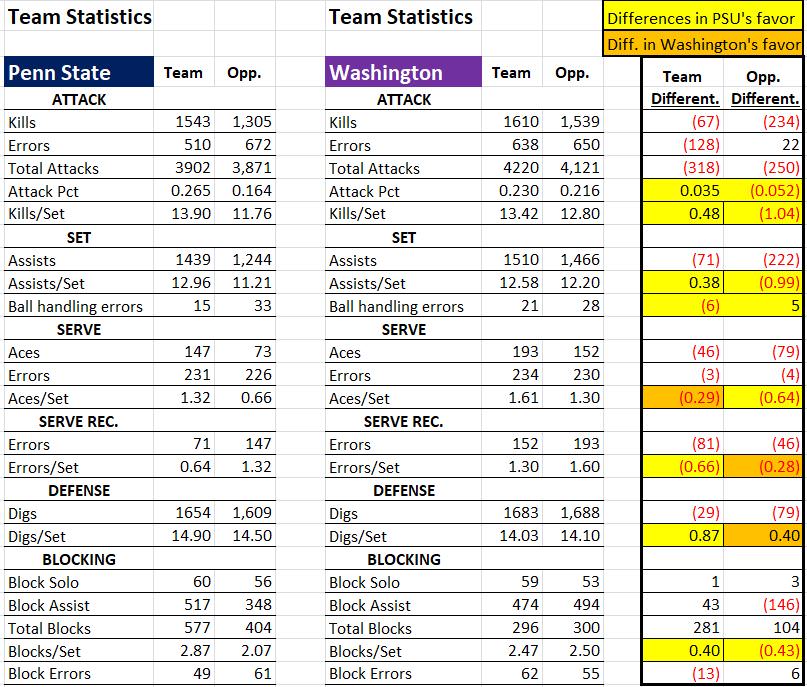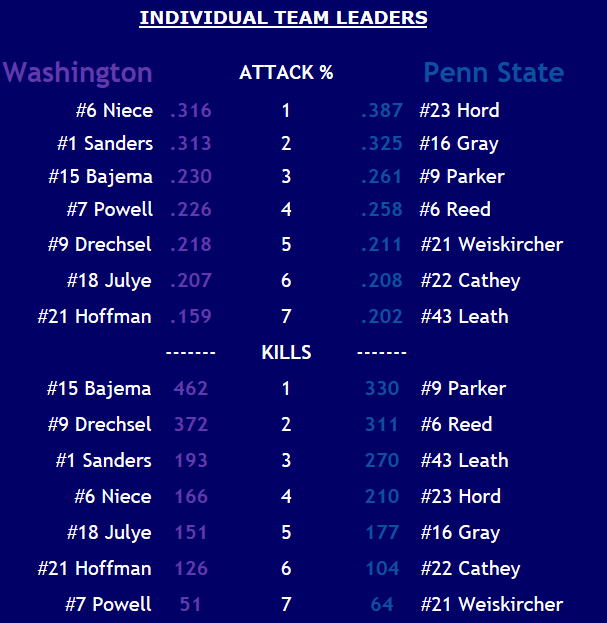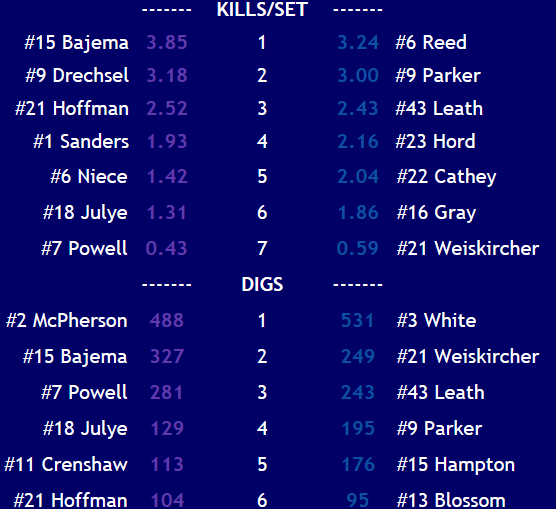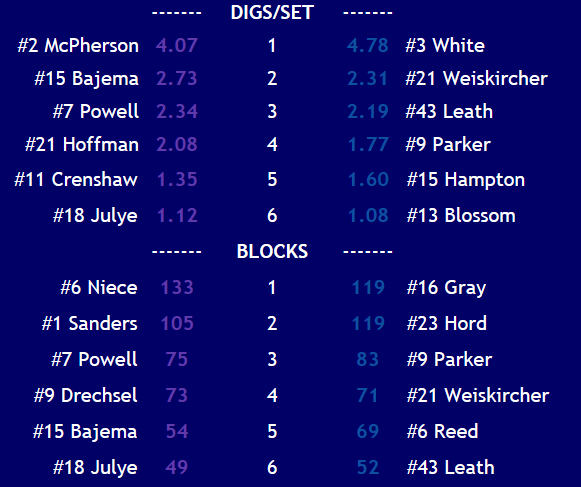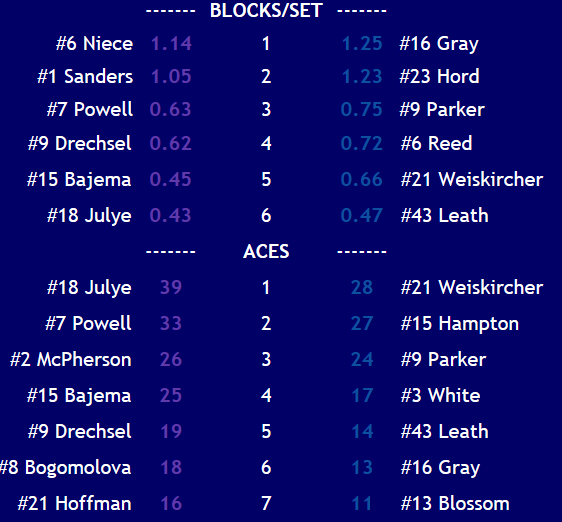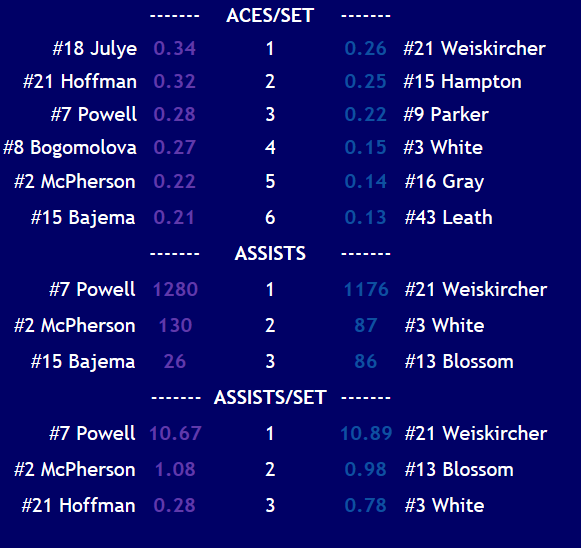 DigNittany: Looking at these stats quickly, Washington appears to be a strong serving team, and Penn State looks like a strong receiving team.  Both teams have lots of freshman and/or sophomores who see considerable playing time.  For Penn State — 6'1″ Fr. Opp Jonni Parker, 6'4″ Fr. MB Kaitlyn Hord, 6′-2″ Fr. MB Serena Gray, 5'7″ Fr. DS Jenna Hampton, 6'1″ Fr. OH Allyson Cathey,  and 5'9″ Fr. DS/Setter Gabby Blossom.  For Washington — 6'2″ Fr. OH  Claire Hoffman, 6'4″ So. Opp Samantha Drechsel, 6'4″ So MB: Lauren Sanders, and 6'0″ Fr. Setter Ella May Powell.  It will be interesting to see who steps up.  Your thoughts?
Talking Head: In the lead-up to this year's tournament, it seemed that Penn State's younger players weren't phased at all by their age or inexperience.  In several instances, they actually played better down the stretch, against some very tough opponents.  Coach Rose has mentioned in the past how freshmen can hit a wall in November, when their high school seasons would have been over.  That hasn't happened with this group of Penn State freshmen.
DigNittany: So how do you compare the two teams?
Talking Head: I'm a big believer in the Tale of the Tape.  Comparing Penn State and Washington, it favors Penn State in almost every category.  You could say they're pretty close, and Washington does lead Penn State in aces/set — but serve/receive has been a real strength of Penn State throughout the season.  With Taylor Leath, Kendall White and Jenna Hampton on serve-receive, Penn State will do just fine.
DigNittany: What about the level of competition each team faced?
Talking Head: Well, the Pac-12 is a great conference, but I don't think it was as strong this year as it has been in past seasons, which I think is clear from comparing the AVCA rankings of B1G teams (in red) to the AVCA rankings of Pac-12 teams (in green) from the November 26th AVCA poll (imperfect as that may be):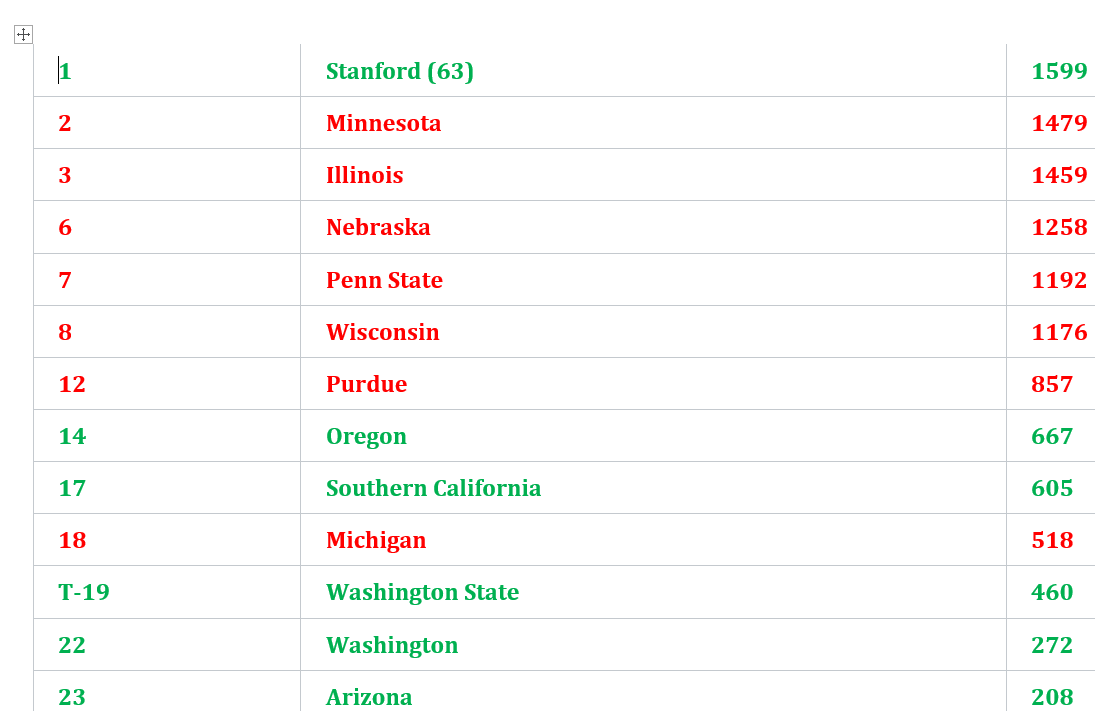 DigNittany: Penn State had to travel across the country to play in this Regional, whereas Washington is (relatively speaking) much closer.  Both teams have played in Maples Pavilion before.  Do you think the venue favors either team?
Talking Head: I don't think so, and more important, I think this Regional and this venue were the most favorable to Penn State of any of the four.  I have all the respect in the world for Stanford, but generally they don't bring the home court advantage that you see with BYU or Minnesota or Illinois.
DigNittany: 6-2 RS/Jr. MB Tori Gorrell stepped in against Howard and Syracuse and played two terrific matches.  Your thoughts about Tori Gorrell and her performance in the opening rounds?
Talking Head: She's got a chip on her shoulder after having lost her starting spot, she's hungry, she's a proud Canadian.  What a great situation for her to be in now — and for Russ Rose to have someone like her ready to go coming in off the bench.
DigNittany: What's your prediction?
Talking Head: Well, anything can happen in the NCAA Tournament, and there are no sure things (which I hope Stanford keeps in mind when they play Washington State).  One thing I strongly believe: Penn State will be as tough an "out" as any team in the tournament.  I pick Penn State 3-1, but as I said, there are no sure things.  The Nittany Lions will have to bring their "A" game.
DigNittany: Thanks for your time.  We appreciate it.