Badgers and Gophers and Lions — Making Sense of the Animal Kingdom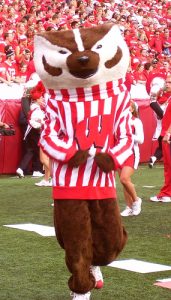 Match Preview
Badgers and Gophers (click images for more info)
Date
(Time)
Opp
Site
Media
10-28-16
(9:00 p.m.
ET)

WI
BTN
TV
10-29-16
(7:30 p.m.
ET)

MN
BTN
TV


GT 
For those who said the #10 Penn State women's volleyball team (17-4, 9-1 Big Ten) hasn't beaten a really good team on the road this season, this weekend is the Nittany Lions' chance to end that narrative, as they take on the #4 Wisconsin Badgers (16-3, 8-2 Big Ten) tonight at 9 p.m. ET. and then race over to Minneapolis to face #3 Minnesota (15-4, 7-3 Big Ten) on Saturday, Oct. 29, at 7:30 p.m. ET.
Here are a few fun facts compiled by Steve Sommer, Penn State's Assistant SID for Volleyball:
Penn State has a 5-3 record against ranked opponents this season, with its most recent win over a ranked foe coming against Ohio State, in which PSU downed the then-No. 19 Buckeyes in straight sets behind 12 kills from Lee and 10 from junior middle blocker Haleigh Washington. Washington also matched a career-best hitting percentage, attacking at a .769 clip, committing zero errors.
Washington and Lee both rank among the nation's best in statistical categories. Washington ranks second in the country in hitting percentage (.468), while Simone Lee's 4.19 kills per set rank 35th in NCAA Division I.
Penn State's ability to limit opponent's offense has been unmatched this season. The Nittany Lions lead the country in limiting opponent's hitting percentage, holding the opposition to a .127 efficiency.
PSU finds itself among the top 25 in the country in two other statistical categories. The Nittany Lions have hit the ball at a .316 clip in 2016, coming in atop the league and second nationally. Penn State also averages 2.65 blocks per set, coming in fifth in the Big Ten and 23rd among Division I programs
Q&A with Talking Head
DigNittany: Coming off a tough loss to Michigan at The Pool in Ann Arbor, Penn State certainly shouldn't be taking anything for granted tonight or tomorrow night.  It's always tough playing on the road, and a few players struggled a bit against Michigan.  If that continues tonight, do you think Coach Rose might make any lineup changes?
Talking Head: First off, if all goes well this weekend, and the ball control, and serving and blocking do their work — which I think they will — and Penn State plays like the team they were during the winning streak — which I think they will — then I doubt Coach Rose will make any changes.  If things don't go so smoothly, a look to our bench, which has depth this year, is a possibility — not probably, but possible.  But I won't begin to pretend to know what Coach Rose is thinking, or how he might react to any given situation.  Penn State certainly has some talented players who haven't been in the starting lineup, including 6-1 RS So. OH Nia Reed and 6-0 RS So. setter Bryanna Weiskircher.  Reed possesses impressive athleticism, but when she came into the program, she wasn't as polished as some other players who have played for the Nittany Lions.  Then, of course, she was injured her entire true-freshman season, and maybe not 100% (or 100% confident) her RS Fr. season.  So here she is in her third year with the program.  We've seen a bit of her, and if Thelen struggles, it's possible Coach Rose would call on Reed.  If 6-0 Jr. setter Abby Detering were to struggle, it's certainly possible Coach Rose would call on Weiskircher, who I believe has handled her situation this year with total class and team commitment.
DigNittany: Assuming Penn State regains its mojo, how do you think Penn State matches up against Wisconsin and Minnesota?
Talking Head: Not to sound overconfident — because both of this matches will be very, very tough — but if Penn State plays its game, I think both style-wise and personnel, Penn State matches up very well with both these teams.  I don't think either Wisconsin or Minnesota have the ball control skills to match up with what Penn State is capable of doing.  I think offensively, Minnesota is there.  But it seems like the thing that betrays them is their serving game: in my opinion, they're not a great serving team and they're not a great ball control team (even though Rosado is very good).  Wisconsin knows they have to get their middles going, because I don't think they have elite pin hitters.  And Wisconsin's serve-receive game is also suspect.  If we can get Wisconsin passing two-balls, and forcing Carlini to try to do too much — which she has had a tendency to try to do against Penn State — I think we have a good chance to walk away with a win.  But fingers-crossed — Carlini could play lights out, the Wisconsin pin hitters could go beast mode.  But I like Penn State's chances.  I think it is very possible — not probable, maybe, but very possible — that Penn State ends the weekend with two wins.
DigNittany: Looking at just the league-only stats (see below), I'm still struck by the fact that Penn State lost to Michigan.  The Nittany Lions are doing very well (statistically) pretty much across-the-board.
Talking Head: Well, they out dug us by about 10, so they were playing excellent defense.  And let's look at it this way: they stole Game 3.  By that I mean, it was a winnable game for Penn State, and the Nittany Lions let them back in it, and ended up losing it.  And then, as we all know, any Game 5 is a toss-up.  And in Game 5, Michigan's sideout % was around 80%, which is ridiculous.  But if Penn State wins game 3, you're very possibly looking at a 3-1 Penn State win.  One other thing to look at in the Michigan game, is that for the first time since the losing streak, Penn State gave up points in bunches — 3, 4, or even 5 points in a row by Michigan.  That's something Penn State hadn't been allowing their opponents to do, and you certainly can't do that on the road.
DigNittany:  Was that a result of not serving tough enough?
Talking Head:  I think it was a combination of factors, but serving certainly was a part of it, setting was probably a part of it, and a drop-off in passing.  But it wasn't all bad.  Ali Frantti stepped up, Tori Gorrell had a solid game, Simone had a solid game.  But Haleigh Washington wasn't able to score as efficiently as she had been — maybe 200 points under where she had been hitting (admittedly, a very high standard).
DigNittany: For the past two years, it's seems like to be a really great hitting middle, your first name has to be "Haleigh" — with the two Haleigh's (Penn State's Washington and Wisconsin's Nelson) again leading the league, at .539 and .432, respectively.  Your thoughts on Haleigh Nelson – what makes her good and what are some differences between her and our Haleigh?
Talking Head: She elevates very well and she's a quick jumper.  There are high jumpers and there are quick jumpers, and she's a quick jumper.  She has alot of shots, and because Carlini is such a great setter, Haleigh Nelson gets alot of opportunities to see the court and place the ball where she wants to.  Her lateral movement is as good as anybody's right now.
DigNittany: [Wisconsin OH] Tionna Williams is doing very well too.  Your thoughts?
Talking Head: She's a player who's filling a role quite well.  As a sophomore, she doesn't have alot of experience, but she's going to be a handful and tough for Penn State to contain.  In order for Penn State to be successful at doing that, they really have to force Carlini out of her comfort zone where she can set any type of set she wants to.   If they can do that, they may be able to put a younger player like Williams into situations where she's not quite as comfortable.  But she's good, and will be very tough to stop.  But it's certainly looks like Wisconsin wants to run the middle and it's an important part of their success.  If we can at least limit their success in the middle, put pressure on the outsides to produce, and play our serve-receive game, we have a real chance tonight.
DigNittany: Thanks, as always.  Much appreciated.
Stat Joust: Penn State, Wisconsin and Minnesota
Conference-Only Stats – courtesy of the Big Ten
Credits
Bucky Badger, mascot of the University of Wisconsin.  By Stephanie Caine.  Source: http://www.flickr.com/photos/21434900@N08/2078896701/. This file is licensed under the Creative Commons Attribution 2.0 Generic license.
Two knights on horseback jousting, lance tips breaking on shields (7th Harcourt Park World Invitational Jousting Tournament, Harcourt Park, Upper Hutt).  By Pseudopanax at English Wikipedia.  The copyright holder of this work has released this work into the public domain. This applies worldwide.