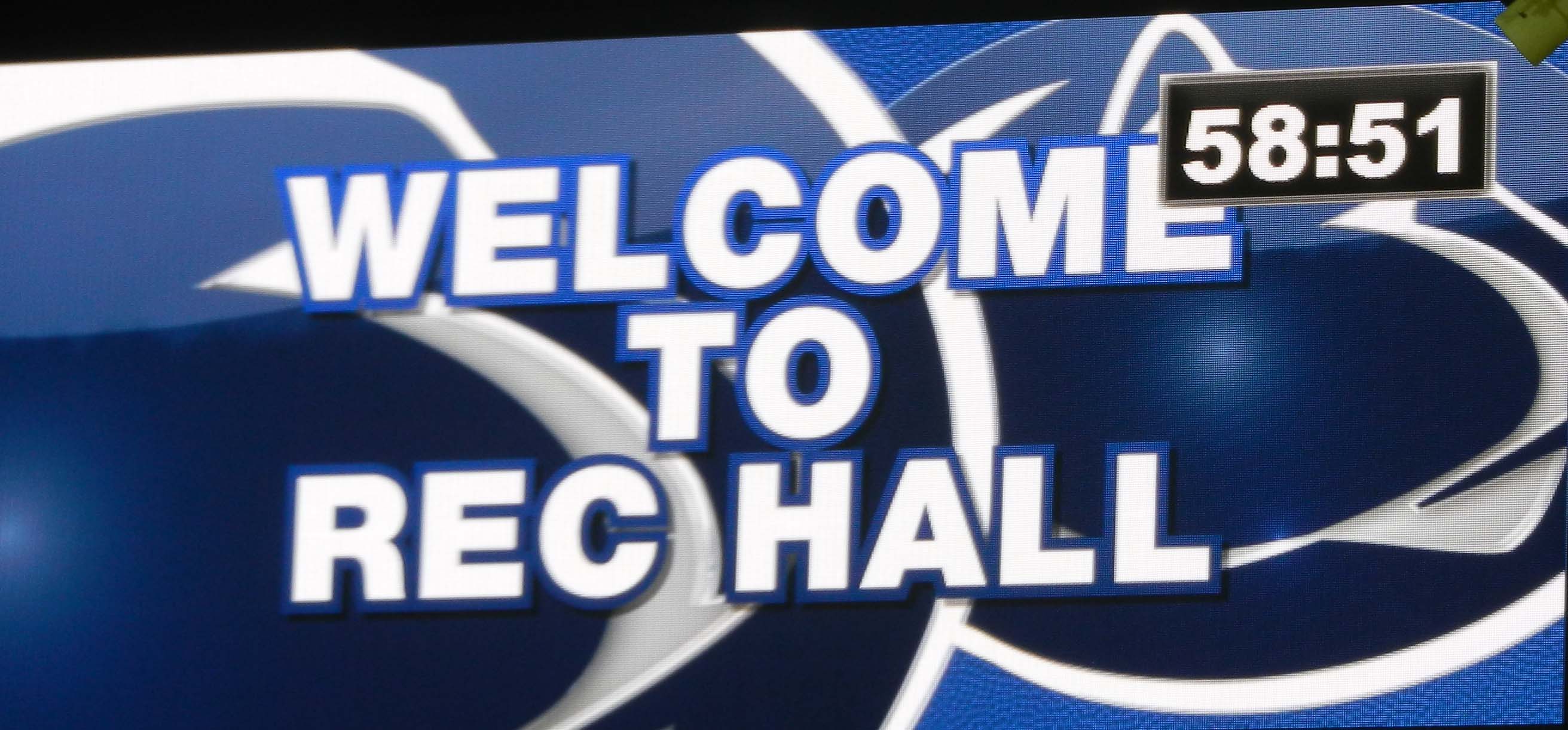 Welcome to Kelly Robertson ('13), Simone Lee ('14), Nia Reed ('14), and Heidi Thelen ('14)
News of New Verbals Gets Lazy Blogger Movin'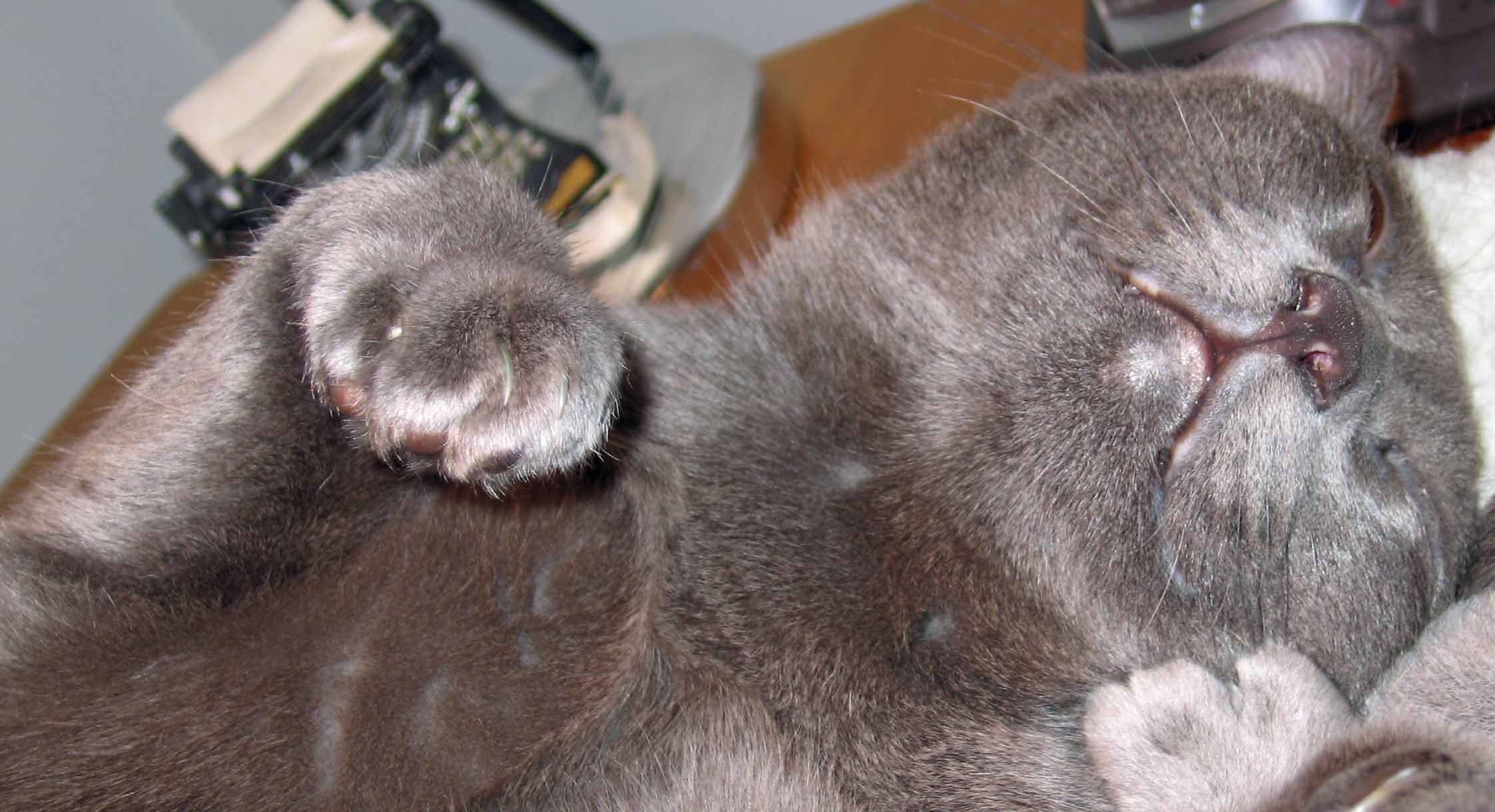 It's not as though the verbal commitments of Kelly Robertson (2013), Simone Lee (2014), Nia Reed (2014), and Heidi Thelen (2014) to the Penn State Women's Volleyball team aren't big news for Penn State fans.  They are big news — these young women will be great additions to the team.  And it's not as though they just happened today (well, Heidi Thelen's did just happen in the last couple of days, but the others happened several days, or even weeks ago).
So why were we so slow to post about this news? For that explanation, a picture is worth 1000 words. We are told that if we were a cat, we would look pretty much exactly like the cat pictured above.  Lazy?  We prefer "relaxed."
So, apologies all around to  Kelly, Simone, Nia, and Heidi.  But more importantly, welcome to each and every one of you!
Recruiting Matrix
Before we get to the individual snapshots on each of these recruits, we've included our updated Recruiting Matrix, below, which lists the players we are aware of who have publicly announced their verbal commitment to join the Penn State Women's Volleyball team.  The players are listed alphabetically, by year.  The listed positions are from published reports, and do not necessarily reflect the positions they will play in college.
The table is sortable by clicking on the arrows at the top of each column.  We last updated this table on April 25, 2012.
Recruiting Matrix as of 8-4-2020 (Click names for more info)
Recruiting Snapshots
Moving along, below are snapshots of each of the four verbally-commited recruits, listed alphabetically, by the year they are scheduled to enroll:
Kelly Robertson, a 6'0″ Junior MH/OH from Parkland High School in Pennsylvania, verbally in mid-February 2012 to join Penn State for the class of 2013.  As noted on the Synergy Volleyball Club website, Kelly has earned numerous honors, including MVP awards for her league, and the District and PIAA AAA state championship tournaments.  Kelly also was selected to the Pennsylvania Volleyball Coaches All State team, was also a finalist for the 2011 Pennsylvania Gatorade Player of the Year, and, as reported by the Synergy Volleyball Club,  was named by PrepVolleyball.com as an All American and finalist for National Junior of the Year (as was her Parkland High School teammate (and cousin) and fellow 2013 Penn State verbal commit, Taylor Krause).
The Synergy Volleyball Club website notes that Robertson had been contacted by colleges from the Big Ten, SEC, Big East, Colonial Athletic Association and the Patriot League conferences, and had received multiple scholarship offers.  To 17 Lehigh Coach Mike Krause, Robertson has earned the attention:
Kelly has been the offensive mainstay for both high school and Synergy Lehigh teams.  Kelly is a very deserving, humble, hard working young lady. She is a teammate who values team success ahead of individual accomplishment.
Welcome Kelly!
Simone Lee, (whose verbal commitment to Penn State was announced on April 19, 2012 on the Cheese and Volleyball blog), has only been playing volleyball since the eighth grade — and according to an October 3, 2011 article by Dave Boehler in the Milwaukee Journal Sentinel, she only started playing then because the club program her sister Chelsea was playing for was looking for more players.  Another milestone was reached when Simone decided to forego basketball so she could concentrate on volleyball.  As her coach at Menomenee Falls, J.C. Bruns, noted in the article by Dave Boehler,  it was a tough decision for Lee:
In talking with her parents, she kind of agonized over it. She really loved basketball. I'm an advocate of playing as many sports as you can. . . . It can be done. I'm never an advocate of someone dropping a sport to play mine. But if she's going to pick one, though, I'm glad this is the one she picked.
Judging from Simone's volleyball performance, she appears to have made the right decision.  In 2010, she led her team in blocks and earned Highest Honerable Mention on PrepVolleyball.com's "2010 Frosh 59 — the Best Varsity-Playing Freshmen in America." By then she was attracting plenty of attention from college volleyball programs, including, according to Dave Boehler's article, Marquette, Wisconsin, Florida, Auburn, Louisville and Purdue.
We're glad she chose Penn State.  Welcome Simone!
Below is a video clip of Simone in the Regional Championsip match against Cedarburg.
The headline for a March 22, 2012 blogpost by Walter Villa on EPNHS Volleyball was "Nia Reed Could Be Jersey's Finest." Given that Reed, a 6-2 Sophomore middle blocker from Immaculate Heart Academy in Washington Township, N.J.  had already been named the Gatorade New Jersey Player of the Year — as a sophomore! — the headline writer wasn't stepping too far out on a limb (kidding aside, it's a great piece, and we recommend you read the entire article).  But there's plenty of evidence to support that view:
Immaculate Heart Academy finished with a 32-1 record and won both the 2011 New Jersey Non-Public state title and the 2011 New Jersey Tournament of Champions title. Even though Reed missed 11 matches with a broken wrist, she totaled 233 kills, 59 blocks and 29 digs, with a .544 hitting percentage and a .637 kill percentage.  In post-season play she t0taled 66 kills in six matches with a .604 hitting percentage and a .688 kill percentage.
Jaime Marzocchi, head coach of Paramus Catholic (Paramus, N.J.), had this to say following Reed's Gatorade POY award:
Nia Reed is an incredible volleyball player.  We played IHA three times this year and lost all three — she was a main contributor to their success. She stands out among her high school peers as a great player simply because she can put a ball down.
In 2011, PrepVolleyball.com named Reed to its "2010 Frosh-59 – the Best Varsity-Playing Freshmen in America," and in January 2012 PrepVolleyball.com named Reed as a National Sophomore of the Year Finalist (along with fellow Penn State recruit Heidi Thelen).
As Walter Villa notes in his ESPNHS article, Nia Reed's family has a history of athletic achievement.  Vivian Brown, her maternal grandmother, was a track star who set a world record in the  4×100 metre relay (with Willye White, Wilma Rudolph,and Ernestine Pollards) in a dual meet against the Soviet Union, earned gold medals in 200-meter dash and on the 400-meter relay team at the 1963 Pan-American Games, and competed in 200-meter dash in the 1964 Olympic Games in Tokyo, Japan.  Reed's mother,  JoMoree Reed, earned second-team All-Big Eight honors in basketball as a senior at Kansas State, and her father, Raymon Reed, ran track at Morehouse and at Bowling Green.
Maria Nolan, IHA's co-coach, told Walter Villa that "Nia is on target to be the best player in New Jersey history." Given that former Penn State great (and 1999 AVCA Division I C0-National Player of the Year) Lauren Cacciamani was also from New Jersey (as are current Penn State players Ariel Scott and Aiyana Whitney), that's saying alot.
Welcome Nia!
In January 2012, PrepVolleyball.com featured a photo of Heidi Thelen, of Notre Dame Academy (Park Hills, KY) and Team Z Volleyball Club, in its list of finalists for the 2011 National Sophomore of the Year.  Though she didn't win, it was fitting that her verbal commitment to Penn State was announced in a post on PrepVolleyball.com (which, for those who aren't familiar with the site, is a great resource and well worth the subscription fee.)
The announcement generated alot of excitement among Kentucky volleyball fans, as evidenced by this thread from BlueGrassPreps.com, in which enthusiastic fans responded with statements like these:
 [T]his would be like a running back committing to Alabama or a power forward committing to Kentucky. Penn State is simply the best volleyball program out there right now.

When Russ Rose, PSU head coach, suddenly starts showing up at your club volleyball tournaments, I think your college search is over.
For the 2011 season, Thelen totaled 354 kills, 121 blocks, and 54 aces.  For her efforts, she was named by the Kentucky Volleyball Coaches Association as the Region 9 Player of the Year and as a member of the Class AAA All State First Team (along with Maya McClendon, sister of  — well, you know).
Welcome Heidi!