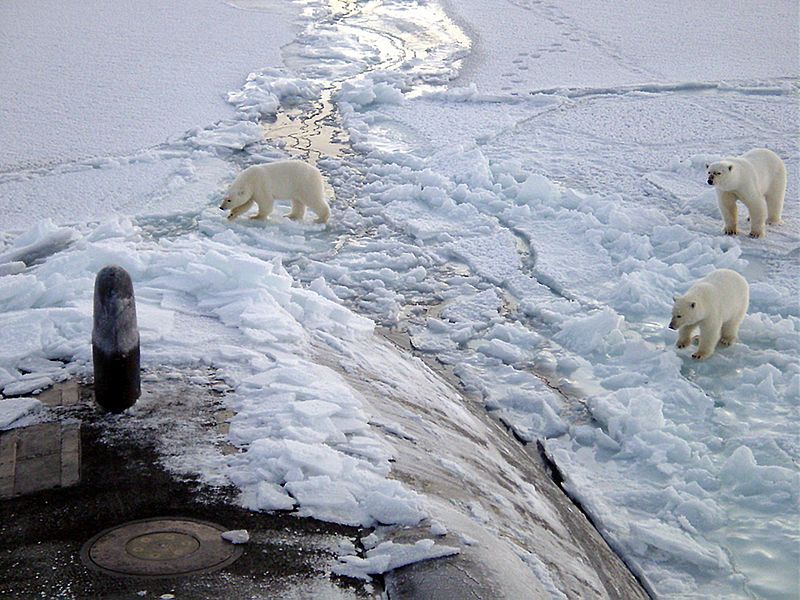 It's Cold at the Top (But Not All Shook Up)
by Lionsfan
Well we almost had one of those crazy shakeups at the top of the polls, but after Penn State survived four consecutive match points at Illinois in a remarkable 18-16 fifth-set comeback, they held on to the top spot.  Meanwhile, Nebraska found itself tied at four points apiece in the fifth set against . . . conference cellar dweller Indiana (?!) before pulling it out 15-10.
Although fans of both teams are thrilled (or at least relieved) with conference road wins, I'm sure said fans would also like to see these teams win with a bit more authority.  The game of the week had former #2 Oregon at former #7 Stanford.  In the end, the Cardinal homecourt advantage may have been what propelled Stanford to a 15-10 win in the fifth — a win that was all the more impressive considering the Ducks held a 6-1 advantage before Stanford knuckled down.
What does this all tell us?  These teams are really close, and on any given night any of them can win or lose. Right now, the usual suspects are the biggest Final Four dangers are the teams we are used to seeing in the top echelon: Washington, Penn State, Stanford, UCLA, Nebraska, and an ever-improving Texas.  Oregon belongs in that company.
Still not quite sold on USC, so they would be my #8 or so in the power rankings (I did my poll before the Texas/Louisville outcome, so I'll pretend I don't know about that yet).  And since Nebraska and Texas are hosting regionals, their homecourt advantages are all the more significant.
DigNittanyVolleyball's North Pole Poll (It's Cold at the Top) 10-8-12
Rank
DigNittany's
North Pole
Poll


Wins
Losses
North Pole
Poll Points
NCAA RPI
10-8-12
Russ Rose's
Top 10
(as voted
in the
AVCA Poll)
Lionsfans'
Top 10
(AVCA does
not include
Lionsfan's
vote. Their
loss)
DigNittany's
Top 10
(Our slacker
staff
weighs-in)
1
(10 Pts)
Washington
15
0
30
6
Washington
Washington
Washington
2
(9 Pts)
Penn State
16
1
27
2
Penn State
Penn State
Penn State
3
(8 Pts)
Stanford
14
2
24
1
Stanford
Stanford
Stanford
4
(7 Pts)
Oregon
14
1
20
7
Nebraska
Oregon
Oregon
5
(6 Pts)
Nebraska
13
2
18
3
Oregon
UCLA
Nebraska
6
(5 Pts)
USC
16
2
14
12
USC
Nebraska
USC
UCLA
12
3
14
4
7
(4 Pts)
UCLA
USC
UCLA
8
(3 Pts)
Texas
13
3
9
8
Texas
Texas
Texas
9
(2 Pts)
Minnesota
14
3
5
10
Minnesota
Hawaii
Minnesota
10
(1 Pts)
Hawaii
14
2
4
26
Hawaii
Minnesota
Hawaii
Lionsfan Looks Ahead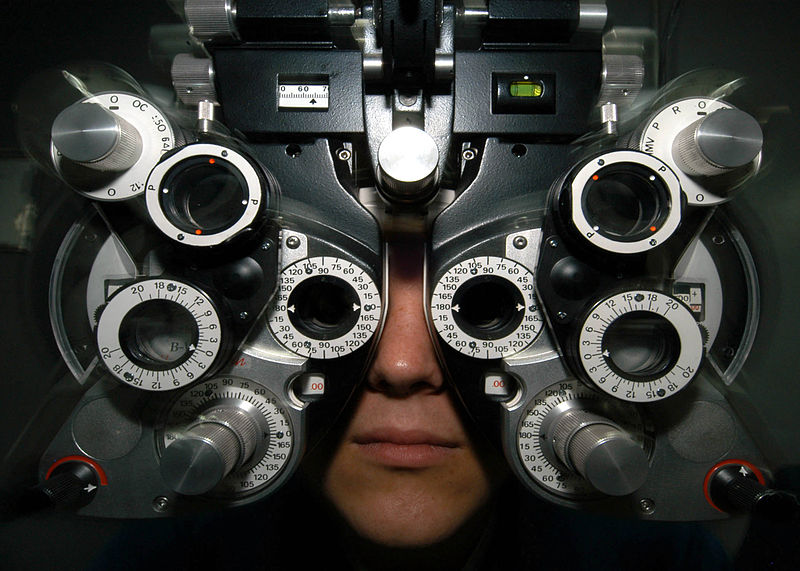 This coming week finds Stanford facing the L.A. schools and Washington traveling to Oregon, so the Pac-12 pecking order may be slightly more solidified (or confused) in a week.  But all of Stanford's tough road matches are in the latter half of the conference schedule, so we'll have to wait and see how they handle it.
Note to Comcast: I hate you for not giving me access to the Pac-12 Network online or on my TV . . . damn you! [insert picture of lionsfan shaking his fist here]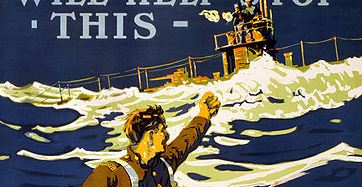 (Artist's rendition of Lionsfan shaking fist at Comcast)
Like a Hawk(eye)!
The eye-dropping result of the weekend had Purdue getting swept…at home…by Iowa.  From Hawkeyesports.com:
The victory marks Iowa's first win at Purdue and first sweep of the Boilermakers since Nov. 10, 2000, when the Hawkeyes won in straight sets. It also marks the fourth win over a ranked foe for head coach Sharon Dingman, and her first victory over a ranked team on the road. No. 12 Purdue is the highest-ranked team the Hawkeyes have defeated during her tenure. In addition, it marks the first time Iowa has won two-straight league contests since 2008 and consecutive league road matches since 2005.
Iowa also took a set off Penn State in State College (and played tough the entire match), so anyone thinking they can solely focus on Hawkeye travel partner Nebraska may have a rude awakening.
Then I Saw Her Face! (San Diego Edition)
Lionsfan says San Diego isn't monkeying around
Actually, I saw all of their faces, and I have to admit . . . now I'm a believer.  I wasn't sold before, but you have to hand it to San Diego — they have been chugging along undefeated in the West Coast Conference, including their nationally televised 3-1 win at Pepperdine last Wednesday.  Can they inch closer to their historical best ranking of #11?  Time will tell, but their only losses were at Texas and a five-setter at Southern Cal.  Methinks their RPI of 22 is a little low, yes?
The Big Ten Gaps
By now, the order has been established in the B1G.  Penn State and Nebraska are waiting to see who blinks first, while Minnesota sits firmly in the third spot waiting to play spoiler (can it do so in Lincoln this weekend during a live ESPN2 broadcast at 2 ET?)
After that, the middle of the pack has settled with Ohio State, Michigan State, Purdue and Illinois, who suddenly sees itself at 8-8 and in danger of losing ground.  That makes their Wednesday night battle at struggling Michigan (live on BTN) all the more vital.  For now, Ohio State stakes its claim to 4th — a position it can solidify by beating Purdue this weekend.
Hottest Teams: Florida, San Diego
Losing Steam: Purdue
Losing More Steam: Pepperdine
RPI on 10/8/12
Here's a listing of the NCAA's Top-25 RPI as of October 8, 2012 (see entire list at www.ncaa.com)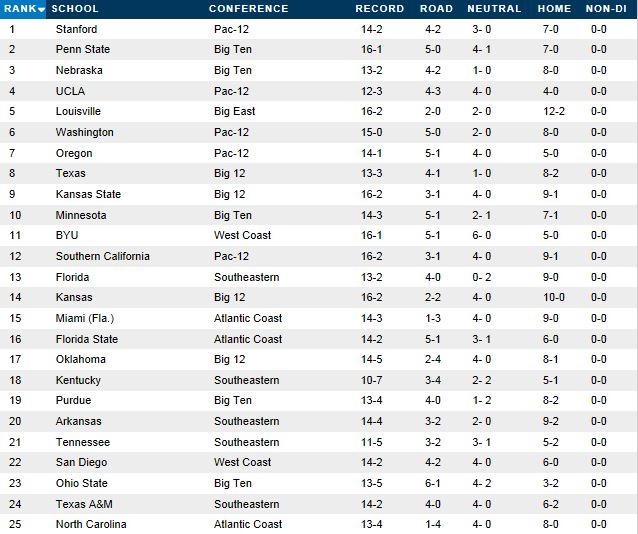 This week's AVCA Top Ten Action
1. Penn State vs. #17 Purdue (live on BTN Friday night), vs. Indiana
2. Washington @ Oregon State, @ #5 Oregon
3. Nebraska vs. Wisconsin, vs. #10 Minnesota (live on ESPN2 Sunday afternoon)
4. Stanford vs. # 6 USC, vs. # 7 UCLA
5. Oregon vs. Washington State, vs. #2 Washington
6. USC@ #4 Stanford, @ Cal
7. UCLA @ #4 Stanford, @Cal
8. Hawaii vs. Cal State Northridge
9. Texas @ #15 Louisville, vs. #21 Kansas
10. Minnesota @ Iowa, @ #3 Nebraska
Other key clashes this week
#17 Purdue @ #19 Ohio State, #22 Illinois @ #25 Michigan State Upset alerts: #21 Kansas @ Oklahoma "Receiving Votes"
Crystal Ball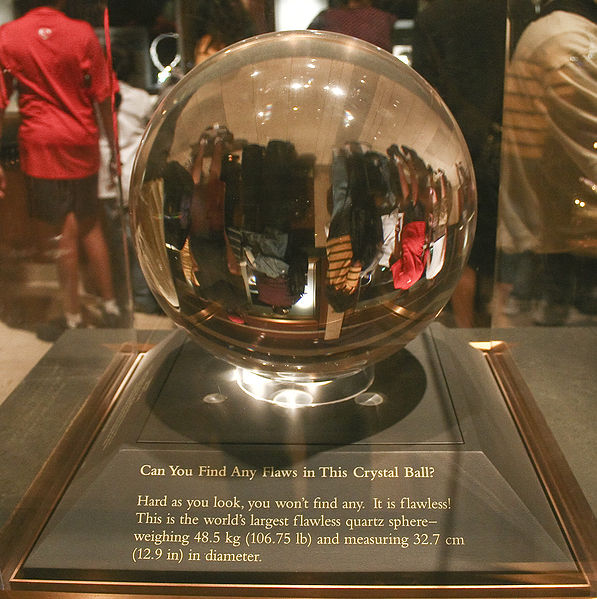 Team Most Likely to Crack Top 25: Miami (FL)
Lionsfan's Big Guesses on the Big Matches
Penn State over Purdue
Oregon over Washington
Nebraska over Minnesota
Stanford over USC
UCLA over Stanford
Texas over Louisville (picked before it was played, I SWEAR!)
Next Week's Top 10
1. Penn State
2. Nebraska
3. Oregon
4. Washington
5. UCLA
6. Stanford
7. USC
8. Texas
9. Hawaii
10. Florida
RPI Bracket Watch
In terms of seeding, noticeable moves with this week's RPI dropped Purdue below 16, moved Florida up to 13 (told ya!) and had Texas jump from 15 to 8 (with a match at Louisville sure to strengthen that even more). If the tournament were held today, based on RPI, predicted future results* and my sheer genius chutzpah, here are the predicted brackets:
Purdue Regional: 1. Penn State, 2. Oregon, 3. Louisville, 4. Florida State
Texas Regional: 1. Washington, 2. Texas, 3. Florida, 4. Miami (FL)
Nebraska Regional: 1. Nebraska, 2. Stanford, 3. Minnesota, 4. Oklahoma
Cal Regional: 1. UCLA, 2. Kansas State, 3. USC, 4. BYU
*I know Stanford should be a logical #1, but I'd love to see them matched with two top B1G squads, so logic is out this week (maybe next week). Texas is making a move on a No. 1 seed, but so far I think two B1Gs and two Pacs should be there.