Match Wrap in Haiku
Spartan serves were tough
Penn State passers were better
Ali Frantti rules
Q&A with Talking Head
DigNittany: Last evening, #16 Penn State (11-3, 3-0 Big Ten) defeated #18 Michigan State (12-3, 1-2 Big Ten), in straight sets (25-22, 25-20, 25-13) in Rec Hall.  We're speaking with Talking Head, who played D1 Volleyball and has coached for many years.  Penn State came into this match with alot of questions — and many questioners — about what kind of team they are and whether they can compete against top-level competition.  Your thoughts on how they performed.
Talking Head:  There's a quote by Derek Jeter — "I love it when people doubt me. It makes me work harder to prove them wrong" — which I think is appropriate for this Penn State team.  You can't hold a champion down for too long, and a kid like [6-1 Jr. OH] Ali Frantti today, she had a monster game [10 kills, .375 attack %].  And you had a coach like Russ Rose with an opportunity to plan, and to have a team listen to him, game over.  The team played at a very high level, they were able to handle everything Michigan State threw at them.  MSU's best server, 6-2 Jr. OH Holly Toliver, had 2 service aces, but also had 2 service errors.  Their second best server, 5-10 RS Jr. OH Autumn Bailey had 1 ace and 2 service errors.  No matter who was serving for the Spartans, they didn't get any long point runs.  Coach Rose had the matchups he wanted all match long, and Michigan State didn't adjust.  They seemed to be saying "This is who we are, we're going to stay in this lineup," and Penn State's players responded.  Every one of our players contributed and our All-Americans played like All-Americans.
DigNittany: I'm hard-pressed to recall a Penn State match in which there were so many long rallies.
Talking Head: I agree, and we won almost all of them.  I think Michigan State is a team that isn't built for long rallies.  They want to get service aces, they want to get you out-of-system, and the longer the rally goes, they seem to get tired.  Their key player, in my opinion, is Autumn Bailey, and she was hitting really well in the beginning of the match — maybe in the .400 range — but by the end of the match, she hit .148.  Penn State kept serving at her, and serving at her.  Whenever she was in the front row, we ran the slide against her.   And it seemed like that just wore her down.  When you have a key player like that, who is athletic but maybe a little small, you can take advantage of that.
DigNittany: Speaking of serving, Penn State only had 2 aces, and 9 service errors last night.  But to me, it seemed like every server was serving very tough.  What did you think of Penn State's serving overall last night?
Talking Head:  I don't know if I've seen a Penn State team where everyone served as well as they did last night.  I mean, everyone was bringing it.  [5-2 Jr. DS] Laura Broerman, [6-0 Jr. setter] Abby Detering, [6-3 Jr. MH] Haleigh Washington, [5-8 Jr. DS] Lainy Pierce, [5-7 So. DS] Keeton Holcomb —  all of them were really going after it.  There were a few first-serve misses, but those were mostly deep in the third game.  In the first two sets, and earlier in the third set, most of the service errors were after the second or third or fourth serves.  And that's what you want — you want them to continue to serve tougher.  As an aside, both our setters — Abby Detering and 6-0 RS So. Bryanna Weiskircher — serve so well.  You just feel so confident knowing they can go up and do some damage with the serve.  I was watching the opposing side when Detering went back to serve, and Pierce went back to serve, and Washington went back to serve — there was excess chatter going on.  They were concerned.  They know those kids, they know what they can do.
DigNittany: Any concern that the team might lose focus for Michigan tonight?
Talking Head: I have a little concern about a trap game against Michigan.  But the energy I saw from Penn State, and how they feel after a match like this, and how much fun they had — and that's important, they looked like they really had alot of fun last night — that is monumental to a team's psyche, and success, and future.  If they can play like that, and just enjoy each other, and enjoy the game, and just celebrate the terrific players they have around each other, that translates into success.  So yes, I have a bit of concern, but I'm optimistic.  We'll see soon enough.
DigNittany: Thanks so much for your time.  We appreciate it.
Match Quotes
Coach Rose:
I thought the crowd [3524 strong] and the energy from them and the band were tremendous tonight. I'm always happy when we win a match.  I though [Simone] and [Ali] both played extremely well and I though Ali really passed well tonight for us.  I thought Simone had a couple good blocks and overall the two of them carried the offense. We set them over 50 percent of the time and that's a lot to ask but for the most part that were up to the task.  I thought for the most part in that third set we were in control and Michigan State looked a little disoriented. When you have a chance to pull away from a team in this conference you have to.
Ali Frantti:
I think I was on the bench for those blocks, but you could tell that they really fired everyone up. It's plays like that that can really help you out as a team.
Simone Lee
Against a team like that you have to swing high and hard. You also have to tip well and hit spots and I thought we did both of those well tonight. You have to give credit to our middles as well for really holding the blocks and freeing up space for us to take swings.
Match Stats
Courtesy of GoPSUsports.com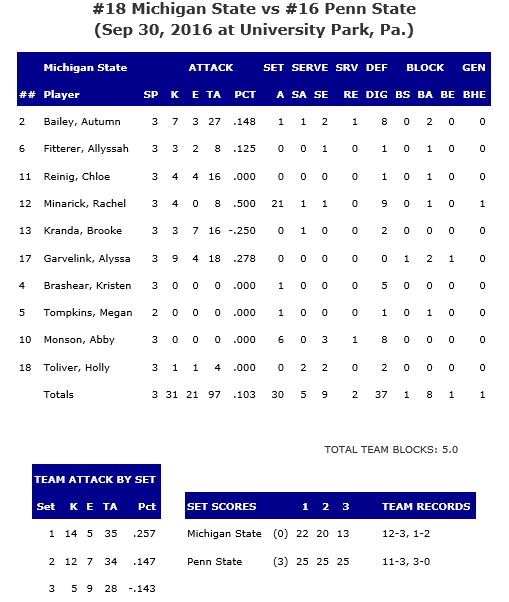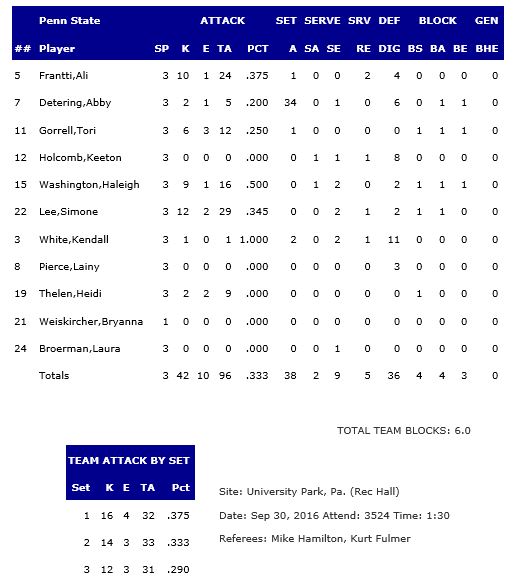 Credits