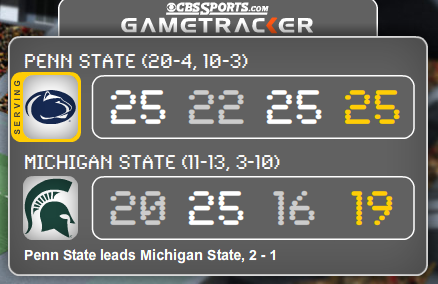 Match Summary
OK, we've gone and done it again — Cliche Saturday. A better class of blogger would resist. Be we aren't, and we didn't, and in any event, it seems to fit. Admittedly, we didn't see the match, we didn't listen to the match, and we didn't even follow it (except for bits here and there) on GameTracker (life is short work is hard, distractions are many!). 
But why let the lack of facts get in the way?  It looks like Blair Brown and Ariel Scott both played a terrific match.  Blair Brown led all players with 18 kills, and Ariel Scott was second with 14. (If memory serves, this is a career  best for her.  Congrats Ariel Scott!)  After a slow start, Deja McClendon also had a solid performance, with 12 kills, 2 services aces, 4 digs, and 2 block assists.  Katie Slay continues to improve, this time adding 10 kills (another career best?) and 6 block assists. 
There was a bump in the road in the second set.  But this team seems to be peaking — maybe not there yet, but getting closer.  Undoubtedly, the coaches saw alot of things that need to be improved on (well, they did have a big advantage on that one — they actually saw the match).  But following the big win in last night in Ann Arbor, a letdown wouldn't have been totally surprising.  On the whole, it appears Penn State avoided that.  Nice job all around.
In the process, the NittanyLions have pulled within one match of first place Illinois, which visits Rec Hall next Saturday night (be there, and for Wisconsin on Friday night — these matches will be HUGE!).
Here's the match summary, courtesy of CBS GameTracker: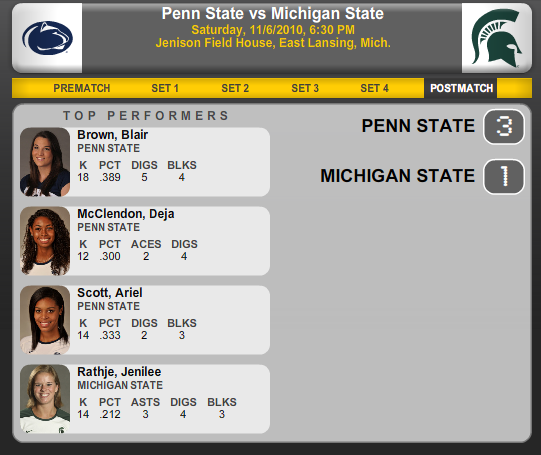 Penn State Stats (courtesy of CBS GameTracker):


Michigan State Stats (Courtesy of CBS GameTracker):