What: Penn State vs. Minnesota
Where: University Park, PA (Rec Hall)
When: Saturday — 10-9-13 (7:30 p.m. ET)
Media: TV: Big Ten Network;  CBSsports GameTracker
At DigNittanyVolleyball, we are prediction averse — perhaps because we are not particularly good at it.  That does not stop us from asking others for predictions, and we've done that for tonight's Penn State vs. Minnesota match in Rec Hall, with analysis and predictions from Club Coach, who has coached numerous successful college women's volleyball players over the years, and ugopher, who is a passionate Minnesota fan (and the webmaster for a terrific new Minnesota women's volleyball website:: www.pointuboosters.com).  You can read their commentary in our Fanalysis section, below.
From a statistical perspective, there's virtually no space between the two teams in so many areas.  For example, Penn State leads the B1G with a .329 team attack %, with Minnesota right behind at .319.  Penn State has limited its opponents to a .128 attack % (best in the B1G). Minnesota's opponents have registered a .155 attack % (6th in the B1G).  Blocking is much the same story: Minnesota is first in the B1G with 2.76 blocks/set; Penn State is 2nd at 2.71.  The Nittany Lions have a bit of an edge in serving, averaging 1.57 aces/set (thank you Micha Hancock – leading the league with .82 aces/set), with Minnesota at 1.23 aces/set, but Daly Santana (.38 aces/set) and Tori Dixon can both bring it from behind the line.
For Penn State to win, 6-1 Sr. OH Deja McClendon and 6-2 So. OH Megan Courtney need to rebound from tough outings against Purdue (when McClendon hit .125 on 32 swings and Courtney hit .048 on 21 swings).  And A. Scott needs to continue getting back to her 2012 performance level (she led Penn State with 15 kills against the Boilermakers, but hit .244 – though Penn State hit .207 as a team (with 24 attack errors), so in a sense, she had a pretty good night).
Minnesota poses lots of problems for Penn State – Tori Dixon and Ashley Wittman being just two of them, but I think Penn State will win this match in five.  Because the match is in Rec Hall, many are going to look for a quicker finish, but all one needs to do is look at how tough Minnesota played against Penn State in the NCAA tournament last year.  And, as we will never tire of saying, this season there is no such thing as a B1G Easy.
Fanalysis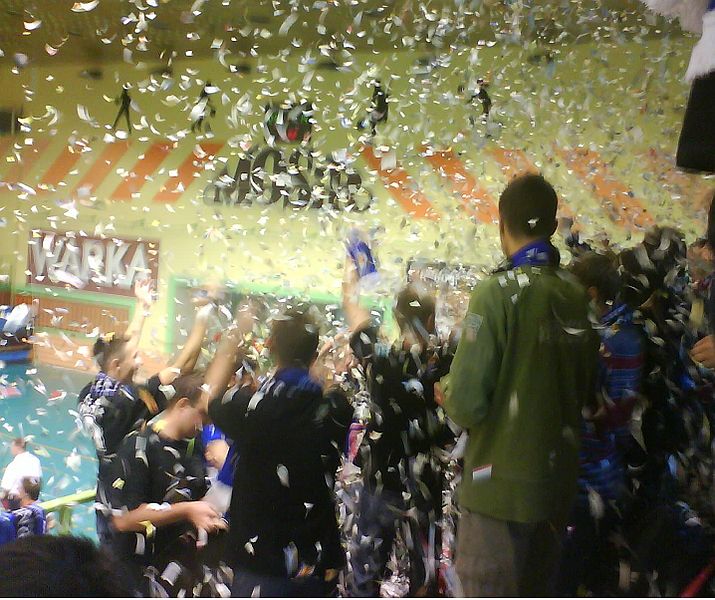 Club Coach
While you can no longer point to any one match as "a big match" in the B1G, for an early season match-up this is as close as it gets. With one loss  each, this is an important match for staying in the race to win the conference.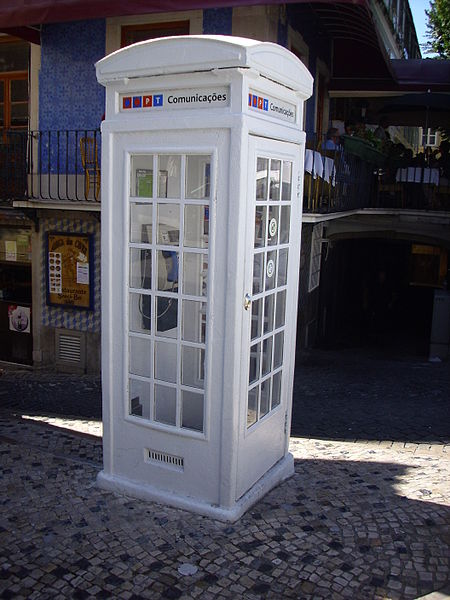 The match is, in my opinion, more important for PSU, as holding court is critical to success in a brutal league. Both teams are off to strong starts, but maybe not quite as strong as they would have hoped. While PSU has a great record and big wins, they've suffered a rare conference loss at home, and struggled to look good in several matches. For Minnesota who started the year off as a legitimate Final Four contender, they've struggled against the better teams on the road, and came very close to dropping a match last weekend at Iowa. Beyond the conference implications, I think both teams are looking to take steps to being the teams they are capable of.  At this point I wouldn't say either are. With some big explosive athletes on both sides of the net, at points this match will look like two heavyweights in a phone booth (that's that small glass room where they used to have pay phones for those of you under 20).
But in my opinion this match gets won or lost on the baseline and in the backcourt. Both have great jump servers capable of breaking games open, and PSU has also had stretches where service errors have cost them games and matches.
I think PSU has the advantage defensively, and I look for that to be the difference. Minnesota is led by middle 6-3 Sr. Tori Dixon, who is probably the closest player to unstoppable as there is in the country. When she gets the ball in the right spot, she usually scores no matter what you throw at her. As she is a middle, the key for PSU is keeping her from getting the ball with tough serving, and consistent pressure offensively.  6-1 So. OH Daly Santana is another player to watch on Minnesota.  She is a great jump server and dynamic attacker, and when she gets going, she is tough to contend with.
The Key player in my opinion is 6-0 Sr. OH Ashley Wittman.  I don't see Minnesota beating PSU at PSU if she doesn't have a strong match. She struggled at Nebraska, and they are a much different team without a contribution from her.
PSU, to this point, hasn't had a consistent go-to player in key situations. One night its Deja, another its A. Scott or Courtney. We haven't seen PSU yet when all the cylinders are firing together, at least not versus a high level opponent.
Look for an exciting match with some bombs dropped on both sides, but in the end PSU, with the stronger backcourt and home court advantage, wins this one in 4.
ugopher
It has been hard to define this year's Gopher team from a fan perspective and, I  suspect, a coaching perspective.
Coming into the season, the talk was who  would replace All-American right side Katherine Harms who may have had one of  the best seasons ever for a Gopher player.  There had been talk about moving  Tori Dixon to the right side where the team could take advantage of her many  skills.  However, replacing two middles (after losing Dana Knudsen to  graduation) has not been an option so Dixon has remained in the  middle.
The task of taking that position has fallen to a committee of  players.  6-1 Fr. Sarah Wilhite (MN's high school player of the year in 2012)  was the first player to have the opportunity.  However, the right side is not  her natural position and she struggled along the front row (although her back row  play hasn't been bad).
Next up was 6-3 Jr. MB/Opp transfer Adrienne Nora (another MN  native who spent who first two years at Baylor); Nora is more of a natural right  side and hits with much more power than Wilhite.  However, Nora isn't a back row  player and is replaced when she rotates there by either Wilhite or a defensive  specialist.
For the start of the Big Ten season, the role fell to  5-11 So. Karlie Hauer, whose name may be familiar to Penn State fans:  Hauer is  the player who replaced Ashley Wittman in last year's regional final when  Wittman went down with an ankle injury.  Hauer is a high flyer but still  somewhat limited offensively.  But she is a very good versatile player, both  offensively and defensively.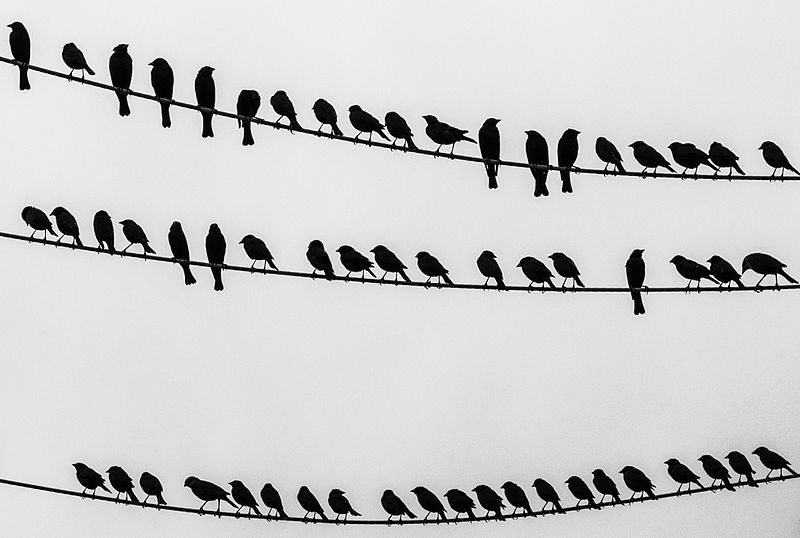 The Replace Katherine Harms on the Right Side Committee (Artist's rendition)
Back to Dixon.  She has had a very strong  year thus far.  A beast in the front row, she has also emerged as an offensive  threat in the back row.  And, her back row defense is solid, as well.  She could  well be on her way to All American status this season.
Dixon's, seemingly  (they have been teammates thru juniors and college for the past ten years),  life-long teammate, senior Ashley Wittman is also having a big season.  She has  become the offensive force that many have expected from her since she arrived.   Hitting more consistently with both power and accuracy, Wittman is also  exhibiting the senior leadership this team needs.
The third senior on the  team, 5-7 Sr. setter Alexandra Palmer, runs the offense and generally runs it very efficiently.  Although on the shorter side along the front row, Palmer is able provide both  the energy and calming effect a coach looks for from a setter.  She is also very  solid in back row defense and has led the team in digs in matches past.   However, later in a set, she is often substituted for junior transfer Sydney  Howard in the front row.  Howard is taller to give Minnesota a better block and is also  a solid setter.  This is similar to what Minnesota did in 2012 with Palmer and Mia  Tabberson.
The final returning player from the 2012 season is sophomore  OH Daly Santana.  Santana is full of energy and a joy to watch on the court.   Santana's serve is the Minnesota version of Micah Hancock's, and Santana has been able  to, for the most part, reign it in and reduce the number of serving errors this  season.  When she is on, she can led the team on some nice scoring  runs.
In addition to the aforementioned new comecomers – Wilhite and Nora  – other freshman who have contributed this season have been twin MBs Hannah and  Paige Tapp and 5-8 setter Katie Schau.
Hannah Tapp has been the second  starting middle this season and has been what you would expect of a promising  freshman – flashes of solid play but still learning the game.  Her sister,  Paige, has replaced Hannah at times but the position has been clearly Hannah's.   Before you judge them and compare them to the Nebraska twins, it is important to  note that both sisters have only been playing volleyball full time for the past  three years.
Katie Schau has played sparingly this season but in her  appearances it is easy to see why MN is high on her potential.
It has  been hard for this fan to get a handle on this team.  Due to the team's  schedule, we have only had the opportunity to see them live at home for five  matches, two of which were Big Ten matches.  What we saw was impressive.   However, the competition wasn't that strong.  It is a little concerning to fans  that the Gophers are 1-2 versus ranked competition and 0-2 vs. ranked  competition on the road.  Also concerning is that head coach Hugh McCutcheon is  still trying to settle on a line-up.  After a disappointing three set loss to  Nebraska, MN changed their line-up the following night vs. Iowa.  It didn't work  as Iowa took the first two sets before MN rallied to win in five.
So, it  is hard for a MN fan to be optimistic for this week's match against Penn State.   An unsettled line-up, disappointing results on the road against quality  competition, and past history at Rec Hall don't bode well for the Gophers.   However, when this team plays well, they are very good and that is what we are  hoping for.  The bigger hurdle for MN, and I have mentioned in the past, is if  they truly believe they can beat PSU at Rec Hall.  If their passing clicks and  Palmer is able to vary her setting options, and MN believes they can win, they  will give Penn State a tough match.  Which makes these match-ups fun to  watch!
Stat Joust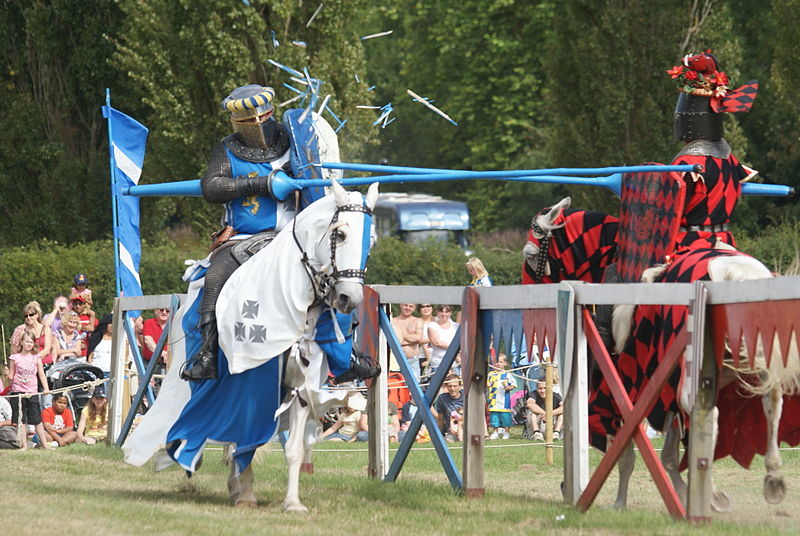 B
1G

Team Stats 10-5-13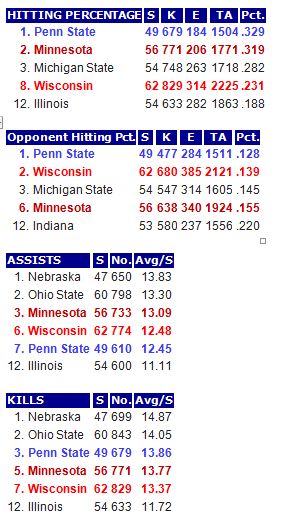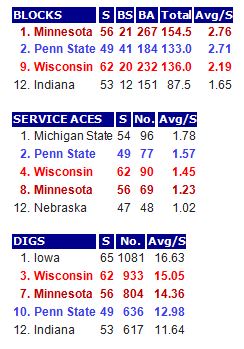 B
1G

Individual Stats 10-5-13