Q&A with Talking Head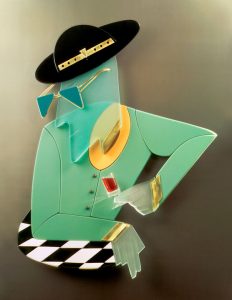 DigNittany: We're talking with (appropriately enough) Talking Head.  After winning its last six matches, Penn State now stands at 8-3 as it heads into the B1G season.  Your thoughts on how this weekend went.
Talking Head:  I thought it was a good weekend.  In the few instances when a player took a step backwards, that was countered by another player stepping up.  So if one of our DSs wasn't as sharp as they had been, another would pick up the slack and do a nice job.  For example,  [5-2 Jr. DS] Laura Broerman came in, did her job, got her serve in.  It was good that way.  The setter's connection to the middles continues to be very good.  Tori Gorrell is very fast moving to the slide.  It's really nice to have a middle who is that efficient.  I thought from Saturday morning [Nittany Lions Post Win over Howard (Match Wrap in Haiku)] to Saturday evening [Lions Pause Tigers 3-0 (Haiku Match Wrap plus Post-match quotes)] [6-0 Jr. setter] Abby Detering and [5-5 Fr. libero] Kendall White stepped up their play — not that they were bad against Howard, but I thought they were better against Clemson.
DigNittany: Did any one player stand out to you over the course of the weekend?
Talking Head: For me, the player of the weekend would be [5-7 So. DS] Keeton Holcomb.  She may not have had the gaudy statistics, but I don't know that she made an inefficient movement even once all weekend.  She was just sharp as a tack in everything that she did.  She has proven to be one of the best passers on the team, and wherever she has played defense she seems to have done a really, really nice job.  It's nice to see people slide into a role and be a veteran presence game-in and game-out.  I thought for all three matches, taken as a whole, she was Penn State's sharpest player.  That's not to diminish players like Simone Lee, or Haleigh Washington, or Kendall White, or others who are doing a bit more statistically.   I simply was very impressed with Keeton Holcomb's play.
DigNittany: In the three losses, Penn State was plagued by giving up big runs.  They seemed to have improved in that regard.  Your thoughts?
Talking Head:  There were no five-point runs.  There may not have been any four-point runs.  All three matches were pretty clean.  I think everyone is elevating their play to a point where Penn State is now going to be competitive.  Are they going to win alot in the B1G?  I don't think any of the teams, other than Nebraska, and maybe Minnesota and Wisconsin, are able to predict that right now.  All the other teams have their issues.  I don't think anyone is feeling overly confident right now about what's going on.  Creighton made Nebraska look human yesterday [Creighton Gives Nebraska Toughest Test].  More than ever before, it's going to be who is playing the best at the end of the season.  I think you're going to see some teams that have seven, eight, nine losses advance to a Regional Final.  A team that gets the right draw, and stays away from Nebraska, could end up in the Final Four.  And once you're in the Final Four, anything can happen.
DigNittany: Is there any one thing that you think Penn State needs to clean up for the Big Ten season?
Talking Head:  Many of the blocks we've gotten the past three weeks have been when our outside blockers "drop into the court."  What I mean by that is the outside blocker should set the block, and when she finishes, she has to finish in the direction she wants to block the ball — in the court.  Alot of teams are playing a faster offense now, like the U.S. Olympic team did, where they shoot the ball out to pins very quickly.  What happens is if you're not ready for that, you're chasing, and if you're chasing — you're reaching out to your right, if you're on the right side (the setter, or the opposite), and you're reaching out to your left, if you're on the left side (the outside hitter).  Most times you reach outside your center line, and the ball hits your hand, it's going to go out of bounds or into the antenna.  But hitting line isn't so easy.  Plus, Penn State has players who have proven they can dig the line shot back into the court.   So our outside blockers need to be more disciplined about finishing their blocks into the inside of the body into the court.  The player who does that most consistently is Ali Frantti — she had a great teacher the last two years in Megan Courtney.  If our outside blockers can do that, that will help the middles who are trying to close that block.  We can have a very good block — we have the players to do that.  We just need to finish more consistently into the court.
DigNittany: In his post-Clemson comments, Coach Rose spoke about the progress of Heidi Thelen in transitioning to RS/Opp.  Your thoughts about some of the challenges of that change, and how Thelen is doing.
Talking Head: Thelen was a middle.  The middles are always trained to jump vertically.  Outside hitters are taught to go outside in, or inside out.  They are taught to jump through the ball — to take off, and land three feet in front of the ball — like Simone Lee does.  That generates alot of body power, alot of torque.  That's something that Heidi probably never was asked to do before this season.  And it's hard, but she's really doing well.
DigNittany: Thanks very much.  We appreciate your time.
Credits