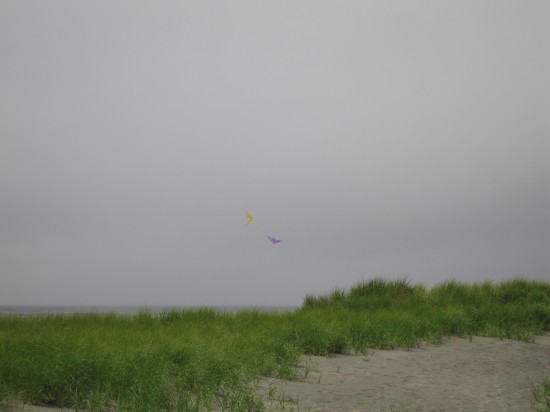 During "The Streak" (109 consecutive victories by the Penn State Women's Volleyball team from September 21, 2007 to September 10, 2010), Penn State won an NCAA record 55 consecutive road matches, three consecutive NCAA titles, lost a total of 19 sets, and from the final set of the 2007 National Championship match against Stanford to the third set of the 2008 NCAA National Semifinal match against Nebraska, won an NCAA record 111 straight sets.  
It is the longest consecutive victory streak by an NCAA Division I women's team in history and (arguably) second overall to the Miami men's tennis team's 137 match streak. (As we discussed here, that's true, but not the full story.  The Miami streak is the longest for an "aggregate score" team sport — like tennis, golf, and wrestling — where points earned in multiple individual competitions are aggregated to determine the team score.  The Streak is the longest for a "single score" sport — like football, or basketball, or volleyball.  We think these records are really apples and oranges). 
But it was going to end sometime, and as everyone in the college volleyball world knows by now, the Streak was broken on September 11, 2010 by Stanford in the Finals of the Nike Big Four Volleyball Classic in Gainesville Florida. 
Coach Rose: I Don't Look Back
Penn State Women's Volleyball Coach Russ Rose didn't want to talk about The Streak when it was alive and he doesn't want to talk about it now that it is over (we still love his quote: "I don't look back.")
We don't blame him: a winning streak that spans more than one season (this one spanned parts of four) is a strange hybrid, involving a changing cast of characters each with different strengths and weaknesses and each with different team dynamics.  So although each group of players that contributes to the streak can take ownership for their part in it, no single group can lay claim to the entire streak. That's one reason Coach Rose doesn't like to talk about it. 
More fundamentally, we think, his focus is on the present and the future (as it should be) and how to make his current team better, not on what happened in the past. That's for fans. 
Who's Next?
But fans, being fans, think about things like streaks and records and the past.  So for many fans, the question is will The Streak be broken by an NCAA women's volleyball team (there is plenty of support for the notion that the UConn women's basketball team will end up with more than 109 consecutive victories) and if so, when.
Never is a very long time, so we wouldn't make a bet on The Streak lasting forever.  We certainly can say it will take almost three years (assuming 38 matches per season per team), with the Streak-Breaker being undefeated in at least two of those seasons.  Back-to-back.  Given how rarely NCAA women's volleyball teams have gone undefeated (only five times since since 1981 — if you include NCAA Tournament matches), it's clear that's a very tall order. 
So, the Streak probably will be broken someday, but it will be a challenge.  And the fans of the program that meets that challenge will have something to be proud of.  And to talk about.  The team's coach probably will be focused on other things.  As she or he should be.
To underscore the difficulty of the challenge, the table below shows the Final Four teams from 1998, with total wins, losses, sets won, and sets lost (in all cases, including the NCAA tournament).  It's sortable — click on the arrows at the head of each column to reset the order of the teams in that column. 
Won Lost Records (Matches and Sets): Final Four Teams from 1998 to 2009
| Year | Team | Conference | NCAA Finish | Wins (Matches) | Losses (Matches) | Wins (Sets) | Losses (Sets) |
| --- | --- | --- | --- | --- | --- | --- | --- |
| 2009 | Penn State | Big 10 | First | 38 | 0 | 114 | 8 |
| 2008 | Penn State | Big Ten | First | 38 | 0 | 114 | 2 |
| 2007 | Penn State | Big Ten | First | 34 | 2 | 104 | 18 |
| 2006 | Nebraska | Big 12 | First | 33 | 1 | 101 | 14 |
| 2005 | Washington | Pac 10 | First | 32 | 1 | 98 | 10 |
| 2004 | Stanford | Pac 10 | First | 30 | 6 | 98 | 35 |
| 2003 | USC | Pac 10 | First | 35 | 0 | 105 | 8 |
| 2002 | USC | Pac 10 | First | 31 | 1 | 95 | 12 |
| 2001 | Stanford | Pac 10 | First | 33 | 2 | 101 | 21 |
| 2000 | Nebraska | Big 12 | First | 34 | 0 | 102 | 13 |
| 1999 | Penn State | Big Ten | First | 36 | 1 | 110 | 15 |
| 1998 | Long Beach | Big West | First | 36 | 0 | 108 | 8 |
| 2001 | Long Beach | Big West | Second | 33 | 1 | NA | NA |
| 1998 | Nebraska | Big 12 | Semi-finals | 32 | 2 | 99 | 16 |
| 2004 | USC | Pac 10 | Semi-finals | 23 | 6 | 76 | 32 |
| 2001 | Nebraska | Big 12 | Semi-finals | 31 | 2 | 94 | 14 |
| 2005 | Nebraska | Big 12 | Second | 33 | 2 | 101 | 15 |
| 2006 | Washington | Pac 10 | Semi-finals | 29 | 5 | 92 | 26 |
| 2008 | Nebraska | Big 12 | Semi-finals | 31 | 3 | 97 | 21 |
| 1999 | Stanford | Pac 10 | Second | 31 | 3 | 95 | 18 |
| 2007 | USC | Pac 10 | Semi-finals | 29 | 5 | 91 | 35 |
| 2002 | Stanford | Pac 10 | Second | 32 | 5 | 102 | 27 |
| 2000 | USC | Pac 10 | Semi-finals | 29 | 3 | 87 | 20 |
| 2006 | Stanford | Pac 10 | Second | 30 | 4 | 92 | 19 |
| 2007 | Stanford | Pac 10 | Second | 32 | 3 | 101 | 24 |
| 2008 | Stanford | Pac 10 | Second | 31 | 4 | 95 | 23 |
| 1998 | Florida | SEC | Semi-finals | 35 | 3 | 107 | 24 |
| 2002 | Florida | SEC | Semi-finals | 34 | 3 | 105 | 17 |
| 2003 | Florida | SEC | Second | 36 | 2 | 109 | 8 |
| 2000 | Hawaii | WAC | Semi-finals | 31 | 2 | 95 | 16 |
| 2002 | Hawaii | WAC | Semi-finals | 34 | 2 | 102 | 12 |
| 2003 | Hawaii | WAC | Semi-finals | 36 | 2 | 109 | 16 |
| 2003 | Minnesota | Big Ten | Semi-finals | 26 | 11 | 85 | 49 |
| 2004 | Minnesota | Big Ten | Second | 33 | 5 | 105 | 34 |
| 2004 | Washington | Pac 10 | Semi-finals | 28 | 3 | 89 | 23 |
| 1999 | Long Beach | Big West | Semi-finals | 31 | 4 | 95 | 23 |
| 2007 | California | Pac 10 | Semi-finals | 26 | 8 | 87 | 36 |
| 2006 | UCLA | Pac 10 | Semi-finals | 33 | 4 | 104 | 24 |
| 1999 | Pacific | Big West | Semi-finals | 32 | 3 | NA | NA |
| 2000 | Wisconsin | Big Ten | Second | 33 | 4 | NA | NA |
| 2001 | Arizona | Pac 10 | Semi-finals | 25 | 5 | 79 | 25 |
| 2005 | Santa Clara | WCC | Semi-finals | 27 | 5 | 88 | 30 |
| 2005 | Tennessee | SEC | Semi-finals | 19 | 12 | 70 | 49 |
| 2008 | Texas | Big 12 | Semi-finals | 29 | 4 | 94 | 24 |
| 2009 | Hawaii | WAC | Semi-finals | 32 | 3 | 100 | 17 |
| 2009 | Texas | Big 12 | Second | 29 | 2 | 91 | 13 |
| 2009 | Minnesota | Big 10 | Semi-finals | 28 | 9 | 88 | 41 |
| 1998 | Penn State | Big Ten | Second | 34 | 1 | 104 | 6 |