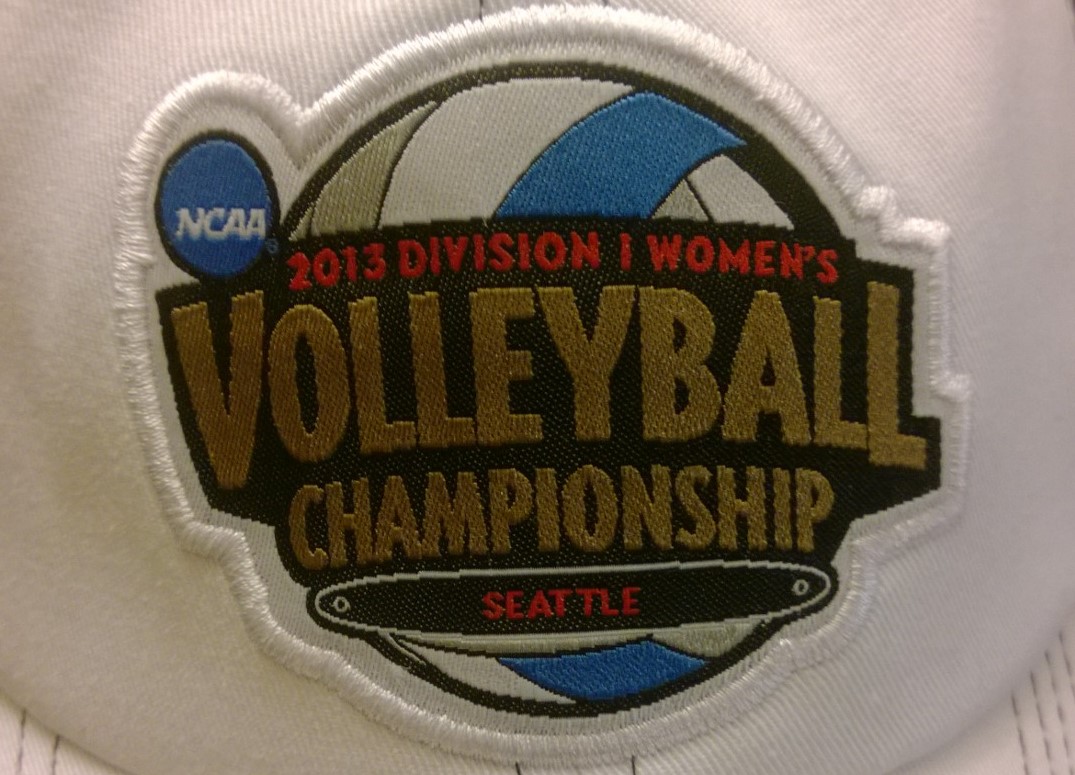 It's going to be an All-B1G Final!
Jack Hamann, of NCAA.com and Volleyblog Seattle (a great blog and a great guy) wrote this after Penn State's machine-like sweep (25-14, 25-13, 25-16) of the hometown Washington Huskies Thursday evening in Key Arena:
"Sometimes small things turn out to be big things. Friday night in Seattle, the smallest roll of a volleyball across a net unleashed a torrent of points that swept Penn State to victory in its DI women's volleyball semifinal against Washington. Washington led 11-9 in the first set when Penn State setter Micha Hancock's serve clipped the net and hung in suspension. If it had rolled back, Washington might have built confidence and a lead. But it rolled forward, for an ace, and launched an 8-0 Nittany Lion run that deflated what could have been a home-court advantage in Seattle's Key Arena. "
With all due respect to Jack — and respect is due — we don't think that a roll-back would have made an iota of difference (well, OK, one point difference) to the outcome.  Maybe on another night, but not Thursday night, not with Penn State playing with the confidence and focus we saw, not when they were playing better than we've seen them play all year.  Not on a night when they outplayed Washington in every facet of the match, throughout the entire match, to thoroughly dominate the Huskies in front of what we would guess were 13,000 Husky fans (compared to maybe 2,000 fans, total, of the other three Final Four teams).
The better explanation, for us, came from Penn State Head Coach Russ Rose after the match:
"I thought we handled the ball really well, had a really solid game plan, and the seniors and Micha played a great match.  When you control the ball, it gives you opportunities to do some things."
Rose also took the opportunity to praise 6-1 Sr. OH Deja McClendon, who had a match-high 13 kills (.391 attack %) and 13 digs:
 "Deja's a wonderful young person. She's been our best player all year. The things that she does are the intangibles that coaches recognize more than people who look at the box score. She's our best passer, our best defensive player, our best left‑side blocker. And there's times she's unstoppable hitting."
6-4 Sr. RS/Opp Ariel Scott put down 10 kills on 18 swings (no errors — .556 attack %), while the third starting Sr. — 6-6 MH Katie Slay — totaled 8 kills (.727 attack %) and 4 blocks for the match.  6-2 Jr. MH Nia Grant totaled 6 kills and 4 blocks, while  5-11 Jr. setter Micha Hancock tallied five kills, adding six digs and three aces, dishing out 39 assists.
(As an aside, for reasons known only to them, NCAA decided to refer to Katie Slay in the video above as "the Slayer" — thank you GoPSUsports.com for never once, to our knowledge, referring to Katie Slay as "the Slayer."  We prefer the equally catchy, and far more descriptive, "Katie Slay, winner of the NCAA Academic All-America of the Year, unbelievable blocker, and incredibly poised and thoughtful person.")
The most eye-popping statistics?  Penn State's attack % was more than four times that of the Huskies — .488 to .117 — and the Nittany Lions held Washington to its lowest point total — 43 — this season.
Penn State will face off against Wisconsin in the NCAA national finals Saturday, Dec. 21 at 9:30 p.m. ET on ESPN2.
Post-Match Interviews
Post-Match Press Conference
Match Stats
(Courtesy GoPSUsports.com)