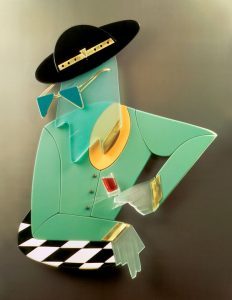 We're speaking today with Talking Head, who played D1 volleyball and has coached the sport for many years.
DigNittany: Let's start with the Nebraska match.  Obviously, really tough loss — second year in a row where the Nittany Lions were one swing away from defeating the Cornhuskers.  Your thoughts.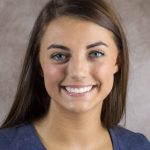 Talking Head: Everything Nebraska tried seemed to work very, very well for them — their game plan, their execution, their serving.  The play of their libero [5-8 Jr. Kenzie Maloney] was better than I recall even 2016 First Team All-American Justine Wong Orantes playing against us in the past four years.  That kid made a huge difference — not only in passing and defending and setting.  Her serve was as effective against us as any server we had to face all year long, whatever they were calling.  They were mixing it up a bit with some short serves that for some reason we just could not handle, and she drove us back a few times too.  But all their players were playing at a high level.  6-3 Jr. OH Mikaela Foecke, with that high snap down the corner got us a ton of times.  6-3 Fr. Jazz Sweet was feeling really good about herself on the rightside, and just bombing away with that cross-court shot.  And 6-1 MB Briana Holman?  I don't know if we stopped her — she seemed to have a one-on-one situation a lot of times and she was just unloading.  But what was amazing is, I just kept looking at what they were doing, with efficiency, and then looking at the score and thinking "Man, we're still in this."
DigNittany: That's a good point.  After losing that first game 18-25, Penn State took the next two games 25-23 and 26-24.
Talking Head: And we had match point in game 4, and you think to yourself "How is that possible?"  I think, when you back up, you have to recognize that Nebraska really did take us out of our play.  We were so used to siding-out with ease, that it made it look like we were playing worse than we were.  When you look Penn State's season stats — for the season we hit .339, with Haleigh Washington hitting .492, Simone Lee hitting .317, Heidi Thelen hitting .360, Tori Gorrell hitting .453, and Abby Detering hitting .301 — and instead you're hitting .217 for the match, I think it exacerbated the feeling that the feeling that they were playing to their normal level, and we weren't.
DigNittany: A lot was written about how Nebraska didn't have as many dynamic, explosive athletes as the other Final Four teams.  Having watched that semi-final match, what are your thoughts about the Nebraska attackers?
Talking Head:  Before the Missouri and Michigan State matches, as the players were getting introduced, I watched them throw the rolled up t-shirts into the crowd.  And I looked at their arms and their throwing motions and I said to myself "They don't have great arms."  Before the Nebraska match, I did the same thing, and I said to myself "We're in trouble."  From the libero, to the setter, to the outside hitters, to the middles, all of them threw with an arm swing that is where you want a good arm swing to be — they could throw the ball the correct way.  The way they led with their elbows meant they could get out of trouble when they were serving (if there was a bad toss) and also when they were hitting (if there was a poor pass).
DigNittany: The announcers for the Michigan State match alluded to that, noting that 5-10 Sr. OH Autumn Bailey's father was a pitcher for the Canadian national team, and that her arm swing was really good.
Talking Head: That's right.  And that's what I saw with Nebraska — I saw that elbow leading, I saw that full arm extension, I saw that wrist-snap.  Plus, with the possible exception of 6-4 RS Fr. MB Lauren Stivrins, they all looked really strong — like Simone Lee and Nia Reed for Penn State — and really had good body control.  Certainly there were many things that went wrong for us — 14 service errors, not generating enough offense at the pins — but you have to give credit to Nebraska, their hitters, and their really, really tenacious defense.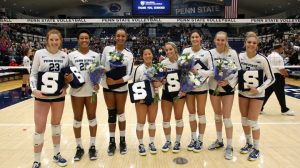 DigNittany: Looking back at the 2017 season, and the eight seniors, what are your thoughts?
Talking Head: The most striking thing about this season was the 6-2, which Coach Rose has said he doesn't really like, but went to this season because it allowed him to make the best use of the personnel he had — Weiskircher and Detering as really good servers; Detering as the best option at rightside.  But the 6-2 is always difficult, because the release of the ball from the setters hands can be very different, and that can make it more difficult for the hitters to track the ball and to get a consistently good connection.  The release from Weiskircher is certainly different from Detering's release.  Now you can say "a set is a set," but the variation of having two different people handle the second ball, with two different styles, can be problematic.  So I understand why Coach Rose isn't a fan of the 6-2.  But let's keep this in mind: Penn State lost two matches all season — 33-2.  They won more matches than any other Final Four team.  They lost two matches all season, and both of those losses were to the team that won the National Championship.  That's a great season.  Personally, I think it is clear that Penn State was the second best team in the nation in 2017.  That's pretty darn good.  I think Penn State was very fortunate to have the 2014 class play so hard and so well at Rec Hall for four years, and to give as much to the University as they did, and to represent the University with such class and distinction.  I think those players, and their parents, should hold their hands up high, because they will definitely be part of the legacy.
DigNittany: Have you heard anything about the Class of 2018 recruits that reportedly will be joining the team next season?
Talking Head: I haven't seen them play in person, but I've seen video of several of them.  People generally have rated these players very highly — 6-4 MB Kaitlyn Hord was ranked as the #3 Senior Ace by PrepVolleyball.com, 6-2 MB Serena Gray was ranked #5, 6-1 RS/S Jonni Parker was ranked #14, 5-9 S Gabby Blossom was ranked #28,  5-6 1/2 libero Jenna Hampton was ranked #31, 6-4 MB Amanda Phegley was ranked #56, and 5-8 libero Brooklynn Hill received All-Area honors.  From everything that I've heard, and from everything that I've seen, these are really good kids, who want to do special things and want to make their mark.  There's going to be pressure on them right away to be able to compete.  They will have to establish their own identity, and that's cool — it's a challenge but it's an opportunity.  I think you'll see Penn State use a libero and two defensive specialists, with a 5-1.  I think Penn State fans should be excited about the future.
DigNittany: Thanks so much.  It's been great speaking with you, and we're looking forward to next season.