Penn State vs. Wisconsin: Q&A with Club Coach and Talking Head
(click images for more info)
DigNittany: We're speaking today with Club Coach, who has coached numerous highly successful club and college women's volleyball players, and Talking Head, who has played the sport at the collegiate level and coached for many years, about the match on Wednesday night in Rec Hall between #1-ranked Penn State and #16-ranked Wisconsin.
Channeled
History Channeled?
DigNittany: This would be a much-anticipated match even if it were only the opening of the B1G season for the two teams (which it is).  But there's history here: Penn State knocked off the Badgers 3-1 in the 2013 NCAA title match, followed that up with a B1G season-opening sweep of Wisconsin at the Field House on September 24, 2014,  and capped off the trilogy with a 3-1 win over the Badgers in the Regional Finals in December 2014.  We know these are different teams, that have added new players, and lost players to graduation, but isn't there some carryover — a rivalry, if you will — from those big matches in the past two seasons?  Perhaps more to the point, would you treat the rivalry aspect differently if you were Russ Rose (having won those matches) than you would if you were Kelly Sheffield (who was on the losing end all three times)?
Club Coach:  I don't believe Russ views any match as being any different than any other match — which is a huge part of Penn State's success. I think Penn State operates from a standard that they set for themselves; they prepare really hard for every team they play — whether they are in conference, ranked, or un-ranked. Russ is famously paranoid, and has legitimate respect for every opponent. I think the match may have more significance in that way for Wisconsin, because Penn State is the measuring stick, and they have kept Wisconsin from winning the big prize. It will be business as usual for the Nittany Lions, and probably for Badgers as well. 
Talking Head: Not that I'm a fan of the New England Patriots, but it is clear that one of the major keys to their success is to take a business-like approach to everything they do and never let the emotion of the event get the better of them.  I think that it is clear that for a long time, Coach Rose's approach  to everything — from recruiting, to practice, to media releases, to discussions about upcoming  and/or past matches — has always been to keep things on an even keel.   Never too high and never too low — focusing on being good at the things they do well and getting better at the things they don't do so well.   Each opponent presents a unique series of obstacles, and for Coach Rose to add too much emotion to a scenario would be counter productive to the team's task at hand.  Some coaches and teams are wired differently, and embrace the hype and spotlight.  However in this case, Coach  Rose does not; with respect to Coach Sheffield, I really don't know. 
About Home Court Advantage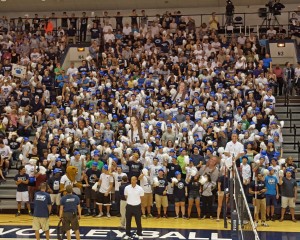 DigNittany: Last year, this B1G match was played at the Field House in Madison. This year, it's in Rec Hall, where over 6,000 fans turned out to cheer on Penn State on September 5th as the Nittany Lions swept the Stanford Cardinal.  After that match, Penn State Head Coach Russ Rose had this to say:
I think the key to the match was just the energy in the building.  I thought it was an electric evening.  We're really appreciative of the marketing people and the student support.  Just to have a crowd like that is really rewarding for these kids.  The hero of the game [was the crowd of] 6,000 people who came out and made the building electric.  That's the story.  We're the recipient.
How important is the home court advantage (we're counting on a big crowd.)  Obviously, many of the key Wisconsin players have been in hostile environments many times before, but for a Badger freshmen like 6-2 MB Tionna Williams, who recorded a new career high 16 kills in Wisconsin's 3-2 loss to Arkansas on Saturday night, it may be a new experience.  Your thoughts?
Club Coach:  I think the advantage of being home is probably as much in easier routine and lack of mid-week travel than it probably is the fan support. I certainly think the fan support is big, and an advantage, but fans don't execute, or make plays. One of the things that makes the league so good, is that these kids are in this environment an awful lot. It's worth 2-3 points.  
Talking Head: Wisconsin heads into this match with a hitting percentage of .260% compared to .336% for Penn State.  Wisconsin averages 2.76 blocks/set to PSU's 3.42.  Wisconsin averages .74 aces/set to PSU's 1.42.  When B1G play begins, we often believe these stats don't mean a thing.  I believe Penn State is clearly playing at a more efficient level at this point in the season, and having a loud and supportive crowd certainly could be a factor that will help the Nittany Lions maintain those statistical advantages or even expand on them.   Although both teams had certain holes to fill from last year, it can be argued that the point scoring losses on the Badgers side were — at least on paper — greater.


About Confidence
DigNittany: Lauren Carlini is unquestionably a great player with a great future ahead of her.  Last season, Wisconsin Head Coach Kelly Sheffield had this to say about her:
I'd never take Lauren for granted. She's obviously a special talent that continues to get better. She's a great teammate. She's becoming a better leader and what I mean by that is she's always had a presence on the court, but she's taken on more of a leadership role away from the court. I think she's feeling more comfortable being able to take that on.  She's consistently looking for ways to get better . . . . You look at our team hitting percentage [2014], and that's climbed up quite a bit from a year ago [2013]. A big part of it is how she's running our offense.
Last season, with Micha Hancock, Penn State had a player who was a very good setter, but who also had tremendous offensive and defensive skills (even though Coach Rose has said that when she arrived at Penn State, defense was not one of her strengths).  And then, of course, there was her serve.  This season, RS Fr. Bryanna Weiskircher has taken over the starting setter job, and quietly put together a solid first 11 matches.  The team appears to have confidence in her (and why not, Penn State is leading the B1G with a .336 attack % — Nebraska is 2nd at .295, and Wisconsin is 7th at .260) through the first 11 matches), and she appears to have confidence in herself.
We're not going to ask you to compare Carlini and Weiskircher — not a fair comparison — but we would like to hear your thoughts about the importance of confidence and trust between a setter and her hitters, and what has impressed you most about Weiskircher to date.
Club Coach: I read an interesting article in Wisconsin's Varsity magazine, in which Carlini said she is really dissapointed that Micha is no longer at Penn State, as she brought out the best in Carlini.  I think that speaks to what a competitor Lauren Carlini is, because most teams celebrated Micha's graduation.  Carlini described Micha as her "mortal enemy" — although she said "I bet we would be really good friends based on how we like to compete."
In terms of Weiskircher, I think she has done what you would hope that she would, which is be solid, give the team a chance to win, and get better. Her experience and poise are certainly going to be tested during the Big Ten season, and that will be great experience for her as the team moves towards NCAA's.
Talking Head: Although both players play the same position, I would say they have completely different roles and approaches to their teams.  This season, more than her previous  two years, Lauren Carlini has been thrust into a leadership role from the front.  While it can be argued that she has been the face of the team ever since her Freshmen year, the veterans that she used to have were right on the front lines with her. That is not the case this year, at this point.   She clearly is Wisconsin's leader in every respect of that word —  and leadership can be a tough burden for a player, let alone a setter, who has so many other things to think about.
Bryanna, who is a competitor in her own right, has numerous players with strong personalities leading the charge in front of her.  She has some teammates that demand excellence and she seems to embrace that, and appears to relish putting her own mark on this program.  Bryanna certainly will run the show, but the weight of the team is certainly carried by others too.


The Battle of the Haleighs
DigNittany: Both Penn State, with 6-3 So. MB Haleigh Washington, and Wisconsin, with 6-4 Jr. MB Haleigh Nelson, have star players at the middle blocker position.  Washington is leading the B1G with a .538 attack %, while Nelson's .400 attack % ranks 7th.  Washington is 2nd in the B1G with 1.58 blocks/set; Nelson is tied for 7th with 1.29 blocks/set.
Two things: Your thoughts on Washington's performance so far this season.  Second, in the battle of the Haleighs, how will each team try to maximize the effectiveness of their player, and minimize the effectiveness of the opposing player?
Club Coach: I think Haleigh Nelson is a heck of a player, but I think Washington is in another league. If you can get the ball to Washington in the spot she needs it, she is as close to undefendable as any player in the country. I personally don't think I would match Nelson up against Washington. I don't see Nelson able to slow down Washington, so put Nelson in a situation where maybe she can really score not being matched up against Washington. Again, I love Nelson, but Washington is another breed of cat (no pun intended). 
Talking Head: Haleigh Washington may be the most dominant player in Women's volleyball so far this season.  Her blocking, hitting with power and precision, and serving have been impressive every time out.  Certainly being surrounded by players with the last name of Courtney, Whitney and Frantti helps!
Front Row Play
Penn State returned all but one (albeit very important — Nia Grant) of its front row players from 2014, whereas Wisconsin lost three key front row players — Courtney Thomas, Dominique Thompson, and  Ellen Chapman — from its 2014 team.  The Nittany Lions, even with a RS Fr. setter in Bryanna Weiskircher, have generally appeared to be in-synch (at least to our admittedly unschooled eyes), whereas the Badgers have appeared to struggle at times (although Carlini unquestionably is still Carlini).
How important for Penn State is the fact that so many of its front-row players have at least one full (and NCAA Championship) season playing together.  And how do you view the seeming "struggles" at Wisconsin (if you can call 8-2 a "struggle")?
Club Coach: Well, I think this is where the big difference in the two teams lies. Penn State has better and more experienced arms than Wisconsin — and every other D1 team, for that matter. The Badgers have to significantly outplay Penn State defensively and in the setting position to win this match.  The Nittany Lions will win the battle of the net; Wisconsin needs to win the behind-the-10 foot line game.  I think the Badgers struggles — if you would call them that (I wouldn't) — are issues of rhythm, and those only improve with time.  
Talking Head:  Again, it always comes down to matchups, and Penn State has so many weapons, and Wisconsin doesn't have as many……yet.  If it hasn't already been noted somewhere, let me be the first to say that Whitney, Courtney, Washington and Frantti have ALL improved some aspect of their play from last year.   If Penn State continues to serve tough and pass adequately well, they should have the advantage to neutralize Wisconsin in certain areas. 


Aiyana Whitney, Heidi Thelen, and Keeton Holcomb
DigNittany: 6-4 RS Sr. Aiyana Whitney had a terrific season in 2014, but some questioned how well she would do with a new setter (actually, that question applied to all of the returning front-row players).  Heidi Thelen played very sparingly in 2014.  The word was that she excelled at blocking, but wasn't a strong offensive player.  Keeton Holcomb, who came in as a virtual unknown to most Penn State fans, has earned a reputation as a very good passer and has appeared to improve on her defensive positioning (something Russ Rose pointed out early in the season as something that needed work).  Quick thoughts on these three players?
Club Coach: Well, Whitney is just a really good offensive player with a lot of range.  She is doing what I thought she would. The role for Thelen, who is book-ended by All-American attackers, is to close the block and score when she gets the ball set her way.  She has done a nice job of accomplishing that. She is in a role that doesn't demand a lot, but she is doing more than just keeping her head above water — she is giving the team what it needs, and hopefully, will give more as she gains confidence and experience. Holcomb is a good passer, and that, in my opinion, is more important for the libero position than defending — especially given the size and arms at the net. I think Penn State is getting more out of Keeton Holcomb than maybe the coaches thought they would.

Talking Head:   Aiyana is starting to really connect with Bryanna. Penn State might be even better from behind the setter than the past few years.  If that statement rings true, and holds up for the rest of the season,, I can see Aiyana in a 1st team AA standing by the end of the year.  I believe her blocking has improved, as she is much more active in her movement.  Heidi has been a wonderful surprise, and the transition from a defensive standpoint appears to have been seamless.  Keeton is doing a solid job, seems to handle the 2nd ball quite well and has put together some nice digging stats her last times out. 
Crystal Ball Fearless Forecast
DigNittany: OK, throw caution to the wind (and note that we will wisely keep silent): Who wins — Penn State or Wisconsin?
Club Coach: I like PSU in this one, and think they get it done in three. Not sure UW is ready for this level of opponent on the road at this point, and also had three pretty tough matches this weekend. Of course Carlini could also spin the heads of some of PSU's younger players and steal one. 
Talking Head:   Home field advantage, playing  efficient volleyball, so many weapons, and arguably a deeper team than the past two years, I say PSU 3-0.    However,  PSU has NOT seen a team serve very hard or well against it this year.  If Wisconsin can bring a consistent hard serve, this match might go 4.
Credits