There were two media storylines for the Penn State-Wisconsin rematch (or re-re-match if you counted both last season's NCAA Final match and the B1G match in Madison): the Hancock vs Carlini "Who is Better" storyline (by the way — our take — both great, but  different, players) and the "B1G Championship Match" story (our take — Wisconsin already won the B1G Championship,  so . . . . next).
Well, and then there was the "Who gets to move on  to Oklahoma City for the NCAA Semifinals. Following #5 seed Penn State's (34-3) comeback 3-1 win over #4 seed 4 Wisconsin (31-3) (22-25, 25-16, 25-22, 25-19) Saturday afternoon, the answer to that question is easy: Penn State.
But getting to that answer was anything but easy, as Wisconsin and Penn State both played tenacious (ferocious?) defense, reflected in the way-below-normal team attack percentages — .182 for Penn State and .155 for Wisconsin.  But after dropping that first set, Penn State dug deep (as Aiyana Whitney and Coach Rose noted in the interview — see link below — the season is a grind).  It may not have been pretty, but it was a satisfying win that allows the Nittany Lions to move on to the  NCAA Semifinals in Oklahoma City.
2014 NCAA Semifinal

Click images for more info
For the second consecutive match, 6-4 RS Jr. Opp/RS  Aiyana Whitney came up big for  Penn State, with 16 kills (.231 attack %, which was quite good for the match), and 6-3 Fr. MH Haleigh Washington registered 10 kills (.368 attack %), with 5 blocks and a DigNittany Energy Rating of "Holy Cow!"
In some ways the most interesting storyline was 6-1 Fr. OH Simone Lee's 7 kills with no errors performance off the bench in the second set (another "Holy Cow" DigNittany Energy Rating), which was instrumental in helping the Nittany Lions tie up the match at a set apiece.
6-2 Sr. MH Nia Grant tied Washington for the team lead with five blocks, while 5-6 Sr. libero Dominique Gonzalez turned in yet another terrific performance, leading all players with 24 digs, followed by 6-2 Jr. OH Megan Courtney's 13 digs. 5-11 Sr. setter Micha Hancock totaled 7 kills (13 attempts,  no errors), with 2 service aces (they were big!).
For their efforts against UCLA and the Badgers, Hancock, Whitney and Washington were all named to the All-Tournament team, with Hancock also taking home the Louisville Regional Most Outstanding Player award.
For the complete match release from GoPSUsports.cm, Click Here.
LOUISVILLE, Ky. — A record-breaking season for the fourth-seeded Wisconsin volleyball team came to an end Saturday as the Badgers fell to Penn State in four sets (22-25, 25-16, 25-22, 25-19) in the NCAA Regional Final at the KFC Yum! Center in Louisville, Kentucky.

"It's tough any time that your season ends and you're with people that you love and everybody is just moving in the same direction," Wisconsin head coach Kelly Sheffield said. "As far as the match, I thought it was two teams that were just battling like crazy. It was a great sporting event."

Sophomore Lauren Carlini tallied her 18th double-double this season after recording 38 assists and 10 digs. Freshman Kelli Bates put up 12 kills and 12 digs, marking her seventh double-double of the 2014 campaign.

For the complete release from uwbadgers.com, Click Here.
Post Match Press Conference


Here's a link to the post-match press conference with Coach Rose, Simone Lee, Micha Hancock, and Aiyana Whitney: http://www.gocards.com/collegesportslive/?media=478753 (Hello,  NCAA and Louisville, have you not heard of embed codes?)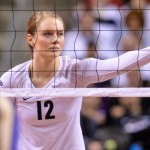 Match Stats (Courtesy of GoPSUsports.com)