Penn State women's volleyball returns plenty of key contributors from its Elite Eight run last season, but filling vacancies at setter and outside hitter will be of utmost importance this summer.
Although the program's top-ranked 2018 recruiting class has already made quite an impact, a sophomore duo is in line for a significant bump in playing time.
Gabby Blossom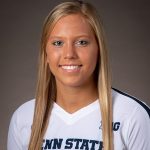 Blossom was one of five Nittany Lions who played in all 34 matches last season, starting once at home against Indiana in Bryanna Weiskircher's absence. During that sweep of the Hoosiers on October 26, Blossom turned in a terrific performance with her first career double-double (41 assists and 12 digs). Penn State hit .486 as a team in the third set as Blossom became more comfortable running the show.
"I think she connects well with the hitters," Russ Rose said afterward. "She was brought in to play. I didn't say she was going to come in and play immediately. I don't tell anybody they're going to play immediately. I tell people that they have to work hard and the goal of the program is to compete at a high level. The best players are going to play. The goal is for the team to win. Tonight she did a really nice job."
Now that Weiskircher has graduated, it's Blossom's turn to take the reins as Penn State's starting setter. The St. Louis, Missouri, native arrived in University Park as one of the nation's most decorated high school setters, earning Gatorade State Player of the Year honors, an Under Armour All-American selection, and the 2018 Andi Collins Award. Blossom primarily came off the bench for service and defensive specialist purposes last fall, but it will be exciting to see what she can do in her first full season as a starter.
Blossom said one of her main focuses during practice last season was improving her defensive skills, saying Weiskircher was especially helpful in that department. Despite growing up in the Midwest, Blossom said she admired the skills of Micha Hancock and Alisha Glass from afar. "She was a huge reason why I wanted to come here," Blossom said of Hancock.
"Penn State was my dream school," she continued. "I never thought that it would happen. I was lucky enough where it did end up happening. As soon as they offered me, I committed."
Allyson Cathey

Cathey started four matches as a true freshman when Nia Reed was sidelined with an undisclosed injury, showcasing her rocket of an arm in a limited capacity. She finished sixth on the team with 106 kills in her debut season for the Nittany Lions, including a career-high 15 on the road at Ohio State on September 23. Reed and Taylor Leath extinguished their eligibility last season, meaning Rose must replace both of his starting outside hitters.
Penn State returns 58 percent of its offense from last season — due in large part to the breakout performances of Big Ten Freshman of the Year Jonni Parker as well as middle blockers Kaitlyn Hord and Serena Gray, both of whom earned AVCA All-American honorable mention. Cathey is poised to join them in a starting lineup that could feature only one upperclassman in libero Kendall White.
Cathey, who set a school record with 1,978 career kills at New Albany High School in Indiana, said she spent a fair amount of time working on her mental approach to the game last season. "During club, I used to get down on myself a lot, but now I think, with my teammates and coaches, they tend to get me out of my head and move on to the next point if something doesn't go my way," she said.
Penn State signed three outside hitters in its 2019 recruiting class, including Under Armour All-American Lauren Clark, who enrolled early for the spring semester. Gabi Bailey and Sydney Ferguson will arrive on campus this summer and begin competing for playing time alongside Cathey and Clark.
Prior to a practice session last September, Cathey discussed what she likes most about playing with Blossom, who routinely draws praise from Rose for her infectious energy. "She's really loud," Cathey said. "She's always in my face and always making sure I'm uplifted and not frowning."