DigNittany: We're joined once again by our friend, Talking Head, who has kindly agreed to share his thoughts, insights and wild speculation about the Penn State Women's Volleyball team's upcoming season. As longtime readers know, Talking Head played D1 Volleyball and has coached the sport for many years.
It's no secret that the Nittany Lions lost a lot to graduation following the 2017 season. To quantify that, we compiled the chart below, which shows the offensive output of the five leading attackers from 2017 who graduated (who also happen to have been Penn State's five leading attackers in 2017), and the output from the top three returning attackers.
The most daunting statistic: the Nittany Lions lose 86.7% of their 2017 kills (from the top eight attackers). That's a lot of offense to replace. But there will be a lot of new faces and a lot of new talent.
For Talking Head's thoughts about the upcoming season, see our Q&A, which begins after the chart.
2017 Attack Leaders: Graduated/Returning
Q&A with Talking Head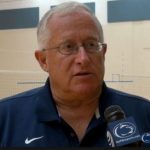 DigNittany: Penn State lost a lot to graduation, but they have good players returning, both in the front row and in the back row, a significant transfer into the program in 6-3 Gr. OH Taylor Leath, and an influx of talent from PrepVolleyball.com's #1-rated recruiting class for 2018.  Where do you lean — up-in-the-air or the-sky's the limit? Or both?
Talking Head: I think you have to go back to the 2011 season to find a Penn State team with as many question marks as this one — and I don't mean that as a negative.  Sure, this team doesn't have a ton of experienced starters returning.  But they have good players coming in, as you pointed out, and there are going to be battles among really good players for starting positions.  Who will end up in the starting rotation?  I have no idea.  The only things I can be sure of are that Head Coach Russ Rose is going to be on the bench, and that he'll be joined there by assistant coaches Dennis Hohenshelt and Katie Schumacher-Cawley.

DigNittany: What's a key question you have about this year's team?
Talking Head: I'm curious about how ready the freshmen are, physically and mentally, to handle the demands that they'll encounter throughout the Big Ten season.  You have Taylor Leath and Nia Reed, who are strong and powerful athletes, and Tori Gorrell has done a nice job of getting stronger and faster.  How do the incoming freshmen compare?  By reputation, as a group they compare very favorably, but we'll see.
DigNittany: Last season, Coach Rose said at a press conference that one reason he was utilizing a 6-2 offense was that the team had better hitters than setters (with now-graduated Abby Detering playing both right side and setter), and the 6-2 allowed him to take advantage of that.  With so many possibilities for starting lineups this season, do you think that Coach Rose might experiment with a 6-2 in the pre-conference matches this year? And as a follow-up, what are some of the downsides of the 6-2, particularly for a young team like the 2018 Penn State team.
Talking Head: Let's back up a bit.  Is it possible that Coach Rose will settle on a starting lineup early on and stay with it throughout the season?  Sure.  But I think that he is going to "mix-and-match" early on, and will be afforded the opportunity to do so by some of the opponents on the pre-conference schedule.  Having said that, there is no doubt that the connection between the setter and the hitters — the setter's release point, and the hitters ability to "read" the ball coming out of the set — is something that takes time to develop, and can be disrupted to some degree when you are switching setters, as you do in a 6-2.  Sometimes when fans look at an attack error they think "why didn't the hitter get that kill?  That was a good set."  The reality may be that the hitter wasn't able to track the ball soon enough because of the setter's release, so they didn't get to the right spot soon enough.  My guess is that even if we see a 6-2 early on (and we may not), Penn State will be in a 5-1 by the end of pre-conference play.  Of course, Coach Rose could pull the 6-2 out at any time, so to go back to my original point, the only things I can be sure of are that Russ Rose, Dennis Hohenshelt and Katie Schumacher-Cawley will all be sitting on the Penn State bench.
DigNittany: Any thoughts on the setting for this season?
Talking Head: I think the setting will be improved over last year, both in terms of quality and depth.
DigNittany: What about the back row — care to make any predictions?


Talking Head: I don't know who will start at libero.  Kendall White has done a great job for two seasons — she wasn't gifted her spot as a 2nd Team AVCA All American last year, she earned it.  She is an extraordinary competitor.  But Jenna Hampton is a very good player too. I think she'll see a lot of playing time this season, and will play in clutch situations.  Whether that will be at libero or as a DS, I don't know.  But she, along with fellow-freshman Brooklynn Hill, are high-quality additions to the defensive corps, and are really good "gets" for Penn State over the next four years.

DigNittany: Thanks so much for your time.  We appreciate it.
Credits
Photo representing Talking Head is a glass sculpture "Café," by Dan-Dailey, 1979. Corning Museum of Glass. This file is licensed under the Creative Commons Attribution-Share Alike 3.0 Unported license.
Staff and player photos courtesy of GoPSUsports.com