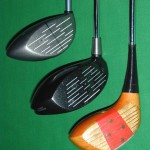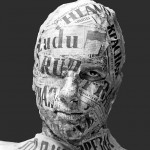 It's NCAA Tournament time again, and Penn State – which some had predicted would be seeded as low as #8, ended up with the #5 Seed (B1G Champion Wisconsin is seeded #2). The Nittany Lions (30-3, 18-2 in the B1G) will take on MAAC conference champion Siena (19-14) on Friday at 7:30 p.m. ET at Rec Hall. The opening contest, at 5:00 p.m. on Friday, will feature Dayton (29-5), which won the Atlantic 10 championship, versus American (26-6), winner of the Patriot League. The winners of those two matches will face each other in the second round on Saturday, December 6th at 7:30 p.m. in Rec Hall.
As is the case every year, the drama in the Tournament typically isn't in the first two rounds – though there have been exceptions.
[Editor's Note: for those who are interested, here's a link to our article from 2012: "It's Never Easy to Win the NCAA Women's Volleyball Tournament."]
For example, this will be Siena's sixth NCAA Tournament, and they have yet to win a match (0-5) or a set (0-15). Assuming Siena doesn't pull off the volleyball upset of the century, either Dayton or American would be much tougher opponents, but Penn State already defeated American once (a 3-1 victory on September 12th) and both Dayton (58th) and American (71st) have considerably lower NCAA RPI rankings than does Penn State (9th).
We're talking once again with Club Coach, who has coached numerous successful club and collegiate volleyball players, and Talking Head, who played at the collegiate level and has coached for many years.  Partly because our slacker staff has done zero research on Siena, American or Dayton, and partly because we'd like the chance to spout off about the NCAA brackets and the 2014 All-B1G player selections (it's that time of year, so why not!), we're going with questions about the rankings of the top four seeds, which top-four seeds have the toughest (or easiest) roads to the Final Four and, bringing it all back home, the always-fun-for discussion B1G post-season Player Awards.
About the Top Four Seeds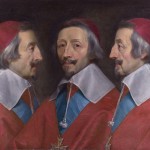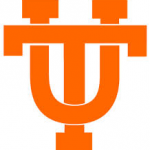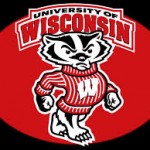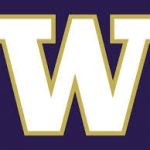 DigNittany: Let's start with the top four seeds – #1 Stanford (29-1, #1 RPI), #2 Texas (23-2, #2 RPI), Washington (29-2, #4 RPI), and Wisconsin (28-2m #6 RPI). Stanford was pretty much a given, but we were a bit surprised that Texas was seeded #2 after just having lost to Florida in Austin. And what about Florida State only getting a #8 seed? Were you surprised by how the Committee treated those two teams or the order of the top four seeds?
Club Coach:  At the end of the day seeding doesn't determine the toughness of your journey through the tournament, your see does. We've seen teams with great seeds get brutal draws, and teams with low seeds, get favorable draws. I was very surprised to see Texas at #2, as their 23-2 record was almost identical to the records for Washington (29-2)  and Wisconsin (28-2), with Texas's losses being at home to AVCA  #33 Oklahoma and AVCA #5 Florida, compared to Wisconsin's losses to AVCA #3 Washington (away) and AVCA #4 Penn State (home) and Washington's away losses to AVCA #19 Colorado and AVCA #20 Utah.   I was even more shocked to see the draw Texas received — which in my opinion is far easier than any of the other three top-seeded teams, especially the draw for Stanford — the number #1 seed. Florida State's draw was about what I had anticipated. The Seminole's big wins occurred in the first two weeks of the season, and they lost two matches in the final weeks of the season. I anticipated them being seeded #6 to #8.
Talking Head: First of all, I personally don't put must emphasis or reliance on the RPI.  I would rather focus on what a team has done in the last 15 or so games, the health of the team going into the tourney, and the "big time" players that are on a roster.  Of course the committee must consider the body of work and RPI angle, but the season is so long and bumpy that I personally don't think it's useful to hang on to what teams did back in August through early October, because so many things can change (and probably will have changed), from the early part of the season to the latter part of the season.  Players can beat out starters, injuries happen, and lineups can change.
I would give much more credence to the AVCA Coaches poll (please note that all references to # rankings refer to the rankings in the December 1, 2014 AVCA Coaches' Poll) and #1 seed and #1 ranked Stanford's road in the first two rounds looks pretty good (as it should) with zero top #25 teams. However Stanford's potential opponents in the Regional Final are very tough: Illinois (#10), Florida (#5) or Western Kentucky (#25).   And I wouldn't totally rule out unranked Michigan State, as they do come from a power conference, have some legit players and have been playing very well of late — though I think it's unlikely that the Spartans will take down Stanford in the first match. However, rest assured that Spartan players like Moster, Reinig and Fitterer are preparing to shock the world and are embracing their underdog role.  Stranger things have happened.  To Stanford.  From teams from the State of Michigan.
In the Minneapolis Regional, Texas comes in as the #2 seed, but is ranked #6 in the AVCA Poll. The bracket does have a few teams that can do damage — #22 Arizona State,#9  Colorado State, and #19 Colorado.  I could see either of the Colorado's defeating Texas in the Regional Semifinals.
On the other side of the bracket, Oregon (#16) might have trouble with an Oklahoma team that already has beaten Texas.  UNC (#8) should push through, as I don't expect a 15-15 USC team to make any noise.
The Seattle Regional (along with the Louisville Regional) is littered with AVCA top #25 teams, and both Regions should feature some excellent 2nd round matchups.
Washington should handle #20 Duke easily and then will run into either Nebraska (#11) or a familiar opponent in Utah (#20). I believe the Huskies will need every bit of home court advantage if they run into Nebraska.  Be forewarned, Huskie fans, this Nebraska team can do some serious damage if they get some positive vibes going. They are big and athletic at all positions, and although there has been a lot of negative chatter about their chemistry, this is a program rich with history and gritty players and I would NOT be surprised if they make a deep run. It seems everyone wants to stick a fork in Nebraska and their coach — a sentiment that might be exactly what galvanizes this team.  Beware!
On the other side of this bracket we see Arizona (#14), BYU ( #12) and Florida State (#8).   I suspect that a seasoned team like Arizona, which benefitted from playing in the PAC, might emerge here, but it may be wise not to discount the very physical BYU team and their game changer 6-7 Senior Jennifer Hamson. If any of these matches are close at the end I can see a player like this being the difference.
Florida State at 28-2 has put together a terrific season and was ranked in the top 5 for most of the year, but I'm not sure they have been tested enough of late (their back-to-back losses not withstanding) to push deep in this tourney, especially travelling so far out west.
Rating the Brackets
DigNittany: No-one ever seems to be happy with the brackets, and this year is no different. Some folks look at the Ames Iowa bracket and ask why #1 seed Stanford is faced with possibly having to play a tough Michigan State (18-13) in the 2nd round, and either an arguably under-seeded #8 Florida or a very tough #9 Illinois squad. Others say Wisconsin and Penn State shouldn't have to face each other before the Final Four. And Washington fans aren't happy that the Huskies will have to face either Hawaii (21-6) or (22-7) in the 2nd round. Texas fans aren't complaining too much about the Longhorns draw. How would you rate the paths to the Final Four of those top four seeds? And what are your thoughts about Penn State facing Wisconsin (if – a big if – both teams advance to the Regional Final)?
Club Coach: No question Stanford has a tough draw. Michigan State is a scary team. Even though they didn't have a great season, they have talent, and have had a history of big wins in the tournament.  Illinois took Stanford to 5 on their home floor, and has wins at Penn State and a win versus Nebraska.  On a given night, the Illini can beat anyone.  Florida is a great darkhorse pick. They may be the toughest serving team in the country, and have two attackers who, when they get it going, are as tough to defend as any two in the country.
I don't see anyone in Washington's draw who would beat the Huskies on their home floor. It isn't a free pass, but besides Texas, they are the most certain of the top seeds to advance. Wisconsin couldn't have been thrilled to see Penn State on their side of the bracket, but the Badgers are a team with as much confidence and courage as any team in the field. They didn't play very well in their early match-up with the Nittany Lions and they will have something to prove. I love the match-up — it will be full of great story lines.
Talking Head: The draws are not horrible and although many of us would have done it differently, I would defend the committee by saying they have to look at a lot more factors that I do — that is just the way it is.
At first glance, Stanford's road seemed really hard, but upon reflection it is not.  Texas was seeded too high and, in my opinion, probably will not make it through to the Final Four. The Washington and Wisconsin brackets are the toughest by far from a depth perspective, but I expect Washington to push through given their home court advantage (boy will they need it). Wisconsin and Penn State are just that much better than everyone else and should meet for the Regional Final there.
About the B
1G

Awards

DigNittany: Looking at the final 2014 season B1G Conference-only stats, Penn State was ranked 1st in team attack % at .325 (Wisconsin was 2nd at .282 and Illinois was 3rd at .242), 1st in opponent attack % at .151 (Wisconsin was 2nd at .159 and Michigan State was 3rd at .164), 1st in blocking at 3.01/set (Nebraska was 2nd at 2.94/set, Minnesota was 3rd at 2.92/set and Wisconsin was 4th at 2.83/set), 1st with 1.85 aces/set (Wisconsin was 2nd at 1.34/set), and 1st with 0.45 opponents' aces/set (Wisconsin was 2nd at 0.77/set and Nebraska was 3rd at 0.80/set).

Given those stats, it's not surprising that Penn State had three of the top five leaders in attack % (1st – Haleigh Washington at .462; 2nd – Nia Grant at .417; 5th Aiyana Whitney at .330), the leader in assists – Micha Hancock at 11.60/set (Lauren Carlini was 2nd at 11.14/set), the leader in service aces/set (Micha Hancock at 0.92 aces/set), the 5th and 6th ranked blockers (#5 Haleigh Washington at 1.33 blocks/set and #6 Nia Grant at 1.26 blocks/set – Minnesota's Paige Tapp ranked #1 with 1.65 blocks/set, and Nebraska's Cecilia Hall was 2nd at 1.45 blocks/set), and the #5 ranked player in digs/set – Dominique Gonzalez at 3.80 digs/set (Wisconsin's Taylor Morey was 1st at 4.97/set).

But when it came time to handing out post-season All-B1G player awards, at least some of those stats seemingly were lost in the shuffle. Granted, 5-11 Sr. setter Micha Hancock and 6-2 Sr. MH Nia Grant were unanimous selections to the All-B1G team, and 6-3 Fr. MH Haleigh Washington made the list as a true freshman, but 6-4 RS Jr. Opp/RS Aiyana Whitney and 6-1 Fr. OH Ali Frantti had to settle for B1G Honorable Mention (though Frantti did make the B1G All Freshman list, as did Washington, who also was named B1G Freshman of the Year), and 5-6 Sr. libero Dom Gonzalez didn't make any list. Which, given her importance to the team and high level of play over four years, shocks us.

Setter of the Year and Player of the Year awards both went to Carlini – which, given Wisconsin's B1G championship season, didn't really surprise us (though we would have voted for Hancock as Player of the Year for her overall contributions to the team). Your thoughts on the B1G awards?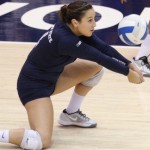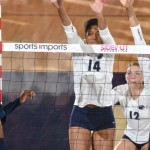 Club Coach: The first thing I would say is that if you look at history, to the victors go the spoils. Penn State has dominated the awards when they have won the league, and I think Wisconsin players were rewarded in the same way. In my opinion the POY and SOY should have been the same player. I think it would have been odd to say Carlini was the best setter, and someone in her position be named the best player.
As to Aiyana Whitney, in my opinion she is the greatest player in the history of college volleyball to not be named first team all-conference.  That was a head scratcher.  Lastly, Penn State defensive players continue to be grossly underrated. They have, unfortunately, been overshadowed by the incredible talent Penn State has had at the setting and attacker positions. Dom's play is as responsible for their success as anyone.
Talking Head:  When you are sitting in a meeting with your fellow coaches and you talk about end of the year awards, you show respect to the victors and recognize their achievements.  PSU may win the National Championship this year, but even if they do, that accomplishment will not erase the fact that Wisconsin was the B1G Champion — nor should it.  Carlini and Morey and coach Sheffield EARNED those prestigious awards, they and their teammates should be very proud of their accomplishments.
I would say, however, that I would have liked to have seen Dom Gonzales and Aiyana Whitney be recognized.  They are terrific players and had ridiculous seasons, but I would guess that they both have moved LONG past this snub (unlike many of us) and just want to win another title.
Crystal Ball

DigNittany: We're not going to push you into predicting a Final Four, but who do you like for the Regional Finals?
Club Coach: I don't need a push. I predict Texas, Stanford, Washington and Penn State will make up a heavyweight Final Four!
Talking Head:  I'm probably a bit of an outlier with these predictions, but here goes:
Stanford over Illinois
Penn State over Wisconsin
Nebraska over Arizona
A1 Colorado State/A2 Colorado over UNC
DigNittany: Thanks so much to both of you.  As always, we appreciate it.
________________________________
Photo Credits