Penn State women's volleyball held its 13th weekly media availability of the season prior to practice Tuesday afternoon at Rec Hall.
Head coach Russ Rose, sophomore middle blocker Serena Gray, and freshman outside hitter Gabi Bailey fielded questions ahead of a weekend home stand against Wisconsin and Minnesota to close out the regular season.
Gray tied her career high with three service aces Sunday in Penn State's second sweep of Rutgers this season, while Bailey came off the bench and recorded a career-high three kills and a dig.
Gray has already blown her freshman kills mark out of the water with 253 through the first 27 matches of 2019. During an All-American honorable mention season last year, Gray tallied 177 kills in 31 matches.
Coach Rose on Gabi Bailey's performance against the Scarlet Knights: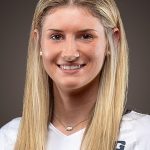 "I thought she went in and did what she does well. She has a good IQ for what's going on. I thought when we recruited her, and what I've assessed since she's been here during her first semester, is that the prospects for her to be successful are there — just based on that she has a good awareness of what's going on. She just needs to pick up in the physical aspect of the game. There are a lot of players who come in as freshmen who are equally aware of what's going on who are more physical in nature than she is, but I think she has a good IQ and she has to just pick up some of the physical requirements to play at this level."
Coach Rose on Penn State's service pressure of late and how important that will be against Wisconsin:
"I think everything's important against Wisconsin. I picked Wisconsin to win the conference at the beginning of the year, so I'm not surprised that they've been able to maintain their position at the top all year. I think serving is important in all matches, but certainly in a match where you're playing a top team. The teams that are playing the top teams have to really depend on whatever they can to try and impact the other team. For us or everyone else, you need to have good service pressure to try and do that."
Coach Rose on what stands out to him about Wisconsin setter Sydney Hilley:
"I think she's a physical player at a position that not a lot of players are physical. I think she blocks well. She's got good speed, so she has the ability to get to the ball. She has a good awareness of who to get the ball to, so that's really probably been a big part of her development that she's been able to mature with some of the other players who are there. They've got a terrific attacker in [Dana] Rettke, but they also have good arms around her. I think both outside hitters, [Molly Haggerty and Grace Loberg], have had good years and [Madison] Duello is one of the better scoring right-side players. [Danielle] Hart has had a really good second half of the season offensively. Their team is put together to put pressure on people. They have the best defensive core in the back. They don't have a need to have a back-row attack, because their defensive players are keeping the ball in play and Hilley can get the ball to the middles. The middles are scoring and the outsides are scoring, so their formula has been good enough to only lose one [Big Ten] match in the first 18 they've played."
Coach Rose on what makes Serena Gray an effective server for her position: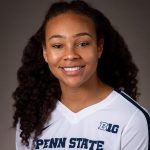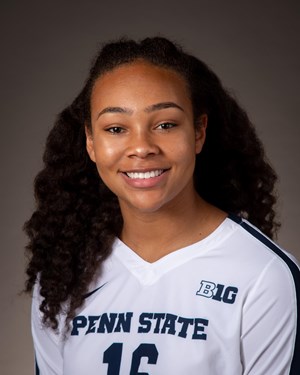 "I think Serena came in — it's kind of like Haleigh Washington when she came in as a young player. She's just had a really good serve. When Haleigh went to the U.S. national team, the national team coaches said the same thing — that they felt she was one of the top serving middles in the world; that she just really had a good contact on the ball and hit the ball well. I felt the same thing when Serena came in. She just hits the ball with really good pace, hits it from a high position, and has good velocity on the ball. I think she's certainly one of our better servers. There are certain times you don't want to miss serves, but there are certain players who you have a little better understanding if they miss their serve, because you need them to generate a tough serve. It's not always aces. Aces are a bonus I think. It's the impact of the serve that you're looking for and I think that Serena's serve is one of our better serves."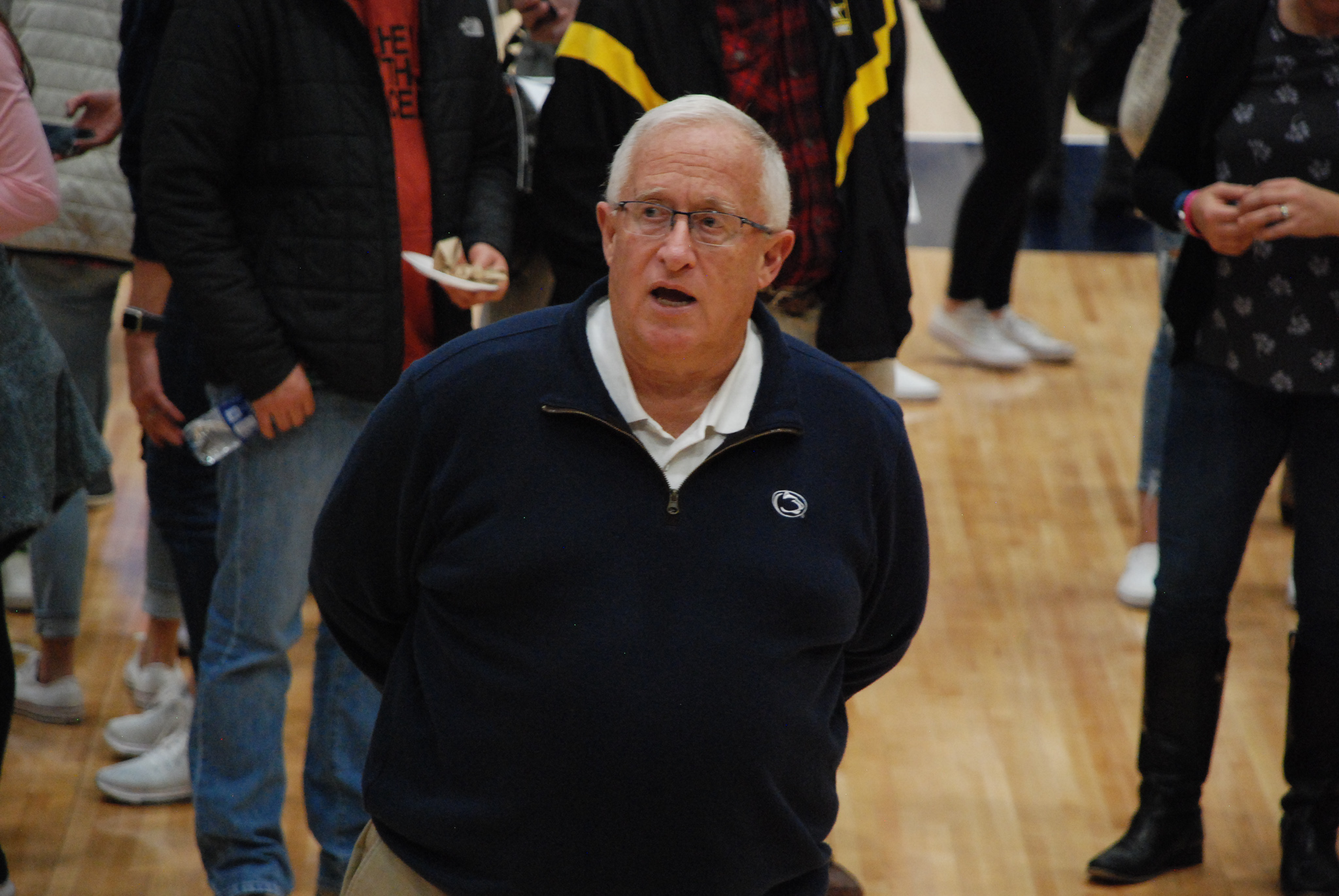 Coach Rose on whether he's seeing the type of leadership he expects from his team at this point in the season:
"I think we've had some flashes of it. I wouldn't say that it's been the most mature group or the most competitive group, but we're heading into the last weekend of Big Ten play with a chance to still compete for a spot at the top. That's something to be commended. I'll certainly reserve final judgment until the weekend's over, but I certainly think they've had to battle to get themselves into this position. I don't think we've had the toughest schedule, for sure, of the conference schools, but I have no bearing on how the schedule works itself out. Sometimes you're playing more teams at the top. Sometimes you're playing more teams on the road in the first half. It's strange. It's a random selection. When things are random, it's really hard to predetermine what's going to happen. Some teams, like this weekend, you've got Northwestern and Illinois playing each other two matches. That happened at the beginning of the year when Ohio State and Michigan played both of their matches and Ohio State didn't have their freshman outside hitter who's really good. That's not to say that Michigan's not really good, but hey, Ohio State with [Jenaisya Moore] is a better team. It's just the luck of the draw when you play teams and how the schedule works itself out. I always tell people, 'I'm responsible for the preseason schedule, the Big Ten is responsible for the conference schedule, and the NCAA is responsible for the tournament schedule.' We just go play who they tell us to go play and we prepare for whoever those teams are. That's the nature of the world we're in."
Coach Rose on skills Jonni Parker has refined as a sophomore: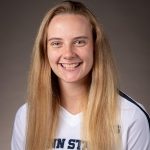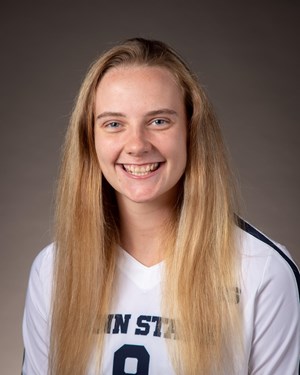 "I think she has a way better awareness of shot selection. We had a veteran setter in [Bryanna Weiskircher] last year and we had two senior outside hitters, [Nia Reed and Taylor Leath], so it's a little bit different this year. Her responsibility and role is totally different than it was last year. She's had to carry a different load. She's had to do different things. I think one of Jonni's great traits is that she plays really well with other people. While a lot of players complain about everything, Jonni doesn't complain about anything. It's a really fabulous thing to have if you're involved in a group is to have a player like that or a person like that around you who is low maintenance, no less no maintenance. There are some people who are so incredibly high maintenance that it's almost like you need to hire people to take care of the high maintenance people. And then there's Jonni who doesn't complain about anything."
Coach Rose on whether Chris Rose's role has changed at all in his second season as a volunteer assistant with the Nittany Lions:
"He has some latitude to do certain things, but he had that last year. I give the staff a lot of latitude to do the things that they feel most comfortable doing. If they do things that I think are stupid, sometimes I'll say something about it. I think part of being a young staff person is to get involved. I don't think there's any value in having a staff if you don't let them do things. I don't feel that I would have the energy to spend all my time being so hands-on that I was dictating what everybody should do all the time. I'm not that sort of a micro-manager. I think I would rather have a lot of people trying to do a lot of things to help the team. Some of our best successes had teams and staffs where everybody is heading in the right direction. Even though some of the things I might not pick for me to do or for me to think is the best thing, if it benefits the team and the team responds well, then I'm willing to take a step back and recognize that there are a lot of ways to do things."
Coach Rose on books he's reading lately:
"I'm reading three books right now. I'm reading a biography of Al Capone. I'm reading a book about Las Vegas and a nice book on Jackie Robinson."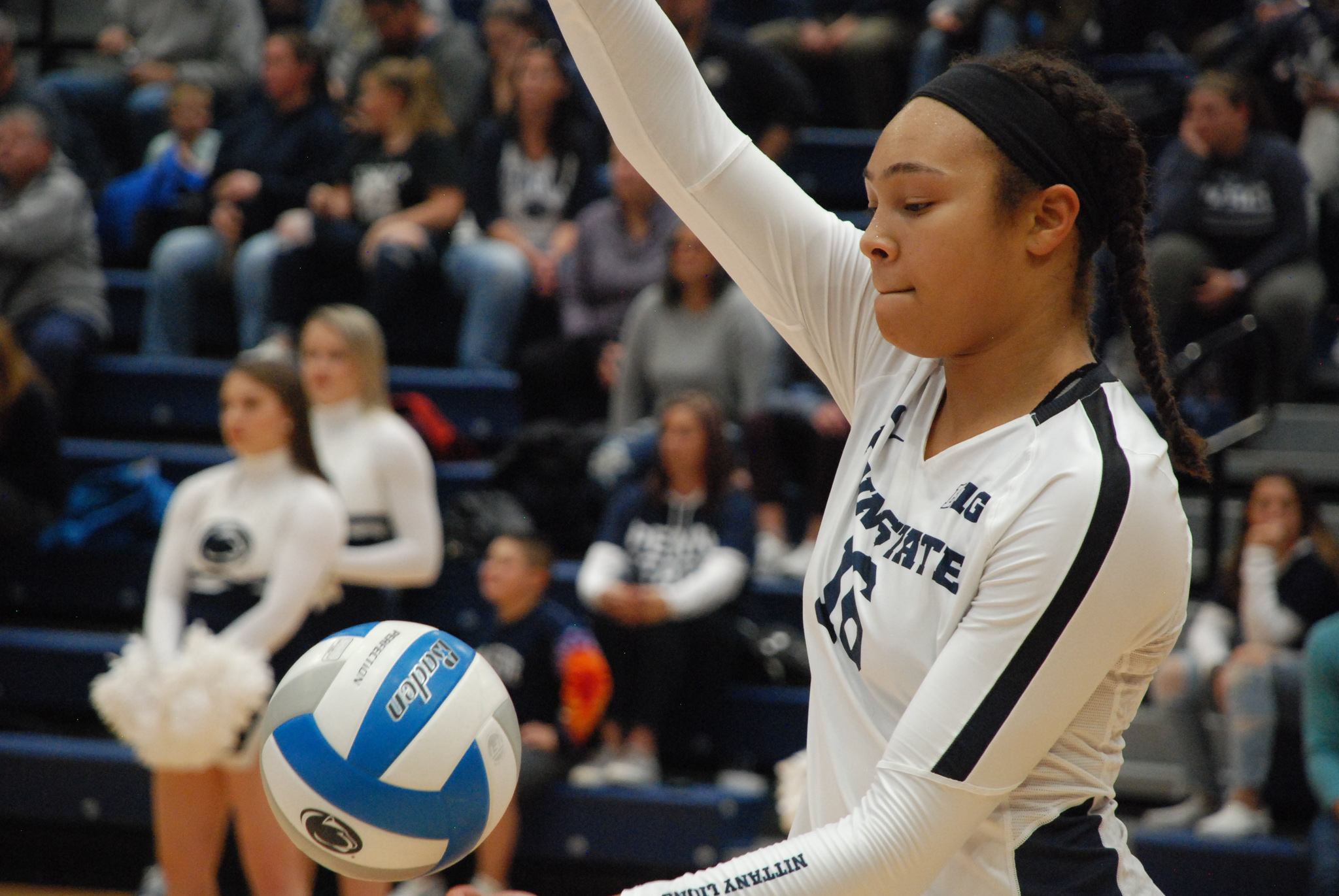 Serena Gray on Gabi Bailey's improvement this season:
"Gabi has been a really smart out-of-system hitter. She knows to go high over the block and down the line and really take advantage of the other team's weaknesses in their defense. She's also not afraid to swing or make mistakes, and that's something that you need to have at every age in your game. It usually doesn't develop until you're a lot older, but I really admire that courage she has."
Serena Gray on the keys to being a successful blocker:
"You always have to make sure that you're square to the net, because if you're not square to the net and you open up, you allow for the other team to hit your hand and have the ball land on your side. But if you're square to the net and over, there's no possibility of the ball coming back on your side, so that's something you always have to pay attention to."
Serena Gray on what stands out to her about Wisconsin on film:
"They're just really terminal. They've got a lot of hitters and a really good setter who knows who to give the ball to. They know how to side-out and score when it's necessary. They don't let other teams go on runs. Like us, they're a first-ball, side-out kind of mentality team, so that's going to be tough to counteract."
Serena Gray on her first memory of playing volleyball:
"I remember I was in seventh or eighth grade and it was our first practice. I remember thinking, 'Volleyball's so tough.' Because every time we messed up, I don't remember what it was, if it was a missed serve or whatever, but we would have to do a single lap around the gym. Now, if you miss your serve, you do a quarter mile around Rec Hall and it's way worse [laughs]. That was one of my first memories because it was so traumatizing to me."
Serena Gray on which musical artists are on her pregame playlist:
"I like something smooth like Daniel Caesar, some Brent Faiyaz, some Jacquees. His new album is fire. I don't really like pump-up music. It just gets me a little too aggressive."
Serena Gray on how her Penn State experience compares to her expectations before college:
"It's a lot more real. It's not just volleyball, volleyball, volleyball. You're actually a full-time student. I wasn't expecting it to be as hard as it is, but I'm glad that it is, because it challenges me. It gets me to focus on more than one thing and have more than one priority than just volleyball, so that's definitely something I wasn't expecting."
Serena Gray on the benefits of being on a team with players from so many different states:
"You get to see all their little, weird things, like Gabby [Blossom] doesn't know what dumplings are. It's just really interesting. Kendall [White] loves tanning and Indiana has the most tanning beds per capita. It's like, 'Oh, I see why.' Everyone has their little quirks from where they're from."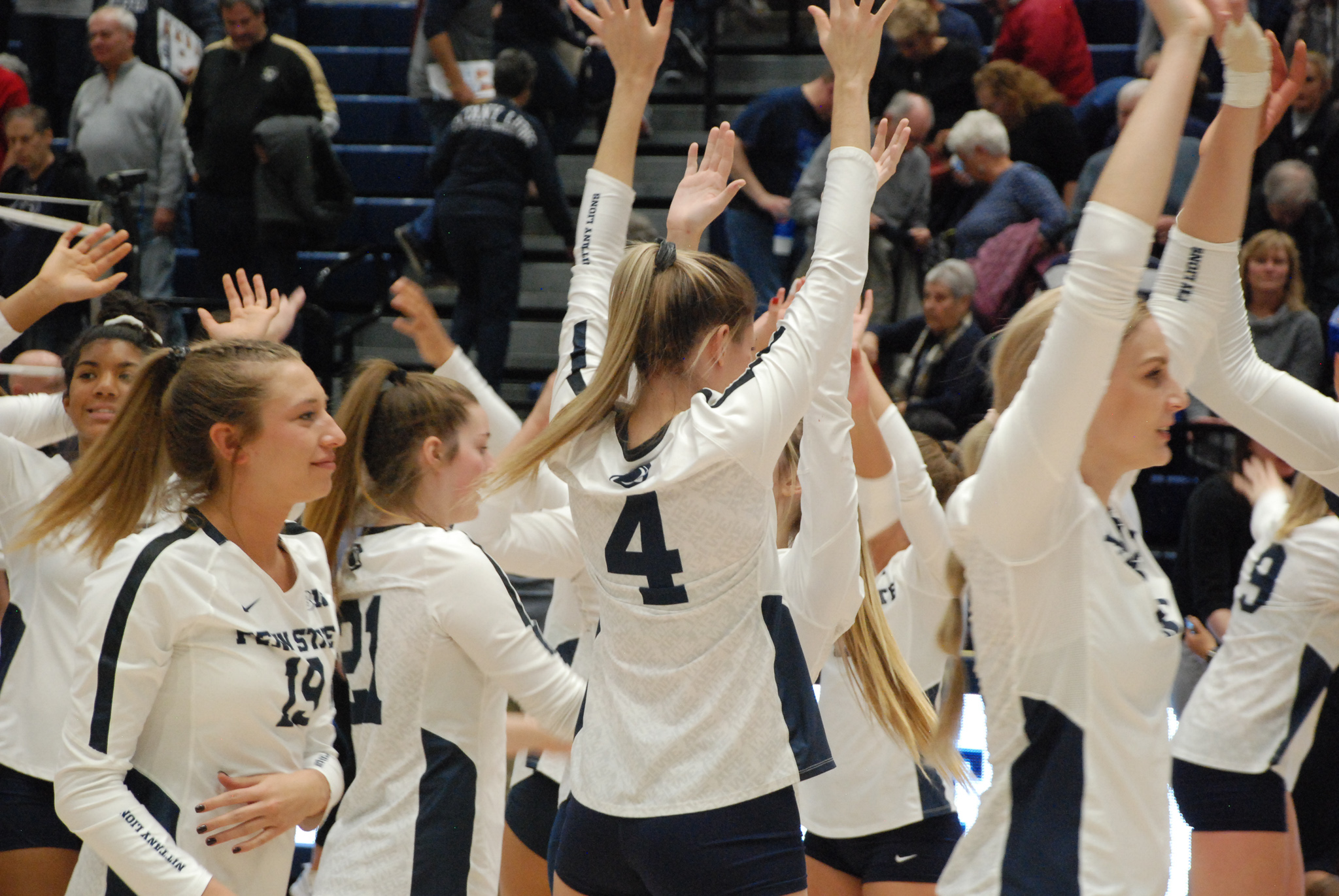 Gabi Bailey on how it felt to make an impact against Rutgers:
"It was really exciting. I was honestly just excited to be out there. I think a lot of my teammates helped me feel comfortable out there and made it pretty easy, so it was good."
Gabi Bailey on who introduced her to volleyball:
"My mom, [Linda], did. My mom played volleyball in college at Pitt actually. She allowed me to play a bunch of other sports, but it was kind of a no-brainer playing volleyball. My older sister, [Brooke], also plays volleyball in college [for Ohio State and now Clemson], so she's a huge mentor for me. We're definitely different players, but just really having a go-get-it mentality and just perseverance is something [she's taught me]. She's had to go through a lot, so I think just pressing on is something she's passed on to me."
Gabi Bailey on some things Allyson Cathey has taught her this season: 

"Allyson's taught me a lot. I think she does a really good job of when the set's not there or she doesn't see that she can really bang the ball, [she] keeps it in and makes the other side scramble, things like that. She's also super aggressive and I love that about her."
Gabi Bailey on her favorite class she's taking this semester:
"I'm taking an oceanography class actually and I never thought I'd take a class like that, so I really enjoy that."
Gabi Bailey on whether or not the team has the same roommates on the road:
"We switch it up. There are so many benefits to it. I wouldn't really be as close with all of the girls if we didn't switch it up. I got to be close with a bunch of the seniors, which I know they're leaving, but that was really beneficial. And just everyone on the team that I otherwise would just be close with on the court, but now I'm close with them off the court also."
Gabi Bailey on having Thanksgiving dinner with the team at the Nittany Lion Inn:
"I'm looking forward to it. With my siblings playing sports in college, I knew that I wouldn't be at home for Thanksgiving, so I'm looking forward to it. I think it'll be great. And I get to see my family this weekend, so that will be good, too."
Gabi Bailey on playing Wisconsin and Minnesota in a pair of top 10 matches this weekend:
"I'm super excited. I think it's a really big chance for us to do some great things and we've been working for it all season, so I'm really excited for it."
Gabi Bailey on Wisconsin's best trait as a team:
"They hardly ever let balls drop. They're really good in pursuit and with their defense. They do really well with that."
Gabi Bailey on which players serve as team DJ before matches:
"I kind of just listen to whatever's on in the locker room. Usually Serena plays a lot of music. Allyson puts her phone on a lot, too."