I think PSU will put the hammer down on Michigan and the ONE factor will be PSU has a tremendous amount of pride and fight, and they will want to demonstrate they are still a team that can compete for a title.
         Club Coach from Q&A
click images for more info
Date (Time)
Opponent
Site
Media
11-18-15
(7:00 p.m. ET)
Rec Hall
Univ. Park,
PA

No TV






The #4-ranked Penn State women's volleyball team (24-3, 13-3) returns to Rec Hall tonight, after two weeks on the road, to take on Michigan (17-10, 7-9).  Fans will be looking to see how the Nittany Lions respond after their 3-0 loss last Saturday at Minnesota.
Penn State won the first meeting with the Wolverines this season, 3-2.  In that match, 6-4 RS Sr. MB Aiyana Whitney tied her personal best at Penn State with 18 kills, 6-3 So. MB Haleigh Washington set a new career high with 17 kills (.593 attack %), and 6-1 So. OH Simone Lee registered 13 kills. 6-1 So. OH Ali Frantti came up with a team-best 17 digs.
Penn State fan 8M has written the following match preview, and put together three charts comparing Penn State and Michigan in various statistical categories, highlighting some of the differences between the two teams and things to look for in the match.
Match Preview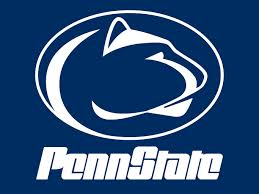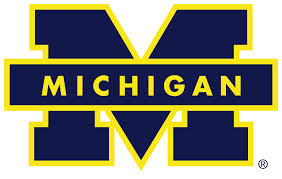 Gotta feel for Michigan.  By the end of the season, it will have played 11 away games in the B1G this season vs nine home games.  The Wolverines have split their home matches thus far (4W and 4L) and, good news for PSU fans, have only 3 wins vs 5 losses in their away matches.
Michigan hasn't fared well recently, having lost four of its last five matches (four were away games) and, if you go back further, they've lost six of their last eight (four home, four away).  Not a good sign for Wolverine fans — they simply are not playing well on the road.
However, they do have one thing going for them: they play better if they are able to extend matches.  Michigan's conference play record in 3-set matches is 3-5, in 4-set matches is 2-3, and in 5-set matches is 2-1 (that one 5-set loss was vs. PSU).
In their previous matchup with Penn State, Michigan hit at a .235 clip in the match, while Penn State hit .268.  Both teams recorded 63 kills in the outing, though PSU out-blocked Michigan 17-7.  For the Wolverines, Claire Kieffer-Wright (14 kills, .370) and Krystalyn Goode (7 kills, .357) really lit it up and kept Michigan in the match.  Michigan's star MB, Abby Cole, had 14 kills but only hit .114%.
Most importantly, PSU won the sideout battle. PSU was siding out at 63.2% vs 57.1% for MI.  (see the Sideout % charts in the Stat Joust section, below, for a comparison of the conference-only sideout stats for both teams).
Key Differences from the Penn State @ Michigan Match
Michigan has a different libero this go around. Lindsey Lerg was MI's libero in the first matchup; however, the Wolverines have now inserted Tiffany Morales in the position.
Megan Courtney did not play in the first match, and her replacements did not contribute much:  Nia Reed had 0 kills on 4 swings with 2 errors (-.500) and Heidi Thelen had 3 kills on 7 swings with 1 error (.286).
Caroline Knop had just returned from injury in the first match and did not contribute much. I expect her to be at full strength tomorrow night.
How Did Penn State and Michigan Fare vs. Minnesota?
Michigan played Minnesota 10 days ago in Minneapolis, and lost 3 sets to 1 (25-23, 19-25, 26-24, 25-22).  Michigan took set 2 and came close to winning set 3 (they were tied 24 all), which they lost on an overturned call.  So, that's a scary proposition for PSU, which just got swept by the Gophers.  In the Michigan-Minnesota match, OH Caroline Knop and MB Claire Kieffer-Wright led Michigan with 15 kills apiece. Knop also had 12 digs. MI libero, Tiffany Morales, led all players with 21 digs vs MN.
The Nittany Lions, who played MN on Saturday, had 3 players with at least 10 kills for the sixth time this season. Courtney had 14 kills and 5 digs, Frantti had 11 kills and 3 digs, while S. Lee had 10 kills and 4 blocks. Whitney added 8 kills with 4 blocks. So, a pretty solid and balanced performance offensively.
Coach Rose gave a straightforward explanation of the Minnesota match in an interview with The Daily Collegian:
I thought Minnesota played really well and they had a great crowd, I think they were better prepared. From our side, I thought we got some pretty good efforts. . . . . We were not very good at the serve and pass game and that really was the difference in the match. The last time we played Minnesota I thought we won the serve-pass game, but then tonight we didn't. That was probably the difference.
Other interesting takeaways from Penn State's loss to the Gophers:
The loss came on PSU's 4th consecutive road match (7 of their last 8 matches have been on the road).
PSU setter Bryanna Weiskircher, and DS Wilma Rivera, led the team with 8 digs each. Lee had 7 digs and Holcomb 6 (need more out of our libero).
Stat Joust: Penn State and Michigan
(Courtesy of
8M

)

The Chart below compares both conference-only stats and full season match stats for Michigan and Penn State. (Note, I've added the kills/set differential as a relevant stat, which is similar to aces/set in that both are offensive stats but don't include errors.)

Note that Michigan has a negative differential in almost every relevant statistical category in conference play except the digs/set differential. Ouch!  Michigan is getting beaten (at least statistically) in almost every aspect of the game, with the exception of keeping rallies going longer.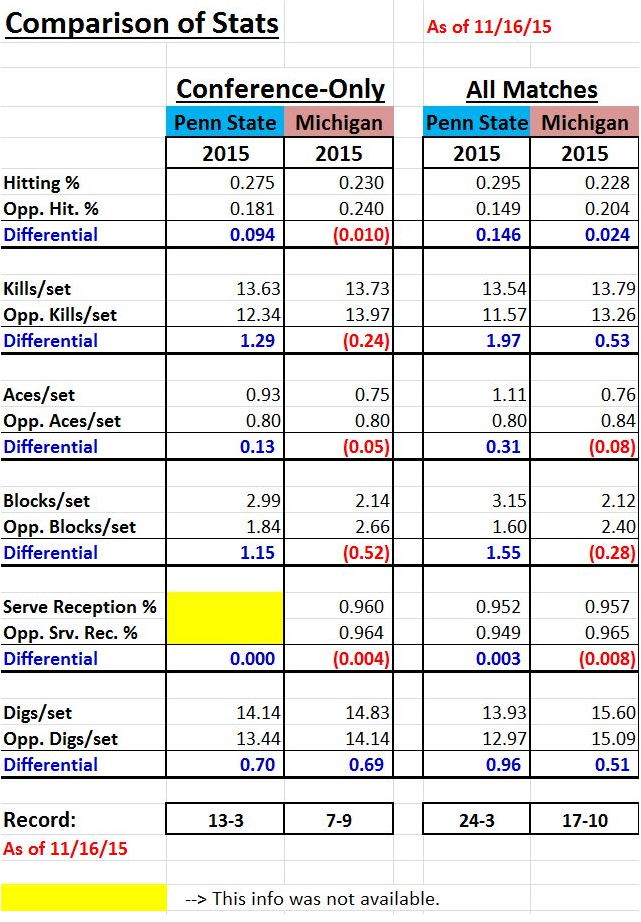 I have compiled the Conference-Only Sideout Stats for Michigan and Penn State. Unfortunately, this particular statistic is not provided on the NCAA website nor the Penn State website.  However, it's a very important stat. If you win the sideout battle in a game/set, you win that game/set.  Coach Rose mentioned in an interview earlier this year that his team is built on being able to sideout efficiently.  Karch Kiraly has said that a good sideout percentage is somewhere around 65%, which Penn State has been achieving thus far in the season.