Keeton Holcomb is an essential part of Penn State women's volleyball's feared backcourt, making her return to the program for her senior season all the more important as the Nittany Lions chase an eighth national title.
After playing in 89 matches her first three years on campus, including 28 starts at libero as a true freshman, Holcomb took some time away from the team last fall semester and didn't compete in 2018. Perhaps no one is more pleased to have Holcomb back in the lineup than head coach Russ Rose, who discussed his confidence in the Bellville, Texas, native earlier this season.
"Keeton's always had a really good skill set," Rose said. "Keeton is a player who has been here for a number of years and is a great passer. She was a libero for us a few years ago. She has a great handle for the game and is someone I have great confidence in putting in as a defensive player this season.
"She came back to Penn State and still wanted to finish something that she started. I think that's great. My position with people is you can always come back when you take some time off. Life's hard for people. You should give people opportunities to do things."
Holcomb reached the 500 career digs milestone with her 12th and final dig of the match (a season high) in Penn State's 3-1 loss to Minnesota in the regular season finale at Rec Hall. She has 158 digs, 17 assists, and nine service aces so far this season heading into Friday's Sweet 16 showdown against Cincinnati at Maples Pavilion in Stanford, California.
Holcomb could have easily decided she wanted to transfer after Kendall White's ascension to the starting libero spot in 2016. No one would have blamed her for looking elsewhere in pursuit of more playing time. Instead, she adopted a team-first mentality and didn't let the situation deter her from giving her absolute best to the program and her teammates.
"I think probably the greatest success stories that I can appreciate from the players are the ones where the players have to demonstrate the resilience that they had to demonstrate when they were in college, and that they can do it with their head held high and just realize that that's part of life," Rose said.
Holcomb, who is one of two Texans on this year's team alongside sophomore defensive specialist Sophie Walls, touched on the competitive environment that has come to define the Penn State program, saying she appreciates the fact that nobody's job is ever safe.
"I think it's cool to be in such a gym where you're competing every single day," Holcomb said. "It's not a comfort thing. Everyone's good. We compete every day for our spots, it's not handed to us."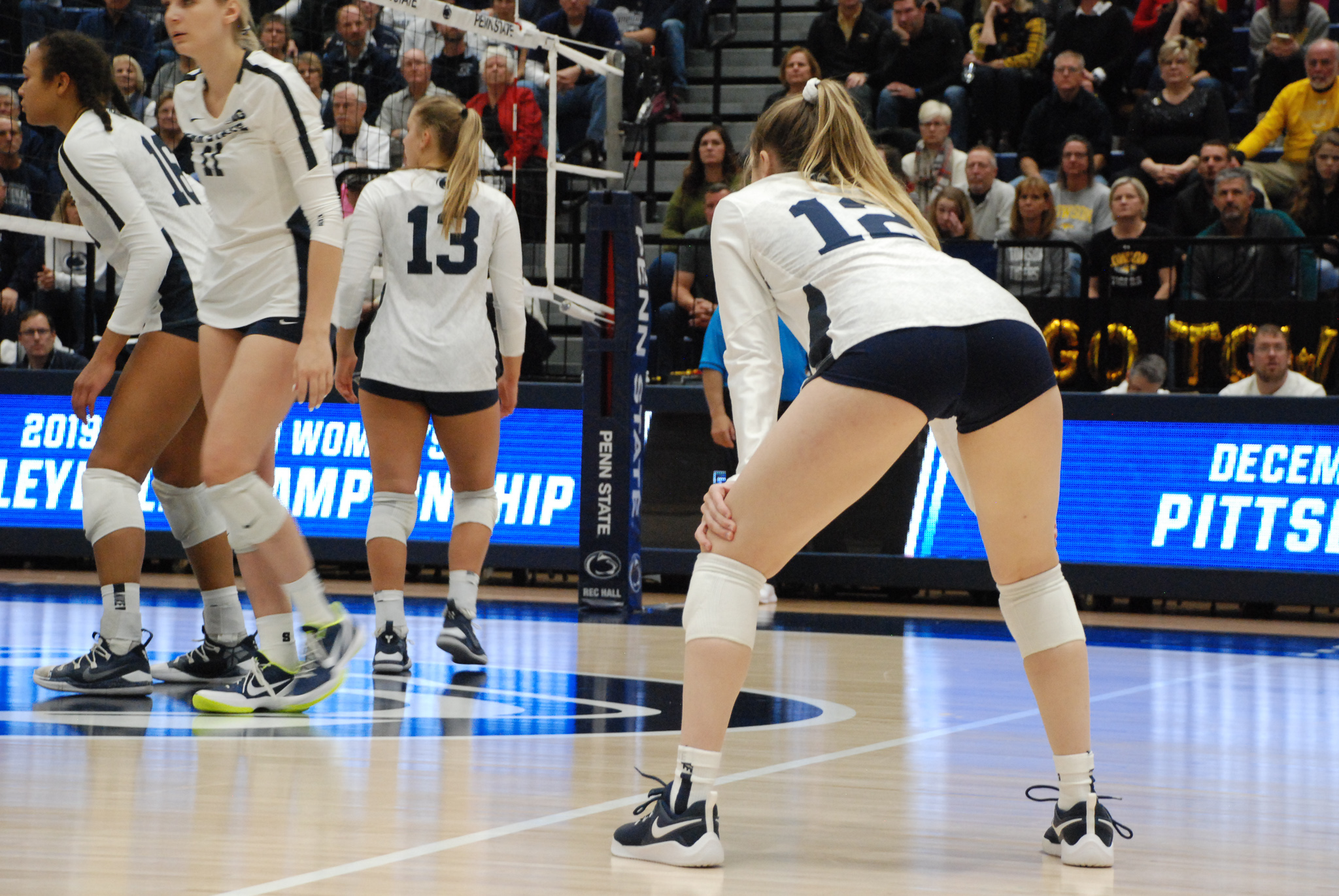 Holcomb has made nine starts this season and is playing a crucial role for Penn State's defensive core also consisting of White and sophomore standout Jenna Hampton. The trio has combined for 53 percent of Penn State's digs this season and has further solidified their reputation for impeccable passing. The Nittany Lions surrendered the Big Ten's fewest aces per set in 2019 while at times utilizing two-person reception patterns.
"Part of our lineup is to try and enhance our ability to pass," Rose said. "We don't have the plethora of hitters that allow us to just say, 'Don't worry about passing, we can hit our way out of trouble.' This is a team where we need to pass pretty well because we have to get the ball to Kaitlyn [Hord] and Serena [Gray]."
Although this is only her second season as a member of Penn State's staff, former Nittany Lion-turned-assistant coach Katie Schumacher-Cawley discussed what it's been like to coach this year's senior class and the contributions of Holcomb, White, Tori Gorrell, Emily Sciorra, and Kristin Krause prior to practice a few weeks ago.
"They've been a great group to be around," Schumacher-Cawley said. "They definitely give their very best to Penn State and to Penn State volleyball. I'm excited to see what their futures hold and want them to enjoy what they have left in their college careers."
Unlike some of her teammates, Holcomb said she doesn't have many pregame superstitions. She does, however, always wear a special necklace during warmups. Holcomb doesn't like when the referees inevitably try to get in the way of her routine.
"You're supposed to take your jewelry off before games, but I don't take my necklace off until I go to change into my jersey," Holcomb said. "The refs always come up to me every game and say, 'You need to take your jewelry off.' And I'm like, 'I've been doing this for a very long time. I know.' I have my thing and I do have to argue with them a little bit sometimes. When I switch into my jersey, I take it off and hang it on my locker.
"It's for sure a comfort zone thing. When we went to the Final Four [in 2017], I had to take it off and I just was like freaking out."
In the middle of the season, Holcomb took a moment to reflect on her return to the team and how rewarding it's been to make an impact in her final season of eligibility. Hoisting the NCAA championship trophy on December 21 in Pittsburgh would be a whole lot of icing on the cake.
"It's really cool. I came back with the mindset that I'd do whatever I can to help the team, whether that's being on the court or whether that's cheering from the sideline," Holcomb said. "But yeah, it's nice to come back and kind of feel like I'm helping and bringing something to the team after being away. It's a really rewarding experience for me."