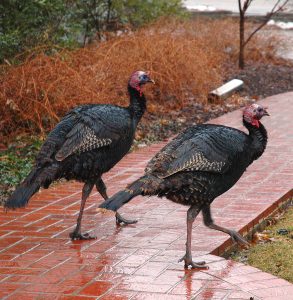 A day early, but the odds of our slacker staff rousing themselves from their post-Thanksgiving tryptophan stupor to do anything even remotely resembling work tomorrow are less than the odds of #2 Minnesota knocking off #1 Nebraska after trailing two sets to none.  Inconceivable!
So, looking ahead, #15 Penn State (20-9, 12-6 Big Ten) will take on Northwestern in Rec Hall on Friday, Nov. 25, at 7 p.m.  Penn State has won 25 of 26 matches against Northwestern played in Rec Hall, and downed the Wildcats 3-0 in Evanston on September 25th (27-25, 25-17, 25-17).  The match has ramifications for Penn State's final finish in the B1G, as well as for the Nittany Lions' placement in the NCAA Tournament.  Penn State currently is in 4th place in the B1G, and wins over Northwestern on Friday and Illinois on Saturday would secure that position.  As to where the NCAA Committee will place the Nittany Lions, who knows (there's a thread about that on the DigNittany Forum).  But two wins this weekend can't hurt.
Quick Hits
6-1 Jr. OH Ali Frantti is 75 kills short of becoming the 26th member of Penn State's 1,000 kill club.
6-3 Jr. MH Haleigh Washington ranks fifth in NCAA D1 (1st in the B1G) in hitting % (.431).
6-1 Jr. OH Simone Lee ranks 32nd in NCAA D1 (1st in the B1G) with 4.18 kills/set.
25-POINT RALLY SCORING SINGLE SEASON TOTAL KILLS
Rank    K          Name, Year
1.         560      Megan Hodge, 2009
—————————————————————————-
4.         469      Ariel Scott, 2012
5.         432      Deja McClendon, 2011
—————————————————————————-
426      Simone Lee, 2016
25-POINT RALLY SINGLE SEASON TOTAL BLOCK SOLOS
Rank    TB       Name, Year
1.         32        Megan Courtney, 2012
—————————————————————————
4.         27        Katie Slay, 2011
5.         24        Haleigh Washington, 2015
—————————————————————————-
21        Tori Gorrell, 2016
Q&A with Talking Head
DigNittany: We're speaking today with Talking Head, who played D1 Volleyball, and has coached the sport for many years.  The Nittany Lions are coming off a sweep of Purdue.  Did you expect Penn State to play as well as it did?  And what were some of the things that stood out to you?
Talking Head: I certainly hoped for that kind of performance, and I knew the team had it in them.  One thing that stood out: Purdue made a number of mistakes, but they actually played pretty well.  There numbers were pretty respectable  (.230 hitting %).  It wasn't that it was a poorly-played match from them, it was more that we played well.  Second, when Ali Frantti has the kind of match she had [14 kills, .583 hitting %, excellent passing, second on the team with 8 digs] we are a very, very different team.  We are in the national conversation.
DigNittany: Although Haleigh Washington had one of her poorer matches [5 kills, .167 hitting %, 2 blocks].
Talking Head: That's true, but the formula we've talked about for years is a team needs three hitters who are on — against Purdue, we had Ali Frantti, Simone Lee, and Tori Gorrell.  You're going to win most of your matches when you have  two pin hitters and one of your middles perform like they did. I'd even add 6-0 Jr. setter Abby Detering, who even though she only had 3 kills, was a threat who Purdue had to account for, and 6-2 Jr. RS/Opp Heidi Thelen, who was respectable with 3 kills and 4 blocks.
DigNittany: Tori Gorrell had a great match.  Your thoughts on how she and Abby Detering were connecting.
Talking Head:  Teams scout your tendencies, and when things get rough, players go back to those tendencies.  All of us do.  All year long, Tori Gorrell has been Penn State's only middle who consistently hit in front of the setter, with what is called the "1 ball."  She rarely ran the "31" — that's a ball that's maybe six feet away from the setter.  She would occasionally run the slide.  But sometimes you can run kind of a "mini slide" — that means you're maybe one step behind the middle.  So what happened against Purdue is that Abby mixed it up with her sets to Tori, gave a few different looks, and Purdue wasn't ready for it.  That 31 is an effective play, especially for a player like Gorrell who has such a fast-twitch swing.  With the middle it's really not about how hard you hit the ball, it's about how quick you hit the ball.  Tori Gorrell is very good that way, and it was working.
DigNittany: Would you expect to see more of that in coming matches?
Talking Head: I think Penn State will (or should) continue to try to run the middle, and force it.  When Penn State has gotten in trouble is when they've only had that OH option, and relied almost exclusively on Simone Lee or Ali Frantti.
DigNittany: Your outlook for the team?
Talking Head: This weekend is very important for the team.  Sometimes just getting back home, sleeping in your own bed, forgetting all the noise, can be so important.  In the tournament, it's one-and-done — that's the key.  You can either be the hunter or the hunted.  For the past 10 years or so, Penn State has been the hunted — one of the favorites.  This year it's different.  The Nittany Lions will be the hunter, the group that's going to be chasing.  There is an advantage to that, when you come up against a team that has had an incredible year, has spent alot of energy to maintain that one, two, three, four loss season, and then all of a sudden, it's one-and-done.  Where the pressure is really on them.  Their record in the B1G doesn't matter — the slate is wiped clean.
DigNittany: Well, it should be an exciting weekend, and we look forward to speaking with after the Tournament seedings are announced.  Thanks so much for your time.  We appreciate it.
Credits