Q&A with Club Coach and Talking Head
DigNittany: We're talking today with Club Coach, who has coached numerous highly successful club and college women's volleyball players, and Talking Head, who has both played the sport at the collegiate level and coached for many years, about the much-anticipated Penn State-Wisconsin match.
The Elephant in the Room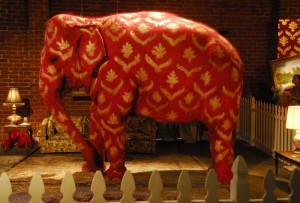 DigNittany: Penn State opens its B1G season this coming Wednesday against Wisconsin, at Madison, in a match that is being billed as a rematch of last season's NCAA Tournament Finals (which would be totally accurate if last season's NCAA Finals had been played in Madison, and had been played without Deja McClendon, A. Scott or Katie Slay participating for the Nittany Lions, and without Annemarie Hickey appearing for the Badgers.)
One of the elephants in the room (Badgers in the House?) is how important is Wisconsin's home court advantage?  Obviously, many of the key Penn State players have been in hostile environments many times before, but for the freshmen, it will be a new experience (at least on this scale, with something like 10,000 frenzied Badger fans cheering for Wisconsin).  Is the home court a big deal, or not so much?
Club Coach: The home court is a big deal, but it's a big deal for both teams. PSU is accustomed to whatever match they've played in on the road, being a "pack the house night. So in many regards that is normal for them. For the Badgers those fans are coming to the match to see UW win, and that carries some pressure as well. In the years when Wisconsin has had strong teams, the Fieldhouse was one of the toughest places for PSU to get a win. I think it will be a great environment for college volleyball.
Talking Head: First of all, when you have 500 frenzied fans, let alone 10,000 fans, for a women's volleyball match, only one word comes to mind – AWESOME!!  The growing popularity of the sport and the ability to make these types of matches an "Event-like Atmosphere" is a model that I hope more schools will try to emulate.  From a player perspective it only can be a positive.   For the home team it is an adrenaline rush for 3 hours, for the visitor it only makes you want to play better.  From a historical perspective, the PSU teams have done very well in these types of environments and I have seen nothing from the current batch of players that would lead me to think otherwise.  On the biggest stage we saw current players like Dom and Micha elevate their play.  In that line of thinking, if the first and second contact are constantly handled by your "coolest" customers I think the PSU team will be alright.
Tell Tale Tales?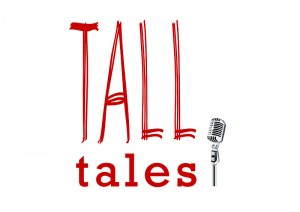 DigNittany:  After the recent 3-2 win by Washington over Wisconsin, there was considerable chatter in the blogosphere that the Washington coaches had identified a "tell" in Wisconsin all-universe Setter Lauren Carlini's technique, that helped them out block the  Badgers by a  22.0 to 7.5 margin, and (if we got the alleged story right) that the Washington coaches had shared that information with Wisconsin – ostensibly to help Wisconsin against Penn State.  Somehow, that story doesn't make sense to us – if only because those two teams could very well meet again in the NCAA Tournament.  Two questions: 1) don't most/all setters have tells of some kind tell or other that coaches are looking for as they prepare for an upcoming opponent team, and 2) does that story ring true to you?
Club Coach: Well, the volleyball blogosphere makes some of the Kennedy assassination theories look plausible. I think Washington has an excellent staff, but I have to call fiction here. In terms of the disparity in block, Washington is overall a better blocking team than Wisconsin. Wisconsin won game one, and then hit way higher in game 2 loss. They also hit way higher in game 5 than they did in game 4.  So if Washington's staff figured out the "tell" or adjustment, it's hard to explain how that happened.
I don't believe Carlini has a tell, and find her to be the least patterned setter out there. Washington is a good blocking team, and that match ended at 12:30 a.m. Badger time after Wisconsin had played a tough match the night before against USC.  Those things probably contribute more than great coaching observation.  Washington volleyball has a "brand" of doing things more advanced or having a more unique system than other teams. The claim of having solved a pretty unsolvable player smacks of that idea to me. Washington was better that night, and what I mean by better, I mean their players were better.
Talking Head: I'm sure both Carlini and Hancock have some tendencies, but for the most part I wouldn't bank too much on this banter. For example, I have seen hitters dip shoulders and/or kick up their legs before the tip, or before a roll shot, or setters dip a little before setting the middle, but for the most part, teams at this level are going after matchups where they think they can have an advantage, or they simply are just setting their best hammer if minimal advantages are present.  Ultimately, as someone mentioned, it may come down to a serve/serve receive game with a run of 3 that is the deciding factor.  I can see tie scores or leads of 1 or 2 deep into the games, with a singular play or two being the deciding factor.
About Carlini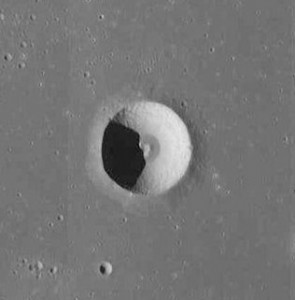 DigNittany: Speaking of Lauren Carlini, Wisconsin Head Coach Kelly Sheffield had this to say about her in his pre-Penn State press conference: "I'd never take Lauren for granted. She's obviously a special talent that continues to get better. She's a great teammate. She's becoming a better leader and what I mean by that is she's always had a presence on the court, but she's taken on more of a leadership role away from the court. I think she's feeling more comfortable being able to take that on.  She's consistently looking for ways to get better and she's been good this year. You look at our team hitting percentage, and that's climbed up quite a bit from a year ago. A big part of it is how she's running our offense."  What's your take on Carlini, and what can Penn State do to try to minimize her impact on Wednesday's match (other than talking with Washington's coaches 🙂 )
Club Coach: Carlini is an incredibly special player, and has the potential to be one of the greatest setters we have had in this country. She is an incredibly "disruptive" player. Her ability to create, push the envelope, puts teams on their heels and really tests the discipline and organization of team defense, particularly the tempo of their offense behind the setter. This is a huge challenge for PSU as both blockers defending the slide are freshman outside hitters. The single best way to neutralize (as much as one could vs Carlini) is serving. If Wisconsin is in system due to their passing, she is going to create 1 on 1 situations and Wisconsin will be very tough to beat. I believe serving will be the most crucial skill for PSU in this match.
Talking Head:  Well, both setters like to score on their own, so you can bet that each team is hoping to take that away from the opposing setter.  Carlini loves the reverse flow and running the difficult set (which she makes look easy, BTW), so it is imperative for the Penn State players to stay in their lanes – especially if the play seems sure to be set the other way.  I think Wisconsin will continue to run the back slide, which has been so much a part of their success to date.
Block Party?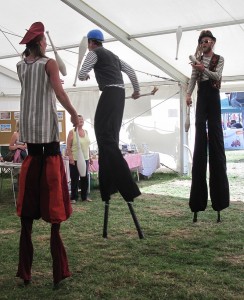 DigNittany:  About those 22 blocks by Washington: Wisconsin hit .178 as a team against the Huskies, with 5-11 OH Kelli Bates hitting .023 for the match, with 14 kills and 13 attack errors on 43 total attempts, 6-4 OH Ellen Chapman hitting .154, with 14 kills and 6 errors on 52 swings, and 6-0 Courtney Thomas   hitting .406 with 18 kills and 5 errors on 32 total attempts.  Is Washington that good, or do the Badgers have some issues up front?
Club Coach: Wisconsin isn't a team made up of great offensive players. They don't have great size or necessarily great "offensive" athleticism. Their setter's ability to get them the ball in great spots, and vs 1 blocker is the biggest reason they hit at the clip they do. They aren't Texas who has always had above average setters who are fairly predictable, but the athlete on the other end of the set overpowers defenses. UW is a great blocking team playing at home, vs a team that struggled offensively. It happens.  Wisconsin is a great "team" – when things are clicking they are as good as anyone in the country. When they aren't, they just aren't going to overwhelm top teams with their "offensive talent."
Talking Head: Washington was good for sure, and the offensive production was down for Wisconsin.  I don't expect great offensive numbers this season from Wisconsin, simply because that is not how they are made, but they win the game in other ways — by defending and making smart shots to maybe get a better swing the next time.   Patience is their strength, and if you don't run transition well, they will take you down.   I think what Wisconsin lacks in blocking, they make up for in relentless team defense.   Not sure they have run into a high octane offense like what PSU will bring though.
About Taylor Morey 
DigNittany: Wisconsin's Libero Taylor Morey is leading the B1G in digs per set.  How does she compare to the now-graduated Annemarie Hickey, who in last year's NCAA Finals, seemed to dig every ball Penn State put over the net?
Club Coach: Morey is a playmaker as well, a great competitor who is great at reading. She compares favorably, although I believe Hickey was the stronger passer.
Talking Head: Defense is an attitude, and clearly you have two coaches who drill this into their players whether they like that or not.  Morey is doing her job – and doing it very well.   But for me, I wouldn't trade Dom for anyone in the country for what this PSU team needs.  I doubt you find a better serve receiver and defender that can play all 3 positions as well as she does.   The package she brings to this team is impressive.  But on Wednesday night, we'll be seeing two very good players going at it.
Fearless Forecasts (Caution Thrown to Wind)
DigNittany:  It's "Throw Caution to the Wind" time: which team do you think will win the match, and in how many sets?
Club Coach: I think PSU wins this match in 4 or 5 games. Given it's at UW, it's probably a coin toss, but I will always choose talent when it's a close match-up.
Talking Head: I have PSU 3-1.  I will echo other observers in saying that both these teams are works-in-progress and the lineups we see on Wednesday night will very likely change come December.
DigNittany: Thanks to both of you for your time.  We appreciate it.
______________________________
Photo Credits
Wisconsin Fieldhouse: This work has been released into the

public domain

by its author, Greenstrat at the wikipedia project. This applies worldwide.

In case this is not legally possible:

Greenstrat

grants anyone the right to use this work for any purpose, without any conditions, unless such conditions are required by law.
The Elephant in the Room: This image, which was originally posted to Flickr.com, was uploaded to Commons using

Flickr upload bot

on 18:45, 30 August 2012 (UTC) by

Jdcollins13

(

talk

). On that date it was licensed under the

Creative Commons

Attribution 2.0 Generic

license.
Carlini Crater: This file is in the

public domain

because it was solely created by

NASA

. NASA copyright policy states that "NASA material is not protected by copyright unless noted". (See

Template:PD-USGov

,

NASA copyright policy page

or

JPL Image Use Policy

.)
Block Party: "West Show Jersey July 2010 38" by Man vyi – Self-photographed. Licensed under Public domain via Wikimedia Commons – http://commons.wikimedia.org/wiki/File:West_Show_Jersey_July_2010_38.jpg#mediaviewer/File:West_Show_Jersey_July_2010_38.jpg
Taylor Morey: Courtesy of Uwbadgers.com.