Penn State women's volleyball finished the regular season 9-5 after the cancelation of its final two series against Wisconsin and Nebraska.
Penn State's five losses came against three teams ranked inside the most recent top 10 of the AVCA poll in Minnesota, Purdue (series split), and Ohio State.
Those programs own a combined record of 44-11 this season and all received first-round byes in the NCAA tournament like the Nittany Lions, who earned the No. 13 overall seed and will play the winner of Rice and North Carolina A&T in the round of 32.
Several Newcomers Impress
AC Fitzpatrick, Maddy Bilinovic, and Anastasiya Kudryashova have been big contributors for the Nittany Lions in their debut seasons in University Park. Fitzpatrick and Bilinovic headlined Penn State's 2020 recruiting class and immediately became key members of Russ Rose's rotation. Fitzpatrick and Kudryashova helped solidify an outside hitter position that was a major question mark heading into the spring.
Fitzpatrick is second on the team with 138 kills and third on Penn State's defense with 113 digs. She also leads the Nittany Lions with 15 aces. Kudryashova, who transferred to Penn State this offseason after two years at Rutgers, trails just behind Fitzpatrick with 127 kills, 25 blocks, and 22 digs. Fitzpatrick and Kudryashova have started all 14 matches so far this season, proving themselves as reliable hitters for setter Gabby Blossom.
Bilinovic has clearly established herself as Penn State's primary defensive specialist off the bench. When Jenna Hampton was sidelined opening weekend against Illinois, Bilinovic donned the libero jersey in her Rec Hall debut and performed extremely well, recording a career-high 16 digs during each win over the Illini. Bilinovic is currently fifth on the team with 86 digs.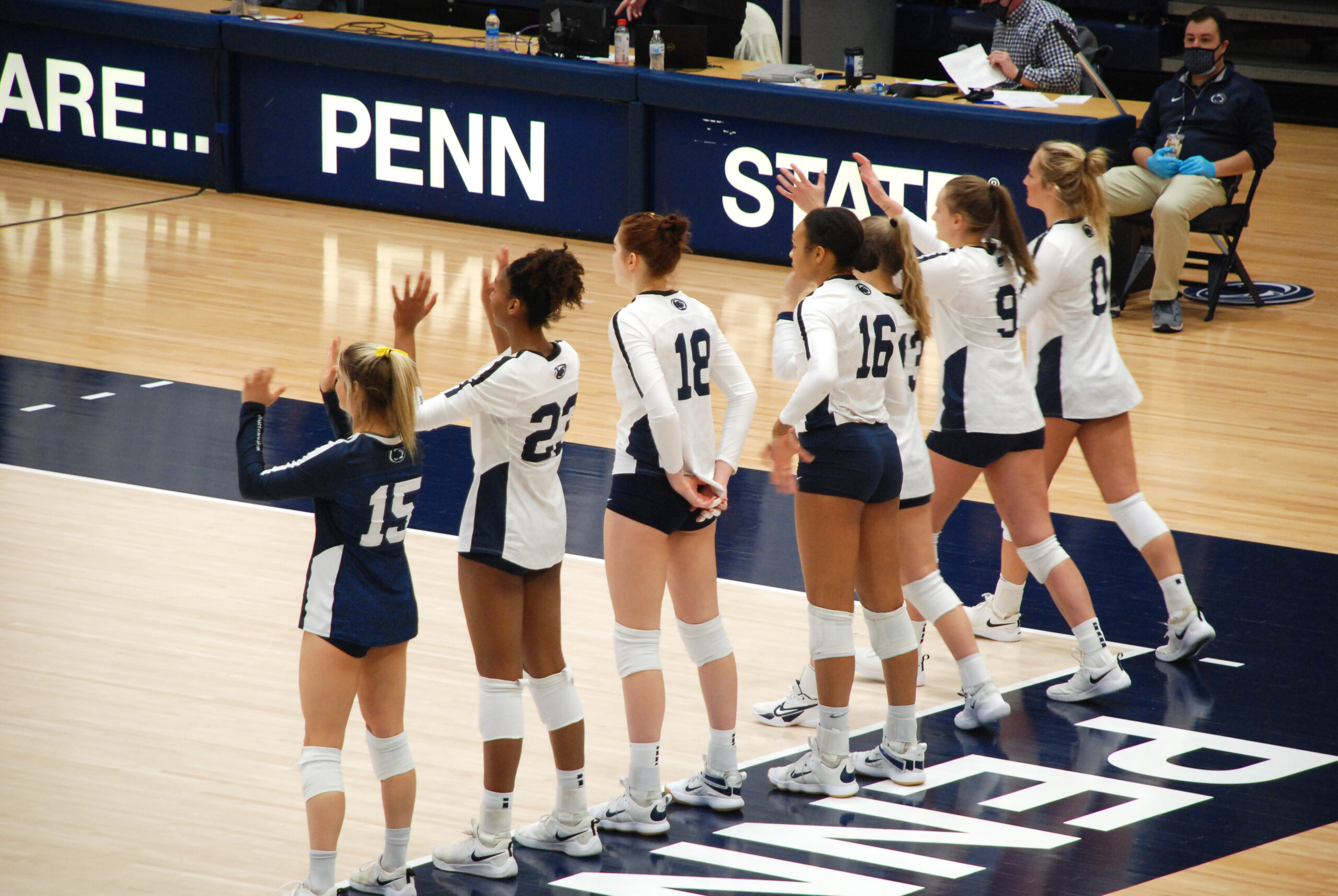 Inconsistent Serving An Issue
Perhaps the most glaring issue facing the Nittany Lions as they prepare for the NCAA tournament is the need to keep more of their serves in play. Although Penn State has five players with double-digit aces and a team total of 83, good for fourth in the Big Ten in aces per set (1.57), the Nittany Lions surrendered 133 service errors during the regular season — 41 more than their opponents.
Fitzpatrick and fellow topspin specialist Jonni Parker backed off on using their jump serves as often early in the season, but have since started to incorporate a few more aggressive serves per match when given the opportunity. Blossom, Hampton, Bilinovic, and Serena Gray have also applied some pressure to Penn State's opponents from the service line.
"I think our serving has been okay," Rose said earlier this season. "I don't think it's great. It certainly hasn't been our strongest trait. I'm not sure anything would be our strongest trait, but we've had opportunities to win. If you can serve tough and serve well, you always have opportunities."
Illinois libero Taylor Kuper was by far the best server in the Big Ten this season, leading the conference with 40 aces — seven more than her closest competitor. The Nittany Lions don't have a consistently dominant server at the moment, but when Fitzpatrick gets on a roll, as has often been the case lately, she has the ability to put serious pressure on the other team's defense. The same can certainly be said for Parker.
Big Ten Still The Best Conference
Wisconsin maintained its No. 1 ranking throughout a 15-0 regular season and took home the conference title for the second year in a row. The Badgers have relied on veterans like Sydney Hilley and Dana Rettke and standout freshman Devyn Robinson, who finished the regular season with the third-best hitting percentage in the Big Ten (.427) — trailing only Rettke (.456) and Nebraska's Lauren Stivrins (.470).
The strong connection between Ohio State setter Mac Podraza and stellar freshman Emily Londot, who led the Big Ten with 298 kills during the regular season, has helped the Buckeyes re-assert themselves on the national stage in Jen Flynn Oldenburg's first year as head coach of her alma mater. Ohio State is among a group of five Big Ten teams to win at least 14 matches this spring.
No Big Ten team played all 22 matches that were originally scheduled, but five programs (Purdue, Rutgers, Indiana, Iowa, Maryland) played 20. Michigan (4-9) played the fewest matches of any Big Ten team, while Penn State (9-5) and Northwestern (4-10) each dealt with eight cancelations due to COVID-19.
Despite daily uncertainty and constant changes of plans affecting all teams across the country in one way or another, the Big Ten proved again why it's the best conference in college volleyball, sending six teams to the postseason with first-round byes. This year's unique 48-team tournament in Omaha, Nebraska, promises to be a memorable one, full of epic rallies and gym-shaking celebrations.
Stanford's chance at a threepeat was thwarted when the Cardinal didn't make the NCAA tournament for the first time in program history. The Nittany Lions are the only team to make all 40 NCAA tournaments since 1981. Penn State and Nebraska have combined to win nine of the last 14 national championships.