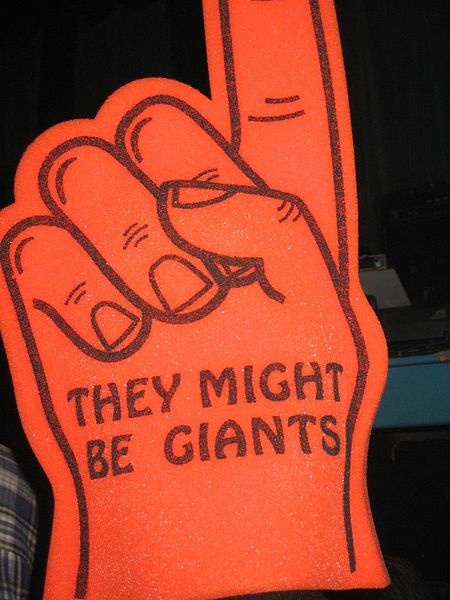 Photo Courtesy of Wikimedia Commons
They Might Be (Volleyball) Giants?
In  early May, Jack Hamann of Volleyblog Seattle, began a post about the September 14th match between the University of Washington and Penn State University, with this statement:
Two volleyball giants—Washington and Penn State—will square off this September in State College, Pennsylvania.
That elicited some pushback in the blogosphere — what makes a team a volleyball giant? Given that Washington and Penn State are two of only six teams that have won NCAA Division I women's volleyball titles in the 2000s, we thought both qualified as "volleyball giants."
Jack Hamann took the question a step further in a May 16th post on Volleyblog Seattle: "Who are volleyball's giants?"  Hamann explained:
I soon heard back from a reader who disagreed. Without offering his/her own list, the reader thought the Huskies do not deserve to be mentioned among volleyball's elite.

Realizing I had lauded Washington based on gut reaction rather than research, I decided to crunch some numbers to see if my description was justified.

And so, I checked data from the past ten years, and came up with my own ranking of Division 1 women's volleyball top ten over the past decade. I then tried to cobble a list of those who might deserve to be in the next ten—not quite giants.
Hamann put together a chart, which you can see by Clicking Here, ranking teams on the basis of National Championships, Final Four appearances, Elite Eights, wins and losses, and winning percentage.  It's an interesting list, and worth a look.
After you do (or before you do — we always say, why get bogged down with facts!) vote below on who you think are the NCAA Division 1 volleyball giants.  For some perspective, take a look at the table that follows the poll (and for some inspiration, take a look at the video that precedes it):
[poll id="5″]
Won-Lost Records (Matches and Sets): Final Four Teams from 1998 to 2011
| Year | Team | Conference | NCAA Finish | Wins (Matches) | Losses (Matches) | Wins (Sets) | Losses (Sets) |
| --- | --- | --- | --- | --- | --- | --- | --- |
| 2008 | Penn State | Big Ten | First | 38 | 0 | 114 | 2 |
| 2009 | Penn State | Big Ten | First | 38 | 0 | 114 | 8 |
| 1998 | Long Beach | Big West | First | 36 | 0 | 108 | 8 |
| 2003 | USC | Pac 10 | First | 35 | 0 | 105 | 8 |
| 2000 | Nebraska | Big 12 | First | 34 | 0 | 102 | 13 |
| 1999 | Penn State | Big Ten | First | 36 | 1 | 110 | 15 |
| 2006 | Nebraska | Big 12 | First | 33 | 1 | 101 | 14 |
| 2005 | Washington | Pac 10 | First | 32 | 1 | 98 | 10 |
| 2002 | USC | Pac 10 | First | 31 | 1 | 95 | 12 |
| 2007 | Penn State | Big Ten | First | 34 | 2 | 104 | 18 |
| 2001 | Stanford | Pac 10 | First | 33 | 2 | 101 | 21 |
| 2010 | Penn State | Big Ten | First | 32 | 5 | 103 | 20 |
| 2011 | UCLA | Pac 12 | First | 30 | 6 | 97 | 31 |
| 2004 | Stanford | Pac 10 | First | 30 | 6 | 98 | 35 |
| 2001 | Long Beach | Big West | Second | 33 | 1 | NA | NA |
| 1998 | Penn State | Big Ten | Second | 34 | 1 | 104 | 6 |
| 2003 | Florida | SEC | Second | 36 | 2 | 109 | 8 |
| 2005 | Nebraska | Big 12 | Second | 33 | 2 | 101 | 15 |
| 2009 | Texas | Big 12 | Second | 29 | 2 | 91 | 13 |
| 2007 | Stanford | Pac 10 | Second | 32 | 3 | 101 | 24 |
| 1999 | Stanford | Pac 10 | Second | 31 | 3 | 95 | 18 |
| 2000 | Wisconsin | Big Ten | Second | 33 | 4 | NA | NA |
| 2008 | Stanford | Pac 10 | Second | 31 | 4 | 95 | 23 |
| 2006 | Stanford | Pac 10 | Second | 30 | 4 | 92 | 19 |
| 2010 | California | Pac 10 | Second | 30 | 4 | 95 | 23 |
| 2011 | Illinois | Big Ten | Second | 32 | 5 | 100 | 43 |
| 2004 | Minnesota | Big Ten | Second | 33 | 5 | 105 | 34 |
| 2002 | Stanford | Pac 10 | Second | 32 | 5 | 102 | 27 |
| 2003 | Hawaii | WAC | Semi-finals | 36 | 2 | 109 | 16 |
| 2002 | Hawaii | WAC | Semi-finals | 34 | 2 | 102 | 12 |
| 1998 | Nebraska | Big 12 | Semi-finals | 32 | 2 | 99 | 16 |
| 2000 | Hawaii | WAC | Semi-finals | 31 | 2 | 95 | 16 |
| 2001 | Nebraska | Big 12 | Semi-finals | 31 | 2 | 94 | 14 |
| 1998 | Florida | SEC | Semi-finals | 35 | 3 | 107 | 24 |
| 2002 | Florida | SEC | Semi-finals | 34 | 3 | 105 | 17 |
| 2009 | Hawaii | WAC | Semi-finals | 32 | 3 | 100 | 17 |
| 1999 | Pacific | Big West | Semi-finals | 32 | 3 | NA | NA |
| 2008 | Nebraska | Big 12 | Semi-finals | 31 | 3 | 97 | 21 |
| 2000 | USC | Pac 10 | Semi-finals | 29 | 3 | 87 | 20 |
| 2004 | Washington | Pac 10 | Semi-finals | 28 | 3 | 89 | 23 |
| 2006 | UCLA | Pac 10 | Semi-finals | 33 | 4 | 104 | 24 |
| 1999 | Long Beach | Big West | Semi-finals | 31 | 4 | 95 | 23 |
| 2008 | Texas | Big 12 | Semi-finals | 29 | 4 | 94 | 24 |
| 2011 | USC | Pac 12 | Semi-finals | 29 | 5 | 91 | 25 |
| 2006 | Washington | Pac 10 | Semi-finals | 29 | 5 | 92 | 26 |
| 2007 | USC | Pac 10 | Semi-finals | 29 | 5 | 91 | 35 |
| 2005 | Santa Clara | WCC | Semi-finals | 27 | 5 | 88 | 30 |
| 2001 | Arizona | Pac 10 | Semi-finals | 25 | 5 | 79 | 25 |
| 2010 | USC | Pac 10 | Semi Finals | 29 | 6 | 91 | 36 |
| 2010 | Texas | Big 12 | Semi Finals | 27 | 6 | 84 | 34 |
| 2004 | USC | Pac 10 | Semi-finals | 23 | 6 | 76 | 32 |
| 2011 | Florida State | ACC | Semi-finals | 28 | 7 | 90 | 39 |
| 2007 | California | Pac 10 | Semi-finals | 26 | 8 | 87 | 36 |
| 2009 | Minnesota | Big Ten | Semi-finals | 28 | 9 | 88 | 41 |
| 2003 | Minnesota | Big Ten | Semi-finals | 26 | 11 | 85 | 49 |
| 2005 | Tennessee | SEC | Semi-finals | 19 | 12 | 70 | 49 |