Put Your Game Faces On — the Michigans are Coming!
The Penn State women's volleyball team is ranked #2 in the latest AVCA poll, and that lofty rank will be put to the test tonight in Rec Hall, when it takes on #10-ranked Michigan State (12-3) at 7 p.m. (Big Ten Network; Live Stats ; Live Audio) and again Saturday night, when they face a tough Michigan team (12-6), also at 7 p.m in Rec Hall.
Michigan State is 5-1 in the B1G, and despite knocking off then-#1 Minnesota in Minneapolis and then-#5 Wisconsin in Madison, has an overall away match record of 2-3.  Among their key players are 6-6 RS Sr. OH/RS Brooke Kranda (3.31 kps), 5-10 RS So. OH Autumn Bailey (3.14 kps), and 6-2 Sr. OH Holly Toliver (3.12 kps), and 6-4 Sr. MB Alyssa Garvelink (2.42 kps and team-leading .346 %).
Michigan is 2-4 in the B1G heading into the weekend (assume a 3-4 record after their meeting with Rutgers on Friday).  They have lost their last two matches — 3-1 to Iowa at Iowa, and 3-0 to Minnesota at home.  On offense, the Wolverines are led by 6-1 Jr. OH Carly Skjodt (3.81 kps; .238 hitting %), and 6-2 Sr. OH Adeja Lambert (2.82 kps; .235 hitting %). Defensively, 5-6 Jr. libero Jenna Lerg has been a standout, with 4.13 digs/set.
Quotes from Penn State Head Coach Russ Rose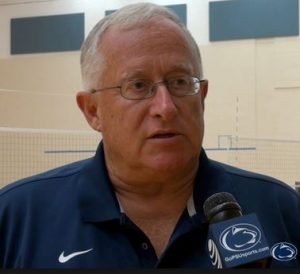 About playing at Rec Hall after being on the road
Everybody feels the same way.  It's always good to be at home.  Last week's trip wasn't as smooth as people might assume it was.  We got to Maryland at 1:00 o'clock [Saturday morning] and we didn't get back [to State College] until 1 o'clock [Sunday morning.]
About Michigan State
[Michigan State] is one of the surprise teams nationally.  We're tied with them.  To this point they've beaten the #1 team at Minnesota and Wisconsin twice, who was ranked in the top-5 in the country.  They start six seniors.  Certainly, I would say they're the most physical team in the conference.  They've got a great setter.  They're a top-10 team for a reason.
On Michigan
They're very good.  Claire Kieffer-Wright is one of the fastest middles in the country.  She's fast and competitive.  They've got a great young setter [6-1 So. MacKenzi Welsh] who was setting for USA in some USA events this summer, so they're a very strong team as well. . . . There are no easy weekends in the Big Ten, whether you're home or away.
Q&A With Talking Head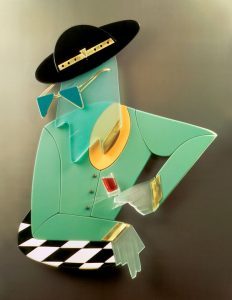 We're talking today with Talking Head, who played D1 volleyball and has coached the sport for many years.
Dignittany: Michigan State and Michigan come into Rec Hall this weekend, giving Penn State two more tough challenges in the very challenging B1G.  Your thoughts on these two teams?
Talking Head: First of all, these are Big Ten teams, so you have to come in equally prepared for each of them.  They both have nice size — in fact, Michigan State is bigger than Penn State — they've both had nice wins, and they've  both put together impressive seasons — especially Michigan State with their wins over Wisconsin and Minnesota.  Penn State will need to bring their "A" game both nights in order to defend the house.  Having said that, neither one of these teams is an offensive juggernaut.
DigNittany: Just to interject here, Penn State is leading the B1G (conference-only stats) in hitting % at .339, Michigan State is 6th at .258, and Michigan is 11th, at .207.  When you look at Opponent's hitting % (again, conference-only stats), Penn State and Michigan State are tied for 3rd in the B1G at .215.  Granted, it's still early in the season, and their level of competition has differed, but those stats underscore your point, and also show that Michigan State is very tough defensively, with Michigan being perhaps a step below.   [Editor's note: see the Stat Joust, below, for more comparisons of Penn State, Michigan State, and Michigan offensive and defensive team and individual Stats.]
Talking Head: To your point, on paper, we appear to match up very well against both teams.  However, they both possess players that if they can keep the games close, and we don't take care of the first contact, they going to put a loss on us.  Take Michigan first.  Carly Skjodt can go off for double-digit kills.  Adeja Lambert and 6-1 Sr. MB Claire Kieffer-Wright are both outstanding players, and Jenna Lerg is an excellent libero.  So they have three weapons who can deliver offensively if Michigan State is on its game, plus a really good libero providing solid back row play.  But if Penn State plays clean volleyball and is good on the first contact, they should do well against Michigan.  But don't let the losses in their last two matches fool you — Michigan is a good team.
DigNittany: Your take on Michigan State?
Talking Head:  Michigan State has four offensive weapons who are dangerous — 6-6 OH/RS Brooke Kranda, RS Sr. 5-10 OH Autumn Bailey , 6-2 OH Holly Toliver and 6-4 Sr. MB Alyssa Garvelink.  6-2 Sr. setter Rachel Minarick is very good too.  Michigan State is also a very good serving team, and in their big wins, they've done their job to keep their opponents out-of-system.  I do think that we have more offensive weapons than some of the teams Michigan State has beaten, so I don't think we need to be perfect with our passing against the Spartans, but where we have to be perfect is in free-ball or easier contact digs, so that we can get our middles involved.  If we rely on a wholly outside and right-side attack, we're going to be in trouble.  Any opportunity where we can get them a little out of system, and get an easier ball, that pass has to be perfect, so our setter doesn't have to move and has all her options available.
DigNittany: Michigan State is a power team — big and strong.  How can Penn State deal with that?
Talking Head:  From what I've seen, Michigan State is a team that thrives on quick points.  They want short points quick, done, over.  They're big, they hit hard, they're straight-on hitters, and they want to block some balls.  But they don't want to play the ball control game.  They don't want the ball going back-and-forth.  They don't want you to touch balls — they want the ball cleanly to the floor.  The longer the rally goes, they get frustrated, and they're going to lose points.  But again, our players have to come in with the attitude that "I'm not going to get beaten in the front row; I'm not going to let this ball touch the floor."  If we can contest most of Michigan State's offensive plays, we have a very good chance of winning against Michigan State.  But if we let them get clean swings, and we don't work hard on that first contact, and we give up on plays, then we're going to be in for a long night.
DigNittany: Autumn Baily is a bit undersized, at 5-10, for a B1G OH.  Tell us about her.
Talking Head: She's a fun player to watch.  Any time you see a kid who moves like that, and jumps like that at 5-10, it's fun.
DigNittany: Thanks, as always, for your time.  The DigNittany community appreciates it!
Stat Joust — Penn State, Michigan State and Michigan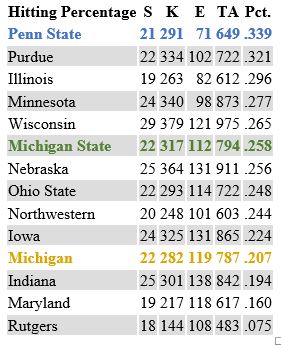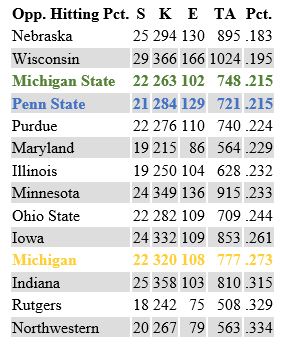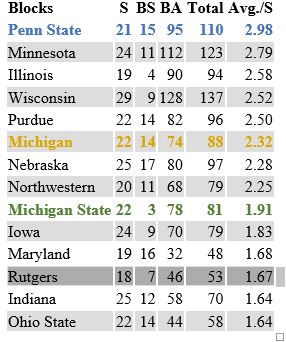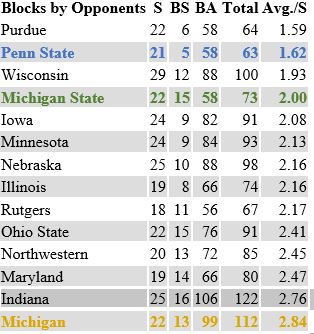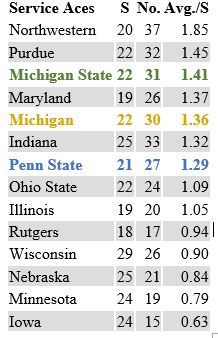 Stat Joust – Individuals