[Don't] Bet the Farm.
Going into last night's match at the XFINITY Center between #1 Penn State (22-2, 11-2 in the B1G) and Maryland (12-15, 2-11 in the B1G) most Penn State fans would have predicted a sweep.  C'mon, be honest.  That's what you would have predicted.  That's what Massey Ratings predicted (in fairness, the "100%" figure is for probability of a Penn State win, not a Penn State sweep):

Things didn't turn out quite as Penn State fans had expected, as the Maryland Terps, coached by former Penn State assistant Steve Aird and former Penn State Director of Volleyball Operations Adam Hughes, jumped all over the Nittany Lions at the start of the match, taking the first set 25-21 (siding out at 77% to 66% for Penn State)
Order was restored to the universe — temporarily — as Penn State took the next two sets 25-17 and 25-12.  In those two sets, Penn State's side out percentages were 72% and 83%, respectively (Maryland's were 50% and 40%).  But Maryland didn't (you know, there are just too many cliché temptations here) . . .  give up in the 4th set, playing with determination and grit and pushing the Nittany Lions hard, before falling 25-22.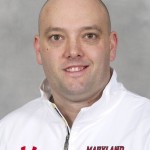 After the match, Maryland head coach Steve Aird complimented his team and the Nittany Lions:
I think we did some nice things. It's always a difficult match for me, playing my alma mater.  Penn State has a lot of great tools, and I think we'll see a better version of them in a couple weeks. I thought our youngsters played well against a really high caliber team. The best part of the night for me was that we didn't roll over in game four and we kept competing.
Penn State fans commenting on the match on the DigNittanyVolleyball Forum were more direct:
"Where is the PSU block? Only 2 show up on Live Stats thus far."

"We roll every ball over and they rip away. Blocking is messy and defense can't read. Numerous balls deflected off psu's blocks."

"From what I saw the main reason Maryland won set 1 is because they went for broke on the serving and got us all out of wack. Also, they were hitting off the block all set. Don't understand why we didn't adjust but we didn't. Our block was non-existent that set. Seems like we started to do better in set 2 and 3 but still seemed off a little. They are still going after balls that should be left alone to go out of bounds and they also are not communicating like they should as attested to the few times they ran into each other. Focus was not there the whole night."
Then again, a win is a win — particularly on the road in the B1G, where that is a notably tough task.  And you have to give Maryland credit.  They are well-coached and they took Penn State seriously.  To be honest, given Maryland's record going into the match (2-10 in the B1G), Penn State's players may not have been as up for the match as they should have been.

For Penn State, 6-4 RS Sr. MB Aiyana Whitney put together another superb match, tying her career-high with 18 kills (.600 attack %), adding 4 blocks.  Her fellow MB, 6-3 So. Haleigh Washington, registered 12 kills (.526 attack %), and topped the team with 7 total blocks.  6-2 Sr. Megan Courtney finished with 8 kills and 6 digs.  6-2 So. OH Ali Frantti put down 7 kills and 8 digs. 6-1 So. Simone Lee totaled a career-high 5 blocks, with 4 kills and 3 digs.  6-0 RS Fr. setter Bryanna Weiskircher guided the team to a .343 attack % (41 assists), and led the team with 11 digs — her ninth double-double of the 2015 season.  She also chipped in with 4 blocks and a career-high 4 service aces.
Credits
Match Stats
(Courtesy of GoPSUsports.com)