Part 1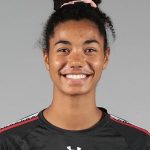 We're speaking today with Talking Head, who played D1 volleyball and has coached the sport for many years, about Penn State's upcoming Sweet 16 match against Cincinnati, featuring its star rightside/outside hitter, Jordan Thompson.
DigNittany: So, What are your thoughts about Cincinnati?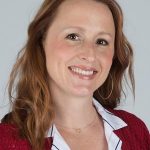 Talking Head: I'm fascinated by this team — I think they're fun.  I don't see any cockiness.  I don't see any overconfidence, I just see kids who are gritty and just really play hard for each other.  And that's a testament to their head coach, Molly Alvey, who played volleyball and basketball at Centre College in Danville, Kentucky, earning her bachelor's degree in economics in 2001. She was a setter for the volleyball team and held the school's career record for assists (4,340) until 2004. As a point guard on the basketball team she was an all-conference selection as a senior and held the single-season three-point percentage record at .456.  Her assistant, Kevin Carroll, is also a very good coach.
Molly Alvey is one of those people who has managed to gain knowledge and seemingly gets better at her craft everywhere she goes.  She started her volleyball coaching career at Temple in 2001, and — take note of this, Penn State fans — was on the staff of Temple's 2002 team that stunned Penn State in the second round in Rec Hall to make it to the Sweet 16.  In 2004, she was the head coach at the University of Southern Indiana, where her team won the Great Lakes Valley Conference (GLVC) regular-season and tournament titles and earned the program's second-ever NCAA Division II National Championship tournament berth.  She followed that with five seasons at the University of Mississippi (the final two seasons as associate head coach) and two seasons as head coach at the University of Houston.  She was hired as head coach at Cincinnati in February 2012.  Her 2018 team finished the season 26-8 after losing in the second round to No. 15 Marquette. UC finished the year ranked 12th in the nation in hitting percentage, 24th in assists per set and 25th in kills per set and ranked 24th in the nation in RPI.
DigNittany: So the Bearcats have good coaches.  What about the players?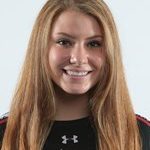 Talking Head: They've got some players.  They've got some tough kids, like Maria Mallon, their 5-9 sophomore outside hitter.  She's got really quick feet, just an explosive arm, and just rips balls, just rips them.  She's second on her team with 44 aces (behind Jordan Thompson's 48), and gets a ton of balls her way and just tools blocks, and goes around blocks and goes through blocks.  At 5-9 she's not going to go over blocks, but she's one of those kids that on a bad set, where you would normally get just a tip or a roll shot, this kid gets her feet to the ball and just destroys the ball.  She's just a tough, tough kid.  I know Thompson gets most of the ink, and deservedly so (she is averaging 50.4 swings per match, including six matches were she's gone over 70 swings — think about that for a minute), but for my money, Mallon is the engine that drives that team.
DigNittany:  What about Cincinnati's middles?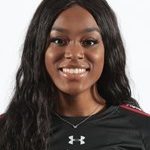 Talking Head: One of their middles (6-1 So. Adria Oliver) is an offensive middle, and one (6-3 RS So. Damjana Cabarkapa) is a defensive middle.  Cabarkapa won't get set a lot — her forte is blocking (she had 76 through 12-8-19).  Oliver is their more athletic middle.  She had a really good match against Pitt.  She loves to go behind the setter, and if she can't contact the ball with a full swing, she's really adept at throwing the ball down hard through the block.  For whatever reason, Pitt couldn't close blocks on Oliver, and she was just tooling them with throws down inside.  We've talked before about "The Three" — that if a team can get three players going offensively in a match, they'll be tough to beat.  Well, Mallon and Thompson are two, and when Oliver gets going, there's your Three.  Cincinnati's setter, Armania Heckenmueller, a 5-7 sophomore, does a nice job — nothing spectacular, but solid.  But when you've got two hammers on the outside and a good solid middle, that works.  Cincinnati really doesn't run much right-side, but they do like the back-row attack, and their two outside hitters have completely different styles.  They keep balls alive, and just hang around.
DigNittany: How has their season gone prior to the win over Pitt?
Talking Head: They lost to Pitt early, 0-3, and didn't really play very well.  They lost to Michigan State, 1-3.  They lost to Louisville 2-3.  I would say their best wins, before beating Pitt, were Tennessee, 3-0, UCF, 3-1, and Notre Dame, 3-1.  But if you look at their season, you'll see a stretch early-middle where Mallon was really struggling, but she's been solid — just rock solid — for probably the past 10 matches.
DigNittany: OK, so what about Jordan Thompson?
Talking Head: To me, without a doubt, Jordan Thompson is a National Player of the Year candidate.  Her numbers (6.40 kps; .343 hitting %; 48 SA; 2.72 digs/set;  0.36 blocks/set) just jump off the stat sheet at you.  And remember, with every team she plays is keying on her, and with 50.4 swings per match, she's still hitting — as an outside hitter!! — .343.  She really reminds me of a former Penn State men's player, Matt Anderson.  Her trajectory has been very similar.  She plays right-side on the National Team, and she's asked to play outside for Cincinnati.  That's the way it is for Matt too.  Matt plays outside professionally, and did in college, but he plays right-side for the National Team.
DigNittany: What impresses you about Jordan Thompson?
Talking Head:  She moves really well, she covers the floor.  In the Pitt match, there's a dig she gets in game 5, I think it is, where she goes all the way to her left, stretches very athletically, and pops the ball up with one arm.  Then she's right back up on her feet.  When you look at a player that's 6-4 who can do that kind of thing, you're looking at someone very special.  We don't have many kids like that in the country.
DigNittany: So we'll reconvene tomorrow for your take on Penn State.  Thanks so much and talk to you soon.
Talking Head: My pleasure and I look forward to it.