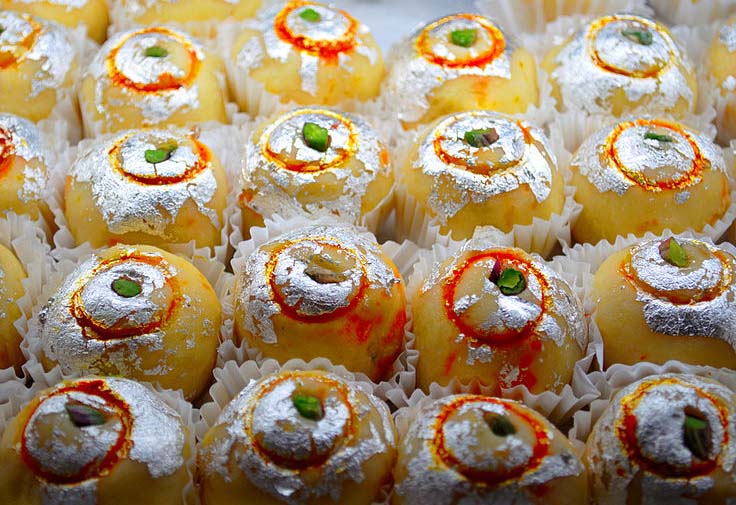 NCAA Interactive Tournament Bracket
Penn State Downs Delaware
Penn State took care of business against Delaware Saturday night, sweeping the Blue Hens 25-12, 25-9, 25-18. 6-4 So. Opp/RS Ariel Scott led the Nittany Lions with 12 kills (.458 attack %) and 5 blocks, while 6-1 So. OH Deja McClendon bounced back from a sub-par outing on Friday to post 11 kills (.524 attack %).   6-5 Fr. OH Aiyana Whitney (8 kills, .500 attack %) and 6-2 Fr. MH Nia Grant (7 kills, .667 attack %) were third and fourth on the team, respectively.  5-6 So. L Ali Longo's 19 digs topped the Nittany Lions.  5-11 Fr. S Micha Hancock directed the team to a .426 attack %.
Match Stats – Delaware vs. Penn State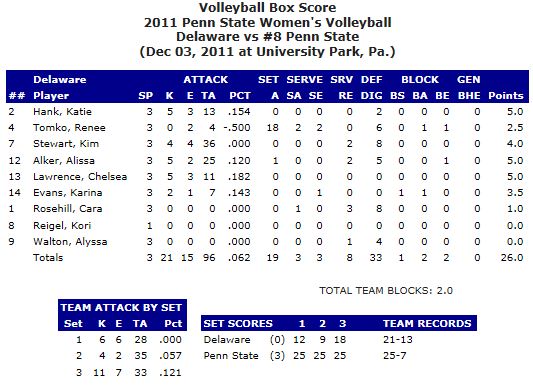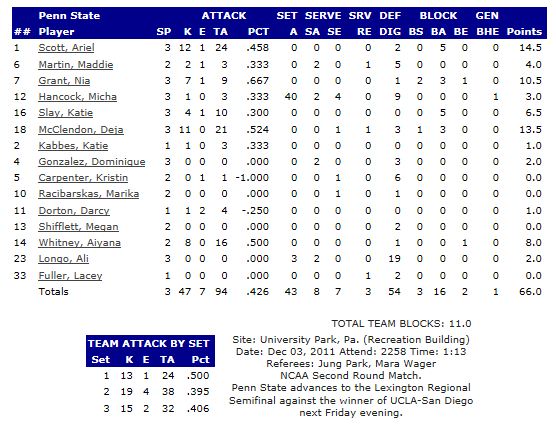 On to the Sweet Sixteen
Here are the Brackets for the Sweet Sixteen. We'll have more on them later today, but a quick note on the B1G's success: even with the stunning loss by Nebraska to Kansas State in the 2nd round, six of the eight B1G teams in the Tournament made it to the Sweet Sixteen. That's the same as last year, and quite an accomplishment for the conference as a whole.  Congrats!
The Sweet Sixteen
Here are the matchups for the next round.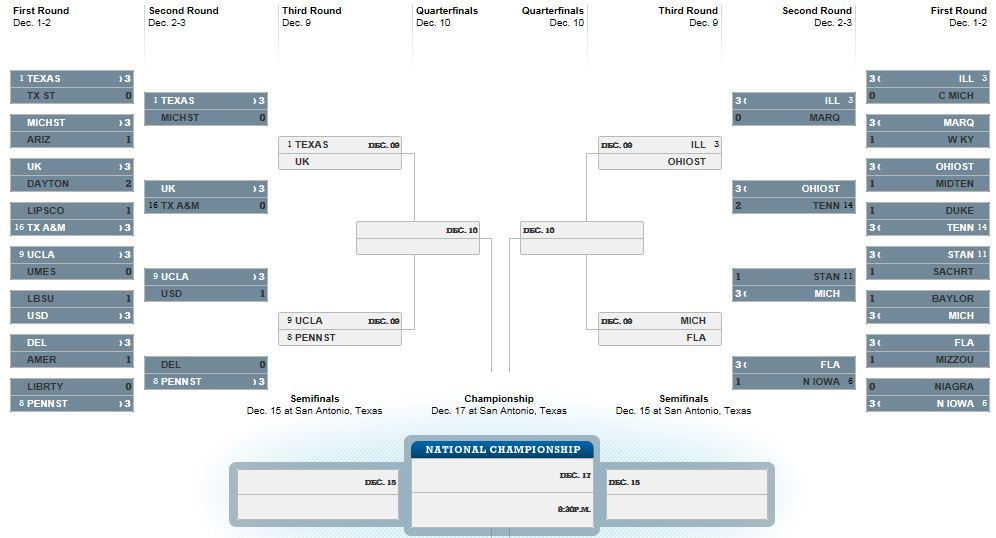 The Field of 64 – by Seed, RPI, Pablo, AVCA, and Conference
The chart below shows the entire field of 64 in the 2011 NCAA Tournament, and results of their matches in the first two rounds.  It's sortable by Tournament Seed, RPI, Pablo ranking (where available), AVCA Poll ranking (the AVCA only ranks the top 20, but we reflected the 36 tournament teams that received votes in the poll).
2011 NCAA Tournament: Field of 64
Team
Pre-Tournament
W-L
NCAA
Tournament
Seed
RPI
Pablo Ranking
AVCA Poll
Conference
Regional
1st Rnd
2nd Rnd
Texas
22-4
1
2
2
5
Big 12
Lexington
W (3-0 vs. Texas State)
W (3-0 vs. Michigan State)
Nebraska
24-4
2
4
5
2
B1G
Honolulu
W (3-0 vs. Jackson State)
L (2-3 vs. Kansas State)
Illinois
27-4
3
1
10
7
B1G
Gainesville
W (3-0 vs. Central Michigan)
W (3-0 vs. Marquette)
Iowa State
22-5
4
3
6
14
Big 12
Minneapolis
W (3-0 vs. Milwaukee)
W (3-0 vs. Miami (Fla))
Purdue
27-4
5
6
4
8
B1G
Minneapolis
W (3-0 vs. Morehead State)
W (3-1 vs. Louisville)
Northern Iowa
32-1
6
5
15
12
Missouri Valley
Gainesville
W (3-0 vs. Niagara)
L (1-3 vs. Florida)
USC
25-4
7
8
1
1
Pac-12
Honolulu
W (3-0 vs. Yale)
W (3-0 vs. Tulsa)
Penn State
23-7
8
11
3
9
B1G
Lexington
W (3-0 vs. Liberty)
W (3-0 vs. Delaware)
UCLA
24-8
9
15
13
4
Pac-12
Lexington
W (3-0 vs. MdES)
W (3-1 vs. San Diego)
Hawaii
29-1
10
7
8
3
WAC
Honolulu
W (3-0 vs. Northern Colorado)
W (3-1 vs. Colorado State)
Stanford
21-7
11
18
25
6
Pac-12
Gainesville
W (3-1 vs. Sacred Heart)
L (1-3 vs. Michigan)
Florida State
24-6
12
10
23
21
ACC
Minneapolis
W (3-0 vs. Albany)
W (3-2 vs. Cincinnati)
Minnesota
18-11
13
12
16
19
B1G
Minneapolis
W (3-0 vs. North Dakota State)
W (3-2 vs. Washington)
Tennessee
27-3
14
9
9
15
SEC
Gainesville
W (3-1 vs. Duke)
L (2-3 vs. Ohio State)
Pepperdine
22-6
15
16
11
18
West Coast
Honolulu
W (3-0 vs. Missouri State)
W (3-0 vs. North Carolina)
Texas A&M
22-7
16
17
12
27
Big 12
Lexington
W (3-1 vs. Lipscomb)
L (0-3 vs. Kentucky)
Kentucky
26-5
unseeded
13
21
16
SEC
Lexington
W (3-2 vs. Dayton)
W (3-0 vs. Texas A&M)
Northern Illinois
28-6
unseeded
14
na
nr
Mid-American
Minneapolis
L (1-3 vs. Miami (Fla.)
out
Cincinnati
26-9
unseeded
19
na
nr
Big East
Minneapolis
W (3-2 vs. Samford)
L (2-3 vs. Florida State)
Florida
24-5
unseeded
20
7
17
SEC
Gainesville
W (3-1 vs. Missouri)
W (3-1 vs. Northern Iowa)
Western Kentucky
31-3
unseeded
21
26
24
SunBelt
Gainesville
L (1-3 vs. Marquette)
out
Miami (Fla.)
25-4
unseeded
22
20
25
ACC
Minneapolis
W (3-1 vs. Northern Illinois)
L (0-3 vs. Iowa State)
Michigan
20-12
unseeded
23
28
22
B1G
Gainesville
W (3-1 vs. Baylor)
W (3-1 vs. Stanford)
Tulsa
27-6
unseeded
24
31
31
Conference USA
Honolulu
W (3-1 vs. Oklahoma)
L (0-3 vs. USC)
San Diego
27-4
unseeded
25
24
20
West Coast
Lexington
W (3-1 vs. LBSU)
L (1-3 vs. UCLA)
Kansas State
20-10
unseeded
26
34
36
Big 12
Honolulu
W (3-0 vs. Wichita State)
W (3-2 vs. Nebraska)
Oklahoma
21-11
unseeded
27
39
nr
Big 12
Honolulu
L (1-3 vs. Tulsa)
out
Colorado State
23-5
unseeded
28
16
26
Mountain West
Honolulu
W (3-2 vs. Oregon)
L (1-3 vs. Hawaii)
California
26-6
unseeded
29
19
10
Pac-12
Honolulu
L (2-3 vs. North Carolina)
out
Oregon
21-9
unseeded
30
14
13
Pac-12
Honolulu
L (2-3 vs. Colorado State)
out
North Carolina
23-8
unseeded
31
na
nr
ACC
Honolulu
W (3-2 vs. California)
L (0-3 vs. Pepperdine)
Western Michigan
24-8
unseeded
32
na
nr
Mid-American
Minneapolis
L (1-3 vs. Washington)
out
Missouri
21-12
unseeded
33
na
nr
Big 12
Gainesville
L (1-3 vs. Florida)
out
Ball State
25-7
unseeded
34
na
nr
Mid-American
Minneapolis
L (0-3 vs. Louisville)
out
Washington
23-7
unseeded
35
21
11
Pac-12
Minneapolis
W (3-1 vs. Western Michigan)
L (2-3 vs. Minnesota)
Dayton
25-6
unseeded
36
na
nr
Atlantic 10
Lexington
L (2-3 vs. Kentucky)
out
Michigan State
21-11
unseeded
37
26
30
B1G
Lexington
W (3-1 vs. Arizona)
L (0-3 vs. Texas)
Louisville
23-8
unseeded
38
na
nr
Big East
Minneapolis
W (3-0 vs. Ball State)
L (1-3 vs. Purdue)
Wichita State
21-10
unseeded
39
na
nr
Missouri Valley
Honolulu
L (0-3 vs. Kansas State)
out
Marquette
23-10
unseeded
40
na
nr
Big East
Gainesville
W (3-1 vs. Western Kentucky)
L (0-3 vs. Illinois)
Long Beach State
23-6
unseeded
41
18
23
Big West
Lexington
L (1-3 vs. USD)
out
North Dakota State
26-8
unseeded
42
na
nr
Summit
Minneapolis
L (0-3 vs. Minnesota)
out
Duke
21-8
unseeded
43
na
nr
ACC
Gainesville
L (1-3 vs. Tennessee)
out
Missouri State
22-8
unseeded
44
na
nr
Missouri Valley
Honolulu
L (0-3 vs. Pepperdine)
out
Middle Tennessee
21-11
unseeded
45
na
nr
Sun Belt
Gaineville
L (1-3 vs. Ohio State)
out
Baylor
18-14
unseeded
46
na
nr
Big 12
Gainesville
L (1-3 vs. Michigan)
out
Ohio State
19-14
unseeded
48
32
28
B1G
Gainesville
W (3-1 vs. Middle Tennessee)
W (3-2 vs. Tennessee)
Arizona
19-12
unseeded
49
40
32
Pac-12
Lexington
L (1-3 vs. Michigan State)
out
Milwaukee
25-4
unseeded
50
na
nr
Horizon
Minneapolis
L (0-3 vs. Iowa State)
out
Samford
29-4
unseeded
62
na
nr
Southern
Minneapolis
L (2-3 vs. Cincinnati)
out
Texas State
27-7
unseeded
72
na
nr
Southland
Lexington
L (0-3 vs. Texas)
out
Central Michigan
19-13
unseeded
74
na
nr
Mid-American
Gainesville
L (0-3 vs. Illinois)
out
Delaware
20-12
unseeded
79
na
nr
Colonial
Lexington
W (3-1 vs. American)
L (0-3 vs. Penn State)
Sacred Heart
27-7
unseeded
80
na
nr
Northeast
Gainesville
L (1-3 vs. Stanford)
out
Albany
21-8
unseeded
85
na
nr
Amercia East
Minneapolis
L (0-3 vs. Florida State)
out
Moorehead State
26-7
unseeded
86
na
nr
OVC
Minneapolis
L (0-3 vs. Purdue)
out
Lipscomb
20-10
unseeded
89
na
nr
Atlantic Sun
Lexington
L (1-3 vs. Texas A&M)
out
Yale
18-6
unseeded
91
na
nr
Ivy
Honolulu
L (0-3 vs. USC)
out
American
23-10
unseeded
94
na
nr
Patriot
Lexington
L (1-3 vs. Delaware)
out
Northern Colorado
22-8
unseeded
108
na
nr
Big Sky
Honolulu
L (0-3 vs. Hawaii)
out
Liberty
20-12
unseeded
145
na
nr
Big South
Lexington
L (0-3 vs. Penn State)
out
Niagara
25-8
unseeded
148
na
nr
Metro Atlantic
Gainesville
L (0-3 vs. Northern Iowa)
out
Md.-Eastern Shore
24-6
unseeded
195
na
nr
Mid-Eastern
Lexington
L (0-3 vs. UCLA)
out
Jackson State
29-9
unseeded
217
na
nr
Southwestern
Honolulu
L (0-3 vs. Nebraska)
out