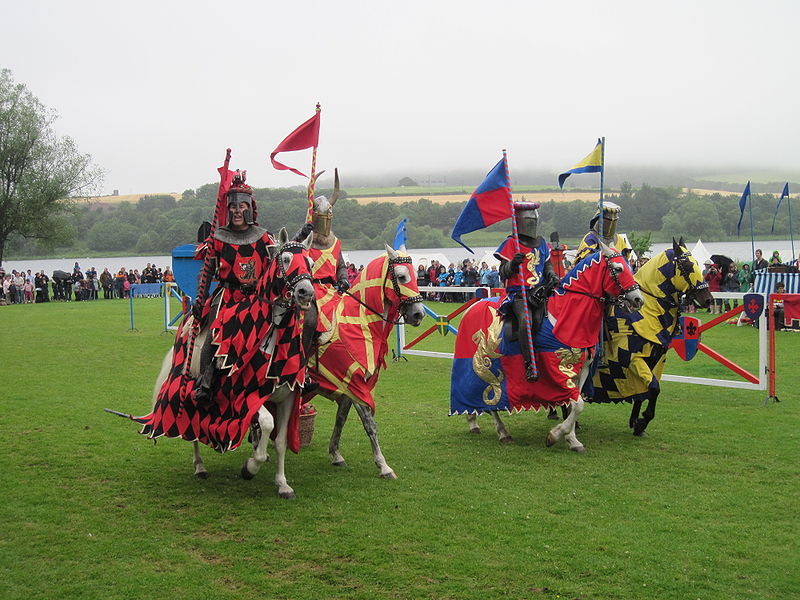 Random Thoughts on UCLA and Penn State
Will the Road Warriors Please Sign In
With victories over Hawaii at Hawaii (3-1 on September 4th), USC at USC (3-0 on September 9th), California at Berkeley (3-1 on October 28th), and Stanford at Stanford (3-0 on October 29th), there's an argument to be made that UCLA qualifies as the best road team this season.  Of course, UCLA did lose to Washington in Seattle (0-3 on September 17th), Arizona in Tuscon (2-3 on October 8th), and Oregon at Oregon (2-3 on November 11th).  But UCLA's road record is still impressive.
Penn State also had some big road wins . . . and some big road losses.  They defeated Purdue (3-1) in West Lafayette on October 14th, Minnesota (3-2) in Minneapolis on November 4th, Ohio State (3-1, but with significant injuries) in Columbus on November 23rd, and Michigan State (3-1) in East Lansing on November 26th.  Maybe not stellar, but not bad.  On the debit side of the ledger, they also lost to Stanford (1-3) in Palo Alto on September 9th,  Texas (2-3) in Palo Alto on September 10th, Nebraska (2-3) in Lincoln on September 21st, Wisconsin (2-3) in Madison on November 6th, and Illinois (3-0) in Champaign-Urbana on November 11th.  Ouch.
So the question is, which team will step up as the better road warriors when they meet Friday night in Lexington Kentucky?  And does Deja McClendon have enough family and friends in the neighborhood to pack the house with Penn State fans?

                                   When it comes to Road Warriors, these guys may be better than UCLA and Penn State
Past Performance, Future Results?
Penn State has built a reputation this season as a tough-serving team (7th in NCAA Division 1 as of this week — see the Stat Joust, below), that puts up a big block (led by 6-6 So. MH Katie Slay — ranked 11th with 1.43 blocks/set — Penn State is ranked 18th in blocks per set).  UCLA is not known as a great serving team (the Bruins are ranked 245th in aces per set) and, while they have been a solid blocking team (ranked 46th), statistically, at least, they're a bit below the Nittany Lions.
What UCLA is known for is tenacious defense that forces long rallies, whereas Penn State's 2011 season has been characterized by many unforced errors.
Will past performance be a predictor of future results?  And if so, which trend will prove to be decisive?
The Face is Familiar but the Uniform?
When we last saw UCLA's 6-5 Jr. OH Tabi Love, she was a Minnesota Golden Gopher.  In Penn State's two matches against Minnesota last season, she played in 8 sets, with 19 kills, 9 attack errors, 72 attempts, and a .139 attack %.  For UCLA this season, she is averaging 2.68 kills/set and hitting .199.
Stat Joust
Here are the UCLA and Penn State team and individual NCAA rankings in selected statistical categories: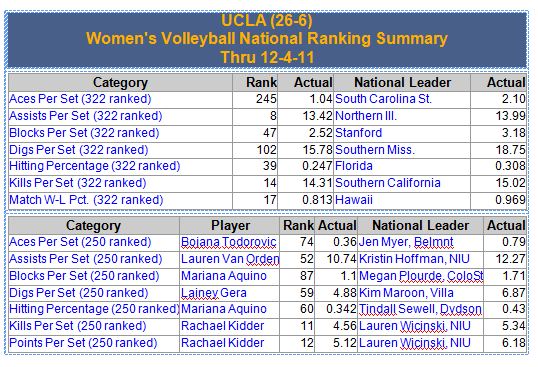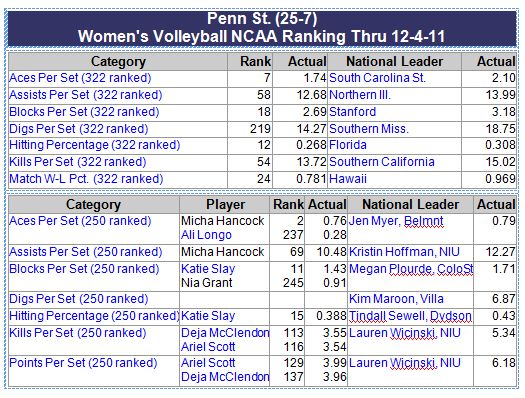 Penn State vs. UCLA – Category Leaders
Below are tables showing the Attack, Digs, and Blocking leaders for Penn State and UCLA.  The tables aren't exactly one-to-one comparisons, but they give an idea of the relative statistics for the two teams.  Oh, and we know Lainey Gera isn't likely to get any kills for the Bruins, but we had to leave her, and her perfect 1.000 attack %, in the table.
Attack Leaders - 2011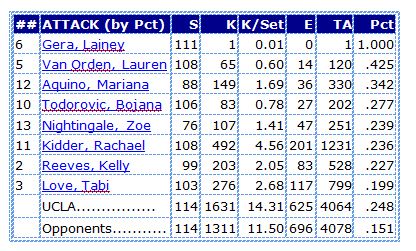 Recept/Dig Leaders - 2011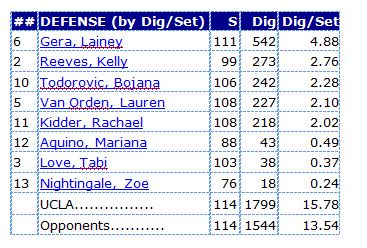 Blocking Leaders - 2011