Team Stats
Here are the team stats comparing Penn State and its two upcoming opponents — Iowa and Minnesota.  A few stats that jump out:
Penn State's Net Attack % (team attack % minus opponents' attack %) is +.210 compared to Minnesota's Net Attack % of +.040 and Iowa's Net Attack % of -.005.
Penn State is slowly but surely moving up the team blocking chart, now sitting in a tie for 5th with Purdue, at 2.50 blocks/set (Illinois leads at 2.88 blocks/set).
Led by Micha Hancock, Penn State continues to lead in service aces by a wide margin (1.98 aces/set, with Michigan State in 2nd with 1.33 aces/set).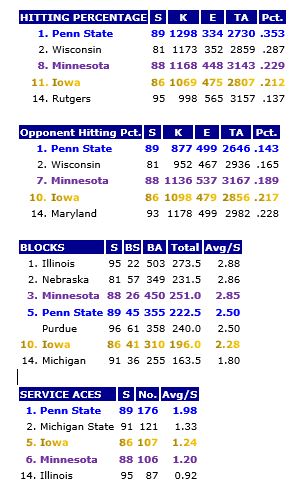 Individual Stats
We cheated a bit here, including attack % and blocking stats for 6-3 Fr. MH Haleigh Washington, even though she doesn't meet the B1G's minimum of having played in 50% of her team's sets (she has played in 41; Penn State has played 89).  We are pretty confident that Haleigh will meet that standard within the next four matches, so we wanted to see where she would stand if she had met it as of today. Note that there may be other players in the same situation as Haleigh who would rank above her (though we don't think so), but we didn't research that.  A few stats jump out:
Including Washington, Penn State has four of the top 13 individual attack percentages.
Micha Hancock isn't Penn State's only weapon from the service line: Dom Gonzalez and Ali Frantti have both quietly moved into the top 15 in the  B

1G.

Daly Santana of Minnesota can hurt you in a lot of ways.  She ranks #4 in service aces/set and #3 in points/set.
Haleigh Washington would rank #3 in blocks/set if she met the B

1G's

minimum of having played in 50% of her team's sets.
Minnesota's Tapp Twins are very good blockers, ranking #2 and #5.
Dom Gonzalez continues to rank near the top of the B

1G

in digs/set (currently #11).
Iowa has two pretty good servers in Dietz and Klostermann.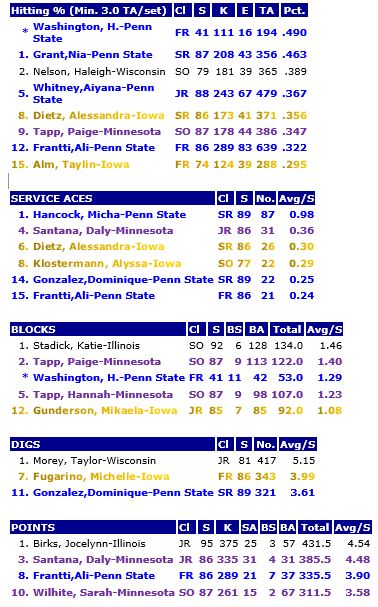 _________________________
Photo Credits