Check out the highlights from Russ Rose's Tuesday media availability at Rec Hall. Freshman Amanda Phegley, who can play both right side and middle blocker, also spoke before practice.
No. 9 Penn State (9-3) travels to Michigan State Friday for a 7 p.m. match on Big Ten Network. The Nittany Lions are 0-2 in conference play after losing to Minnesota and Ohio State.
Phegley, who was a second-team Under Armour All-American, played her final two years of high school volleyball for Berkeley Prep in Tampa. She won consecutive state championships alongside freshman defensive specialist Jenna Hampton.
Coach Rose on growing pains of freshmen: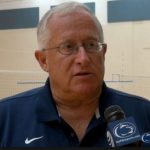 "I think after the first two matches we would say that we've identified the problem. It's going to take time to make progress with that, but that's probably not atypical for some players. I've had some players as freshmen that have been able to navigate some of the challenges better, but it also might just be that the sheer numbers of them make it a little more challenging. We have so many people on the floor right now, so that certainly is a factor."
Coach Rose on loss to Ohio State:
"I thought we started the match well. I thought we battled at a couple of times to close the gap, but the problem was part of the gap was some errors that were made and the fact that Ohio State is Ohio State. They're good in all of the sports they have. They're a proud university with a great athletic tradition as well. I tell the players, 'Everybody cares.' It's not like you guys are the only ones who care. Every team cares. You need to be ready to play all the time. You win and lose by the players that are on the floor — not the people you didn't get in recruiting, or the people that are hurt, or the people on the bench. The Big Ten portion of the season is probably not the time to be tinkering with the lineup, but that's the reality that we're looking at."
Coach Rose on Michigan State:
"Michigan State is maybe a little more similar to us in that they graduated so many players from last year as well. They've got a good roster of really physical kids. The film that I was watching of them playing Nebraska, and Nebraska's certainly one of the top teams in the country, and they went four games with them at Nebraska. That's always a challenging place to play, so I thought they played really well with a lot of new kids. They'll be playing at home and I'm sure they're excited about playing Penn State based on us coming in off a weekend where we lost both matches."
Coach Rose on Michigan:
"I think Michigan's maybe not one of the surprises in the conference because I think they've been very good for the last four or five years. There was a three- or four-year period where we split with Michigan every year. I think Michigan's one of the top teams in the conference this year. They've got a great combination of some veterans and some young players, so I would think that we'll have our hands full with both teams on the road this week."
Coach Rose on Jenna Hampton: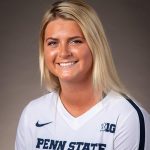 "I like the fact that she plays really hard. I thought she played really well against Minnesota. That was her best match. Unfortunately she didn't have the same focus, energy, performance against Ohio State, but that's not surprising with young players. She was really good against Minnesota. I thought the passing was good. I thought the defense was good. I'm familiar with her because she attended camp for a number of years. She's kind of a no-nonsense player. She goes for balls wherever they are. She's not afraid to fly into the crowd to get a ball, and I'm a big fan of kids who play hard. I like it when players are aggressive. We made a terrible play at the end of the Ohio State match where a ball was served and we didn't even go for the ball in a deuce game. I think if she would have been in that wouldn't have happened."
Amanda Phegley on when she knew she wanted to play college volleyball: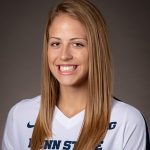 "Probably when I saw Penn State on TV. I was like, 'Whoa, that's so cool. That'd be so cool to play there and be a part of that winning tradition.' Then I went to camps [at Penn State], so that's how it started."
Amanda Phegley on playing with Jenna Hampton:
"It was really fun. We get along really well. We played on the same club team and high school team. It's very competitive [in Florida]. There are a lot of clubs."
Amanda Phegley on her versatility:
"I've always played middle, so I really like right side. It's a change. It's a good thing. I like it a lot."
Amanda Phegley on Jonni Parker:
"We're roommates, so we get along really well. We always joke around. She's very sarcastically funny. She'll throw out random sarcastic comments and it kills me."