Before Penn State women's volleyball hits the road for a huge series against Minnesota this weekend, Russ Rose, Serena Gray, and Kaitlyn Hord fielded questions from the media on Zoom Tuesday afternoon.
The Nittany Lions opened their season last weekend with a pair of wins over Illinois at Rec Hall, including a come-from-behind victory Saturday night. The trio discussed a variety of topics ranging from Emily Oerther's performance to what kind of challenges Stephanie Samedy and the Golden Gophers present.
Rose's opening statement:
"It's always good to play a couple matches to get an indication of where you are in relationship to others. It's not always the easiest thing to do, certainly in a scenario like we have right now where you're playing conference opponents, where traditionally you might be scheduling out of conference and giving yourself an opportunity to try some different lineups and really kind of see how some people play. When you start out playing against a conference opponent, it's a little more challenging, but I thought we saw some really good things and we saw some things that we knew that we were going to have some challenges with, because Illinois is very good at a number of things that are going to cause a lot of people challenges. Now, we go to play one of the top teams in our conference, the team that's tied at the top with a 6-0 record. We know that we're going to have to improve in a lot of things in a very short period of time. We had Sunday and Monday off, so we're only going to have a couple of days of practice, then a long trip, and we'll tee it up once again."
Q: What would you say stood out to you most from the first weekend of play from younger players like Maddy Bilinovic and Emily Oerther?
"I think certainly from Maddy and AC [Fitzpatrick], as true freshmen, just watching them in practice is one thing, but the thing you never really know is how somebody's going to play in a competitive situation when the lights are on. I was especially pleased with how they played on Friday night. I thought the team played better on Friday than Saturday, but we competed hard and found a way to get a victory on Saturday. I thought Maddy passed well. She's a good communicator and has a good volleyball IQ. I thought AC did a real nice job with just kind of being who she is. She's just kind of a happy 18-year-old who likes to take a big swing at the ball and doesn't mind getting blocked. She'll learn a lot of things about how competitive the conference is every week when she gets a chance to see some of the who's who in college volleyball. I thought Emily just really did a fine job from last year to this year. I said that I thought she was our most improved player from last year through this summer heading into the fall, so I was really pleased with how she played. She does some things well. She's physically strong. She's very calm. On a personal note, I wish she would be more outspoken and a little stronger in the leadership area, but I thought she competed well. It's hard to all of a sudden play and play with new people and have high expectations placed on you and not have a full array of bullets in the gun to go out there and really compete with. I thought a lot of the young people did some things. I thought Jonni [Parker] did a nice job offensively. Kaitlyn [Hord] had a good weekend. Again, some people have played six matches. We've played two matches. It's a really long season and we have a long way to go. We have to wait until we get some people healthy and try and get our best roster lined up and our best players on the floor and try and compete at our highest level every chance we get to play."
Q: Was there any sense of relief just getting the season started?
"The first weekend, we were packed and ready to go to Michigan. We all had our bags packed. We were here. Our plans changed on that day and then things kind of went in the other direction. We also lost the next week when we were supposed to play Ohio State, so yeah, I think the players were excited about getting an opportunity to play. Again, we didn't have all of our players cleared to play, but you've got to play with the players who you have, and I thought those individuals did as well as they could. That's pretty much all you can really ask for."
Q: Do you know if the five players who weren't able to dress last weekend will be available against Minnesota, and if so, how big of a role do you think they might step back into?
"I don't know really where we are on the return-to-play situation, but I would be sure that none of them could be expected to be at full strength and ready to go. Again, we didn't practice Sunday and Monday, so it's hard for me to know what's going on. Today's Tuesday. We're going to fly there on Friday. I'll know more in a few days than I know right now. As it is right now, I would say we've got some players who can play and those are the ones we have to coach and be ready to play with."
Q: Along those same lines, what did you see from your team's fitness level that first weekend? Are you guys close to getting into optimal shape and how long do you think that might take?
"I think some people are always in pretty good shape for the role they play and how they play and I think some people are always just challenged by things that they can't control. It manifests itself in some of the behaviors that they exhibit. I thought we played really tired on Saturday. I thought Illinois looked a lot fresher than we did on Saturday after playing the same match that we played on Friday, but you're at home and the adrenaline should kick in and you should be really excited. I thought that was probably one of the things that really helped us on Friday night is that I think we were really excited. The first game on both nights, we started really well and kind of cooled off after that. I think endurance is certainly something that the older players would have a little better handle on than the newcomers. They don't have anything to compare it to. This would be their normal club season, but the high school season that maybe would have ended in November, we didn't really have anything going on. We practiced a little and then school ended the second week of November, so they went home. Everybody's different. All the schools are different. All the players are different. I think everybody probably had a different formula for how they were going to keep their players together and ready to go. I think, in our case, we'll gain momentum and get stronger when the roster size gets larger."
Q: Obviously we're working with a small sample size right now, but do you think it was challenging for the team to play without any crowd or fans in the arena?
"That would be a question that the players would have a better handle on. I thought it was certainly interesting. It was kind of like traditional spring volleyball where the players would play and I would sometimes sit on the end line and watch or sit up in the crowd and watch the action and have the staff do more coaching and things, so it was a little bit different. Our facility is one of the places I think that the crowd is always really enthusiastic and beneficial to the energy of the players and I think they're always receptive to the visiting teams as well and like good volleyball. The conference itself always leads the nation in attendance. Minnesota, where we're going this weekend, is traditionally also like us one of the top five schools in the country in attendance. It will be interesting playing in their facility without the normal crowd involvement that they have. I'm sure it will be different, but the players still need to be ready to play. Everybody cares. That's what I tell people all the time in coaching is, 'Everybody cares. It's how much you care.'"
Q: Saturday night Jonni came out with a much softer serve than what we've seen from her Friday and specifically last year. Was that a decision she made or a decision you guys discussed with her as a coaching staff?
"Well, I mean, we missed 15 serves on Friday night. I thought that was way too many. That was one of the equalizers for one team to another team when you miss so many serves. It kind of makes it a little bit easier for the other team when all they have to do is be in uniform. Both Jonni and AC, I thought it was better for them to stay on the ground and keep the serves in and let's see. Later in the match on Saturday night, I thought we were serving really, really recreationally, and I thought that hurt us even more at that point in time. It's a balance. Normally, you want to be able to keep some pressure on from the end line if you have players who can do that. As we talked about earlier, a lot of it has to do with depth. If you have X number of hitters and they're doing a majority of the hitting, you probably don't want them to do as much jumping in the back row on serving as well. You want to kind of save the people who you need to keep their energy level high for hitting. I think that was one of the things that I had to come up with, but I thought Serena [Gray] served really well on Saturday night. Again, the first night, there were some highs and some challenging parts of our performance. I think missing 15 serves was not great, but I thought we served a little better on Saturday. Some other areas we struggled with. Illinois does some things that make you work really hard. They're going to challenge other people as well."
Q: What kind of measuring stick is this trip to Minnesota going to be for you guys?
"I always want the players to compete, so as long as we compete, that will be the big part of the equation as far as I'm concerned. It's our second week of competition. If we can implement getting a couple other players into the equation, then that helps us, but certainly it's not going to provide us with a vision of us at our best. If not, we've got to tighten up what we have from last week and get better at that, because Minnesota demonstrated last week by winning two five-game matches at Purdue that they're very strong and they're resilient. That's been a common denominator. Stephanie Samedy is one of the premier players in the country. I watched a little video of them from the weekend and I thought they've got a couple of newcomers who look terrific. They look very strong, as they normally do."
Serena Gray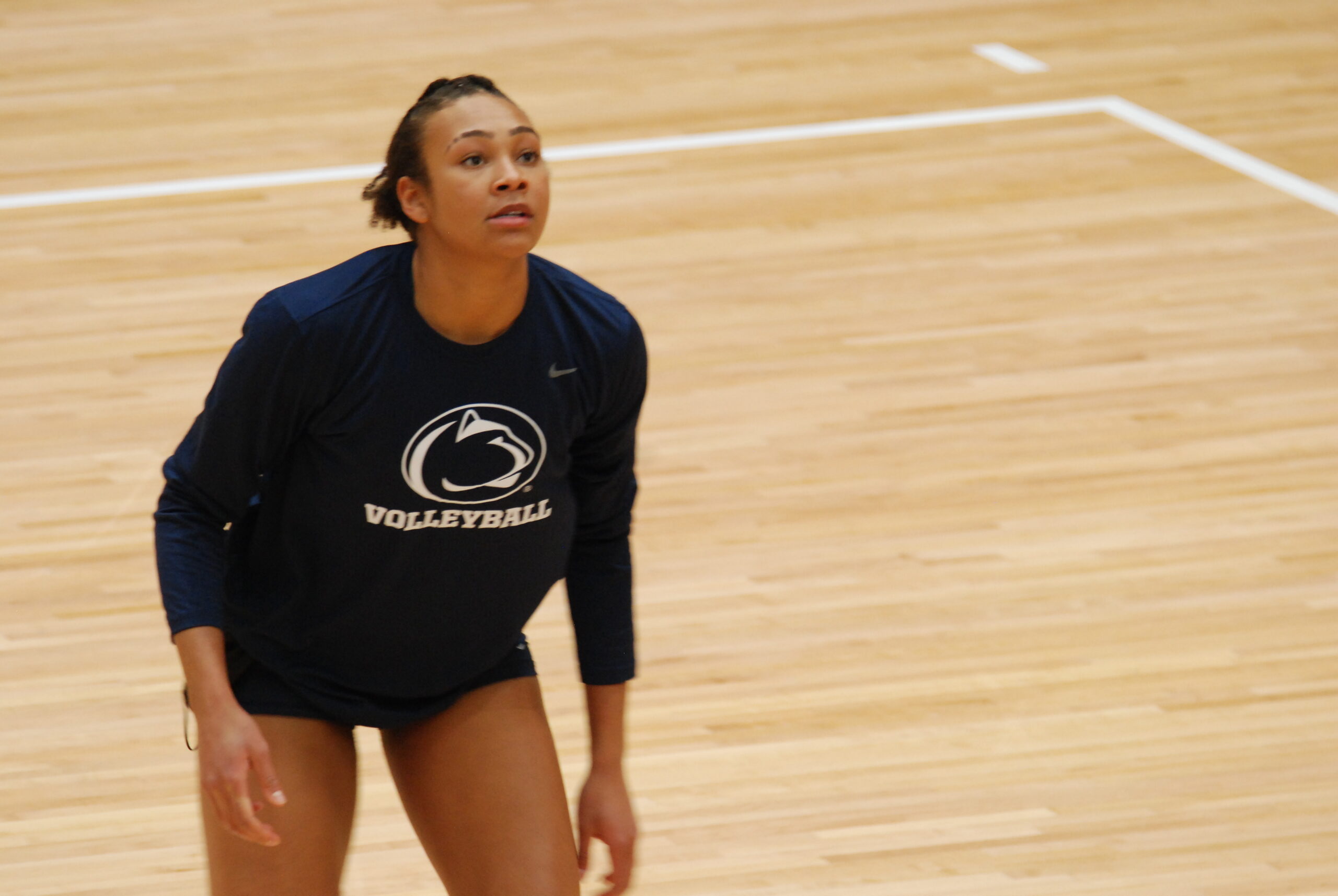 Q: Serena, was there a sense of relief when you guys were finally able to get out there and play?
"Oh, definitely. We've been practicing like 400-something days and we kind of had our hopes up in the fall with preseason and practicing for that and then it didn't happen. It's probably the first time in Penn State history we had two preseasons in one year, so were really just trying to get out on the court and show what we've been working on."
Q: What stood out to you the most from performances of new players like Annie Cate and Maddy?
"I would just say their confidence. They know they can pass the ball. They know they're loud on the court and they show that. They're not timid. They might be freshmen, but they definitely communicate very well and they bring a lot of energy — that and they both had amazing nights."
Q: What do you love most about playing volleyball?
"I ask myself this every single day. I would say just being around the girls. Being on the East Coast, it's really tough. I couldn't imagine having to start over and make friends all over again, but having a supportive team with great girls, that's my favorite part."
Q: What's your general evaluation of where you guys are at right now? Did you feel like you had to knock some rust off in the opening weekend? How quickly can you get to whatever the best volleyball might look like for you guys?
"I would say we definitely haven't peaked yet. I would say we're slowly on the incline. There's for sure some nerves that we have to work through, as it's a lot of people's first time playing and starting, and playing for coach in itself will bring a lot of nerves. I think that plays a lot into where we are. I think our first night against Illinois was pretty good considering the adversity we faced. The second night wasn't quite as good, but at the same time, I think we did very well considering everything that's gone on in the past couple months and the year in general. It's a lot to handle and I think these girls handled it very well."
Q: Last year, Gabby was primarily the setter for you guys. This past weekend, you had Emily out there. Is there an adjustment when you have a different setter or is it the same thing?
"No, there's definitely an adjustment. Gabby and Emily both release the ball at different heights. Gabby might throw the ball back. Emily might just shoot it fast to the outside. They're both very different. Ultimately, since we are a team, we should know how to play with both of them — know when to rotate when Gabby's blocking, know when Emily needs to see a line and we don't need to rotate. It's a lot of stuff like that. I think it was great to have Emily on the floor those two nights. I think she proved herself well."
Q: Your serve looked great the other night. Was that something that you've been working on throughout the offseason coming off of last year?
"Oh, yeah, for sure. During the pandemic when you can't really play with anyone or practice with anyone, one thing you can do is serve, because that's one of the only socially distanced volleyball activities you can really do, so I worked a lot on my serve."
Q: Did the holes in your heart at birth require any surgery or special care?
"Nope, not at all. They closed up. How the doctors kind of described it to me is they're like ear piercings. It's all healed and everything, but it's still there. The funny thing is when I got to Penn State, they actually told me, 'Oh, my gosh, your holes are in a different spot than what's in your birth records, which means there's more.' I don't know. Maybe years from now when technology improves, we'll find a couple more. We'll see."
Q: When you first came to Penn State, were you nervous playing for coach? What's that transition like?
"I was definitely nervous. I'm a very anxious person and playing in front of 5,000 people is scary, but playing in front of coach is a little bit scarier, so that definitely took a couple years and a lot of talking through to get that to yield a good result, I guess I would say."
Q: What kind of standard is there at Penn State? What is it like to raise yourself to that level?
"The standard is definitely, 'Do well, not do your best.' It's do what you need to do. There's no taking you out because you're not doing well. At least, that's my position. I can't tell coach, 'I need to take a set off' or anything like that. The standard is I always have to perform to a certain level, and if I don't, there's no other option. I just have to."
Q: What's something you think the volleyball community could do to help grow the game among young Black girls?
"Good question. I actually wrote a paper in my class I took. There's this thing called position stacking in football, where a lot of the central positions like quarterback are occupied by majority group players. That's why you don't often see an African American quarterback, except like in the CFL. I think that's a problem in the sport of volleyball. I think there are a lot more opportunities for African American girls to not just be in the middle. I would love to see coaches adopt a different mindset that African American volleyball players have a lot more versatility than they're shown at the high level. It's no secret that a lot of middles are African American. Kait and I are African American. Haleigh Washington is African American. It's just a long line of that. I want to see a lot more versatility in coaches."
Kaitlyn Hord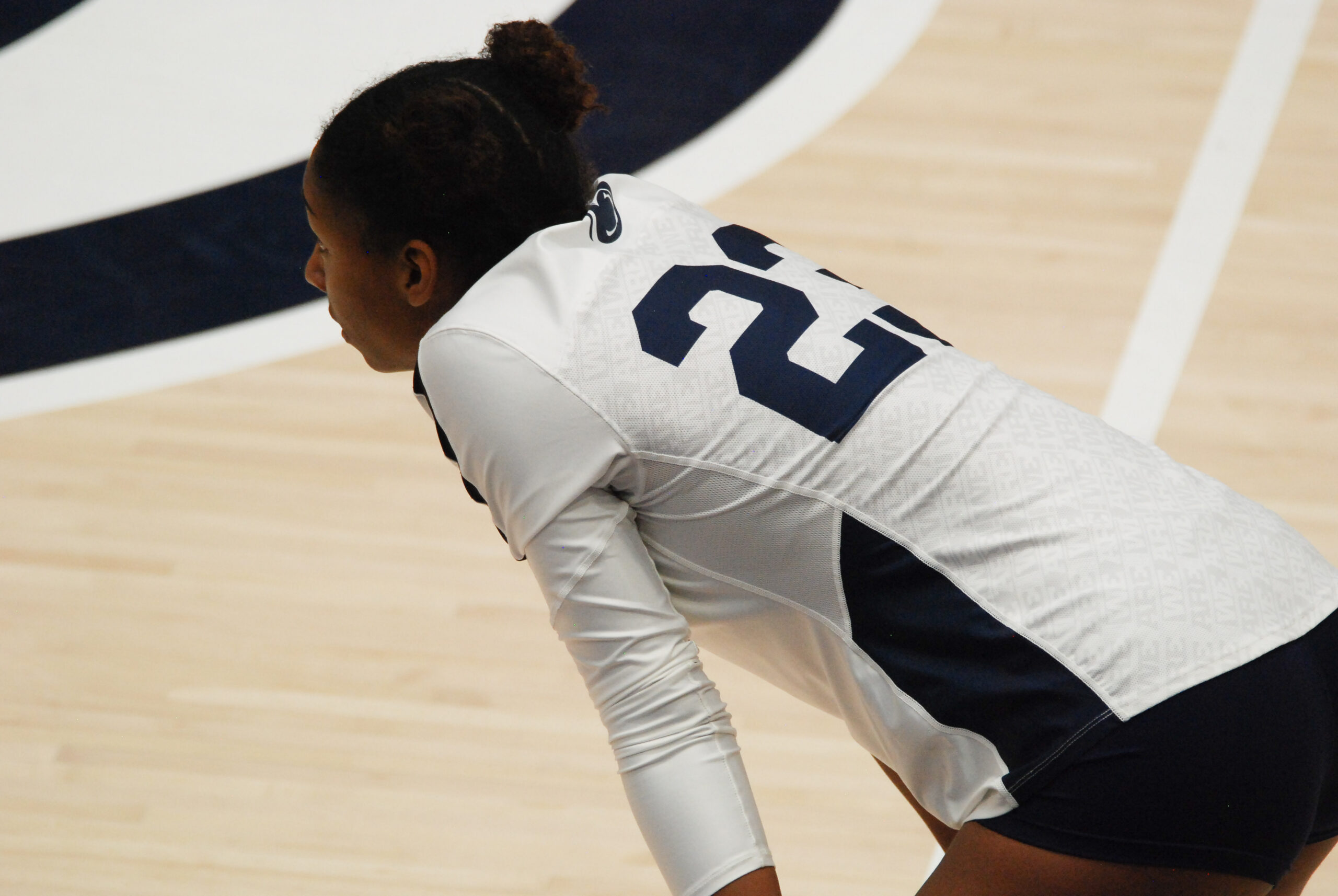 Q: How disappointed were you that the U.S. national team training camp you were invited to was canceled and what were some creative ways you were able to train in the offseason instead?
"I was really disappointed. That was something I was extremely excited for, not only just to play against the Olympic team but also other collegiate athletes who were invited that I don't normally see in the Big Ten season. I was really excited to meet them. I didn't really get to train that much in the offseason until we were invited back to school, just because where I'm from was pretty locked down, so I kind of had to just go outside and hit the ball off the side of my house. Not much I could do, but I was able to get a few touches."
Q: What stood out to you from performances of younger players like Annie Cate and Maddy last weekend?
"Those girls are awesome on and off the court. I love their energy. Maddy is like a little fireball. She's very outgoing and she really helps you be confident, because you know she's always there to back you up. She's loud. Annie Cate, the same thing. We're still working on some nicknames for those guys, but they're just awesome. I love that they were able to come in and show everyone exactly who they are, because I think they did a great job. I'm definitely going to have to respect them from here on out."
Q: What are some differences between Emily Oerther and Gabby Blossom and how do you adjust when a different setter is out there?
"I would say the biggest difference is just the height. Emily's slightly taller than Gabby. It's definitely a change because they do have very different setting styles, but we were able to get in the gym and work on some things and just keep a positive attitude, because it's something different. Not getting frustrated and all that. Emily did a great job. I was very proud of her for coming in and showing exactly what she's capable of, which is some great things. Very happy with her performance."
Q: What were your emotions when you finally took the court?
"I was super excited. My adrenaline was going a little bit too crazy. It felt like I drank eight cups of coffee or something. I was just really excited to get back on the court and play somebody other than our team, because that's all we've been doing for the past however many months is just scrimmaging each other. It was definitely different not having the fans in Rec Hall, because that's one of the many great things about playing in Rec Hall is the fans, but I think our team did a really good job of creating our own energy. I was just really happy to be back out on the court."
Q: What can you tell us about Allie Holland?
"Allie is a monster blocker. She's huge. She's very confident in her skills, which is something great coming from a freshman. Hopefully we'll get to see her soon. She's a very good blocker."
Q: What's the biggest adjustment you think the team will need to make as it heads into this series with Minnesota?
"I think we just have to be ready for [Stephanie] Samedy. She's pretty insane. We just have to be ready for that right-side attack, because that's something you don't really see from teams. You see a lot of teams are very heavy on the outside, so this is kind of the reverse of what we are used to. Just getting ready for her and everything she's capable of."
Q: How quickly do you guys have to improve in this new season where you're going from zero to 100 right away?
"It's definitely a lot different than a regular season where we would have a preseason and get to work out some kinks, play some teams we have a little more information on, but I think that's one thing I do kind of like about when we were gone. No team really knows what we're doing, while we have a lot of information on a lot of other teams. It's definitely zero to 100, but we've got a lot of great players, and I know we're capable of just about anything. I'm very excited for what the future holds."
Q: What's something you think the volleyball community could do to help grow the game among young Black girls?
"I think it's doing a great job. I know where I'm coming from, my home state [of Kentucky], there are a lot of Black girls in the community moving toward volleyball. I honestly don't really know. I think just advertising that the sport is for everyone and just showing how much fun you can have with a team of players."
Q: What stands out about Anastasiya Kudryashova and what's her personality like?
"I haven't met many Russian people, but Nas is very…she's funny. She's a different breed, that's for sure. One thing I like about her game is she's so high. She just hits high hands all day and that's something that you can't really teach. It just comes with the frame you're given. She's tall, but she's got very good control over her body, like we were able to see this past weekend. She can pass, she can serve, so she's not just a big kid. She can do all the skills as well, which is really impressive, so I'm also very excited to see what the future holds for her."