Penn State women's volleyball head coach Russ Rose and junior captain Jonni Parker met with the media Tuesday on Zoom before a weekend home series against Rutgers.
Rose and Parker discussed the upcoming series against the Scarlet Knights this Friday and Saturday at Rec Hall, as well as a handful of other topics, including the new Happy Volley Academy club program in town.
Rose's opening statement:
"If I were to assess last week, I would say we played bad, better, and then better in each of the three matches, so I think that was probably how I assessed last week's performances. It's a conference that if you don't play well, you should never expect to win. I didn't think we did the things we needed to do. I was surprised by our effort in certainly the first match. We had opportunities to win in the second match, and found a way to win in the third match. It's a season that provides a lot of learning opportunities for the players as well as the coaches."
Q: What stands out to you about Rutgers and setter Inna Balyko?
"I think she's like a number of the Rutgers players. The European players who come in are always a couple of things. No. 1, they're always really good students academically, because the education that they receive before they come to the U.S. is really good in the sciences and in math, so when they come to school in the U.S., maybe they have some challenges with English, but certainly not academically. As a volleyball player, she's a very skilled setter. She's I think maybe the best blocking setter in the conference. I think she's done a real nice job for the years that she's been there. She's got a really good serve."
Q: How would you assess Penn State's serving so far this season?
"I think our serving has been hot and cold. We've had some matches that have been just surprisingly bad. Against Purdue on Friday night, a team that had only been aced 23 times previously, we aced them 10 times. In some earlier matches, we had rotations where we would miss three serves in a row. When players can't keep the ball in the court, it really kind of hurts your chances for success. Some of it, there are some physical limitations for the people who want to serve the spin serve, but AC has certainly picked up her spin serve a little bit, so that's been good. I thought some of the back-row players who came in Friday night, that was really disappointing that in the first two games, we lost close games. We were winning in the 20s and they came in and made errors. That kind of hurt our chances for success. It's not like they ever do it intentionally and I always kind of counter with, 'Hey, I wouldn't put them in if I didn't think that they could do it.' If people practice something every day, I think you should feel confident and skilled in what you're doing, but sometimes people are their own worst enemies, so they have to work on getting those skills together themselves. I think our serving has been okay. I don't think it's great. It certainly hasn't been our strongest trait. I'm not sure anything would be our strongest trait, but we've had opportunities to win. If you can serve tough and serve well, you always have opportunities."
Q: Going into the Rutgers series this weekend, how do you make sure you don't overlook them or take this week to prepare for granted?
"I think the best way to do it would be as I did, and that is to just tell the team that last week, [Rutgers] was serving at 12-7 in the fifth game against Ohio State three days before we played Ohio State and we weren't. Every team is good. They went four games with Nebraska. They're hitting .30 to .40 points higher than they did last year. They have a new staff. They're a good team. They're primarily made up of international players. That's been kind of a standard thing since they joined the Big Ten. There are a couple of new players I've never seen play, but I certainly can watch video, and I watched video of their Ohio State match. They had a way better chance to beat Ohio State in the fifth game than we did."
Q: What are your thoughts on your son Chris Rose and Emily Sciorra's involvement with Happy Volley Academy?
"There are a lot of people involved with the Happy Volley Academy. I'm glad that there's a club volleyball program in the State College area. A lot of our players over the years have been involved in the club scene. When Chris left to work out at the center, part of the allure was to try and start a club program, and hopefully get a boys' program as well. When he was young playing, there was a really strong boys' program here in Centre County that helped generate players that allowed them to compete and win a state championship [at State College Area High School]. I think it's great. Last year, we had three or four of my players, both of my managers, and we've had a lot of staff people involved with the local club scene for a number of years. I'm glad that Chris is involved. I've had a number of people tell me that they're happy with the program. I'm proud to hear that that's going on."
Q: Now that they've signed with the program, what can you tell us about your 2021 recruiting class?
"I really don't want to talk about those players when I'm in the middle of this season. I think it's kind of inappropriate to talk about the future when I've got to try and take care of the present, if you don't mind."
Q: How important is it to take care of the non-obvious things in order to be successful?
"To me, I think all coaches would probably have their opinion on certain things. This year has been so filled with dealing with the unknown. You don't know if you're going to play. You don't know who's going to be healthy to play. You don't know how the players are going to be returning to what was previously their healthy performance level, so that, to me, has probably been the biggest challenge of this season is the day-to-day basis, kind of trying to assess the players and trying to keep everything in perspective. If you've coached some people and you know what their level of play is when they're at their peak, and they're not able to play at that level, you have to be patient with the fact that it's not intentional. They're not doing it because they're distracted. It's just taking time. I think everybody who's had some challenges with health-related matters can understand that. That's probably the thing that has the biggest question mark in how I look at things. Volleyball is always, in my mind, a game of errors. Going back to that second question, when you talk about errors in serving, I think that's the most important thing. There are some players who I think should be serving aggressively, and then there are some players who should be serving tactically, and there are some players who should be serving graciously, and be happy that they're having an opportunity to serve. Those people should just keep the ball in play and hope that their parents are there to take a picture of it."
Jonni Parker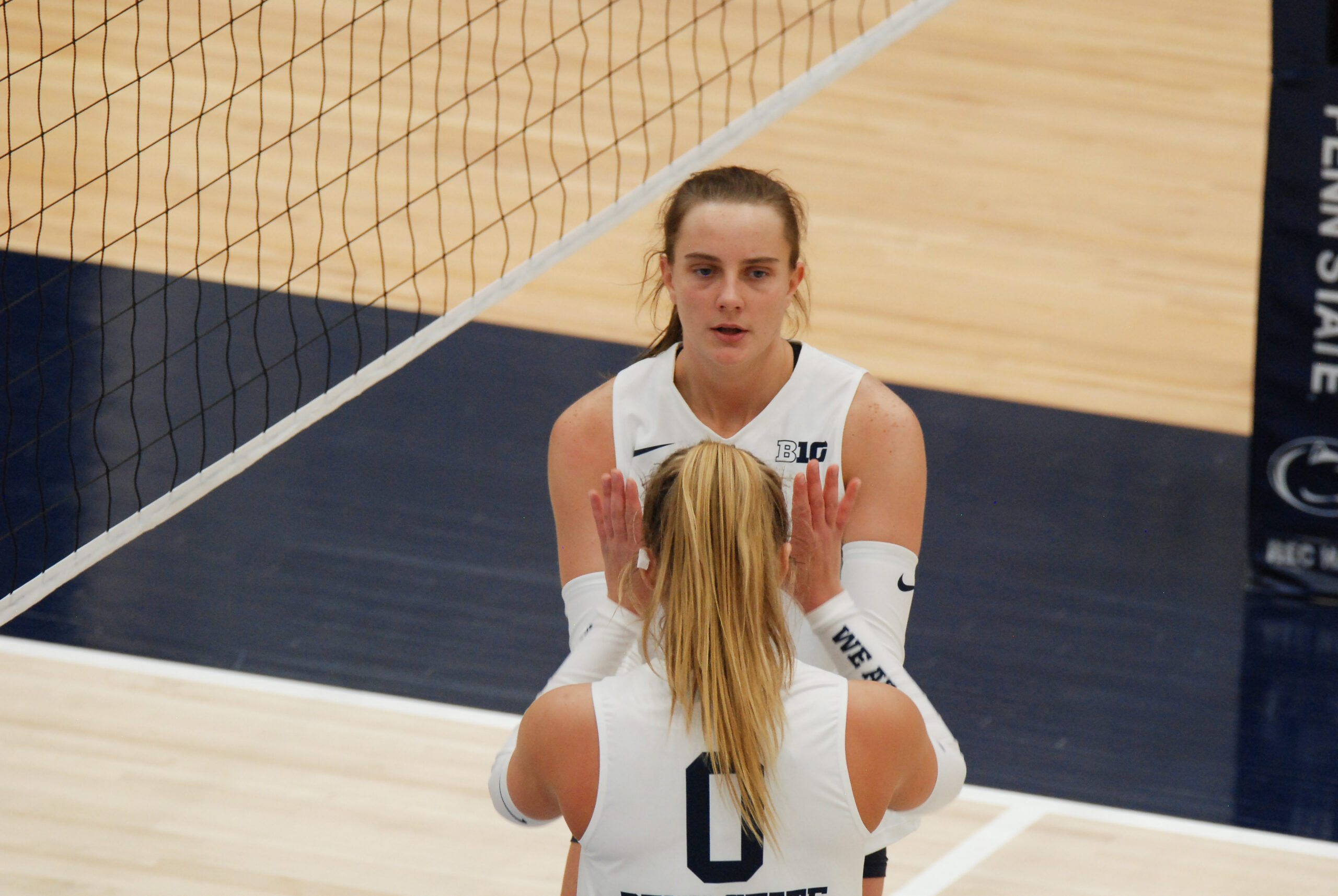 Q: How would you assess Penn State's serving so far this season?
"Right now, I think we can be a little bit more aggressive. I think we're a little hesitant when we go back there behind the serving line. I liked to see this past weekend, AC came out and ripped her topspin. She did really well with that. That's also the high-risk, high-reward type situation, and I think it was a very high reward for us. We need to be a little bit more aggressive behind the serving line. If we can't be aggressive, we need to be a little bit more strategic. We can always be better."
Q: What was Gabby Blossom's message to the team after Friday's loss to Purdue and how important was it to get a win Saturday?
"Gabby's message to the team I think, in particular, was, 'Yes, we lost. It is what it is, but we need to learn from it.' Let's use the tools that we can and what we learned from Friday night and translate it to Saturday night. Saturday, it was a must-win kind of situation, where we just needed to get down and do whatever we needed to do in order to win. I think everybody came together and we had a collective win. That was really what we needed to see."
Q: What's been the biggest surprise for you so far this season?
"So far, it's kind of like our inconsistencies. Yeah, we haven't played another team for a while, when we first started the season, but we've been playing for the past year together, and we should be a little bit more consistent on our side of the net. I think that's where we're struggling, in particular, right now. I think that's what needs to improve the most is our side of the net, what we can control in order to play our game and Penn State volleyball."
Q: What are some of your hobbies or passions when you're not playing volleyball?
"Besides volleyball, I would say just friends and family, of course. I enjoy the outdoors, camping, being outside. Another would be art. I like anything creative — drawing, stuff like that. When I can, reading outside of school is always something I like to do."
Q: Now that the team has played a good handful of matches without fans, has it gotten any easier or does it make you miss them even more?
"Honestly, it kind of makes me miss them all the more. By now, you're used to it in a sense, but it sucks even more. It makes me want them back even more each time we play. I want fans here. I want the atmosphere back. I want that energy back in Rec Hall, in particular. There's no place like it. Being in that atmosphere is a different feeling. You miss that. Each time we're there, it grows and grows. You long for it."
Q: Do you ever catch up with former teammates who are playing professionally like Kendall White, Tori Gorrell, and Nia Reed? What are those conversations like?
"Honestly, it might be weird, but sometimes it's nothing to do with volleyball. I had great relationships with some of those girls and it's kind of just like a check-in, like, 'How are you? How's life? How are you doing?' And then when it comes to volleyball, it's like, 'You're doing great! How are things different? How can that translate to what I'm doing here?' It's checking in to see how the team's doing here in State College and just keep your head up and giving tips and tricks for us here and bouncing ideas off of each other, but most of the time, it's more of a life check-in than volleyball, you would say."
Q: Has playing alongside AC Fitzpatrick this season helped take some pressure off of being a hitter at the net?
"Oh, for sure. I think AC has been a very impressive player so far this season. She's aggressive and she knows what to do when it's needed. I think for her role on the team, she's fulfilling it well. It definitely helps take the pressure off other hitters. If one hitter's not doing well, she's there to back up and we can help each other out, especially.
Q: What advice do you have for future recruits on what it takes to play for Penn State?
"What it takes to play for Penn State is you've got to have that all-out mentality. You've got to be able to grind no matter what and you've got to be on top of your game physically and mentally and do what it takes. Penn State volleyball is a team you look up to because of the legacy, and you want to improve that legacy every year. I hope that for the next group coming in, they see, 'Oh, I want to be like that. I want to leave the same legacy behind as it was before.'"
Q: Have you had a chance to catch any of the Athletes Unlimited matches and what's it like to have a pro volleyball league in this country now?
"I think it's awesome. It's amazing to watch and learn from them, because some of the players I might have played against my freshman year. It's like trying to see how their game has improved and how they're translating it into the pros. It's a great learning opportunity for anyone, especially. I think it's awesome to watch. For it to be the first time in our country, I think it's awesome. They're setting that image — a great representation for women's volleyball. I love it."