Penn State women's volleyball head coach Russ Rose and junior captain Jonni Parker met with the media Tuesday afternoon on Zoom ahead of the program's 40th straight appearance in the NCAA tournament.
The Nittany Lions received a first-round bye after earning the No. 13 overall seed in this spring's 48-team field and will play the winner of Rice and North Carolina A&T on April 15. Rose and Parker discussed a handful of topics during their respective press conferences.
Russ Rose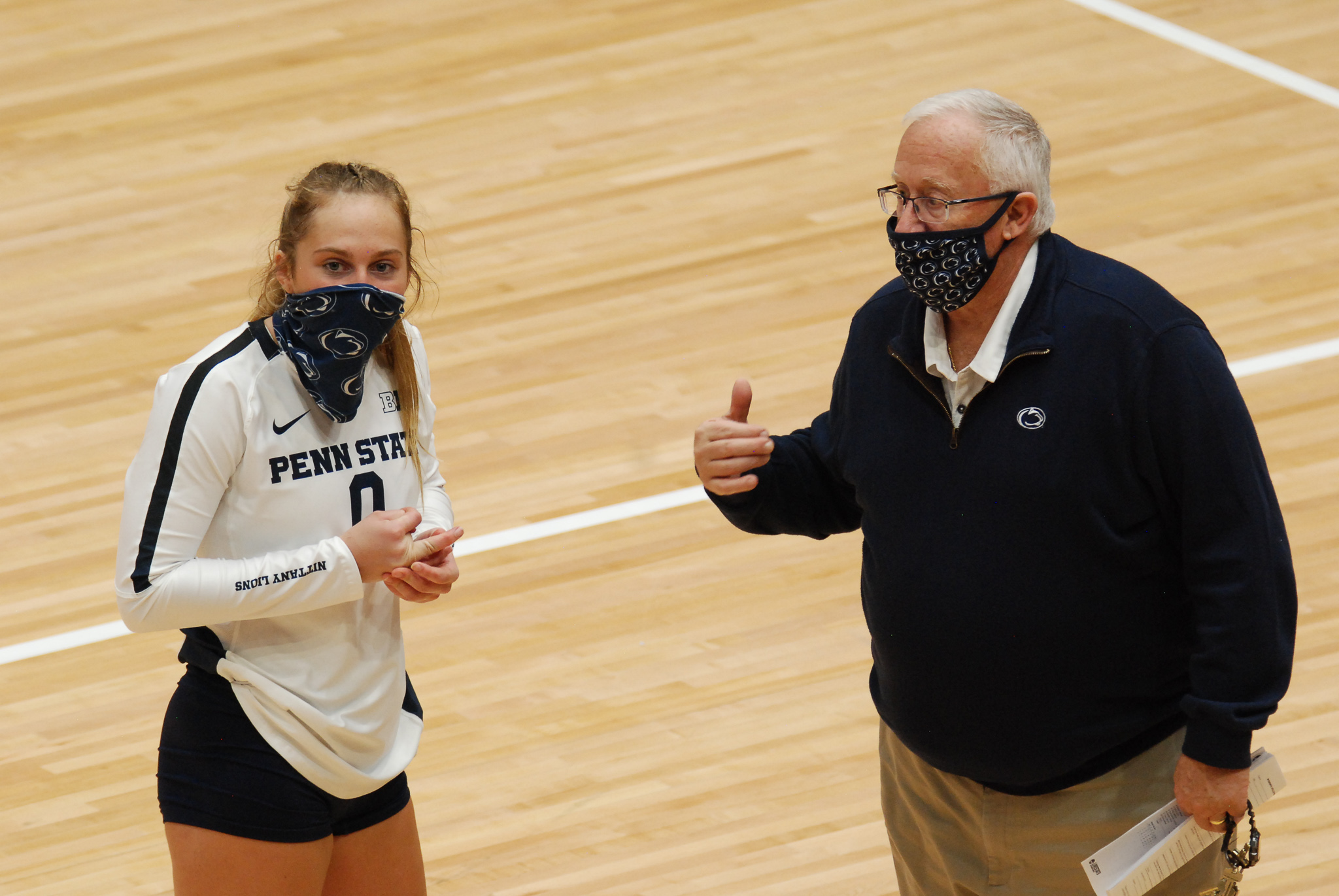 Q: What is the team's attitude heading into the NCAA tournament next week?
"Well, I mean, you'll have a chance to talk with some of the players. They'll probably have a better handle on their thoughts on it. I would say, from a coaching standpoint, it's always an exciting opportunity for all the teams selected to wipe the slate clean and go out and play and do the best you can. That's always the thing that you're looking for in a one-and-done sort of tournament. After you watched the men's basketball tournament wrap up last night, I'm sure there were a lot of people who were surprised — maybe not — but I'm sure that the gamblers maybe didn't have Baylor winning, but Baylor most certainly did."
Q: What are your thoughts on the unique nature of this year's tournament with the 48-team field and all the matches being played in Omaha?
"The whole year has been such a unique experience — starting in August and not really having a definitive plan and then having the season postponed and rescheduled to the spring and then having, in our case, a number of matches scheduled. We were ready to go on a couple of those canceled weekends where the matches were canceled on gameday. To lose the last two weekends of the year against two of the top teams in the country, two of the top seeds, it certainly has been challenging. So now, to go to an event like this, certainly for the players it's probably reminiscent of the club volleyball days that they used to be involved in. For a lot of the veteran coaches, it would be more reminiscent of the AIW days, where all of the teams participating in the championships would all be in one location, but that was probably 1980 or something like that, so it's a long way away. Not very many coaches, I would think, can talk about that maybe like I could."
Q: After missing out on the last few weeks of the regular season, has that changed how you're preparing or planning to coach the team heading into the tournament?
"I thought we were playing really well heading into the Wisconsin weekend, then with the COVID, losing a couple of kids and a staff person, that certainly jammed us up. Losing those matches and then losing the next week going to Nebraska, I think it was the right decision from a safety standpoint of not risking either us bringing any potential positives into their environment, as well as making sure that we gave our players ample time to continue to be negative through the entire testing process. We're just kind of restarting trying to practice again as a group to get back to where we were. There's no flipping a switch. I think you could just see that with a couple of teams, even in our conference, that as the virus went through their program, players maybe were playing, and then when they came back, they really just weren't anywhere near where they were. I know when we started the season, we started without half of our roster. It just really took a long time for some of those players to get together. Again, I thought we were just starting to play well heading into Wisconsin, which was the last two weeks of the year. That's how long it took. It took nine weekends for us to kind of feel like we were getting better."
Q: What were your biggest takeaways or lessons learned as an assistant coach at Nebraska before coming to Penn State?
"That's a long time ago. My experience at Nebraska in 1977-78, I was also getting my master's degree when I was there. They asked me if I wanted to be the head coach and I wanted to get my degree, because when I had graduated two years earlier, I was having a hard time because I didn't have a master's degree. I said, 'Hey, I'll work with whoever you hire.' I worked with Terry Pettit for a year and a half and that was a good experience. I thought Terry did an exceptional job with building the program and John [Cook] has done an even greater job with building on the work that Terry did and laying the foundation. When I was there, it was a little different scenario. We had a large roster. We had two separate teams traveling. Terry would take one team and go to a tournament and I would take the other players and play in another tournament against Division I teams. We would come back together and [see] who played well. I would get the players who didn't play so well maybe on the weekend that he had and the players who played well with our group. It was a real interesting environment, but I enjoyed my time at Nebraska. It wasn't nearly the big program that it is now. It's totally different than it was back then, but it was still successful back then. Pat Sullivan was the coach before Terry Pettit was the coach. She had done a really fine job and left some really talented players there. There were then and there are now. The players in Nebraska are very, very loyal to attending the University of Nebraska. I really enjoyed my time there. I spent some time with some really good coaches while I was there in some of the other programs and enjoyed my time and got my degree. I came to Penn State after almost going to BYU to get my doctorate."
Q: Penn State is now the only team to appear in every NCAA tournament dating back to 1981. What does that mean to you to have Penn State represent so well on the national stage?
"It means there have been a lot of individuals through all of those years who have made great contributions to the program. It's been a lot of talented players, a lot of staff members who have worked to help shape and guide the program, a lot of administrators who have allowed us to work with the program. We were an independent, we were in the Atlantic 10 prior to that, then we elected to go with the NCAA when they offered championships. The first year that they started offering championships, I thought we had a team that could have won the national championship if we would have stayed in AIW, even though we were funded at about 50 percent of what the other teams were. I think it's a reflection of so many factors. I maybe am a common denominator, because I've been here, but I haven't served a ball in competition. I think I've had an impact, but I would like to pass it off to all the players who have played and all the people who have contributed in so many other ways, and hope that they take great pride in all the success of the program. I'm more interested in building the program and competing for the national championships. Getting into the tournament is always wonderful. That gives you a chance. I used to say to people, I was responsible for the preseason scheduling. When we joined the Big Ten, the Big Ten was responsible for the Big Ten scheduling. The NCAA was responsible for the NCAA format and how the bracketing always works out. I would always take responsibility for the part that I was responsible for, but all of them really played major parts in developing a program and giving you a chance to be successful. You can never be successful if your school doesn't support the program. It's impossible to sustain it. It's impossible to really try to build something if you're always having people at your own school tell you no."
Q: Where has Anastasiya Kudryashova improved the most throughout the season?
"I think her improvement is just kind of trying to refine some of the things that we do in our program. She's a really well-skilled volleyball player from when she was a member of the youth program when she was in Russia. Certainly I think she was getting good training when she was at Rutgers. I think it's just every time you go to a different program and play with different people, you have to kind of start over. There are always different expectations and maybe the nomenclature is a little bit different, so I think all of those things contribute to where you start and where you pick up and things like that. I think Nasta has had some great growth spurts. She's had to change positions a couple of times. I think she's played right-side and middle and we're trying to have her play left-side here. Again, the skill set that she really has she had from her development as a youth player in her native country."
Jonni Parker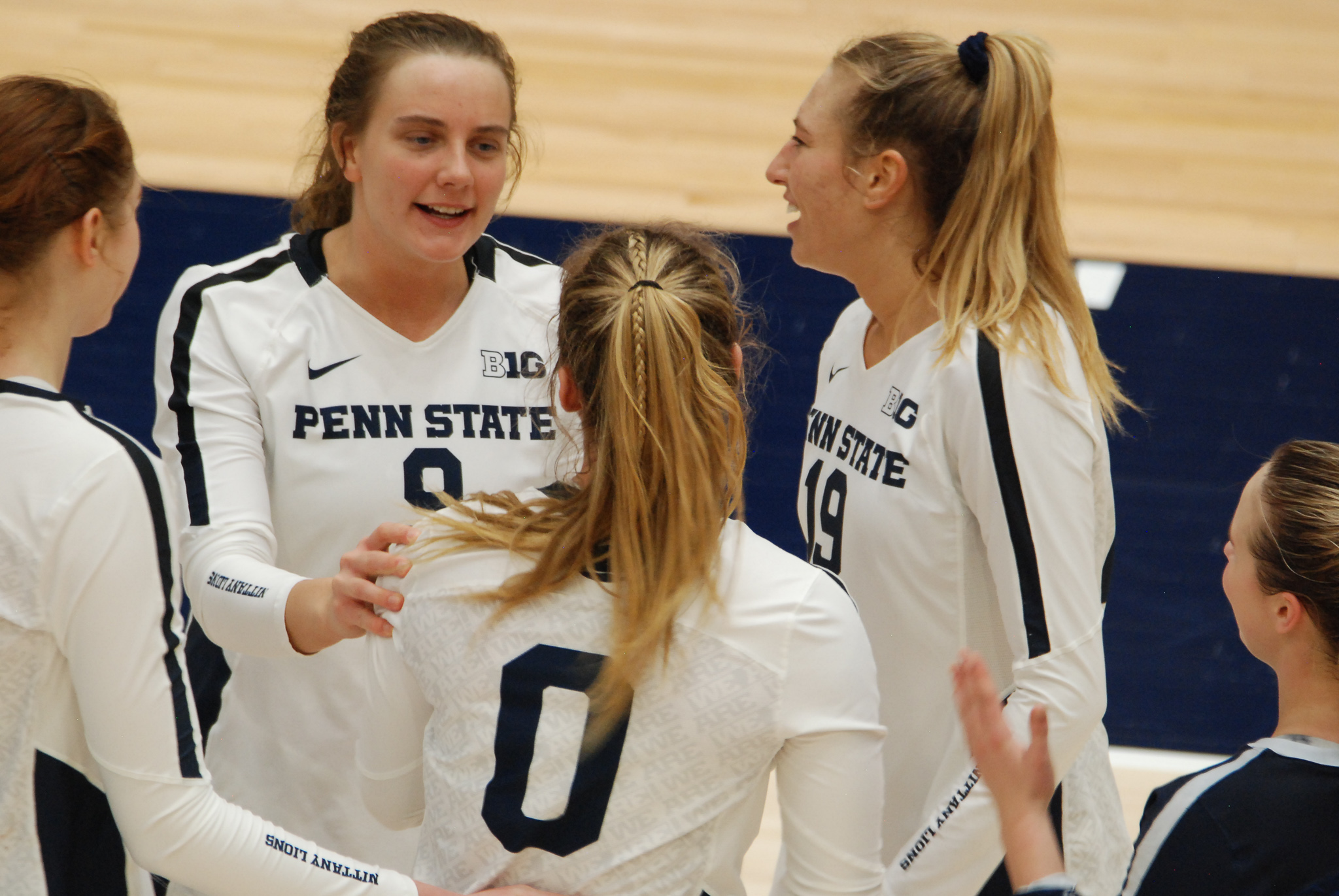 Q: Getting the No. 13 seed in the NCAA tournament, how's the locker room feeling heading into it?
"We're excited. It's a great opportunity going into the postseason. I think right now we're in the gym focusing on us and what we can get better at as a team. We're excited to get after it next week. It's a great opportunity for us to show what we can do."
Q: What advice do you have for the freshmen on playing in the NCAA tournament?
"It's hard to say, but you're going to be nervous and excited going into play. Have confidence and go out there and play volleyball, because you know how to play. Just go out there and if you make a mistake, just let it go, because volleyball is a game of mistakes. I think the most important thing is to have the confidence to be the player who you are and do your role for the team. I think that's going to be most helpful for them."
Q: How's the team preparing to begin the tournament after not playing since March 20?

"Yeah, it will be a while, but right now we're focusing on us and what we can take care of on our side of the net, which is really important in our game, whether it's mentally or physically. We're trying to take care of what we can do best and kind of tweak and spend time on the things that we sometimes don't have time to work on. Right now, we're going to fine-tune some things and see what else we can do."
Q: What kind of sacrifices have you and your teammates had to make in order to pull this season off?
"I mean, not just me and my teammates, but the coaches, the people involved, staff, teams across the country. This year has definitely been one that no one has expected to ever happen in their life. I think the sacrifices we've made are incredible, especially the social and emotional aspect. It's a big toll it takes on you. Sometimes it's not seeing your family, not being able to spend time with your friends on campus or stuff like that. You just have to be extra careful and make sure you spend that time on your mental health as well, because right now, with so many unpredictable things that are going to occur, you just have to make sure you take care of yourself the best you can."
Q: Do you think it will be tough playing the tournament in Nebraska rather than beginning it with a regional at Penn State like you have the past few years?
"I think it will be a little tough at first, but right now everybody is on the road at a neutral site, so that also plays a key factor into it. Everybody is kind of in those shoes and just see what we can bring to the floor."
Q: Can you take us through your serve routine and how important it is to be consistent about things like that?
"Serving is the one part of the game you can solely control yourself. It's important to have that routine when you go back there, but also have the confidence to go back there behind the line and be aggressive. For myself personally, it's go back behind the line and have the confidence to go up and rip it. If there are situations where I can't necessarily do that, it's, 'Where can I place this ball in order for my team to do what we can do on this side of the court?' I think that's very important for everybody to be able to go back there with confidence and see what they can do."
Q: Penn State is now the only team to appear in every NCAA tournament so far. What does it mean to you to play for a program with such a rich postseason history?
"It's definitely hard to explain, because the legacy that Penn State volleyball has is unbelievable. That gives so much credit to the alumnae and everybody who came before us. Now, we just have that job to continue it. It's a great opportunity and it's something that we're blessed to be able to do as a Penn State volleyball player is to continue that legacy and tradition of this program. I think that's really cool to be able to say I'm a part of."
Q: What stands out to you about Anastasiya?
"Nasta, she's a great player. She has great intelligence and IQ about the game. She's a very well-rounded player and versatile. She passes well and does great things for us across the net, blocking and hitting-wise."
Q: What is your favorite part about the tournament and postseason play in general? What do you look forward to the most?
"Actually, I kind of talked about this recently, especially with March Madness going on and stuff like that is it's anybody's game now. With that one-and-done part of the tournament, you've got to play every point like it's the last. Every point matters. You've got to play with that mentality. I think that's the cool thing about the tournament is you see these teams that you don't normally see, but their grind and their effort is also taken to another level once you get into the tournament. Every game should be treated like a championship match, and that's what it's going to be. I'm actually really excited to see the tournament and what it brings this year."
Q: How does your experience at Penn State so far compare to your expectations before college?
"It's outranked them all. I couldn't imagine being where I am today, especially before college. I have very many people to thank for where I am today, especially at Penn State with the opportunities on and off the court. I wouldn't be the person who I am today if it weren't for the opportunities and chances I've gotten here at Penn State, whether it's through academics, school, or things like being able to do the Silent Set [against Michigan State in 2019] with programs like Gallaudet University. The opportunities that I've had to build my platform and stuff like that has surpassed my expectations tenfold."