Penn State women's volleyball held its 15th weekly media availability of the 2021 season Tuesday before the program plays in its 41st NCAA tournament Friday at 4 p.m. against Towson at the Petersen Events Center on Pitt's campus.
Russ Rose and senior setter Gabby Blossom fielded questions ahead of Penn State's first-round matchup against the Tigers, who lost to the Nittany Lions in four sets at Rec Hall in the second round in 2019. Towson is 26-4 after being named CAA conference champions for the third straight season.
Rose discussed former Penn State player and Towson assistant coach Megan Shifflett Bachmann and his thoughts on the Nittany Lions not hosting opening weekend, while Blossom touched on the team's excitement for the postseason and how she wants Penn State fans to remember her as a player.
Russ Rose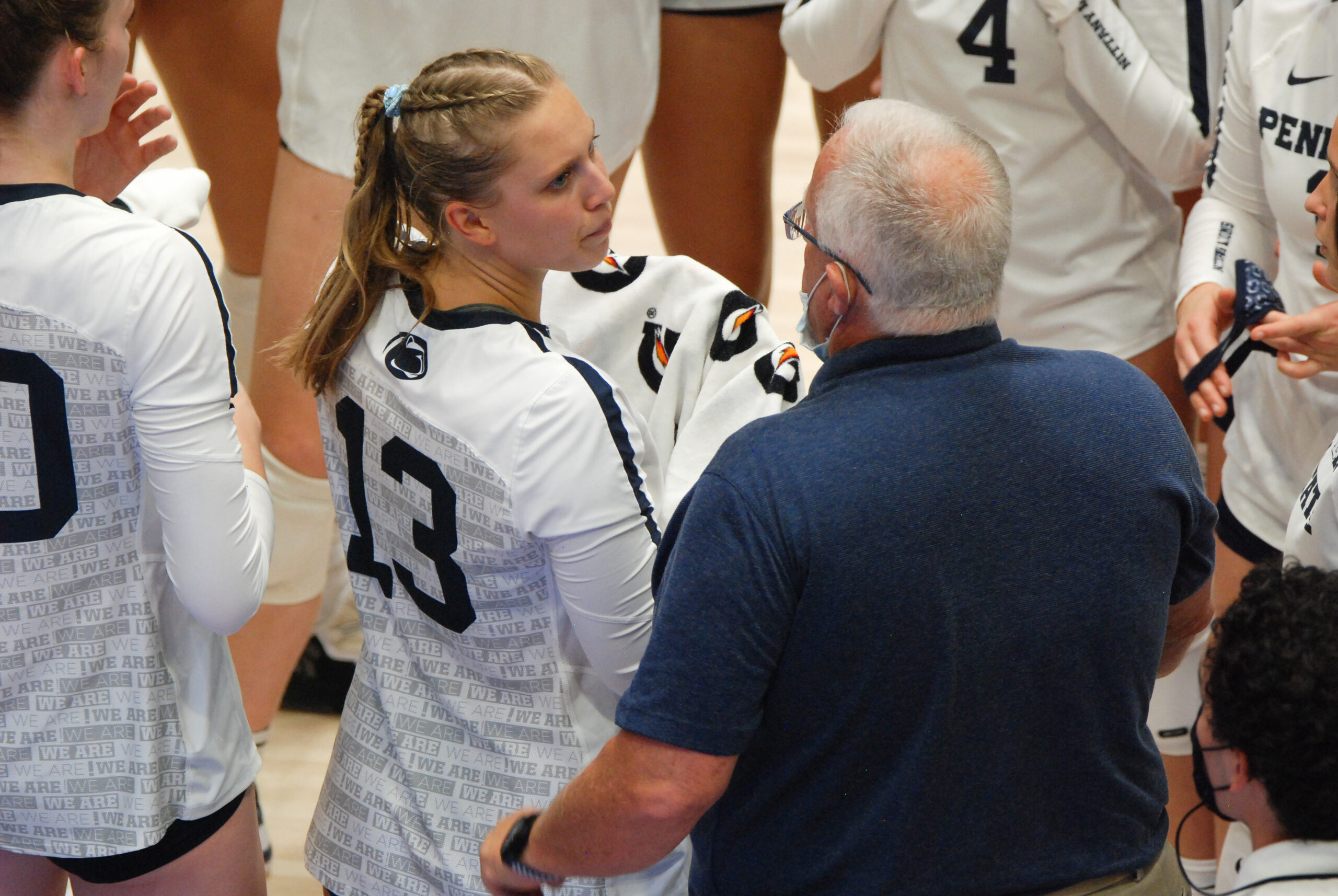 What are your thoughts on how the bracket shook out and not being able to host this weekend?
"Well, I mean, I think not hosting was based on some losses that we had that impacted our RPI. That's the nature of how the tournament is seeded. RPI has a great deal of impact on that, and winning and losing is going to always be your No. 1 factor when you're looking at things. We weren't going to be hosting all of the matches in State College. It's been a long time since we didn't play at home on the first weekend, but it's always how you play, not necessarily who you play and where you play. But certainly there have always been great benefits for teams that are hosting."
What do you recall about playing Towson in 2019?
"I thought they played really hard and I thought they had really good attackers. Megan [Shifflett Bachmann] is a former player. Hutch (assistant coach Terry Hutchinson) is a guy I've known for a long time. You know the players are going to be physical and well-trained. They had a season that allowed them to be their conference's champions. There are always things that teams bring to the table as a conference champion. Obviously, they've only lost four matches all year. Winning breeds winning. We'll have to play very well."
What do you remember about having Megan as a player?
"Well, I not only had Megan as a player, I had her mother as a player. She was quick and she had a great volleyball IQ as a daughter of a coach. She understood working hard and being a great teammate and has had a real nice career as a coach."
Are you seeing the type of leadership you would like from your seniors at this point in the season?
"You know, the challenge is we have so many different players. Some of them have been here for a few years, some of them are new. I think, when you look at some leadership, that clearly some of it rests more on the returning players — Gabby [Blossom], Jonni [Parker], Jenna [Hampton], and Kaitlyn [Hord] — those people have a little more responsibilities on things because they've been here for a number of years."
What would you like to see from your outside hitters heading into the tournament?
"Well, nobody wins in the tournament without having good production from your outsides. Everybody is going to have to have good performances. Certainly, Jonni has been the most consistent of the outside hitters throughout the year, but you need production from all three of the people who are on the floor, as well as a good presence in the middle."
What's your relationship like with Dan Fisher? What are your thoughts on Pitt's season?
"I've known him for a few years since he came out to Pitt. For a couple of years, we would play in the springtime. He's done a terrific job. They've been conference champion for multiple years. This year, they've been a top-four team all year. They've had some great wins. I'm just starting to watch video on them, but I'm familiar with a lot of their players, because we scrimmaged them when they were young, and they've continued to get better. Fish has done a great job, not just with player development, with recruiting, and keeping the program at a high level of performance."
How important is it to take a step forward from the service line and create some pressure there?
"I think everybody has to understand the importance of serving. Last weekend was another weekend where I didn't think our serving was necessarily very good. We were 3-8 and 1-9 (aces to errors). It's challenging. We don't have the outside hitters to compensate when you're giving the other team a lot of points from the end line."
What are some general things you would like to see the team improve?
"I just think the level of consistency. I think we've been up and down. We've had flashes where we've looked really good and flashes where people get tentative. Certainly, for the 10 weeks we were in conference play, when you're tentative in the Big Ten, you find yourself in a lot of trouble. We were up 2-1 on two of the top teams on the road at Wisconsin and Purdue and didn't have the ability to sustain and close the deal. I think the players know the importance of working to try and get some consistency. They should get excited, because it's the NCAA tournament. There are only 64 teams that are still playing. Everybody has an opportunity to put their regular season behind and get ready to go out and do the best they can."
What are some things you've seen Adanna Rollins improve on throughout the season?
"Adanna has had a little different role with us than she had at Minnesota. I think she's in more of a primary role for us where she's had to increase her offensive production and pass a larger area of the court. She came in, she was really well-skilled, so I think those are probably the areas where she's had to continue to make great strides."
What would you like to see from Gabby Blossom as far as her helping to get the players ready for the tournament?
"I think that's always within her wheelhouse, because she's a fiery young person. I think it's always key for the setter to have their hand on the pulse of the team and get them ready to go. Coaches can only do so much. At some point in time, it's the players. They need to be able to get it done as players."
How important has Jenna Hampton been for you this year?
"Jenna has been important since the time she arrived on campus. She was great in the secondary role in the first two years with Kendall [White] as the libero, and I think she's probably had the most consistent year of all the players in the starting unit."
What are your thoughts on Anjelina Starck's season so far?
"I've been pleased with Anjelina. I think she has a great feel for the game and a great IQ and handles the ball really well. [She's] been on the floor when we've had our best matches."
Do you anticipate a big turnout of Penn State fans in Pittsburgh?
"Yeah, I would think there is going to be. We have some alums over the years who live in Pittsburgh, so I would think that they would probably come out and support the event, but I'm not soliciting attendance and things like that. I've got other things to work on."
Gabby Blossom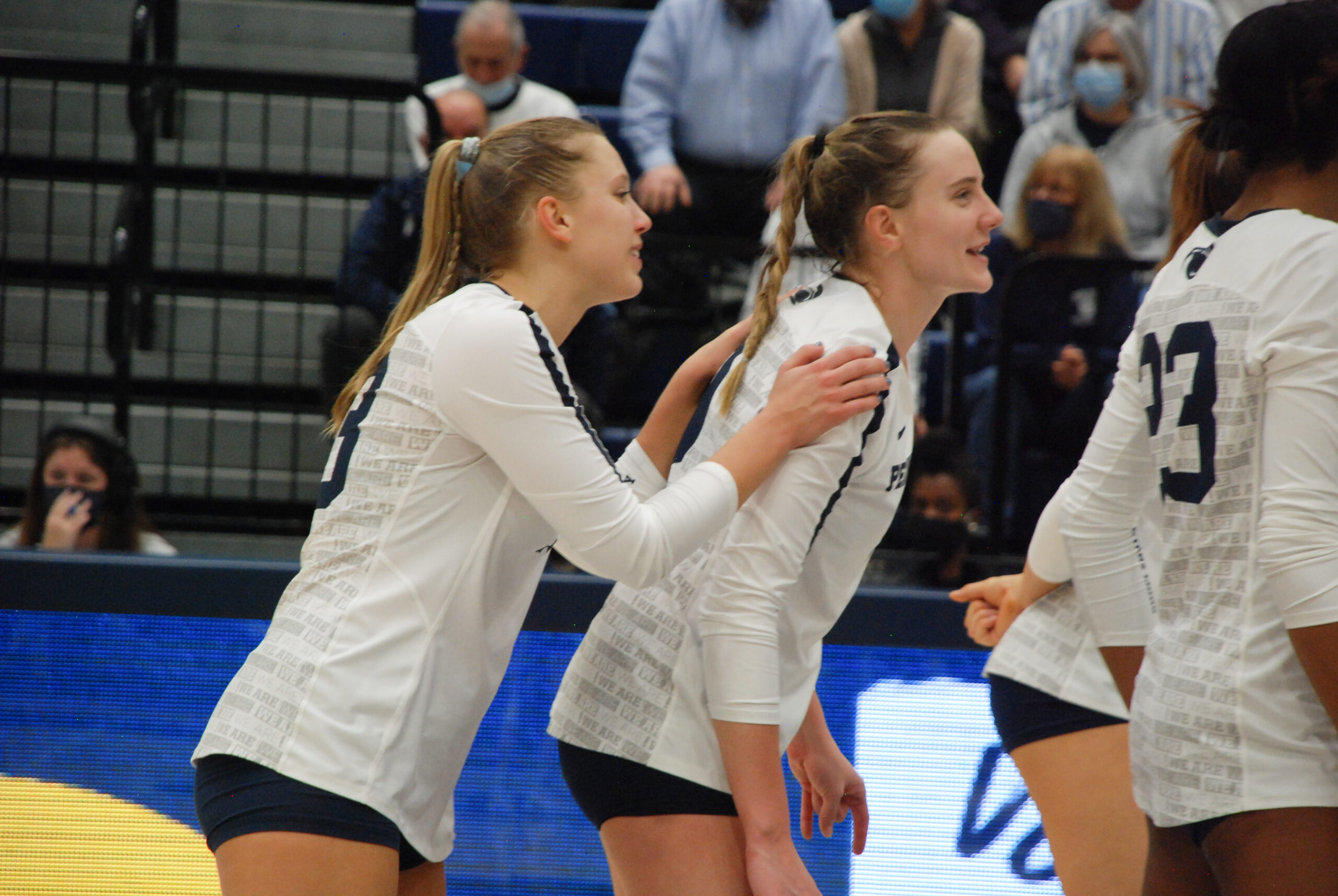 What was your senior night experience like with your parents and your teammates?
"Oh, my gosh, senior night was amazing. I still can't believe I'm a senior. I feel like I was sitting there not that long ago watching all of our seniors do it from all the previous years. It's just so crazy. I'm so lucky that I'm graduating from Penn State and I've gotten to play for the program for so long and I've made the friendships and the memories I have with my teammates. Looking back, it's so surreal thinking about it. I can't believe that just happened and it's over in a sense, but also it's just beginning with the NCAA tournament, so that was super exciting, but now the focus is definitely on the tournament."
What are some things you've told the younger players about the postseason and what to expect?
"I think it's definitely an interesting year, because some of our freshmen last year played in the NCAA tournament, but it was such a different setup and a different feel just because of COVID, because it had to be. Again, we were so lucky we even got to play and have the experience we had during the COVID year. There's so much excitement about it and there always will be, because it's such an amazing opportunity, but just also realizing it's one game at a time. We've been there before. We've been in big-time matches. That's one of the biggest advantages of playing in the Big Ten is we're in front of huge crowds against top-10 opponents. You're kind of used to the pressure of what big-time volleyball is like, so it's just reassuring our underclassmen, 'You've been here before. You're really good. Stay confident and just enjoy the moment.' To think we're already at the NCAA tournament, the season just goes by so fast. Just enjoy the moment, be present, and be excited about it, because for so many of us, the NCAA tournament is what you dream of as a little kid. Being able to live out that dream is just really special."
What do you think being on the road in Pittsburgh will be like instead of being at home?
"I knew this question was going to be asked. Definitely different not hosting and being on the road, but again, that isn't necessarily our decision. It's based on a lot of different factors. I think we're lucky that it's a bus trip, so it's not a super long, hard travel day. I think we're also lucky we get to stay in Pennsylvania, so hopefully we have some really good fans. Pitt will obviously have really great fans, because they really support volleyball and they've had a great season. [We're] just focusing on Towson and how we can prepare for that game Friday night. I think it definitely makes the travel different, because we'll leave tomorrow (Wednesday) instead of practicing at home, so it's just logistically a little bit different, but again, we're just super excited and happy for the opportunity to be in the tournament."
What was your favorite thing about competing against the rest of the Big Ten setters this year and what's your relationship like with some of them?
"I think the Big Ten has such amazing volleyball talent at every position, especially at setter. I think there are so many incredible setters in our conference. It's so crazy just watching them grow in different skills and different things that they do. It's just really cool to watch it. We watch a lot of setters and see what they do and learn from them. Being a setter isn't easy, so you root for setters. You want setters to be really good, because it isn't easy. I think it's just super cool that night in and night out, you're playing a team with a really good setter. You learn so much from watching the game. It's definitely a really cool experience. I can't think of a personal experience I have, but it's super cool watching them grow throughout their careers."
What are some things you and the team have learned throughout this season?
"I think the biggest thing is just figuring out how to grind through the hard parts. This season hasn't been easy. I don't think any team would necessarily say any season is easy. I think there are always hard moments and hard parts and hard losses. It's just sticking together and really working through that and staying confident and having a belief in yourself and in your team that we've got this and we can do it. You lean on each other when times are hard. I think it's so much of just trust our training and trust what we've worked so hard for all year. The NCAA tournament is a whole new opportunity, you know? Anyone can go in and win six games and win it all. It's just really staying present, staying in the moment, and just trusting the training we did all year leading up to that moment."
What are some things you admire about Micha Hancock?
"When I committed [to Penn State] when I was 15, she had been their setter for those four years, so I grew up watching her. I think she competes so hard. You can tell when she plays, she plays so hard and she's such a competitor, but also she's just so nice. She came up and celebrated her gold medal with the Penn State community and was just so nice and so encouraging and gave advice that she had for us and for me, which is so cool. You grow up watching someone and wanting to be like them and for them to come back and just be so nice and so open, it was just such a cool experience. She's amazing. I have loved watching her play and she's doing amazing [in Italy]. For her to win the gold medal is just so cool. I think just how hard she competes and how hard she plays is something that — I watch her and I hope I can be like that."
Do you and your teammates incorporate any cross-training like yoga or running into your routines?
"In different seasons, we do different things. In our offseason, we lift a lot heavier, but it's definitely a structured thing. We have a strength coach who's amazing who guides us through what we should be doing and what's best for our bodies. It's definitely structured, but he's amazing and he's really great with us. I'm sure there's someone who does yoga, I just can't think of it."
What are some things you've learned about taking care of your body that maybe you weren't aware of as a freshman?
"I think when you're a freshman, your body is just young and it can get warmed up right away. You don't need the recovery like you do when you're four years deep into a program. It's just so funny how when you're young, all the upperclassmen are like, 'Oh, you're going to be like a grandma when you're our age.' You're like, 'There's no way. I will not feel that way. My body feels great.' And then you get older and you're like, 'Oh, now I see why they were saying this.' Now, I have to spend time in the warmup and actually get warm and do all the treatment and do all the stretching and all the extra stuff. I think when you're young, you just don't realize how big of a difference that makes in how you feel. I wish I did. I wish I would have listened to them and did all that stuff before now, but we have really amazing people in our program who help us with our recovery and all off that other stuff that goes into making sure your body feels good for a performance."
What's been the best part of working with your outside hitters this season? How have you seen them improve throughout the year?
"I think the relationship between a setter and hitters is just so special. Part of why I love being a setter is because you have that open line of communication. My job and my goal is to give them the best ball possible for them to be in a good position to take the swing they want. We're constantly talking. Our team is so close and we have such great relationships with every person on the team. It's just a really special relationship when you go on the floor. My job is to help them out and their job is to save me a little bit when my sets are going a little crazy. I'm so proud of them. I think they've worked so hard. I can't tell you the amount of times that they're like, 'Hey, can you stay and set me a couple extra balls today?' They just work so hard and they care so much about the team and about being the best they can be for the team, which is a really special dynamic. I'm so proud of them and I'm honored I get to set them the ball. It's a really fun job to have."
What do you want Penn State fans to remember about you as a player?
"Oh, my goodness. I hope Penn State fans know how hard I played. I hope when they think back to me and my time here, they know I played hard every game and I gave everything I had every time I stepped onto the floor."