DigNittany: We're speaking today with Talking Head, who played D1 volleyball and has coached the sport for many years. Today's Q&A is divided into two parts: Takeaways from the Northwestern and Illinois matches, and What to Look for when Penn State takes on Michigan (Wednesday, November 14th at 7:30 p.m. ET) and Northwestern (Saturday, November 17th at 7:00 p.m.).
Before we get into that, let's give a shout-out to current Maryland head coach Adam Hughes, who has Maryland tied for 7th in the B1G (8-8)!  Adam was the Director of Volleyball operations at Penn State before leaving to join Steve Aird, when Aird moved from his assistant coaching position at Penn State to take the head coaching position at Maryland.  Kristin Carpenter, the former Penn Stater, who was the Nittany Lion's setter during the 2010 season and helped lead Penn State to its fourth consecutive national championship, is an assistant to Adam Hughes.
Talking Head: What's going on there is a fun story.  They believe.  I think they've all got a little chip on their shoulders — which is not a bad thing.  Think back to how tumultuous that off-season must have been for the players and for the parents — losing the head coach and having two of their best players transfer — Gia Milana going to Baylor and Samantha Drechsel going to Washington.  That's truly painful, and it's not anyone's fault.  It's just what happens.  I think you can't help but cheer for a team like this.  They're really excited about what they're doing.  It's a nice story nationwide, but certainly in the Big Ten.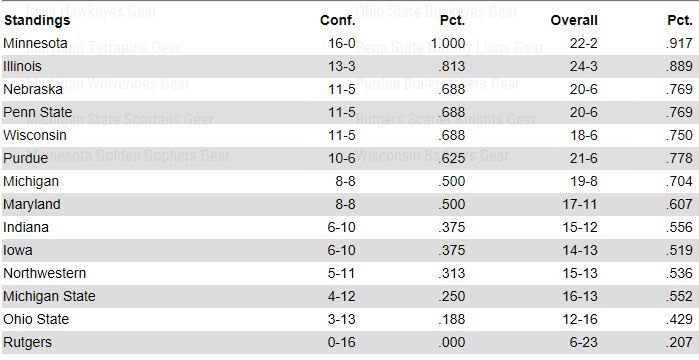 Takeaways from the Northwestern and Illinois Matches
Northwestern

DigNittany: Penn State played a generally solid match against Northwestern, winning all three sets in relatively stress-free fashion.  Although the Nittany Lions only hit .184 in the second set, they held the Wildcats to .107 hitting in that set. Your thoughts?
Talking Head: Looking at Penn State's offense, Jonni Parker had an excellent match, Kaitlyn Hord had some really nice swings, and Taylor Leath was solid.  I'm hoping we'll see more from the middles and Jonni Parker down the stretch.  With Hord and Gray, I think Penn State is developing two "thunder arms" in the middle.  Penn State is known for typically having one offensive middle, with the other middle better at blocking.  Hord and Gray are both developing a sense of feel and timing as hitters, and I think they both are ready to perform consistently at a high level on offense.  And they are both very good blockers [Gray is 4th in the B1G stats with 1.21 blocks/set; Hord is 13th with 0.98 blocks per set].  I am so impressed with Jonni Parker.  She is finding ways to score using a big arsenal of shots — front row and back row.  Nia Reed did her job.  Taylor Leath played well all-around.  And Bryanna did a good job managing the offense.
Defensively, Jonni Parker played really well, and Kendall White, Bryanna Weiskircher and Jenna Hampton were all stalwarts in the back row.  Even though she had a tough night on the attack, Serena Gray tied for the team lead in blocks with three.  Overall, we outscored Northwestern, we had more blocks, we hit for a much higher team percentage, and we won the most important statistic — 3 sets to zero.  It was a good road win.
DigNittany: Let's talk a bit about Taylor Leath.  She takes a lot of criticism from Penn State fans for not being as terminal as Simone Lee or other great Penn State OHs. But there's another line of thought, which someone posted on the DigNittanyVolleyball Forum:
A few things on my mind:

Taylor Leath is a very good volleyball player. Without her ability to play six rotations, we would be in serious trouble.

We are spoiled rotten. The current team is one of the top teams in the nation and seems under-appreciated. The 2008 team was the greatest ever and ultimately placed four starters on the United States world team at the same time! That is not going to happen again. There are an increasing number of competitive teams in the college ranks and they have significantly increased exposure on TV and internet. Additionally, there is far more exposure for the top high school talent and far fewer hidden gems.
Talking Head: I agree with that post — and kudus to that poster.  If we didn't have Taylor Leath, I don't know where we'd be — probably in the middle of the Big Ten pack.  She's that important to our success.  I think we need to be careful of what we expect of her at crunch time.  She's a player you can throw the ball up to a couple of times here and there, but she's not a player you can go to out-of-system all the time.  She's not going to heat up at the end of a game.  She'll be steady, playing six rotations, and give the team a solid all-around performance.  Sometimes she'll produce in crunch situations, but when she does, it's a bonus — it's not to be expected.
Her match against Northwestern is a good measuring stick.  Taylor hit close to .300, with only one attack error.  She had 24 serve receptions (nine more then Kendall White) with only two reception errors.  And that doesn't necessarily mean they were targeting her — she's got long levers, so she takes up a lot of area.  She also was second on the team with six digs, and she had two assists.  All-in-all, a very solid match.  Taylor Leath is integral to the success of the 2018 Penn State team.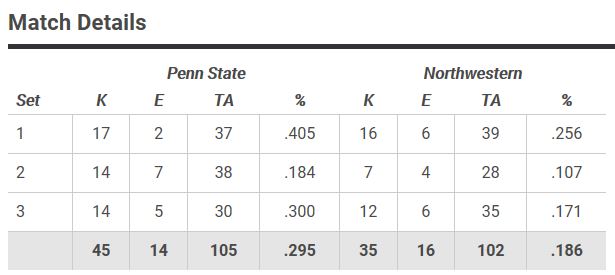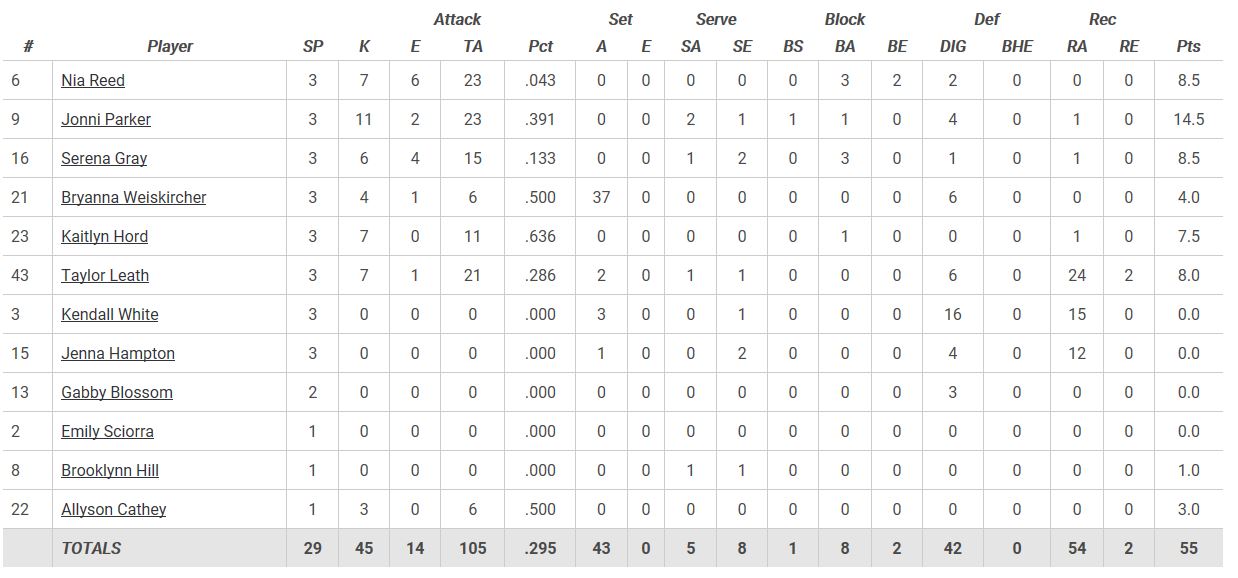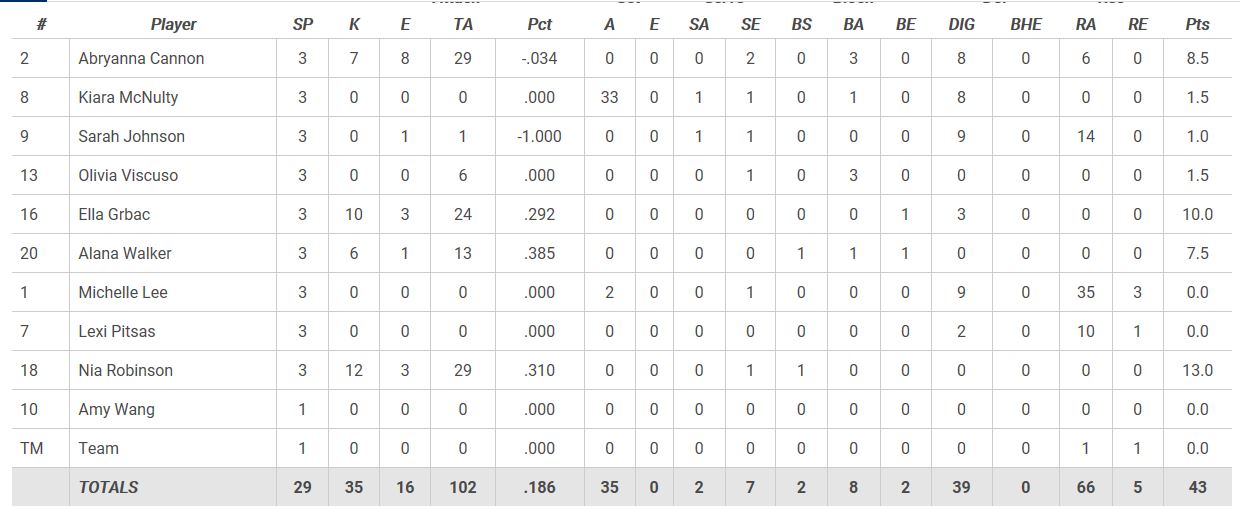 Illinois

DigNittany: The Illinois match was really hard-fought, with a lot of great rallies.  Unfortunately, Penn State came up short in a five-set loss.  Your thoughts?
Talking Head: It was a tremendous defensive match.  Penn State had 175 swings in the match and Illinois had 197!  Penn State had 85 digs and Illinois had 88!  That's a lot of long rallies.  Even though Penn State lost, I have a lot of positive takeaways from the match.  Look at the way Penn State is playing right now: they lost a five-set match to Nebraska — and I think Nebraska will be a Regional team, and we were right in that match, on their home court.  I think this Illinois team is a legit Final Four team — and we had-em, on their home court.  In my opinion they have the best setter in the country in Jordan Poulter, and one of the very top middle blockers in Ali Bastianelli.  And anyone who has been to Huff Hall knows it is a tough, tough place to play.  But give Illinois credit — they never gave up, they took that fifth set, and they won the match.
DigNittany: Jonni Parker had another great night, with 16 kills, 8 digs and 3 blocks. Serena Gray rebounded from her disappointing night against Northwestern to put up 8 kills and hit .500. Nia Reed had 15 kills and Taylor Leath had 13 kills, 9 digs, 3 aces and a block. Bryanna had 51 assists. If Illinois's Jacqueline Quade hadn't ended up going all Sheridan Atkinson on us (29 kills on 73 swings! Ouch!) we might very well have won the match.
Talking Head: I think the way to attack Illinois is from the middle and the rightside, not from the leftside. I wish we had done more of that in the fifth set.  Illinois is too well-trained, to disciplined, too strong when they're blocking with Poulter and their rightside hitter. I think they're one of those teams that just blocks really well against leftside hitters. You want to attack them from the middle.
DigNittany: So what's your crystal ball say about the rest of the season?
Talking Head: Looking at this process of maturation for this very young Penn State team, I think Penn State is coming around.  We had a higher hitting percentage than Illinois, we had more service aces, we had more blocks.  To do that to a legitimate Final Four team on their home court is pretty darn impressive.
I think we'll beat Michigan on Wednesday and Northwestern on Saturday (Senior Night!).  I wouldn't be surprised — I wouldn't guarantee it, but I wouldn't be surprised — if we run the table and put the first Big Ten loss on Minnesota.  If you were looking at the odds, Minnesota definitely would be favored.  But they'll be looking to close out their B1G season undefeated, in a match at Rec Hall, and I think we might pull off a win.
Whether or not Penn State wins that match, I think we'll hang a loss on Wisconsin.  Wisconsin relies on their incredible middle — Dana Rettke — a lot.  I mean a lot.  And she's really, really good.  But Penn State has a very good record against teams that are one-dimensional (or at least heavily reliant on one player) — Purdue's 5-set upset of Penn State in Rec Hall with Sheridan Atkinson in beast mode being somewhat of an outlier in that regard.
Penn State is eager to take on the challenge of these final four matches at home, and that this will really help prepare them for the NCAA tournament.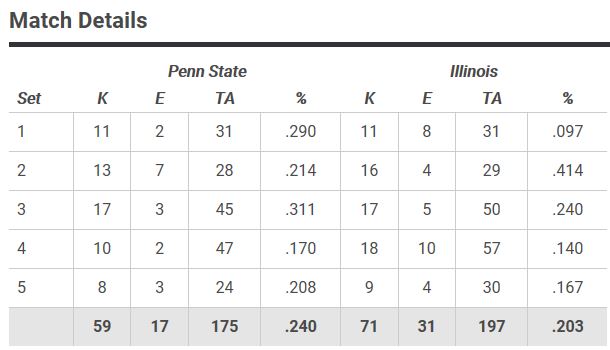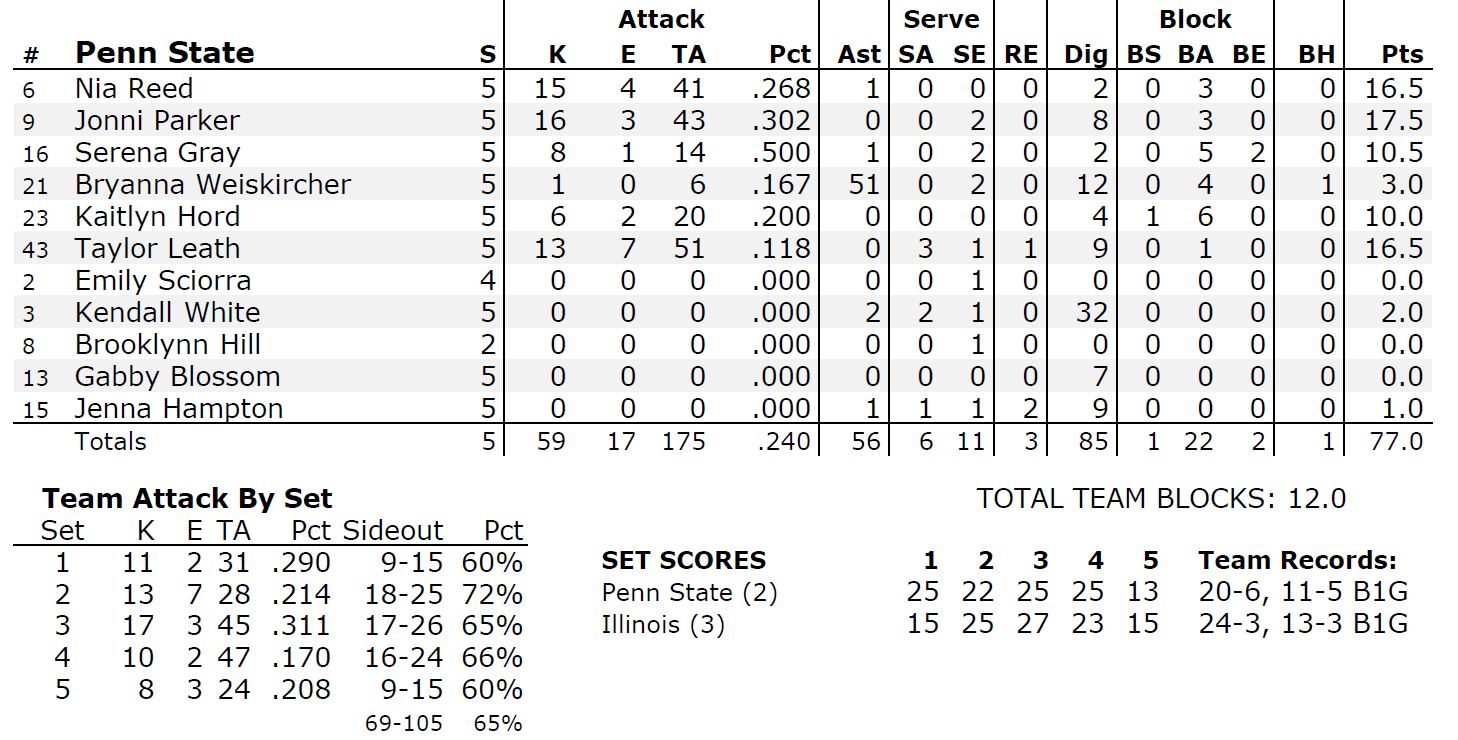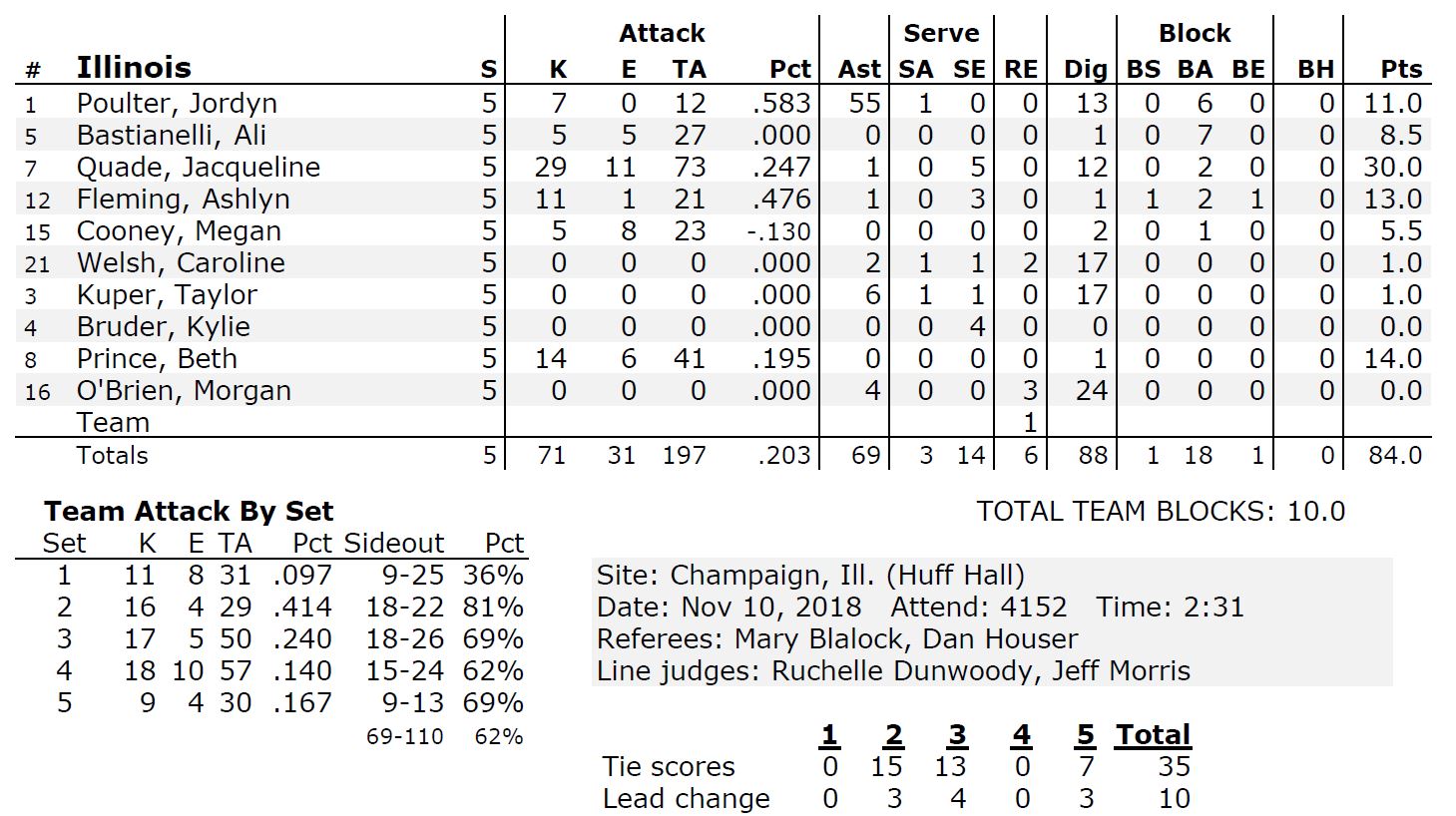 What to Look for When Penn State Takes on Michigan and Northwestern
Michigan Match
DigNittany: Michigan has lost five of their last six matches, and six of their last eight.  I believe they've had two-three starters sidelined with injuries during that time, but regardless of the reason, they've been going through a difficult stretch.  They beat Wisconsin on November 4th 3-1, but they followed that up getting swept by Maryland and losing 3-1 to Nebraska, both matches at home.  They're hitting .205 against B1G opponents, with the B1G hitting .213 against them.
Talking Head:  Michigan is in a bad way right now.  That's a match Penn State should win, but Michigan has proved time-and-time again that you overlook them at your peril.  I don't think Coach Rose will let this team do that.  Penn State is a team that is getting better, and I think they will play a solid match and come away with the win against Michigan.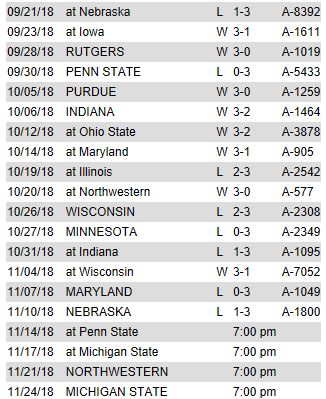 Northwestern Match
DigNittany:  Northwestern is another team you don't want to overlook, and it will take a team effort to beat them.  In the past, some of Penn State's freshman players seemed to hit a wall right about this time of year.  But this year's freshman class doesn't appear to be experiencing that.
Talking Head: Well, for one thing, there are so many of them — six freshmen have seen significant playing time this season.  With so many of them going through the same experience, they can rely on each other.  Plus, after 26 matches this season, these players aren't really freshmen anymore — they're experienced players.  So I don't foresee a freshman letdown, and given how well Penn State played against the Wildcats last week at Welsh-Ryan, I expect another good performance on Saturday.  It's senior night, and I think the team will be ready.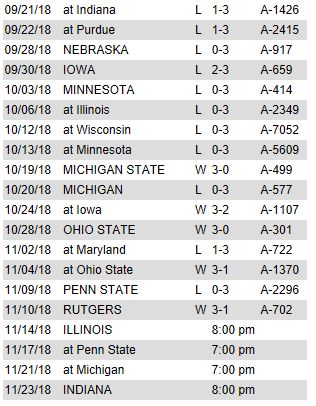 Stats, Stats, Stats