2014 NCAA Tournament – Sweet 16 (Click this link or images below for NCAA Interactive Bracket)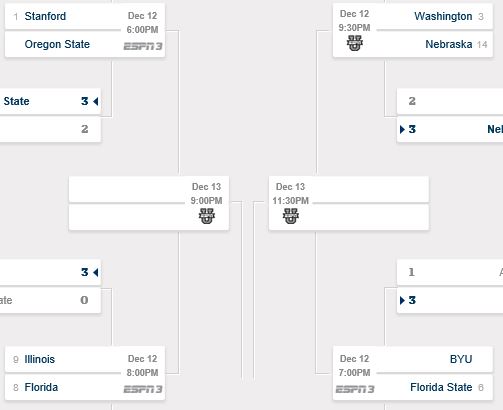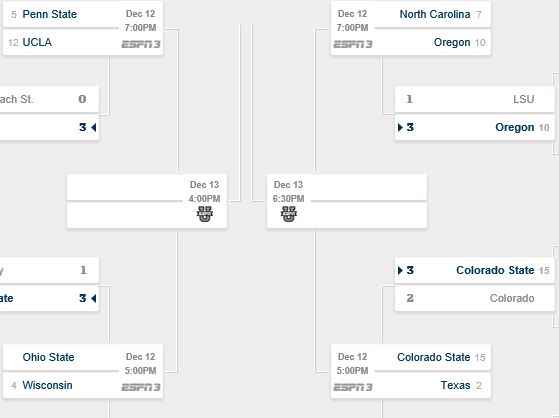 It's on to the Sweet Sixteen, and all four seeds – #1 Stanford (29-1, #1 RPI), #2 Texas (23-2, #2 RPI), #3 Washington (29-2, #4 RPI), and #4 Wisconsin (28-2m #6 RPI) – made it through the sub-regionals (which isn't really that much of a surprise).  We're talking today with Talking Head and Club Coach, both of whom played volleyball at the collegiate level and have coached for many years with great success.
No Surprises
DigNittany: Did any of the sub-regional outcomes surprise you? Any big upsets in your view?
Talking Head:  I'm not sure any of the outcomes surprised me. To me, the early departure of the Arizona teams would be the only mild upset that I could point to. However, my take is that we will see a few upsets coming up the right side of the bracket.
Club Coach: No big surprises. I thought Kentucky would beat Ohio State at home, but the Buckeyes have beaten some pretty good teams this year, including on the road.
Crystal Ball
DigNittany: In last week's Q&A, Talking Head predicted these Regional Finals results: Stanford over  Illinois, Penn State over Wisconsin, Nebraska over Arizona, and either Colorado State or Colorado over UNC.  Club Coach predicted that Texas, Stanford, Washington and Penn State will make up a heavyweight Final Four.  Have your views on who advances to the Final Four changed from last week?
Talking Head: As I said last week with the BYU scenario, if the Cougars can keep a team close, a player like BYU's 6-7 Sr. Opp/RS Jennifer Hamson can take over a match at the end. I'm sure Penn State knows this about  UCLA's 6-4 Sr. OH Karsta Lowe.  But I'm sticking with my prediction of Penn State, Nebraska, Stanford and Colorado advancing.
Club Coach: Not at all. Texas is simply better than anyone in their bracket. I actually still think Stanford is the most likely of the four to not get to the Final Four. Penn State/Wisconsin is going to be a heck of match — I'm really looking forward to that one. Washington should advance at home.
Double Vision
DigNittany: Penn State already defeated UCLA in straight sets (25-19, 27-25, 25-17) on September 6th. And, if it manages to defeat the Bruins a second time, it's likely that the Nittany Lions will face #4 seed Wisconsin in the Regional Final – another team the Nittany Lions defeated earlier this year — a 25-17, 25-21, 25-22 sweep of the Badgers on September 24th.
We would think there is at least some benefit to having played a team before – you have an idea of what worked against them in the first match and what didn't, and how you can do a better job against them the second time around, and how you can make it more difficult for them to be successful. Of course, the other team has the same "advantage." And with any team, a player who didn't play particularly well can suddenly get hot – or play even better than they did when they played great in the first match.
What are your thoughts about Penn State playing UCLA, and possibly Wisconsin, for a second time this season?
Talking Head: I think Penn State matches up very well against both teams , especially UCLA.  The Nittany Lions are executing at a phenomenal rate over the last half of the season, but I think they have even more gears in their transmission.  The "collective" energy level from the Penn State team has been at a workmanlike level, but I think we're about to see that change, dramatically, for the better.  Coach Rose knows they have more to give, and of any coach around, he has shown he can get players to deliver.  I would look for PSU to open leads early and often to prevent a fantastic player like Lowe from having an impact deep in games.
I'm looking forward to seeing a Wisconsin-Penn State rematch.  I fully expect Hancock to continue her trend of playing big in the biggest games.  I'm sure the Badgers are excited for their opportunity, but they'll have to guard against emotion getting the best of them.
Club Coach: There really isn't any "advantage" as Wisconsin and UCLA would have, of course, also had a chance to see Penn State. I actually think that generally speaking, the losing team is the team who may have advantage, as they may be more likely to look at the adjustments that need to be made, whereas the winner can have a tendency to say "let's do what we did the first time."
The difference here is that Penn State doesn't have the average coach.  The Nittany Lions will be incredibly well-prepared.  UCLA can be scary because they have a player In Karsta Lowe who, if you get into a game 5, you can be in all sorts of trouble. She may be the best scorer in the country.
Wisconsin is a great match-up in so many ways. Penn State and Wisconsin are conference opponents with two marquee setters, both of whom are certainly finalists for National Player of the Year. Hancock and Carlini are also both fierce competitors.  Micha got the best of her in the first match, but Carlini took home the league hardware. Wisconsin's strengths are their defense and how few errors they make.  Penn State is built a little more on fire-power. This will be a very entertaining match.
Takeaways
DigNittany: You watched both of Penn State's sub-regional matches. What are some positives you took from those matches, and what are some things you think the team needs to work on?
Talking Head: I have really liked a number of things.  Megan Courtney has "decanted" and we are seeing her play some of the best ball ever as a Nittany Lion.
[Editor's Note: In a Q&A prior to the November 19th Michigan Match, Talking Head compared Megan Courtney to a "fine Merlot," suggesting that patience would be well worth it.]
Haleigh Washinton and Ali Frantti look fresh and strong, which is a terrific sign for any freshmen at this time of the year.  The bench play has been consistently good, and that certainly is a nice bonus going into the final four games.
Things to work on?  Penn State can side out with anyone, but they need to take advantage of their "surge" ability to break away from tight portions of games by minimizing unforced errors and bringing more energy when they sense that momentum shift.  They can be such a fun team to watch . . . no use holding back anymore.
Club Coach: Well for one, Micha putting her serve in play at the rate she did.  When Micha is hitting her serve, Penn State is the best team in the country. When she isn't, they are "one" of the best teams.
Other than that, its hard to say given the gap in level of teams. At this point in the season, there just really aren't areas you can "work on."  It's about opponent preparation and where kids are at mentally.
DigNittany: Thanks so much. We really appreciate your time.
_____________________________________
Photo Credits