We're speaking today with Talking Head, who played D1 volleyball, and has coached the sport for many years.
DigNittany: Your thoughts on the Maryland match.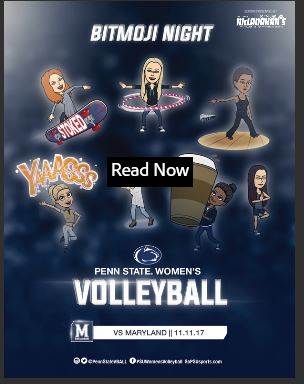 Talking Head: First of all, it was an awesome crowd.  That is really cool, and a credit to the fans who came out and to Penn State's sports marketing department who really did some creative things to generate interest in the match.  They had a special Bitmoji Night promotion, that lit up Twitter and Instagram, and people chimed in.  It was very creative and it generated a lot of interest.
As to the match itself, for volleyball purists, we were hoping for a better match on both sides.  Game 1 was over so quickly because Maryland made so many errors.  I think they made 12 hitting errors off the serve, and we aced them twice.  So, essentially, for 14 points, Penn State didn't have to make a volleyball play — the ball didn't come back over the net.  It's not like we were blocking the ball.  They were hitting the ball out, or into the net, or just couldn't get it over.  So after game like that, it can be a struggle for players on the winning team to keep their focus.  That's not meant to be an excuse, but that's part of the what can happen with a player.
DigNittany:  When the other team is making a lot of errors, does that interfere with your own team's rhythm and the flow of the game?
Talking Head:  Sure it can.  In the first game, we sided-out at 64%, but we only had 17 attack opportunities.  Hard to get in an offensive groove when you only get 17 attacks in a game.  Maryland had 30, and they sided-out at 36% — which is not good.
DigNittany: There's been discussion on the DigNittanyVolleyball Forum about whether Coach Rose should be substituting more liberally, in order to prepare better for next season (when eight seniors will have graduated).  Your thoughts on that?
Talking Head: First, the way Coach Rose is handling substitutions this season is the way he's always handled substitutions: he has (or wants to have) a pretty set lineup, and opportunities for backups are generally limited.  Having said that, he does have substitution patterns, and they are starting to emerge with this team.  We're seeing Lainy Pierce coming in more frequently, we're seeing Keeton Holcomb and Emily Sciorra coming in more frequently, and we've seen Nia Reed come in to give someone a break.  But those substitutions are situational, and they are for a specific purpose in a given match.  They aren't aimed at next season.
Now, could a coach make wholesale (or significantly broader) substitutions to build depth and still be successful?  It's certainly possible.  However, I've seen numerous instances where that approach doesn't work out, and actually creates negative energy that you probably never want, and certainly don't want this time of year as you try to prepare your team for the NCAA tournament.  Yes, you want to keep everybody healthy, and keep everybody motivated.  But the substitution pattern in this program has been established, and these kids know very early in their freshman year that Coach Rose isn't going to go that route with substitutions to build team depth.  In my opinion, that's one of the reasons he has seven national championships and you and I have zero.
DigNittany:  We've touched on Minnesota and Wisconsin a few times recently.  One more for the road — your thoughts on our chances against those two teams.
Talking Head: Motivation is something that's required all season long, and it's hard to maintain.  People should take a look around and see which teams that were playing at a high level have been experiencing challenges of late.  Certainly Minnesota and Wisconsin fall into that category.  The thing is, both of them have freshmen starters.  It is a long season, and we're into the doldrums of the season right now, when everyone is a bit nicked up and maybe a bit tired.   The freshmen have never been through it before at the college level.  For a senior-laden team like Penn State, they've been here before.  They can see the NCAA tournament on the horizon, and they can see what it's going to take to accomplish their goals.   So the challenge for the staff is to keep them focused on playing their game, now.  I think if you read Coach Rose's post-Maryland match comment about going back into the gym on Monday and working harder, they know what needs to be done, and they will do it.
DigNittany: Final thoughts?
Talking Head:  At the start of the season, I was somewhat apprehensive about the Wisconsin and Minnesota matches.  At this point, I'm very much looking forward to seeing Penn State play them.  I think we're going to play some really good volleyball.  That isn't to say that the Wisconsin or the Minnesota matches are sure-wins for Penn State. They definitely are not. But the Badgers and the Gophers are not playing as well now as they were earlier in the season, and Penn State has been playing at a very high level (the second set last night being an exception) and travels very well.  They should be great matches and I'm looking forward to them.