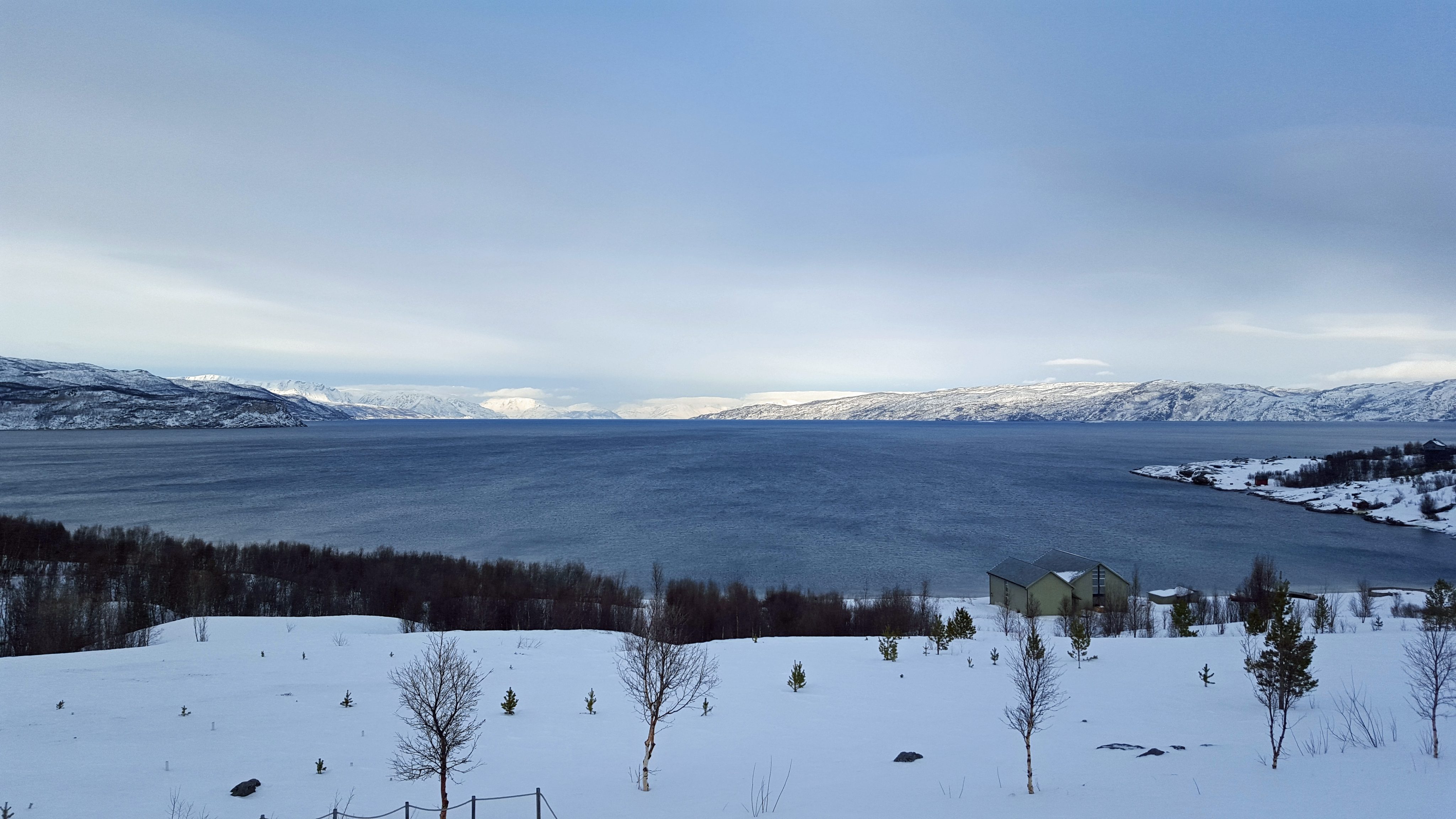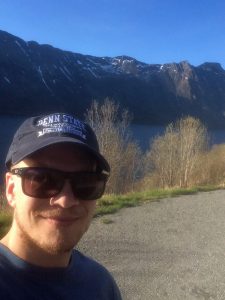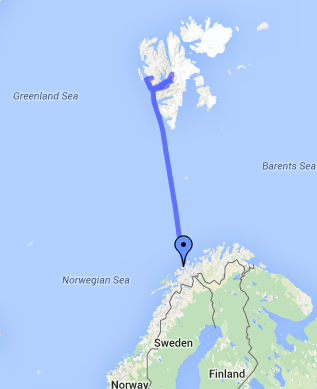 This is a story about the Alta, Norway Penn State Women's Volleyball Booster Club — which we are pretty sure is the northernmost booster club in the world for any NCAA Division 1 women's volleyball team — and how we got to meet its founder, Mats Hoel Johannessen (at left).
Mats is a graduate student and outdoor guide/explorer, who in 2013 led a party of three Norwegians in a south-to-north ski crossing of Spitsbergen/Svalbard (see at right), an island that is decidedly north of the Arctic Circle.
Mrs. Nyline and I had planned our trip to Alta (which is just northeast of the blue pin on the map at right) with two goals in mind: seeing the Northern Lights, and going on a dogsled trip.  Mats, who works part-time for Glod Explorer, was our guide for the Northern Lights search.
We spent two evenings with Mats, the first for approximately five hours, during which time we drove through what seemed to be most of Finnmark — the county in which Alta is located, which is approximately the same size as Denmark, but with only 80,000 people — but with no luck, just a hint of a promise of a possibility of the Northern Lights. (Alta is among the best places in the world to see the Northern lights — arguably the best — but if it's cloudy, as it was that first night, you won't see the Northern Lights).
The upside was that we had plenty of time to talk with Mats (not many cars on the road in Finnmark in early March at 9:00 p.m.)  We learned he'd spent a year in the town of Swarthmore, PA, and that he not only was aware of the Penn State Women's volleyball team, he was a fan.  We think he liked the team's grit.  Coming from someone who has skied across Spitsbergen/Svalbard, that's saying alot.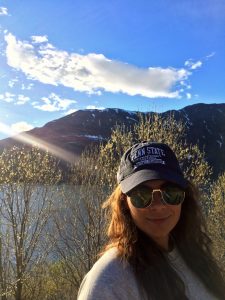 He's not alone — another member of the Alta, Norway Penn State Women's Volleyball Booster Club is shown at right.  Mats and friend asked that we pass on their Vennlig hilsen (Best regards) to all Penn State fans.
About those lights . . . .
The hunt for the Northern lights also worked out well.  We met up with Mats again the next evening, for a second try, and this time, luck was with us.  We were treated to an astonishing display that, even after standing outside for three hours in the icy darkness, was mesmerizing (see photos below).
We're hoping we can get Mats and friend to visit Penn State for a women's volleyball match.  Something tells us these Alta Northern Lights boosters would add unique energy to Rec Hall.