No. 12 Penn State women's volleyball swept Rutgers 3-0 (25-15, 25-23, 25-19) Friday night at Rec Hall thanks to a strong all-around performance.
Kaitlyn Hord led the Nittany Lions with 12 kills and hit .500 in the victory. Hord's four blocks tied Serena Gray and AC Fitzpatrick for the match high. Gray and Fitzpatrick tallied eight and seven kills, respectively, while Jonni Parker contributed nine of her own. Parker also notched six digs, three blocks, and one of Penn State's six aces.
Penn State outhit the Scarlet Knights .348 to .125, outblocked them 9-4, and finished with a 36-28 advantage in digs. Fitzpatrick led the Nittany Lions with a pair of aces in the first set, showing off her impressive topspin serve. Fitzpatrick had eight aces the last three matches and currently leads the team with 13 this season.
After an emphatic solo block to close out the second set, Fitzpatrick ran to the equipment room and quickly changed into the No. 5 because she had blood on her jersey. Freshman defensive specialist Maddy Bilinovic performed well with seven digs, two assists, and one ace.
Gabby Blossom put together a strong showing with a match-high 34 assists, six digs, and a kill in the win, while Jenna Hampton led all players with 11 digs, two assists, and an ace. Hampton was flying all over the court as usual Friday night. Playing against her old team, Anastasiya Kudryashova chipped in five kills, two blocks, and a dig for the Nittany Lions.
The Nittany Lions (6-5) return to Rec Hall Saturday at 7 p.m. when they host the Scarlet Knights (2-11) in the series finale. Kamila Cieslik led Rutgers with eight kills and two aces Friday, while standout setter Inna Balyko added 25 assists and five digs.
Russ Rose's opening statement:
"It was good to have a chance to play. I thought we got some really nice performances by our middles. I thought both Kaitlyn and Serena played really well. Our passing was good. I thought we made a lot of service errors, which I'm a little concerned about, but I thought it was a good match for the middles. We'll see if we can work on being a little better from the end line tomorrow. Last time out, Rutgers was up 12-7 in the fifth game with Ohio State. Rutgers is a team that can certainly put a lot of pressure on you. They take a lot of big swings. When they control the ball, they can really cause you some challenges."
Q: How would you sum up your night tonight?
"I thought it was a really good night offensively. When your middles hit .500 and .700, that's an exceptional evening. The outside hitters I thought did a nice job of controlling the ball. I thought our passing was pretty good and Jenna played really nice defense. That was a key factor. I thought she passed well, played good defense. There were two or three tough rallies and I thought we really made some strong efforts and kept the ball alive. Those are the sort of things you need to do. We're not the type of teams that we've had in the past, where we're able to just swing our way out of trouble. We've got to battle and we've got to grind. I thought we had a few rallies that reflected that this evening, so I was happy to see that."
Q: Where has Kaitlyn Hord improved the most since arriving on campus?
"I think probably hitting. She was always a great natural blocker. She's gotten stronger and I think her range has gotten better. I'm sure she would also have even more range if she were playing with a bigger setter, a taller setter. I think there are always some challenges associated when a person who plays up as high as she can play when you're playing with a shorter setter, so that's one of the things about when I bring Emily [Oerther] in is that Emily has a higher contact point and also presents a bigger block. That's one of the things that I like about bringing Emily in."
Q: Can you speak a little bit about the defensive performance tonight from the team?
"I thought we dug some balls well. I think our effort was good defensively. The only thing that I'm not really pleased with is I thought our serving wasn't very good. AC had her best evening blocking tonight against a team that's a really good attacking team on the right side. I'm sure that was their game plan was to attack AC. I thought for her to have four blocks, that might have been more blocks than she's had in the previous 10 matches. That was really a good opportunity for her to score some points out there and feel a little more confident about that."
Q: What was it like to get Sophie Walls a chance to serve at the end of the match?
"It was good. Sophie had a good serve and dug a ball. A couple matches ago, we had a couple people go in and they didn't do so well, so I wanted to give them a little taste and also Sophie's one of the older players. I wanted to give her a chance and I thought she did a nice job. I've always been a Sophie fan. She's a real upbeat kid. It's not easy to be on the bench. She has a really great disposition about the team, and I admire that."
Kaitlyn Hord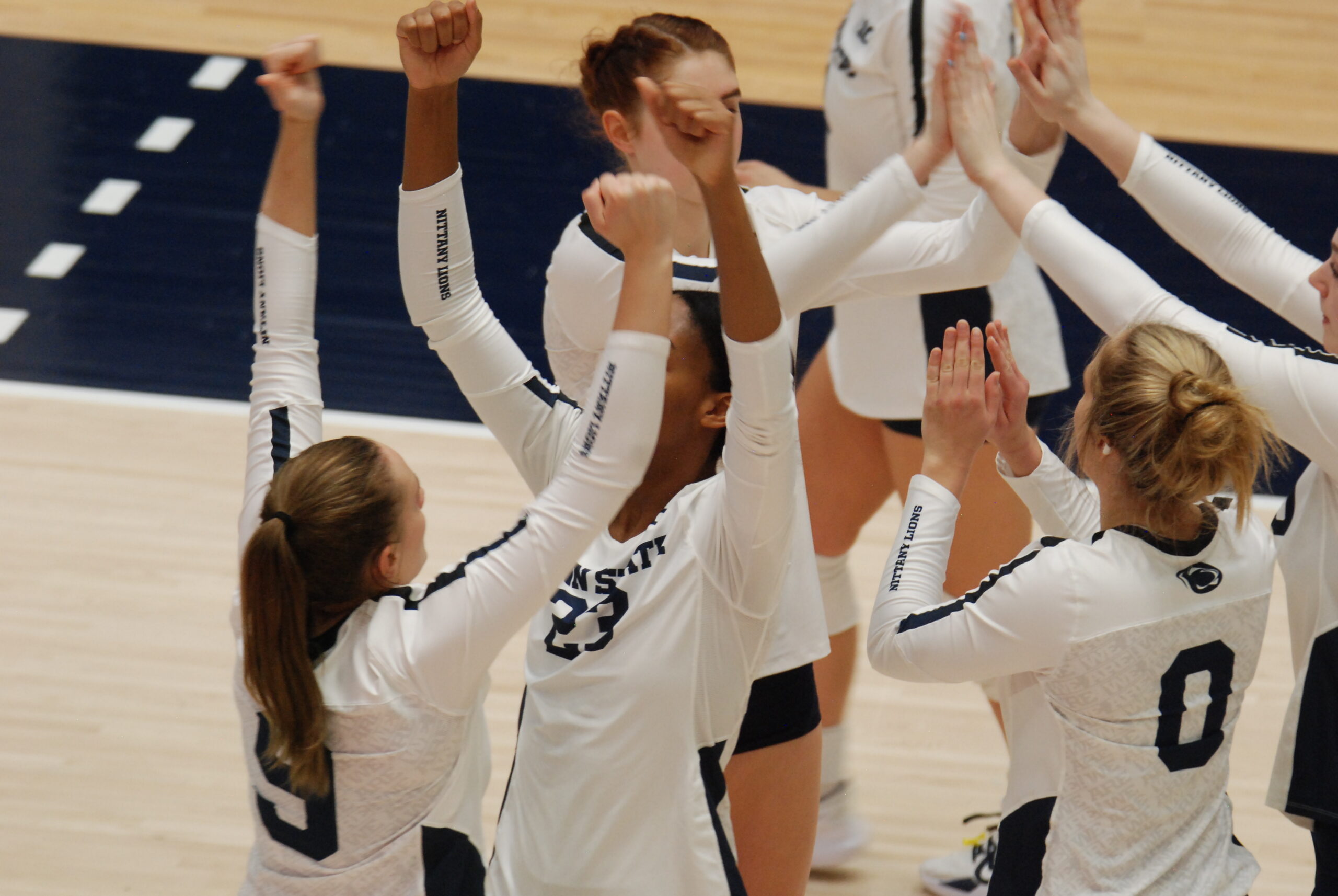 Q: Even without Rec Hall having a lot of fans, do you feel the team playing with more confidence at home?
"For sure. Yeah, you always have a home-court advantage when you're playing at home, especially in a building like Rec Hall. There's just so much history and tradition here. It's just amazing to have the opportunity that we have to even play this season, so yeah, playing at home is always a confidence booster."
Q: How thankful are the players to be able to have their parents here in the building?
"Very thankful. It's one thing to be away from home as a normal student, but then as a student-athlete, all the hours we put in training and everything, it's just a great relief to see your family, and it just puts a smile on your face."
Q: What was it like as the team was getting going and the fans were buzzing? What was that environment like?
"That's one of my favorite environments to play in, because those terminating plays, when you get a stuff block, when you get those 10-foot-line kills, it just makes you want to keep rolling and push to the finish line. I think that's what really helped us in game two when we were down a little bit, having those plays, just those really powerful ending plays that just keep you going."
Q: What was it like to see Sophie Walls get a chance there at the end to serve?
"Everyone loves Sophie. Like coach said, she's always got a smile on her face. She came in and did really well. She served well, she dug a ball, so I couldn't be happier with her performance."
Q: What's the game plan moving forward to maintain this success? Any thoughts on that or are you just soaking in the win right now?
"Definitely soaking in the win, but as coach mentioned, making sure that we're disciplined on our serving, because we missed a lot when we shouldn't have. Making sure when we're in those runs, we keep getting those runs, instead of placing the ball out of bounds. I think that's our biggest thing to improve going forward."
Jenna Hampton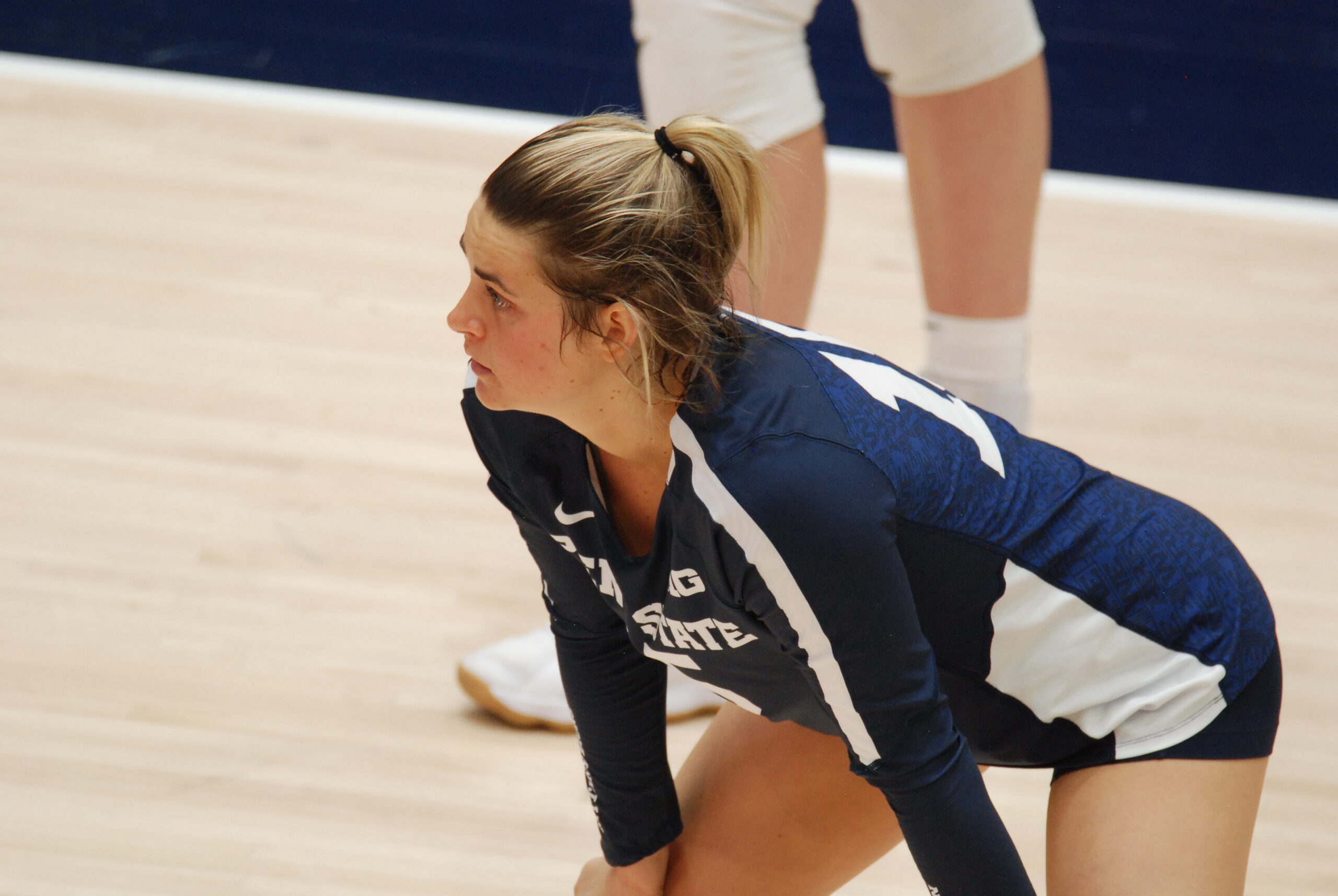 Q: Why did AC have to change jerseys before the third set?
"Oh, I honestly don't know what happened, but she had blood all over the front of it. Five looked good on her tonight. I thought it was a good fit when she changed."
Q: Do you ever work on your setting with Gabby? It looks like you've added that to your game this season.
"I worked on it a lot in the offseason, because a lot of game plans, even our game plan sometimes, is to hit to the setter. I think Gabby just puts up a really nice ball for me to get to the hitters, so yeah, that's something I've definitely been working on and improving."
Q: What was it like defensively? This felt like one of the better defensive performances so far. Was that a point of emphasis going into this match?
"Yeah, I think we've been working a lot on blocking. When we set up a good block, I think it puts up a really good rhythm for us. I think it's definitely something we've been improving, and our middles have been doing a really good job reading the plays. We've been really good at talking, too."
Q: What's your favorite thing about Sophie as a teammate?
"Sophie Walls is one of my best friends, so seeing her go in was awesome. She just lights up the room, always has a smile on her face like everyone's been saying, so I'm really happy with her performance tonight. It was funny, because I was actually supposed to go left-back, but then she went left-back, and I'm happy she did, because she dug a ball. It was nice to see."
Q: That second set, it was going back and forth. What was the message? You mentioned communicating earlier. Was it just all about keeping a positive attitude and focusing on the next point as you're trading points back and forth?
"Yeah, I think something we have been struggling with a little is not having a strong start, so we just have to trust our process and trust our training. I think we just took a step back and took a deep breath and found our rhythm and started grinding toward the end, which was nice to see."