Match Recap
No. 5 Penn State women's volleyball swept Michigan State 3-0 (26-24, 25-21, 25-18) in Wednesday night's Big Ten opener at Rec Hall.
Jonni Parker led the Nittany Lions to victory with a match-high 16 kills, four digs, three blocks, and two aces in the program's first annual Silent Set match in support of International Week of the Deaf. Penn State hit .258 as a team in the win.
Sophomore defensive specialist Jenna Hampton made her first career start for the Nittany Lions, while Allyson Cathey came off the bench for the first time this season. Hampton had three digs and an assist against the Spartans, who fell to 9-2 on the season. Neither team had a particularly good night from the service line, as they combined for 21 errors in that department.
Gabby Blossom finished with 28 assists, eight digs, two kills, two blocks, and an ace, but struggled to work the ball inside to Penn State's middle blockers, who took a combined 19 swings on the night. Serena Gray tallied six kills and a team-high four blocks, while Kaitlyn Hord was held to just three kills on seven swings. On the defensive side of things, Kendall White notched a match-high 14 digs and four assists.
Penn State trailed 12-7 early in the first frame and was on the wrong end of a 24-23 Michigan State set point, but rallied back thanks to a Cathey kill sandwiched between two Spartan errors. Cathey ended up hitting .000 with six kills and six attack errors. Tori Gorrell turned in a strong showing with six kills (.455).
The Nittany Lions (8-2, 1-0 Big Ten) return to Rec Hall Saturday at 7 p.m. when they host Rutgers. Penn State's 1999 national championship team will be recognized prior to the match.
Post-Match Quotes
Coach Rose's opening statement:
"I thought Jonni Parker played really well. Any questions?"
Coach Rose on the first two sets:
"Between the two teams, we missed like 19 serves after the first two games. I just thought it was a really sloppy game from the end line for both teams. I can't comment on Michigan State, but I was disappointed in all of the players on our side, except I thought Jonni played well. I thought Keeton [Holcomb] passed well and I thought Jenna played good defense."
Coach Rose on not being satisfied with his team's performance:
"Again, I wasn't really impressed with much that we did. I wasn't very happy about it. It's lucky there are rules to prevent us from practicing right now, because I would do some roster management right now. We hit .018 in the first game. Michigan State's a really big team, large team at the net. We needed to control the ball well and not hit balls into the block and be a little bit smarter. We were fortunate to get ourselves back into the game and win a deuce game. Like I said, I didn't think we played very well, but we've been playing like that for about a week and a half now, so it might be that this is the level that we're playing at, which is becoming evident as well."
Jonni Parker on how big of a difference the Silent Set was: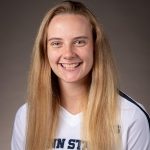 "For me, it's not that much of a difference. I'm just kidding. It was cool. I just want to thank everybody for participating tonight. It was a good cause. I'm glad we raised awareness for it. It was cool and I hope we continue to do it, but that also proves that sometimes we have to bring our own energy. We aren't always going to have our fans when we're on the road. When we're on the road, we've got to learn to bring our own energy. We've got to bring our own energy and be confident in our play and be able to play at the highest level no matter what."
Coach Rose on recent struggles to get Kaitlyn Hord swings:
"I think certainly all the teams we're playing are well-coached and have good players, and they're getting in front of Kaitlyn. Certainly the connection's not very good. Gabby has to be a lot better."
Coach Rose on starting the Big Ten schedule with a win:
"You always have to have success at home. It's an incredibly tough conference. In my opinion, and I base it only on the number of years I've been in the conference, not based on having been in other conferences, that the Big Ten has had the greatest success in the NCAA tournament. You have to maintain success at home, and for the teams that are hoping to compete to win the championship and have success at the tournament, you have to be able to win matches on the road. I thought we were playing better at the beginning of the year than we're playing now, but I'm happy to beat Michigan State because Michigan State's a good team. They came in here and were 9-1. It's tough to beat a team that's won nine out of 10 matches. It's as simple as that. I get it. Some teams in our conference played some of the top teams in the country and they have more losses. It's also hard to play teams that have a lot of confidence, because they're winning. Winning gives you a lot of confidence. Certainly Michigan State started with confidence and they're a good team. I would expect them to A) be successful and B) be very tough on us in a month when we play at Michigan State."
Jenna Hampton on what stood out tonight: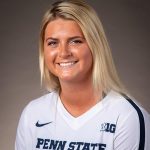 "Like coach said, I think Keeton passed really well today. I think, especially for me versus Pitt, I was struggling passing, so I think when we got good passes we made good plays. I think that's what we improved upon."
Jonni Parker on the team's focus moving forward:
"To go off of what coach said, we haven't been playing well the past week and a half. I think, for right now, our team needs to get our confidence back. I think that's a big factor. We need to play like we know how to. We've just got to get our passing into a rhythm. I feel like we just haven't been into our normal rhythm when we play. We've got to be able to get that back. That way we can get our middles established more and open up the pins and we can run our offense like we know how to."
Coach Rose on the challenges this team faces:
"The fact that we were able to come back and win, it helps to be at home, and it for sure helped after we got to nine points. It was a little scary up til then. It felt like we were on the road. We had to dig pretty deep, I thought, over the weekend when we played at Pitt. We had such a disappointing performance last week with Pitt at home and we had to compete a lot harder on Sunday and had chances to win that match in three. Then we were pushed to deuce in the fifth game. Even tonight, we had a good, sizable lead in the third game, and then all of a sudden we give three or four points away just casually. Good teams don't do that. Good teams have the ability to keep their foot on the gas and put teams away, but three quarters of the team are freshmen and sophomores. I don't think that there's really good leadership inside of the group. There's some good players and they're nice young people, but that doesn't have anything to do with leadership. Those things are checks in different boxes for different characteristics."