No. 12 Penn State women's volleyball swept Rutgers 3-0 (25-11, 25-20, 25-16) for the second night in a row Saturday at Rec Hall behind a dominant offensive performance.
AC Fitzpatrick and Jonni Parker led the Nittany Lions with 11 and nine kills, respectively. Penn State outhit the Scarlet Knights .438 to .116 to improve to 7-2 at home this season. Gabby Blossom had the only double-double of the weekend with 39 assists and 11 digs.
The Nittany Lions hit over .500 in the first and third set and had a variety of players make an impact offensively. Kaitlyn Hord and Anastasiya Kudryashova were both incredibly efficient Saturday night, tallying eight and seven kills in the win. Penn State only had nine attack errors all match.
Serena Gray added five kills of her own, while Hannah Flowers came off the bench with Penn State up 17-9 in the third set and had four kills during the next nine points. It was Flowers' best performance so far this season, besting her previous high of three kills against Illinois on February 6.
Jenna Hampton turned in another strong performance with 11 digs and six assists. Hampton also joined Fitzpatrick and Maddy Bilinovic with two aces apiece against the Scarlet Knights (2-12). Bilinovic continued to impress with five digs in the victory.
The Nittany Lions (7-5) travel to Jenison Field House in East Lansing next weekend for a pair of matches against Michigan State (2-7), which had its previous three series postponed due to COVID-19 concerns. The Spartans lost to Wisconsin 3-1 in their last match on February 21.
Russ Rose's opening statement:
"I thought it was another night where we did a real nice job with our serve reception. I thought Jenna and Maddy and AC did a real nice job with serve receive, so that enabled us to kind of distribute the ball. AC had a good night hitting and certainly Kaitlyn had another good night hitting. I thought Nasta had a good night hitting and had a couple of nice blocks for us."
Q: What adjustments do you think were made in order to keep the intensity going throughout the game this time around?
"The players understand the importance in a rally score game that they need to generate the enthusiasm, because when you're playing and there's nobody in the facility other than maybe you have your parents here, that you're responsible for the energy and you're responsible for keeping everything moving along. I really think it's a player-generated responsibility, and I thought we did a nice job doing that, other than the second game, where as like yesterday, we just made a lot of errors. We had some problems in serving and then we had a couple of stretches where we made two or three hitting errors in a row, but if you can hit .400 against somebody in the Big Ten, you have to be pleased about that evening. Again, this is a Rutgers team that a week ago was leading 12-7 against Ohio State in the fifth game, so every team has their good days and has their off days. You never know what you're going to experience when you play. We've had some days where we weren't very sharp, and we know the importance of focusing and trying to play our best and working hard to improve in the areas that we need to improve in. Energy is always something, but it's something that the players are responsible for."
Q: When you evaluate the performance of the team at this point in the season, how much more room do you think the team has to grow and improve and how close do you think you guys are to reaching that peak level?
"We started the season and we were really unhealthy. I think we've had flashes where we've started to get a little better. The players have regained their legs. As I tell them, it's a catch 22, you can't get better without training, and you can't train when you've got so many lingering injuries and things that prevent you from being able to go hard every day. It's a sport where if you don't go hard, you really aren't going to get any better. I think the teams and the players that are going hard every day are the teams and the players that are going to be competing in the playoffs for a national championship."
Q: How would you assess Hannah Flowers' performance tonight and what are some things that stand out to you about her?
"I thought Hannah came in and did a real nice job. She's been a player who, by no fault of her own, isn't able to practice with us all the time, because she's involved in an internship. She was available during the fall, but we didn't play during the fall. She's in the midst of doing an internship, so practicing and being able to condition as much as we'd like and she'd like maybe isn't at the forefront, but she has a good IQ and I think she's a very competitive young lady. I thought she came in and did a nice job."
Q: Where has Serena Gray improved the most this season?
"Serena, I thought she played much better last night than tonight, but she's a really physical human being. She's incredibly bright. I think she's at her best when she's just kind of going with the flow of the event and not trying to analyze everything. That happens sometimes when you're really smart. I've seen that a lot. I haven't experienced that, but I've seen that. Our best volleyball is played when Serena is playing at her highest level. She's an incredible talent, and I know when she's playing at her best, we're at our best."
Maddy Bilinovic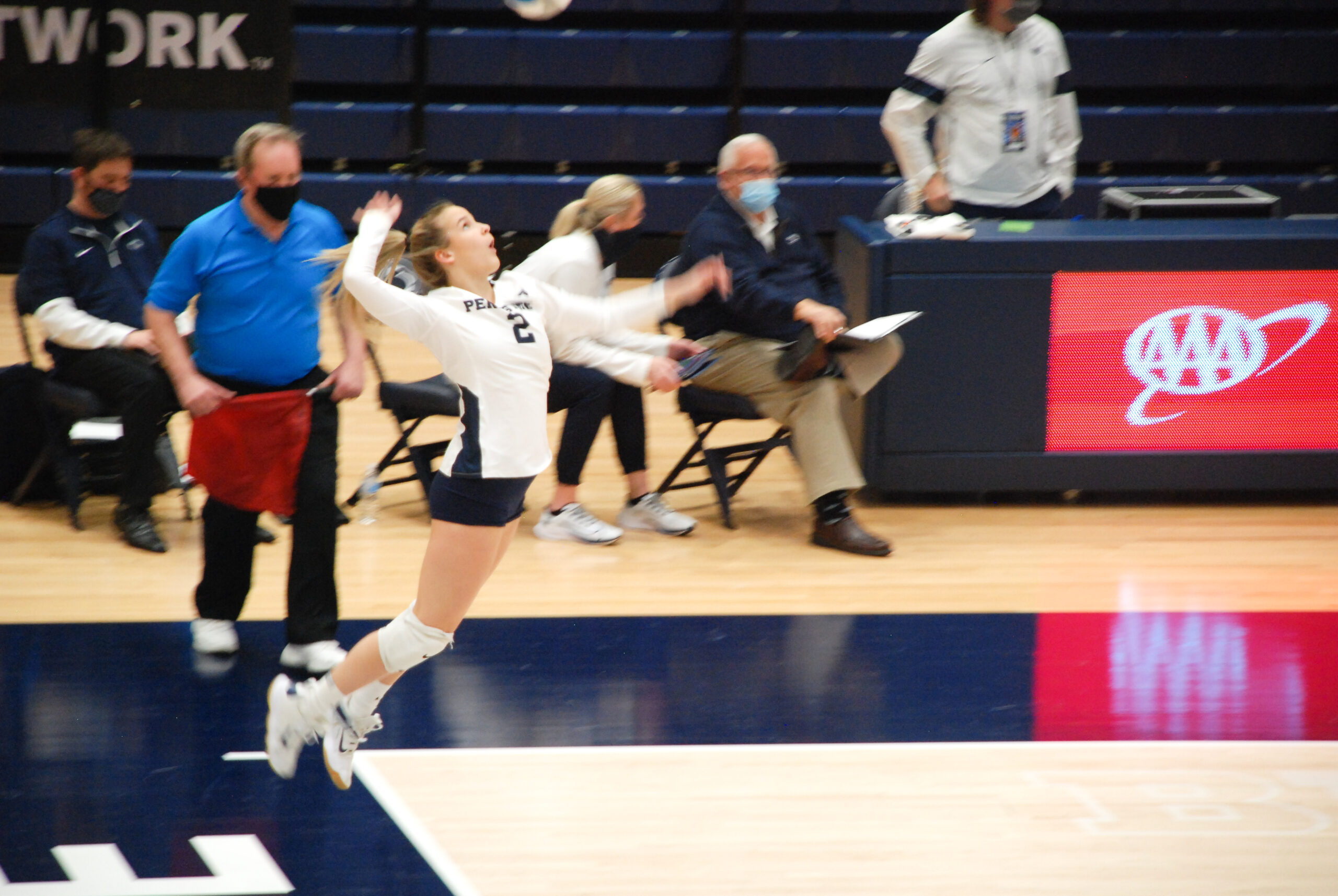 Q: The team is 7-2 at home this year and 0-3 on the road. Is there a different comfort level when you play at home and is that something that you just come to expect at this point?
"I think it's easier for any team to play at home. We're used to this gym, but that doesn't give an excuse for not being prepared on the road, but definitely I think we have a lot of energy at home. We also still do bring a lot of energy away."
Q: How would you assess Hannah Flowers' performance tonight and what are some things you like about her as a teammate?
"Hannah's always ready to go. She's on the sideline the whole game talking to us, letting us know what she sees. She's definitely prepared, and she showed that tonight. She came in guns blazing, wanted the ball, and her energy just took it through the roof today."
Q: What was the cause of that spark in the second set when Rutgers was leading and Penn State went on a run?
"I think when we're down like that, it's really just our side and us making the errors. When we control the ball, we control our serve, we control the pass, then we can do what we want on our side of the net, and that makes all the difference."
Q: What's it been like learning the ropes behind a talented pair of middle blockers like Kaitlyn and Serena?
"Kait and Serena are awesome. They are definitely always trying to get me involved, and they also always want feedback from me, especially behind them playing defense. They always want to know where their block is and if they need to do anything different. They're veteran players and it's really an honor to play with them."
Anastasiya Kudryashova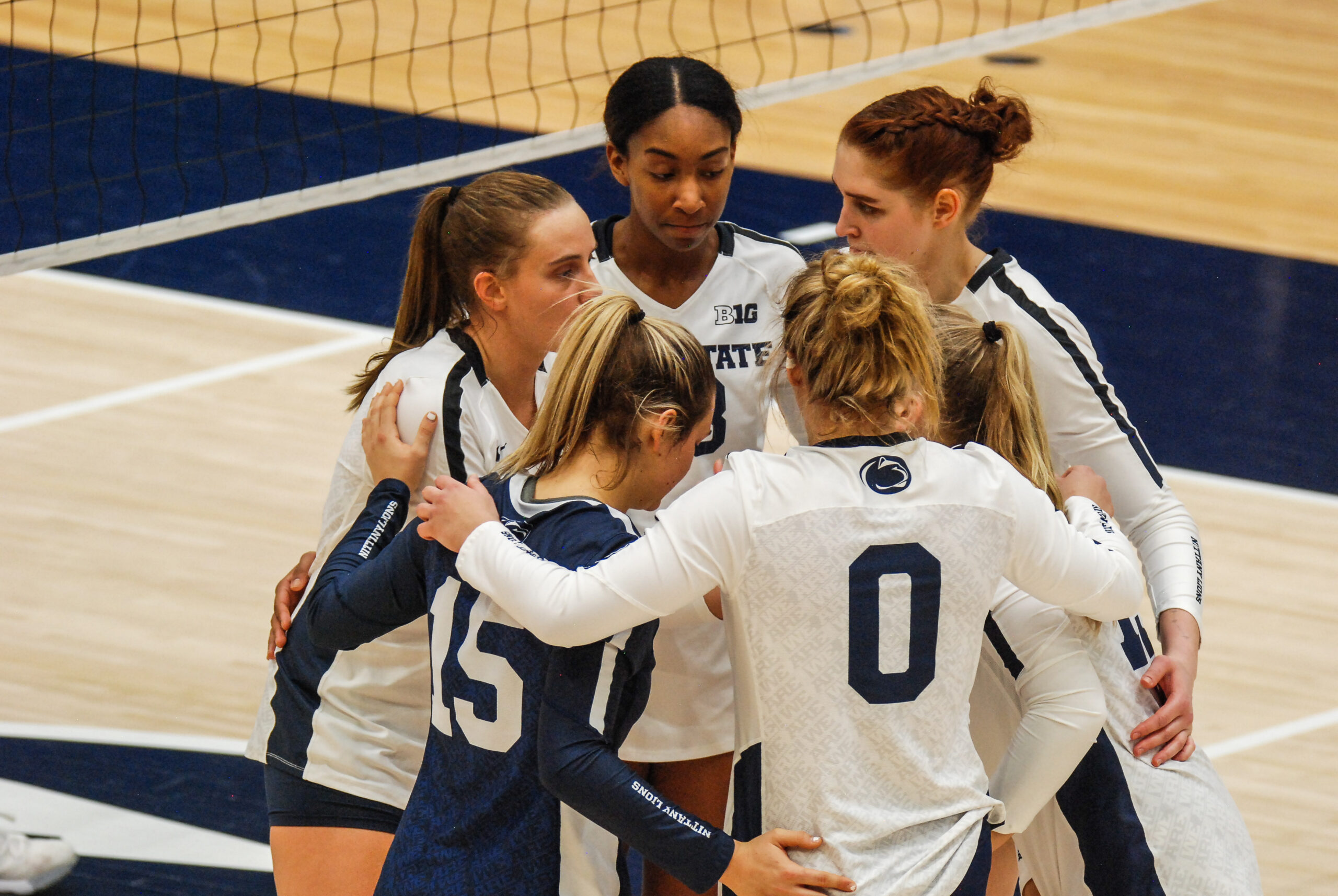 Q: What was different this game versus other games where you weren't able to get as big of a lead?
"Well, sometimes, it just happens that we kind of relax a little bit, and you cannot allow yourself to relax when you play in the Big Ten. We're still learning. We're a pretty young team and sometimes that happens. We can miss, I don't know, four points in a row, but then when we have a timeout and coach is talking to us, we kind of get together again and keep pushing. Whenever we play our game, whenever we play Penn State volleyball, we play really good, and we can score sometimes seven points in a row, it doesn't matter."
Q: What was going through your head as you played against your former team for the first time? Did it give you any extra motivation?
"I'm really glad that I decided to go to Penn State. I think that Rutgers improved a lot. As an example, they played Ohio State five sets. Today and yesterday, they didn't feel really great, I would say. I don't know what the reason was, but this team can play well. They've got really good players. They've got new coaches. They have a real perspective to be better and play better, but I'm just grateful that I'm at Penn State. I'm really happy that we won the game."
Q: Who introduced you to the sport of volleyball and what's the volleyball culture like in your hometown?
"Once, when I was 10 years old, my first coach came to me in the mall and she said, 'Do you want to play volleyball?' I said yes, and that's how it all started. I was in the flow and I got some offers to go from club to club and then I ended up at Penn State. I went through a lot of teams, and now I'm here. In Russia, college volleyball is not as great. That's why I'm here. I wanted to combine education and sport. Russian volleyball is more of a professional sport."
Q: It was a great offensive performance the past two nights, but do you see anything that the coaching staff might want you guys to improve on or do you think there are new heights that you can reach?
"I think that our greatest problem is serving right now. We're really struggling serving when we're under pressure. We can miss seven, eight serves in a game, which is a lot. We cannot allow ourselves to do that. Other than that, I think we just have to work and trust and just keep working together, communicate, and everything is going to be fine."