No. 10 Penn State women's volleyball beat No. 11 Purdue 3-1 (25-19, 16-25, 25-21, 25-23) Saturday afternoon at Rec Hall.
AC Fitzpatrick, Gabby Blossom, Jonni Parker, and Jenna Hampton all turned in strong performances for the Nittany Lions. Fitzpatrick (16 kills, 13 digs) and Blossom (46 assists, 13 digs) both had double-doubles for the second straight match against Purdue.
Down 23-19 in the fourth set, Penn State went on a 6-0 scoring run to close things out and earn the series split with the Boilermakers, who saw their seven-match winning streak snapped. Fitzpatrick had another excellent showing from the service line, leading the Nittany Lions with three aces.
Parker matched Fitzpatrick with 16 kills and added nine digs and six blocks in the crucial victory for the Nittany Lions, who got back to .500 through their first 10 matches of the season. Anastasiya Kudryashova tallied 12 kills, while Serena Gray and Kaitlyn Hord combined for 15 more to round out the scoring.
Hampton put together a solid outing with 17 digs and two assists against Purdue, continuing to showcase her skills as a distributor in out-of-system situations. Freshman defensive specialist Maddy Bilinovic contributed five digs of her own off the bench.
The Nittany Lions (5-5) finally have a chance to rest up and get some practices in before their next series against Rutgers next weekend at Rec Hall. The Scarlet Knights (2-10) had their home series with Michigan postponed this weekend.
Russ Rose's opening statement:
"After playing a two-hour match last night, to come back and have another two-hour match was a big challenge. The difference today was it was one of the matches where our outside hitters outscored the other team's outside hitters. We've had a number of matches where we lost close games, and the difference between having a good season or a great season or a disappointing season is having the ability to win those close games, and a lot of that usually falls on the outside hitters. I thought today we had a great effort. AC and Jonni both had 16 kills and Nasta had 12. That enabled us to hold off a really fine Purdue team."
Q: How would you assess AC's serving the past two matches?
"Well, I mean, it's higher risk, higher reward. When Jonni's healthier, I think she also has a nice topspin serve. It's an opportunity to generate some points. Certainly Purdue likes to pass with two people. When we had Kendall [White] the last four years, we would pass with two people. I passed with two for a long time, and I know a lot of times what causes you the most discomfort is when somebody has a good jump-spin serve that has a lot of pace to it. They can force you to bring back another passer. AC, she takes a good swing at it. We were fortunate that the last couple of days, she felt comfortable doing it. That's the beauty of being young is that you can play for a couple hours and eat some granola and come back and do it again the next day."
Q: What do you think that 6-0 run to close out the match said about this team?
"It's nice to get one after giving away so many of them in our first nine matches. I think that's probably a good thing for these players to see that they can do that. They've had a tough stretch where they've been battling. We've had some matches where we've had leads and we've given them away. Again, we've lost some deuce games. It takes some younger players time to get a good handle working with those people. For them, it was nice. I expect people to play hard and that's the conversation."
Q: How would you assess Jenna Hampton's performance today?
"I thought she played much better today than she did yesterday and against Ohio State. I thought she really was out of sync [those matches]. I thought all of the players were really uncharacteristic, although I thought a number of them were better yesterday."
Q: When you were down 23-19 in the fourth set and called a timeout, what went through your head and what did you guys do to regroup there?
"I've got a couple of players here, so I'll let them answer that, because I think that's a good question. My position on it would be I think what coaches say is one thing, but at the end, the players are [in charge] of what they do, and I'll let them kind of handle that."
Q: What do you think the team needs to do heading into next weekend's matches?
"Probably three or four of them have to get healthy. We always have to work on their physical health and their mental health, and see who's going to be ready to play. We'll play Rutgers. The last time they played, they were up 12-7 on Ohio State in the fifth game. That will be a match that we'll need to be focused on. I'm sure it will have a different value as it deals with Nasta, because she played with those players last year. Who's to say how that will impact her or the Rutgers players."
Jonni Parker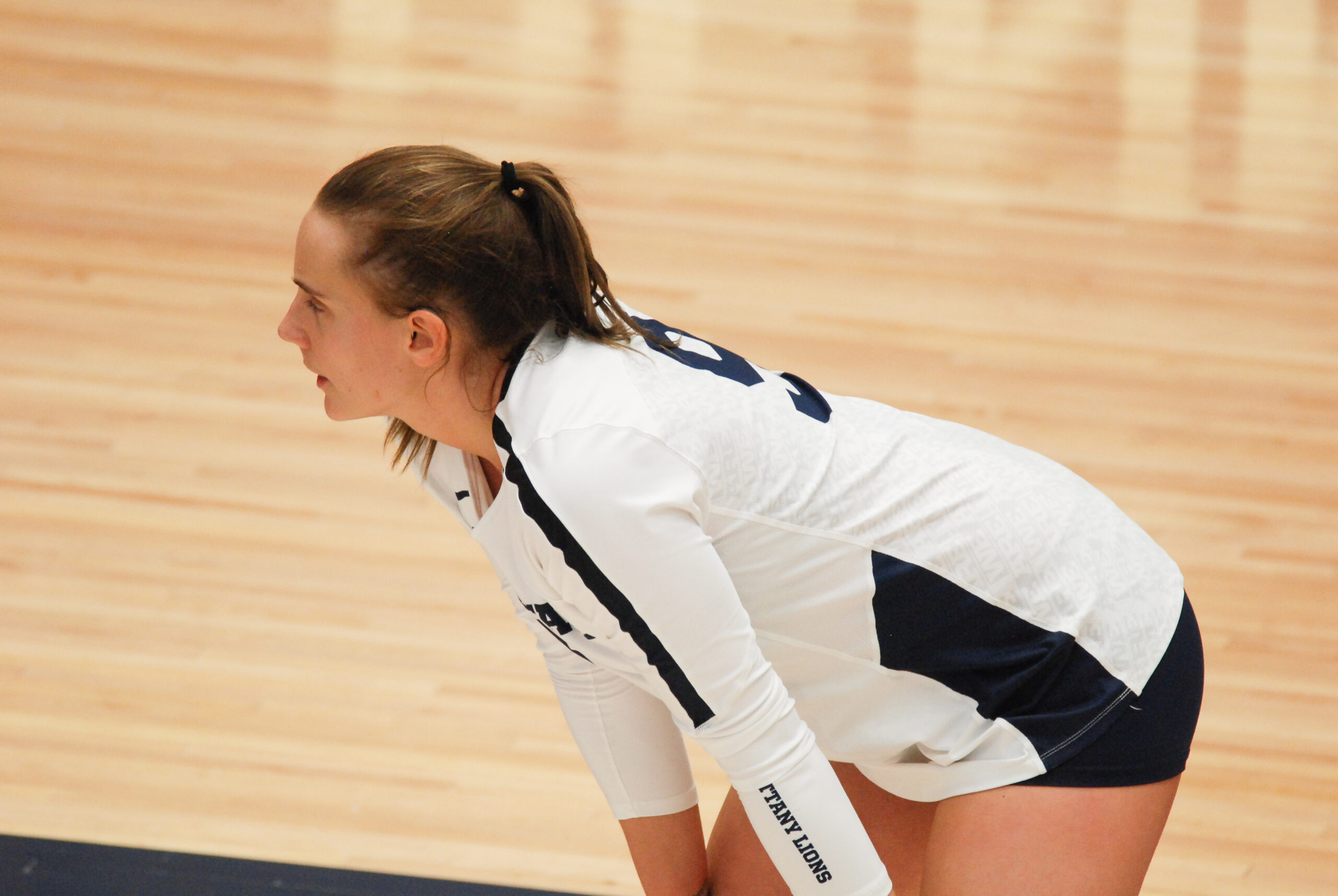 Q: What impressed you about AC's performance today and in particular her serving?
"AC is impressing me every day more and more in the gym with her mental and physical capabilities. She's growing a lot as a player. With her serve particularly, you have to have the confidence to go back there and rip that serve, especially in certain situations. This weekend, I thought she had a lot of that. She was one of our go-to players. When she went back to the service line, she applied a lot of pressure, which helped us out and we needed it, so I think she did a great job this weekend."
Q: Jonni, take me through that 23-19 timeout that coach called and what went through your heads in the huddle?
"I think just in the huddle, it was we had to keep our cool. We had to control what we can control on our side of the net and come out and play our game today, making in-game adjustments, especially. After that, it was just, 'Let's do what we can do. Let's play Penn State volleyball.' I think that was a lot better today than what we had been doing previously."
Q: What do you think is the biggest adjustment Penn State needs to make moving forward this season?
"Just everywhere. Connections and in-game adjustments. That's like our biggest thing. I feel like we hear one thing and think, 'Oh, let's stick to it.' But no, we need to get better at making adjustments throughout the game, listening to each other, feeding off of each other, letting each other know what we see, and stuff like that. Almost like trusting and relying more in each other to do our job."
Q: Where has Jenna Hampton improved the most this season?
"This season, I think Jenna is doing a great job. She's all over the floor, taking what she can. She communicates with the other people in the back row and lets them know what they can take and what she can control. She's doing a great job calling shots back there, too, and her out-of-system setting is one of my all-time favorite things that she does."
Q: What are some things that you think the team did particularly well this weekend and what are some things that you need to work on?
"The work-on question? Everything. We're never perfect. You can always improve in all areas. This weekend, we did a lot better about not getting so much in a rut and digging ourselves a bigger hole. I feel like we also kind of dug our toes in and grinded a little bit more out when we were in those holes. We need to be a lot better of not freaking out if we ever come in those situations and just being, 'Alright, one-and-done, side-out.' Or if it comes to ball two, eliminating their runs."
Jenna Hampton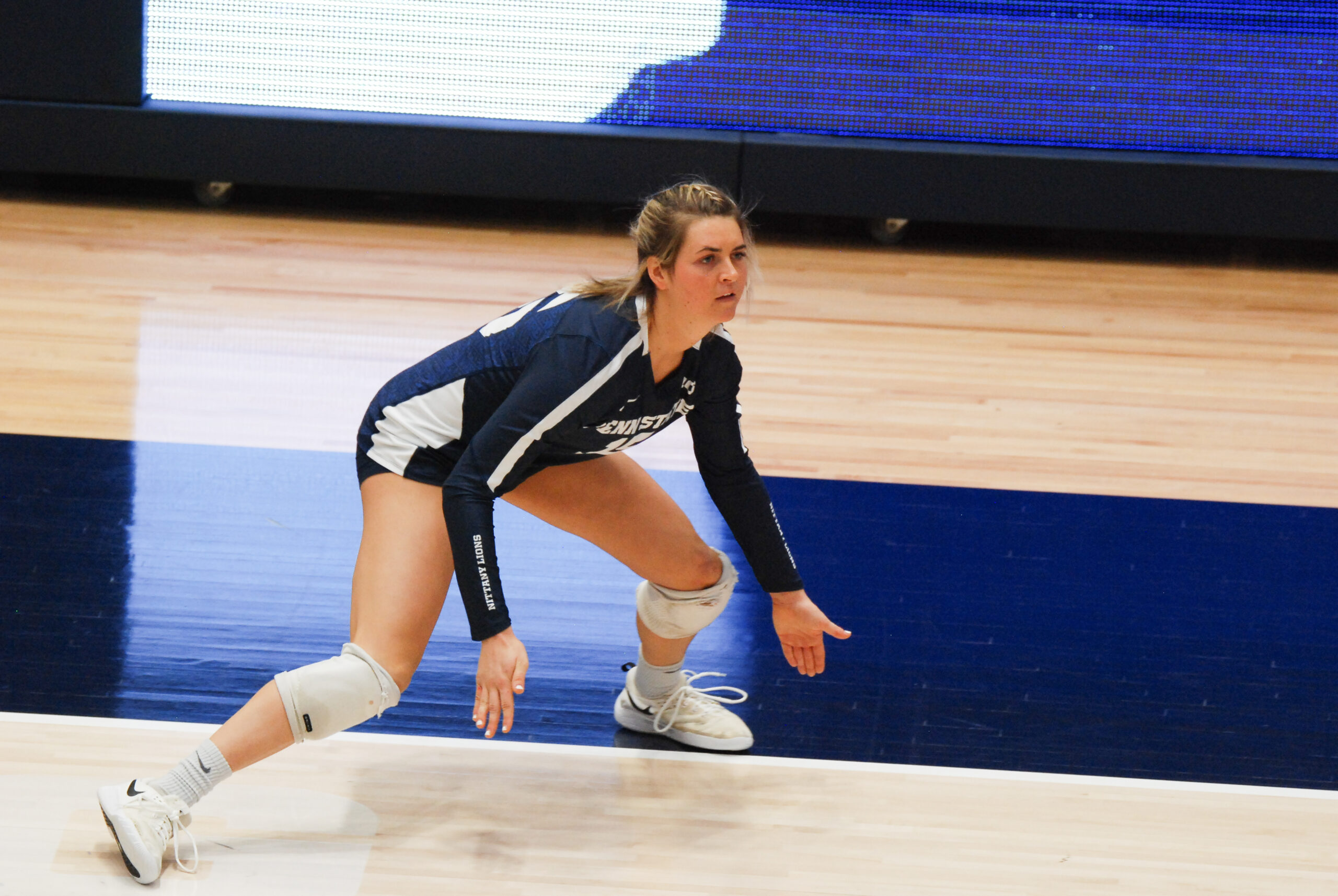 Q: What impresses you the most about AC?
"I've known AC for a really long time, because we're both from Florida and I played against her. Something I've always noticed about her is how hard she works. She'll never stop grinding. I think she goes into the gym every day to get better at either serving, passing. She just talks a lot. I think she's just a really good player right now for us."
Q: After having a tough beginning to the week with Ohio State and then yesterday with Purdue, what are some things you think you can take from those previous opponents and implement into your own game moving forward?
"Everyone in the Big Ten is good, so learning from losses is how we get better I think. One thing we need to control more, and I think we did a better job today, was serving. Especially on my end, that's something I've been really focusing on, because I know the past couple of days hasn't been my best. I think we just are finding stuff every day to get better at like I said earlier. I think this is a good incline for us, for sure."
Q: What are some ways that you've been able to take the other defensive specialists under your wing as a leader now?
"I think playing with Kendall [White] has given me a lot of confidence and I've learned a lot from her, because she's a great player. One thing that has been really helpful is just the communication out there. I think the other defensive specialists have done a great job, especially Maddy [Bilinovic], with talking and not being afraid to tell me what to fix. I think we just do a really good job communicating together and having a rhythm back there."
Q: What do you think that 6-0 run to close out the game says about this team?
"We have drills like that all the time in practice. I think we just needed to do what we did. We calmed down and we trusted ourselves. We know that we can do that. I think that it really shows when you practice that."
Q: What are some things that you think the team needs to work on heading into next weekend's matches?
"Like Jonni said earlier, everything. We can really get better from here. I think it's, again, a really good step forward. We can't wait to get in the gym on Monday and play our next opponent."